ALPS Mountaineering Camp Creek Two-Room Tent is a very nicely built 6-person 2-room fully freestanding cabin style family camping tent for mild weather conditions.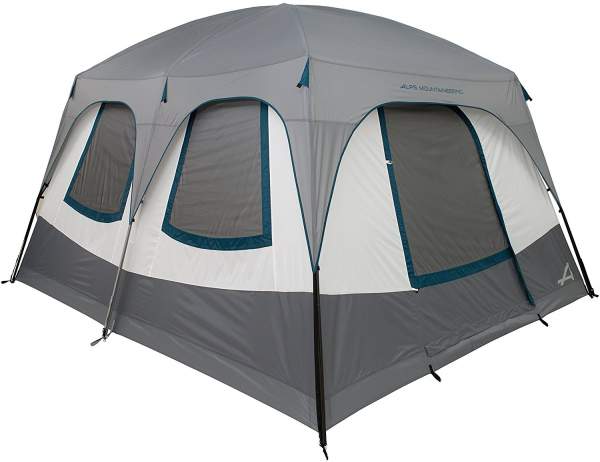 ---
Key features
Freestanding tent.
2 rooms.
2 doors.
Very reliable.
---
What is this about
This Camp Creek Two-Room tent is the largest in the Camp Creek series that also includes single room 4-person and 6-person tents, so this is the only 2-room tent in the series.
The tent is a cabin type in the true sense, with straight and tall steep walls, and with a peak height of 84 inches (213 cm). This is also a fully freestanding tent and this holds even when you put the fly on; even then you can rotate it and move around to get the best position in the camp. This is because the fly is attached to the tent base and you do not have to stake it to the ground. But you have multiple guy-out points on each side, 6 in total, so you can fix it properly and put the mind at rest.
This tent is for car camping, you see this from its weight which is 31.5 lb (14.3 kg).
---
Who is it for
Size-wise, the tent is with the declared capacity of 6 people. Now, the floor area is 120 ft² (11.16 m²) and this gives 20 ft² (1.86 m²) per person which is not so bad really. If you compare it with their single-room 6-person version you will realize that here you have 20 square feet (1.9 m²) more.
But I still think it is best suited for two couples or for parents with a maximum of 2 kids, or just for a couple who need some more space in the tent. See the floor plan and how they suggest using it: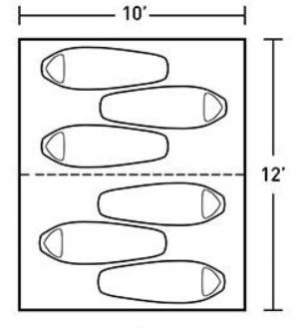 Obviously, each of the two rooms is large enough to accommodate a queen-size bed and you would still have plenty of space underneath the beds to store your gear. Though such a tall tent with vertical walls is best suited for bunk-cots for adults and for kids.
Seasons-wise, they describe it as a 3-season tent and the waterproof rating is such that this can be taken as a fact. But there is lots of mesh here and the fly is not full coverage (hence so many great windows), so I think it is better suited for summer camping and maximum for 2 seasons, which means late spring, summer, and early autumn. As mentioned above, this is a very tall structure and not particularly aerodynamic so I would not use it in a very windy environment.
Climate-wise, with so much mesh the tent will not preserve the warmth and it is best suited for a warmer environment. Also, choose something more enclosed if you plan to camp in a dusty area. Check this Vango 600 Odyssey Air tent for such a purpose.

---
Materials & construction
The fabric
They use very good materials here. The fly and the panels on the walls are a durable 75D 185T polyester and the floor is far more durable with 150D polyester oxford. The waterproof rating is also good enough, so you have 1500 mm everywhere. All seams are factory-sealed. The picture below shows its pleasant interior with the divider and large windows.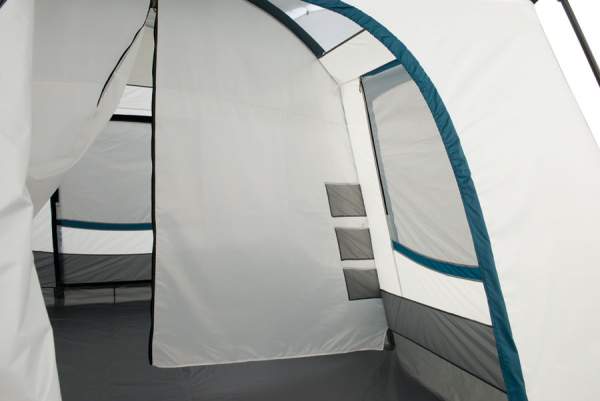 The doors & windows
The two doors are on the opposite sides, very large and double-layer type, with mesh and with waterproof panels, so you have full protection from insects and from the rain.
Each of the two rooms has two large windows, and here too you have the same double-layer construction.
The poles
There are 6 vertical steel poles with a diameter of 19 mm, and the same number of fiberglass roof poles with 12.7 mm, you can see them in the picture below. As you see there is no top hub element here, the roof poles are kept in place with sleeves.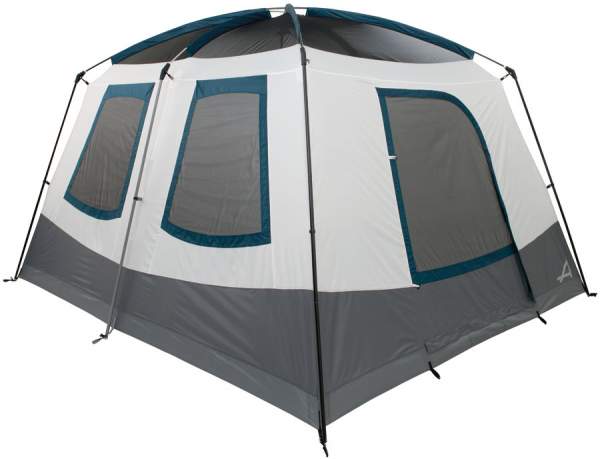 ---
Specifications
Type: cabin style freestanding tent.
Capacity: 6 people.
Weight: 31 lb 8 oz (31.5 lb; 14.3 kg) – this is directly from the manufacturer.
Dimensions: 12 x 10 ft (3.66 x 3.05 m).
Area: 120 ft² (11.16 m²).
Area per person: 20 ft² (1.86 m²).
Peak height: 84 in (213 cm).
Packed size: 27 x 11 in (69 x 28 cm).
---
ALPS Mountaineering Camp Creek 2 room tent vs Competitors
In the table below you have the Camp Creek 2 room tent with two other cabin style tents, you might want to compare their basic features. As you realize, it provides more space than the other two tents and its packed size is better. Please follow the links in the table to read more.
ALPS Mountaineering
Camp Creek 2 Room
---
Final thoughts, rating, pros & cons
So the ALPS Mountaineering Camp Creek Two-Room Tent is really nicely built, I trust the brand behind this tent and can fully recommend it. Bear in mind a few objections I gave above, this is a very reliable and good tent if used in an appropriate environment.
The price of this tent is completely appropriate for such a quality product. See how I rate it:
ALPS Mountaineering Camp Creek Two-Room Tent
BEST PLACE TO BUY:
If you need something bigger from the same brand, you should know that this company owns the license for the Browning Camping so check their Big Horn 8 tent.
This site is all about large tents so just look around if you need something different. All possible types of tents are presented here. If you need something with the screen room, check this Coleman Elite WeatherMaster Screened 6 Person Tent with LED lights. If you want something with a 60 seconds setup, check this Bushnell Shield Series 11 x 9 Instant Cabin Tent which is also for 6 people.
Thank you for reading. Please use the comment box below in the case of questions or comments. Have a nice day.