---
In this Vango Iris 500 review you have a very comfortable camping tent with a huge waterproof rating for a full protection from elements, with solid windows and an easy setup.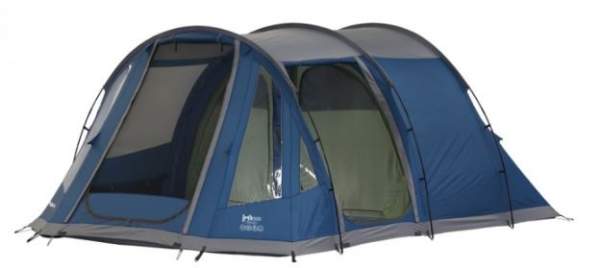 ---
Key features & benefits
3 rooms.
Dark rest design.
Huge waterproof rating.
PVC windows.
Fiberglass poles.
Tunnel type.
Cable port.
---
What type of tent is this
The Iris 500 is a fully enclosed tunnel-type structure. This means that you have no mesh here, and windows are solid PVC. The tent is not freestanding so bear this in mind when you choose your camping ground, it must be staked properly.
This is a 3-room structure with two sleeping units, one for 2 people and one for 3 people. This sleeping area is a tent within the tent, with its own bathtub floor. The third room is a huge and pleasant living room that offers some 8 square meters of the fully floored and sealed area.
The bedrooms are rather tight for the declared number of people, and I find it strange, this is so with all tents of Vango. But the divider is just a toggled curtain and you can remove it and use the sleeping zone for 4 people only. On the other hand, the living room is so big that it can easily accommodate 5 more people if this is necessary.
The sleeping area is with what they call lights-out design. This means that glare is reduced and you can sleep longer in the morning. This is similar to what other manufacturers call the blackout design, or the dark rest design.
There is yet another tent from the Iris series here in the site, the Iris 600 XL, so this is a much larger version hence the letters XL in the name.
This Iris 500 has been on the market for several years already and it appears that there are different versions available. The green tent which you can see on the EU market has mesh on both entry doors.
---
Who is it for
Size-wise, the tent is with the declared capacity of 5 people. But the total area which it provides is huge, you realize this from the floor plan below. So you have around 14 square meters (150 ft²) in its three rooms and this is more than enough.
Can you believe that a representative of Vango describes this Iris 500 as a "compact tent"? With all 14 square meters? But look around to see other Vango tents, they are giants; the Iris 600 XL has 21 square meters of area and Marna 600 XL has 25 m²; so yes this tent is rather compact when you compare it with others from that brand.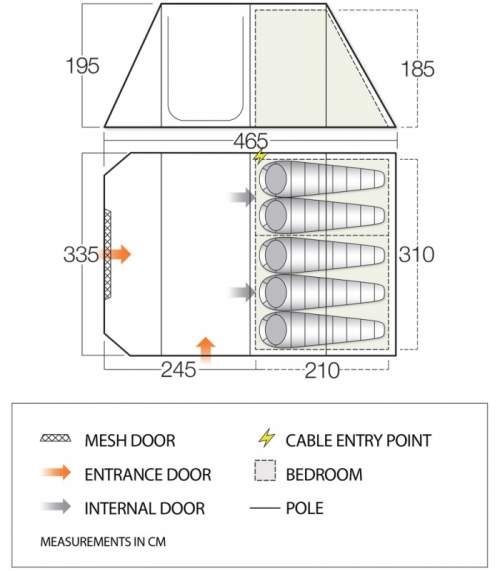 Seasons-wise, in view of its huge waterproof rating and solid windows this is a 3-season tent. But bear in mind its poles and construction which is such that it cannot withstand snow accumulated on it. The tent is also very tall, 76.8 inches (195 cm), and perhaps not the best option in a very windy situation. But it comes with numerous guylines and stakes, so it can take a lot.
Climate-wise, I see this tent best suited for a cooler climate. You have no mesh here, this is a fully enclosed design, and it has only 2 vents.
Weight-wise, this is a heavy tool with its 33.7 lb (15.3 kg), but from the comparison table below you will realize that this is a quite normal weight for such a type. The packed size is not bad, it reduces to 28.7 x 13.4 inches (73 x 34 x 34 cm). But clearly, you need a car for transportation and do not plan to carry it anywhere.

---
More about features & construction
The poles
You have them 3 and they create arches in a typical tunnel configuration. So setting them is really easy, all are shock-corded. Vango calls this PowerFlex, but this is just a fiberglass which is not particularly durable. But the tent has been on the market for some 4 years or so, have not seen complaints about poles. Besides, most of their tents have the same type of poles.
The fabric
They call this Protex, and this is a 70D polyester. The waterproof rating is impressive, 4000 mm, but this is quite typical for Vango. So the material is reasonably durable and waterproof. All seams are taped.
They stopped giving waterproofness information about the floor, but this is polyethylene (a sort of plastic) and you can expect some 10000 mm or so. This was earlier clearly indicated in their specifications. The floor is fully sewn-in, so you realize that this is a fully enclosed structure, and you have a bathtub design.
The inner tent has its own extra bathtub floor and the upper body is a breathable polyester. They claim that all materials are weather and fire tested to meet the European standard EN5912 and this is certified by a test center.
The doors & windows
There are 5 PVC windows that are fully sealed. They are double layer structures, so you have blinds with zippers from inside and you can regulate the amount of daylight in the tent, and use them also for privacy.
One of the entry doors is also a double layer structure so you have a mesh for ventilation. There are 2 inner doors with the same material as the inner tent, plus double layer sections for ventilation in the upper parts.
Ventilation
As I mentioned above, this is a fully enclosed space, so you depend on vents a lot. You have them two, one is underneath the big PVC window in the living room and one high vent is behind the sleeping zones. There is a mesh on the inner tent to match this back vent.
But you also have a mesh on the main front door, this is a huge opening and you can keep it with mesh only when the sky is clear. The inner doors on the sleeping rooms are also with mesh in the upper sections only.
Other features
There are many pockets in the sleeping area on both side walls. One large storage section is on the wall between the two inner doors, so you have many pockets from the ceiling to the floor.
Zipped cable entry point plus touch fastener tidies.
Lantern hanging points are available.
Patented Vango TBSII Tension Band System. This is in all their tents of this type. You have bands attached to the side walls and you can fix them at the apex and create a triangular tensioner to stabilize the tent in the case of strong side winds. When not in use, you can detach them and store in their special pockets on the walls.
Numerous high visibility guylines are preattached.
---
Specifications
Capacity: 5 people.
Weight: 33.7 lb (15.3 kg).
Dimensions: 183 x 132 in (465 x 335 cm).
Total area: 150 ft² (14 m²).
Area per person: 30 ft² (2.8 m²).
Peak height: 76.8 in (195 cm).
Packed size: 28.7 x 13.4 in (73 x 34 x 34 cm).
---
Vango Iris 500 tent vs Competitors
I hope you will love to see this tent side by side with two other beauties built in the same style. So all are tunnel tents and with dark rest design. Please follow the links to check the updated prices.
Coleman Rocky
Mountain 5 Plus
---
Final thoughts, rating, pros & cons
As you realize, this Vango Iris 500 tent is a very comfortable structure and it should protect you in most situations in a 3-season use. This brand has a long tradition in building such tents and they have been making them for weather conditions in Scotland. This explains the high waterproof rating which you have here.
But bear in mind its structure and features. I would not use it in a very warm summer environment, if this is what you need, better focus on some of those tents with mesh on the ceiling, there are many described here in the site. I have included this tent in my list of tents for cold weather.
Please see how I rate this tent:
Vango Iris 500 5 Person Tent
BEST PLACEs TO BUY:
Thank you for reading, please look around if you need something different. Check this Outwell Nevada 5 Man Privilege Tent which is built in a similar style. Do you have any experience with Vango's tents? Please share your thoughts and comments, there is a comment box below. I wish you a nice day.