---
Snow Peak Amenity Dome Tent L 6-People is a uniquely shaped extended dome with quality aluminum poles, 2 vestibules and 3 doors, designed for all seasons. So keep reading.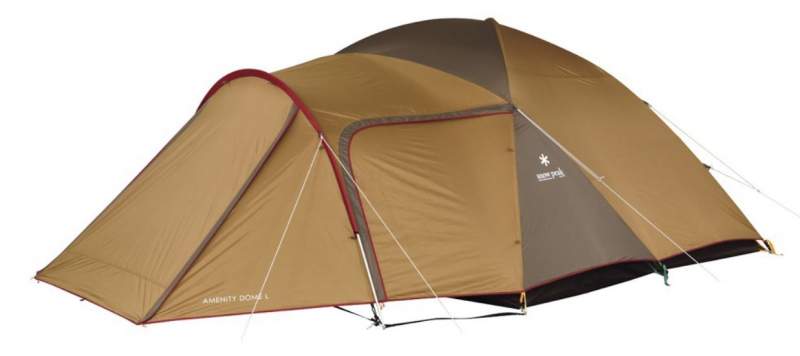 ---
Key features
Aluminum poles.
Two vestibules.
4-Season tent.
3 Entry points.
Unique construction.
Connectable design.
---
What this tent is about
This Snow Peak Amenity Dome 6 Person L Tent is the largest in the Amenity series which has been on the market for at least 7 years as far as I know. The letter L here means 'large'. They use the code SDE-003RH for this version of the tent.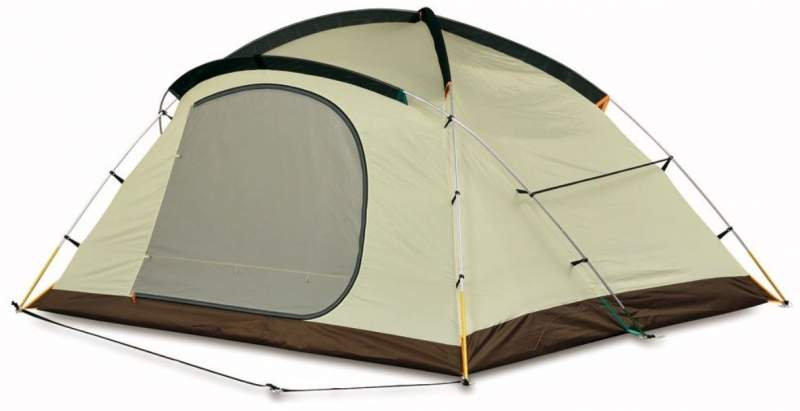 Without the fly this is a simple dome tent with 2 doors both very large and D-shaped, one of them is visible in the picture above. But as you realize this is a structure with 3 aluminum poles that intersect each other at three points. So this is a very stable construction and it is freestanding and self-supporting.
The poles attach to the inner tent through a combination of long sleeves and clips, and with pin and rings system at the tent's base. I know that some people do not like sleeves, but they make the structure stronger. This is because the pressure created by side winds is distributed over a long area and the tent is able to withstand lots of side pressure.

I mentioned its unique features. So the picture above with the floor plan reveals that with the fly the tent looks very different and asymmetric. This is because of an extra pole which is positioned in such a way that the tent has an extra side door.
The vestibule looks rotated to one side, this is what the floor plan picture above shows. As a result, the main front door is at an angle with respect to the main axis of the tent. The picture below is a side view through the open side door: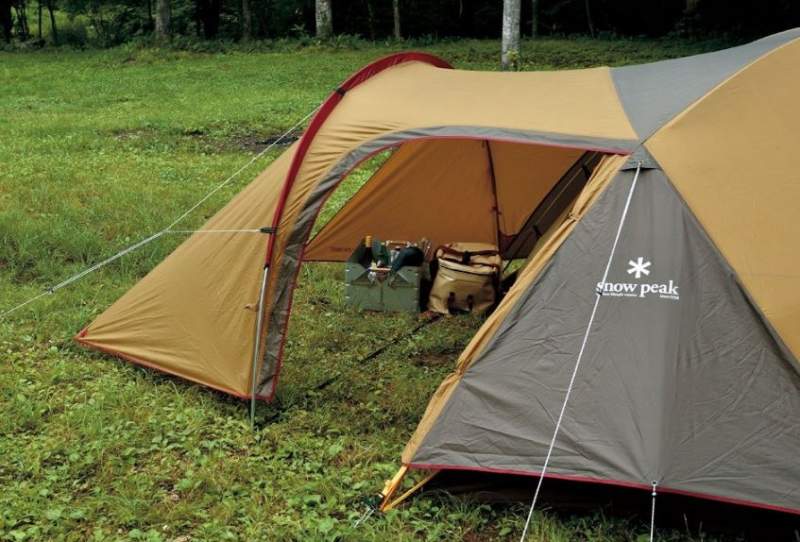 The main door is shown in the picture below with an awning configuration. Note that the vestibule's height under its supporting pole is only 55.1 inches (140 cm). The awning extends the useful area and it creates a big shaded zone for sitting, the poles can be ordered separately.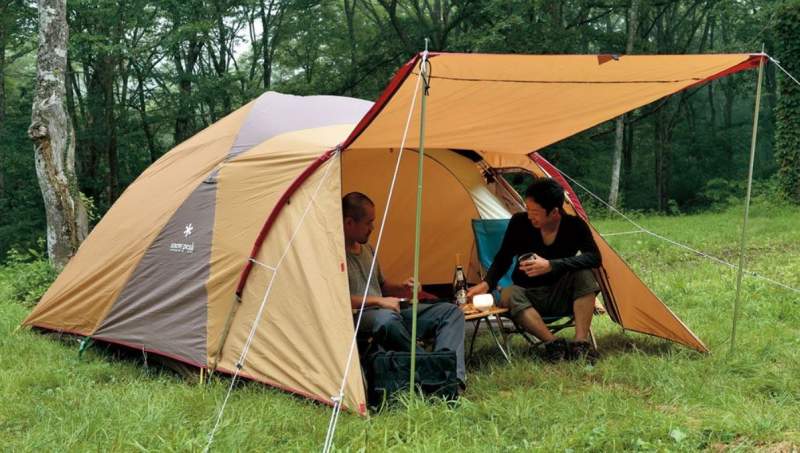 This front vestibule is a large space, it offers 38.8 ft² (3.6 m²) of the covered area for sitting and cooking. As you see, it is big enough for a couple of chairs and a side table.
There is yet another smaller vestibule on the back where you have a central zipper and the flaps of the vestibule can be rolled to the sides. You can see this in the picture: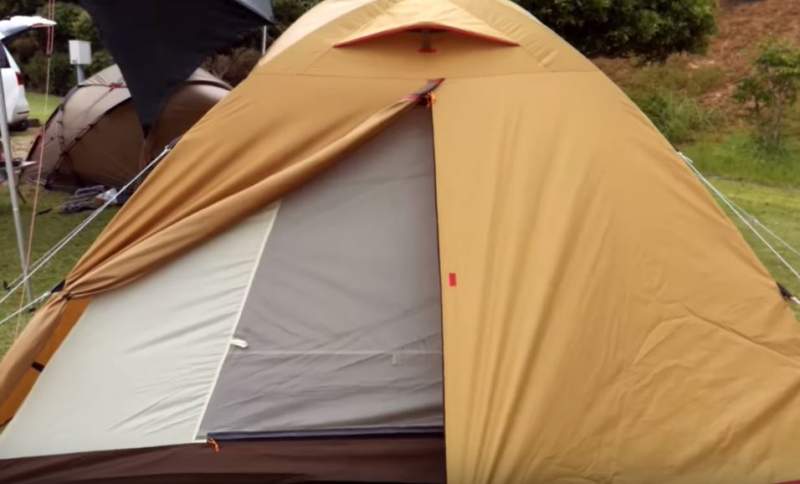 ---
Who is it for
Capacity: The declared capacity is 6 people, so let's see what the tent offers. As I mentioned, this is an asymmetric structure, but the inner area is quite regular and rectangular. So the floored area is 94 ft² (8.7 m²) and this gives 15.7 ft² (1.45 m²) per person. The inner dimensions are such that you can indeed easily put 6 pads on the floor.
There are two vestibules, the rear one is not deep, some 40 cm or so, for boots and similar stuff, but the front vestibule is large. They do not give the area for any of them. It is a bit difficult to determine the area of the front vestibule because of such an irregular shape (see the floor plan above). But my estimate is that its area is 38.8 ft² (3.6 m²). The rear vestibule area is around 6.5 ft² (0.6 m²). So all in all, this is enough space for 6 users.
But the tent is perfect also for couples who want comfort, so the inner tent can be used for sleeping and you can put the largest double-size bed inside. The front vestibule is then a sitting and cooking zone.
Seasons & climate-wise: This is a tent for all seasons, but as I argued in my separate text, this would imply that it is better suited for a cooler environment than for summer. The inner tent is fully enclosed but there is a triangular section on the ceiling which can be unzipped and you can keep it closed to preserve warmth in a cooler environment.
The inner doors are with panels and also with mesh for air crossflow, and there is also a vent on the fly. So this should work well even in a warm environment.
The poles are strong and the tent is relatively low and aerodynamic, the peak height is 65 inches (165 cm) so it can withstand a lot of pressure if you use it in a windy place. There is enough gap between the inner tent and the fly, so this is good to fight condensation underneath the fly.
Note also that there are some extra elements for stability:
There are straps with grommets in the front vestibule area. They are available to keep the vestibule pole ends in place. They are on the bottom of both front doors, see the picture below.
There are extra straps on the inner tent well above the ground. They added this because of the large span between the poles, see the picture.
Weight-wise, in view of its 21.6 lb (9.8 kg) of weight, this tent is not lightweight, but this is immaterial, this is not a backpacking tent. If this is what you need, please check my text with 6-person backpacking tents.
Here you have strong and durable materials, some extra elements are added for stability, so the weight is justified.
The packed size 28.7 x 10.6 x 9.1 inches (73 x 27 x 23 cm) is not bad, but clearly this tent is for car camping. You will see below how it compares with some of its competitors.

---
Materials
The poles & pegs
There are 4 poles here, duralumin A7001 and A6061 with 12 mm, 13 mm, and 14.5 mm diameter. So those are top quality and strong poles. The pegs are also duralumin, there are 18 of them all 17 cm long. Note that you have color-coding everywhere, so setting the tent up is very intuitive and easy. The mentioned pin and ring system is shown in the picture below.

The fabric
The fly is 75D polyester taffeta with PU coating and water resistance 1800 mm minimum. Note that this statement about minimum value is typical for the Snow Peak brand. In other words, this applies for any section of the fabric and the rating can only be higher. The fly is also with a Teflon water repellent finish and UV cut processing. All these layers are indicated in the picture below.
The inner tent is 68D polyester taffeta, and the floor is 210D polyester Oxford with PU coating water resistance 1800 mm minimum.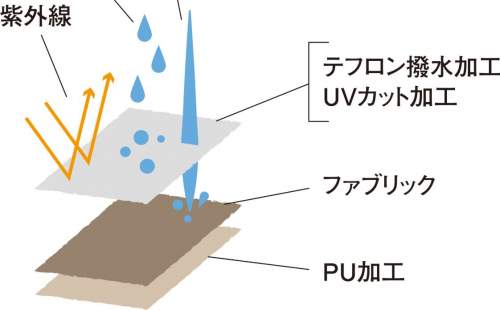 Other features
There are inner wall pockets available, picture below.
One vent is on the rear side.


Storage pockets on the walls.

One rear vent.

Footprint can be ordered separately.
This tent is a connectable design. The meaning is that it can be connected to the Mesh Shelter from the same brand, it is necessary to order their Snow Peak Mesh Shelter Tunnel. See how they look when connected: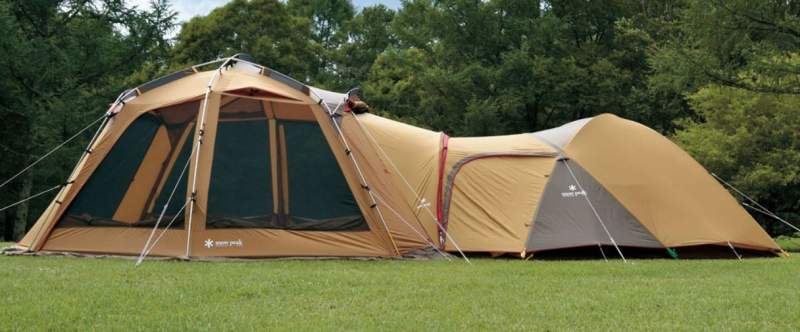 Please see more in this video, you might not understand the language but you will see everything:
---
Specifications
Weight: 21.6 lb (9.8 kg).
Dimensions: 17.72 x 10.17 ft (540 x 310 cm).
Inner floor area: 94 ft² (8.7 m²).
Inner area per person: 15.7 ft² (1.45 m²).
Vestibules area: 38.8 ft² (3.6 m²) + 6.5 ft² (0.6 m²).
Total covered area: 139.3 ft² (12.9 m²)
Total covered area per person: more than 22 ft² (2 m²).
Peak height: 65 in (165 cm).
Packed size: 28.7 x 10.6 x 9.1 in (73 x 27 x 23 cm).
---
Snow Peak Amenity Dome Tent 6 vs Competitors
I have decided to show this Amenity Dome 6 side by side with the tents from top brands, it deserves it. So The North Face Kaiju 6 is much taller and it has a similar vestibule but it is much larger. It is less suitable for a cooler environment, and it is much more expensive.
The Big Agnes Flying Diamond 6 is an incredibly well built and functional tent and it is in the same price range as the Amenity tent.
The Amenity Dome offers more inner area but it is lower, and it is more suitable for cold weather camping. In fact, I have included it in my list of tents for cold weather. Please follow the links to read more.
Vestibules area,
sq ft (sq m)
28.7 x 10.6 x 9.1
(73 x 27 x 23)
Big Agnes
Flying Diamond 6
23 x 13 x 9.5
(58 x 33 x 24)

32 x 10 x 10
(81 x 25 x 25)

---
Final thoughts, rating, pros & cons
In the summary of this Snow Peak Amenity Dome 6 Tent Large review, I would stress again that this is a high-quality 4-season tent, in other words, a typical product from this Japanese brand. There are many details here introduced to stabilize it in the case of harsh conditions so this is a very reliable outdoor product.
The inner doors can be kept open, so this in combination with the rear vent on fly and the cross-flow through both vestibules makes it suitable for all seasons. I have added it to my list of best connecting tents for camping.
This is a high-end tent, please see how I rate it against my standard set of criteria used for all the tents in the site:
This is a compact design, so if it is too small for you, please check a much larger option for 6 people from the same brand, the Snow Peak Travel Land Lock tent. If this Snow Peak Amenity tent is too expensive for you, check also the NTK Indy GT XL 5/6 Person Tent with some similar features, a full-coverage fly, floored porch, and a much lower price.
Note that I have no business relationship with this brand, and this is not a sponsored text. Please share your thoughts if you are familiar with this tent, there is a comment box below. I wish you a pleasant day and happy camping.