---
The Texsport Wayford 12′ x 9′ Portable Mesh Screenhouse is collapsible, nicely packable, and lightweight, supported by steel and fiberglass poles, and very affordable.
---
Key features & benefits
Very light.
Collapsible.
Steel & fiberglass frame.
2 Doors.
---
Overview
This Texsport Wayford screen house has been on the market for at least a decade. So there is lots of information about it on the market. You have a collapsible construction that packs to a small size for transportation. When packed, its dimensions are (L x D) 27 x 8 inches (69 x 20 cm).
It can be described as freestanding and self-supporting, so when you set it up you can still rotate it and move to find the best position and orientation. But you have stakes and guylines included to secure it against sudden winds.
There are two zippered doors on the opposite sides, you can see below how it looks when they are unzipped. When you raise it from the ground, with the help of somebody you can put it over a fixed table in the park.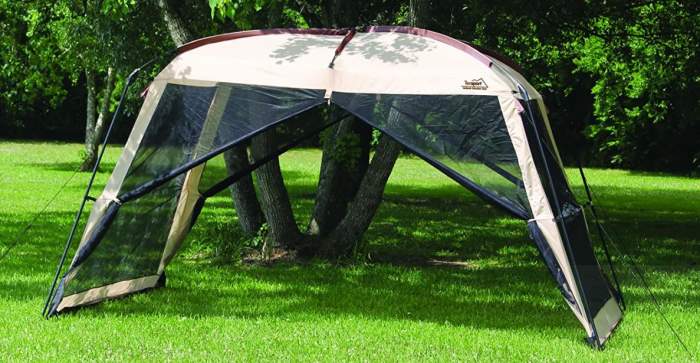 Materials
The screen house is supported by a combination of steel and fiberglass poles. So the legs poles are 3/4 inches (1.9 cm) diameter powder-coated and chain-corded steel structures. They are connected with molded plastic joints with shock-corded fiberglass poles on the roof.
The walls are all mesh and the roof a taffeta with a polyurethane coating. So the roof is waterproof but the shelter as a whole is not built as a rain shelter. According to the manufacturer's statement, these are C.P.A.I.-84 fire-retardant materials. 
---
Who is it for
Regarding best use & purpose, this is a shelter against annoying flying insects. But the roof is a taffeta so you have a shade to protect you from the sun.
When the sky is clear, you can even use it as a tent for sleeping, but clearly, this is not its basic purpose. This is also a nice addition to your family camping tent, so you can use the space for sitting and cooking during the day.
Regarding the area, the dimensions are 12 x 9 ft (366 x 274 cm) and the inner area is 108 ft² (10 m²). So it will depend on how bulky camping furniture you have, but you can surely put inside it 4 camping chairs and a table. The picture below gives you an idea of how much space it offers.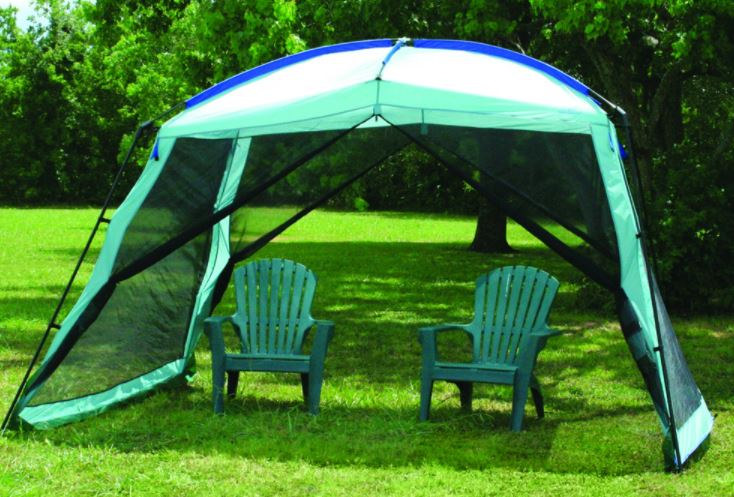 Note that the peak height is good enough, you have 82 inches (208 cm). So it is a bit lower than this Wenzel Zephyr Screen House.
Regarding the weight, with its 13.15 lb (6 kg), this is a very light screen house. To realize this you can compare it with the mentioned Wenzel Zephyr Screen House that weighs almost twice more. It is even lighter than this NEMO Victory Screenhouse. The previously mentioned packed size is such that you can transport it even on a bicycle. 
Regarding the price, I would describe this Texsport Wayford Screen House as very affordable.
Specifications
Weight: 13.15 lb (6 kg).
Dimensions: 12 x 9 ft (366 x 274 cm).
Height: 82 in (208 cm).
Area: 108 ft² (10 m²).
Packed size (L x D): 27 x 8 in (69 x 20 cm).
Poles: steel & fiberglass.
---
Final thoughts, rating, pros & cons
So this Texsport Wayford 12′ x 9′ Portable Mesh Screenhouse is a quite typical product of this type, tall enough and with two doors. But it is compact and light, and above all, it is very affordable. If you do not want to spend much for a shelter of this type that you would use occasionally, then this should be a good choice.
Please see how this screen house stands against my standard set of criteria:
For more items of this type, please check under the category Screen Houses. You might want to compare it with this CAMPROS Screen House Room 12 x 10 Ft which is built in the same style. Check this versatile NEMO Bugout Tarp Shelter that is more suitable for hammock camping. If you need something larger, see this CAMPROS Screen House Room 13 x 13 Ft. 
Thank you for reading. Let me know if you have questions, there is a comment box below. Subscribe to my weekly newsletter and stay informed. Have a nice day.