---
Wenzel Zephyr Screen House is a freestanding tall shelter with a steel frame and two doors for full protection against flying insects.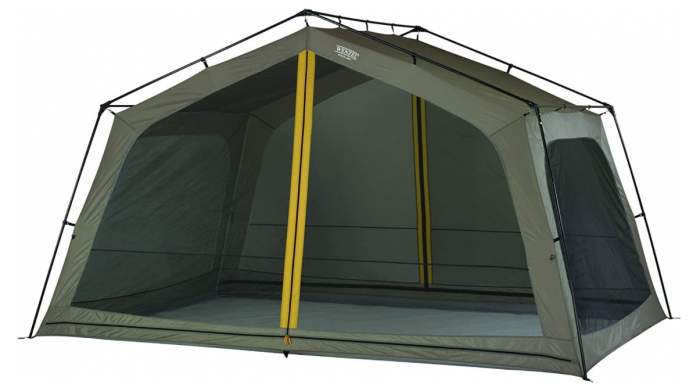 ---
Key features & benefits
Two doors.
Very tall.
Steel frame.
Freestanding.
Reasonable price.
---
What this is about
This Wenzel Zephyr Screen House has been around for many years already. This is a 13 x 9 ft freestanding cabin-style shelter with steep and straight walls. It is very tall with its peak height of 85 inches (216 cm), so you have plenty of headspace. It comes with two large doors with an inverted-T-shaped zipper, and you can open it wide as shown in the picture below.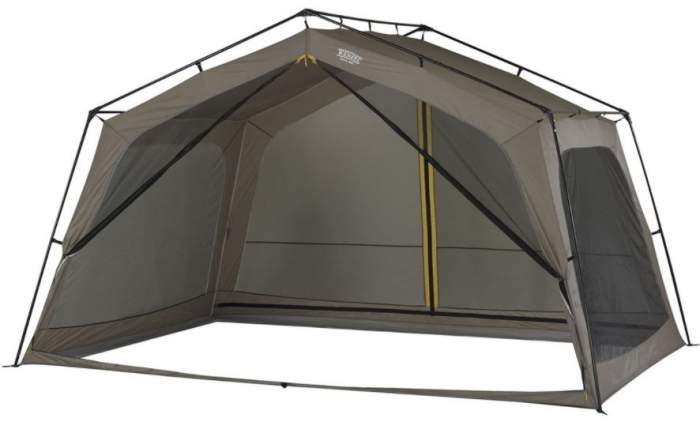 Observe that this is a floorless structure as typical for screen houses, there is only a narrow perimeter piece of floor. With such a construction you can place it over any picnic table and have instant protection from all flying insects.
The screen house is with mesh on all sides, so this is all as you would expect from items of this type.   
Materials
The mentioned perimeter floor is a polyethylene, its purpose is obviously to give some strength to the structure. The same purpose is of the material in the corners but this is polyester. The roof is water-resistant polyester, pre-treated with a DWR coating, but you cannot count on rain protection in such a structure. 
The frame is a strong steel tubing with plastic joints in the corners. On the canopy, the tent attaches to it with clips, and with pin and ring elements in the corners at the base. You have a polyester carry bag included.
---
Who is it for
Regarding the size, they write about 10-person capacity but this doesn't mean much simply because such shelters are designed to be used with camping furniture (chairs and tables). So the capacity will depend on what kind of items you have inside.
I already mentioned its dimensions above, so you can easily estimate how many chairs you can put there. I notice that it is slightly smaller than their Wenzel Durango Magnetic Screenhouse which is a dome-shaped structure with less volume inside. So this Zephyr Screen House is more pleasant.
Regarding the weight, this is a heavy item that weighs 25.56 lb (11.6 kg). So check this YDYL Screen House 13 x 9 if you need something lighter.
The packed size is 31 x 9.25 x 9.25 inches (79 x 23 x 23 cm), so clearly you need a car to transport such a shelter to your picnic place or to the campsite.
Regarding the best use and purpose, this is a shelter against flying insects and it will also provide a sunshade. So you can use it as your dining or sitting space in the camp or as your kitchen, you will not be annoyed by mosquitoes. If you plan to stay a day in the park with your family or your friends, this is again an item worth taking with you.  
Regarding the price, this is a very affordable item and a great value for the money.
Specifications
Weight: 25.56 lb (11.6 kg).
Dimensions: 156 x 108 in (396 x 274 cm).
Area: 117 ft² (10.85 m²).
Peak height: 85 in (216 cm).
Packed size: 31 x 9.25 x 9.25 in (79 x 23 x 23 cm).
Frame: steel.
---
Final thoughts, rating, pros & cons
So this was my Wenzel Zephyr Screen House review, as you realize this shelter has not been around for so many years without reasons. It is nicely proportioned, stable, and reliable. With such huge doors, you can easily bring in and out your furniture.
I already mentioned some possible outdoor use of it, but this is also a nice item to have at home; you can always put it in the garden and have a ventilated shade while being completely protected from flying insects. Fully recommended. I have included it in my list of best camping screen houses. 
I have a number of rating criteria that I use for all items of this type, so see how it stands:
Please check under the category Camping Screen Houses if you need more options for comparison. Note that this Texsport Wayford 12′ x 9′ Portable Mesh Screenhouse weighs much less and the size is almost the same. If you need something for hammock camping, check this versatile NEMO Bugout Tarp Shelter.
Thank you for reading. Let me know if you have questions or comments, there is a comment box below.