---
This Wenzel Durango Magnetic Screenhouse is compact, lightweight, freestanding, and completely zipperless with a magnetic closure system on its two doors.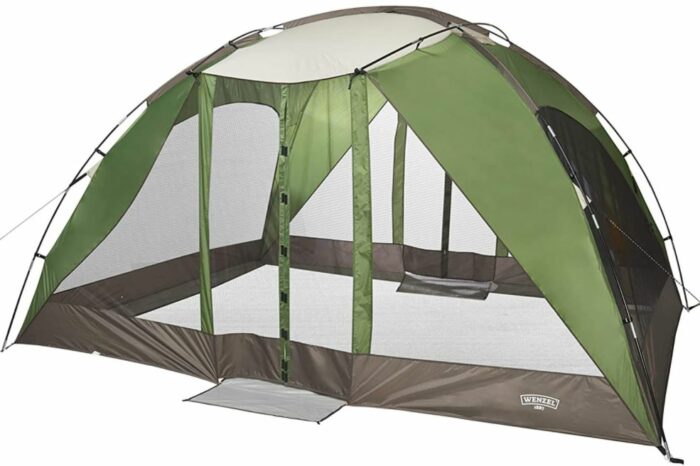 ---
Key features & benefits
Freestanding.
2 Doors.
Magnetic doors closure.
Fiberglass poles.
---
What this is about
Here you have an unusual construction because this Durango screen house is supported by two poles that create the typical X-shaped dome, but they have added two cross poles that make the side walls completely vertical. The screen house is quite tall, you have a peak height of 82 inches (208 cm) in the middle.
When all the poles are in place the construction is completely freestanding and self-supporting so you can easily move it and rotate before deciding where exactly you want to stake it properly and secure.
Apart from this unique frame, the two doors on those mentioned vertical sides are with a magnetic closure system. You have a series of magnets sewn-in in pairs (see one pair in the picture) all the way from the bottom to the top, so this is a hand-free design, suitable also for your dog.
This magnetic design is now appearing in family camping tents as well, and you can see it in this Columbia Modified 6 Person Tent. But in this case, it comes together with the usual zipper. Here, in the Durango Screen House, this is a zipperless construction. Because of this, I have included it in my list of Magnetic Tents and Screen Houses.
Materials
The frame is constructed with shock-corded fiberglass poles. They attach to the base through the usual pin and ring system (the picture below), and on the canopy you have a combination of clips and sleeves.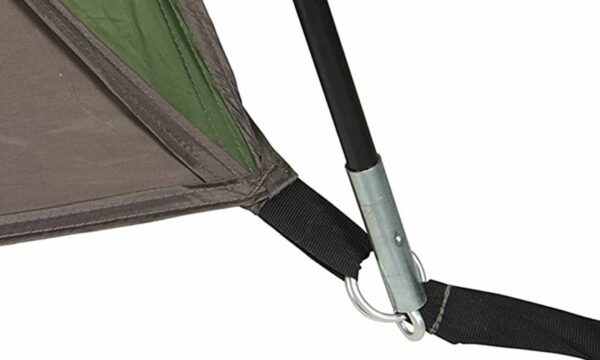 The soft part of the structure is mainly a mesh on the side and with a part of polyethylene close to the ground. The roof and some parts of the canopy appear to be polyester with 450 mm waterproof coating. So this is similar to what you have in a good umbrella, but you do not need more. This is not built to be a rain shelter, yet it is still good enough to protect you from light rain.
Note that the structure is floorless as you would expect from a screen house. I have seen the word floor mentioned in various places.
---
Who is it for
Regarding the dimensions, you have an area large enough to place a camping table and 4 chairs, the dimensions are 12 x 10 ft (366 x 305 cm). You can also raise it above a permanent table in the park and have a shelter from mosquitoes. If you use it for camping, the same holds, this is a great extra space for sitting in the shade, for cooking, and for dining.
Regarding the weight, this is not an item to carry long distances but it is indeed light with its 19.34 lb (8.8 kg). You might want to check this YDYL Screen House 13 x 9 or the Texsport Wayford 12′ x 9′ Portable Mesh Screenhouse if you need something lighter.
The packed size is very good, it measures (L x D) 26.5 x 8.5 inches (67 x 22 cm). So you can transport this shelter even on a bicycle. It is a bit lighter than their other Wenzel Zephyr Screen House.
Regarding the price, in my view, this is a great value for the money.

---
Specifications
Weight: 19.34 lb (8.8 kg).
Dimensions: 12 x 10 ft (366 x 305 cm).
Area: 120 ft² (11.16 m²).
Peak height: 82 in (208 cm).
Packed size (L x D): 26.5 x 8.5 in (67 x 22 cm).
---
Final thoughts, rating, pros & cons
So to summarize this Wenzel Durango Magnetic Screen house review, this is a nicely built and pleasant construction, compact for transportation and lightweight for its size. It is freestanding and it allows you to use it over an existing outdoor table or as an annex to your camping tent. The price is more than appropriate, fully recommended. It is included in my list of best screen houses for camping.
In the table below you have the rating summary and the list of pros and cons. The same criteria are used for all items of this type so you can easily compare them.
For more options please check under the category Screen Houses. You might want to check this Sierra Designs Outdoor Magnetic Screenhouse which is an almost the same design. If you would rather have a true tent from this brand, check their Wenzel Tamarack 6 Person Dome Tent.
Note that we add texts here regularly, so this is why you might want to bookmark this site and visit it occasionally. This will keep you informed. Subscribe to my weekly newsletter (the subscription form is below) and stay in touch. Thank you for reading and have a nice day.