If you want to see something truly innovative on the family camping tent market, this Vango Capri 600XL review is a right place to start. Here you have an air beam support system instead of classic poles, and plenty of other features, so keep reading.
---
Key features & benefits
This is an Air Beam technology.
This is also a dark rest tent.
3-room tent.
2-external doors.
Huge and pleasant sitting area.
Impressive waterproof rating.
Front porch.
Huge PVC windows.
Electric cable port.
Air pump included.
These are impressive features, so please keep reading.

---
What type of tent is this
The Vango Capri 600XL is a unique among family camping tents on the market, but this brand has many tents built in this style. So to start with its general profile, this is a tunnel-type as you realize from the pictures.
It is also with a unique Air Beams system – instead of classic poles, you pump the air in the beams. The structure is not freestanding, you have to stake it down to be fully functional.
The tent is a 3-room type, so you have a sleeping area which is a sort of a dark rest zone, and it can be divided into two separate rooms. You also have a large sitting area, plus a floorless porch.
The Capri 600XL is a single layer design in the bigger part. So you do not have the usual mesh on the ceiling. In fact, the ceiling is the fly itself. This is both good and bad, the structure is simple but the ventilation is reduced. But see the floor plan picture below, which shows the cocoon inner sleeping area. This part is a double layer zone.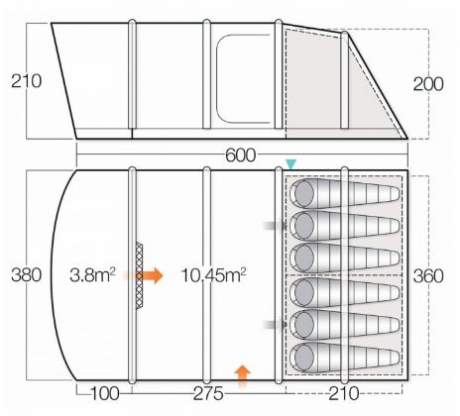 ---
Who is it for
Season-wise, when you see all its features and specifications, you realize that this is a true 3-season tent, totally reliable and with a great waterproof rating.
Space-wise, the tent is with the declared capacity of 6 people. But if you look closely at its floor plan and dimensions in the picture above, you realize the following things:
The actual sleeping area is really small for 6 people, you have 7.56 m² of space here, although indeed it can accommodate such a number of users using up to 60 cm wide sleeping pads each. I would rather sleep in the sitting area than being so densely packed in the inner rooms which, in my view, are perfect for 2 people each.
In any case, the sleeping zone is with a divider, and you have separate entrances to each of the two sleeping rooms. The sitting area is also with a floor, and it is massive, so it is up to you how you are going to use it.
The total inner floored area is huge, 10.45 + 7.56 m² = 18.01 m², and it can accommodate far more than the declared number. In fact, using the same criterion for the area per person as in the sleeping area, this tent can easily accommodate 12 people. See the floor plan to realize this, you have 3 m² per person, plus the porch on the front of the tent. So it is bigger than many 10-person tents, you can compare it with MOOSE OUTDOORS Inflatable Tent 10 to realize this.
Observe that the sleeping zone is slightly smaller than the actual external dimension; so this is the inner tent and you have a few centimeters of space between it and the shell.
Note, I have included this tent in my list of extra large family camping tents.
Regarding transportation, the weight of the tent is 52 lb (23.55 kg) and its packed size is 27.6 x 16.9 x 15.4 inches (70 x 43 x 39 cm), so you can use it at places with a car access. This can include a variety of outdoor activities, but the tent is not the best option for warm areas. Remember what I said about its single-layer structure. This is more for a cooler environment otherwise it may be very warm inside.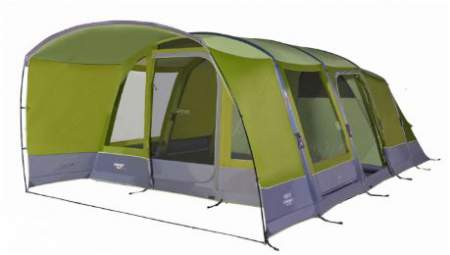 ---
Plenty of features
Support system
This is something quite unique but used in many tents of this brand.
♦ I would start with the Air Beam technology. So this tent comes with 4 air beams which you inflate with the pump that is included in the package. The beams are pre-angled and this creates a greater internal space and it provides effective bracing against winds.
♦ You only have one classic shock-corded fiberglass pole which you use to create the front porch, which is a really useful area for sitting or for cooking when the weather allows for it.
♦ Related to this system is its patented TBS (Tension Band System) feature, which ensures that it performs in adverse conditions, especially in strong winds. This system braces the pole at 3 points, see the pictures below, and prevent sideways movement. When the weather is calm, it can be stowed.
A bit more about the inflation and other features you can see here:
Fabric and waterproofness rating
You have Vango Protex 70D polyester flysheet with an impressive 4000 mm waterproof rating. So this is a very waterproof and reasonably durable layer.
The floor is a bathtub style and all seams are factory taped.
This is a fire retardant fabric that meets European EN5912 safety standard.
Windows and doors
All windows are with PVC and you have panels on them for privacy. So these are not mesh structures which you have in most family camping tents. This is a design for a rainy environment in the true sense. You have two of them already in the porch area, and two more are in the sitting area. Note that these panels are not with zippers, you have toggles, so you can keep them in three positions only, completely down, halfway up, and completely up.
The front door is huge and here you have a mesh layer plus panel. There is one side door as well, but it is without a mesh, so it is better not to use it at all.
Ventilation
You have a ventilation mesh opening above the porch door, and three more vents are also in the sitting area; those are equipped with Velcro stiffeners and you can keep them open all the time. They are also with mesh so bugs cannot get in.
Yet another vent is high on the wall in the back zone, behind the sleeping room; you have a guyline for it and can keep it always open. Obviously, you will need all these vents because the roof and windows are solid materials.
Other features
SkyTrack II – a flexible hanging system for lighting.
The tent bag is expandable and with an oversized wide opening, equipped with compression straps to reduce the overall pack size.
Double zip door provides flexibility by allowing the top of the door to be opened for ventilation.
Lights out inner tent with a darker fabric which reduces the amount of early morning light.
Part mesh inner door for ventilation.
You have bedroom pockets for storing small items.
Toggled inner divider.
Diamond Clear windows.
---
What if it leaks
Tents of this type have been around for a few years already and the technology is very improved. So these air beams are really robust. But it can happen that some of the poles leak. In this case, you will fix it just like any inner tire on your bicycle. The beam pole is removable, so take it out, find the leak spot and fix it.
---
Setting the tent up
In the video below, you will see how these guys are blowing the air beams and how the tent raises from the ground in a closed space. But a real procedure would imply that you stake the corners first and then use the pump. After that, add the porch fiberglass pole, and stake the tent sides properly. You can do it in 10 minutes for sure.
Taking the tent down is just the opposite, the valve system is very effective and the air beams are deflated very quickly.
---
Specifications
Type: non-freestanding, 3-season tent.
Capacity: 6 people plus.
Weight: 52 lb (23.55 kg).
Dimensions (L x W): 236 x 150 in (600 x 380 cm).
Inner area: 194 ft² (18 m²).
Inner area per person: 32 ft² (3 m²).
Porch area: 41 ft² (3.8 m²).
Peak height: 82.7 in (210 cm).
Packed size (L x W x H): 27.6 x 16.9 x 15.4 in (70 x 43 x 39 cm).
---
Final thoughts, rating, pros & cons
So this was my Vango Capri 600XL review, I am really impressed with this tent and I can fully recommend it. This is an innovative concept and the tent has some features which make it stand out from other tents on the market. The weather resistance is impressive, so if you want something reliable for a 3-season camping in areas with lots of rain, you should not hesitate.
Vango Capri 600XL Tent
Pros
Very reliable.
True 3-season use.
Very comfortable.
Quality materials.
Versatile.
Good organization & features.
Cons
Not for a warm environment.
Heavy.
The side door is without a mesh. Why?
For EU & UK visitors, to check the current price or to order this tent, please check here.
You might want to see its smaller cousin Capri 500 XL and the Vango Odyssey Air 600 which is also for 6 people. More inflatable tents are available in this list. Check also this Eurohike Buckingham 6 tent built in the same style but with classic poles.
Thank you for reading. Please use the comment box below if you have any comment or question. Have a nice day.