This Ozark Trail 10-Person Dark Rest Instant Cabin Tent review is about a freestanding family camping tent from a new line of tents with the dark room technology which drastically reduces glare in the tent.
---
Key features & benefits
Innovative Dark Rest technology.
2-room tent.
8 windows.
Fits 2 queen airbeds.
Instant setup in 2 minutes – no assembly required.
Electric cable port.
Very good price.
---
Where to buy
---
What is in the name
Dark Rest – what is this?
I have described this new trend (also known under the name Darkroom) in my separate post. Here, just to stress that in this particular tent this implies that i) all material is made dark, ii) the 4 skylight mesh openings are with additional zippered dark panels which create a dark environment, iii) the same dark material is also on the windows and the door. The purpose of this is:
to reduce the glare and allow you to sleep longer in the morning,
to take a nap during the day,
to make a cooler atmosphere in the tent.
But the fly is with vinyl translucent windows so you can unzip some of the skylights panels and have the direct light inside. The pictures below show how different it can be in the tent when you use the panels.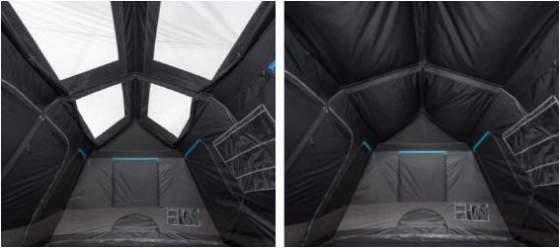 Instant & cabin tent & freestanding
The meaning of the word instant is that the frame is pre-attached to the tent in the factory. So you just unfold it in all directions and then extend its telescopic poles, which look like spider legs to me. This can indeed be done in 2 minutes.
The word cabin refers to its straightened, steep, and tall walls. More about instant cabin tents you can see in this text.
The tent is formally freestanding, but do not miss to stake it down; you have 14 steel stakes included in the package.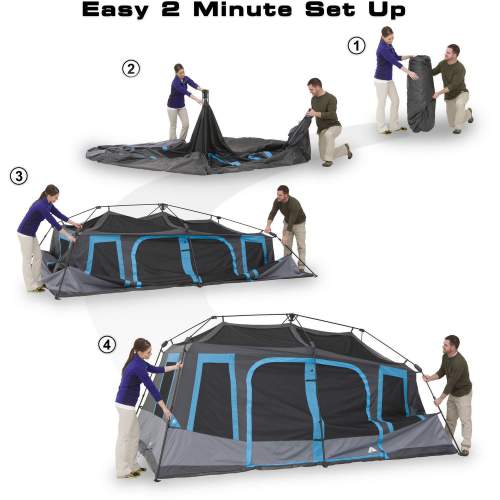 ---
Who is it for
The declared capacity of this tent is 10 people. However, its flor area is rather modest and you have 1.3 m² (14 ft²) per person. This is not so great in view of the fact that you don't have any vestibule, awning, or porch. So I would say you should use it for 5 people maximum if you want some comfort.
Note that the two rooms are big enough to accommodate a queen size bed each, and there is one door per room, so it is great for 2 couples as well.
Season-wise, this is a tent for 1-1.5 seasons, practically a summer camping tent and I would not use it in harsh weather conditions.
In view of its instant setup design, this tent is a great option for people who change their camping place frequently, like those on cross-country tours.
The packed size 43 x 8 x 8 inches (109 x 20 x 20 cm) is quite typical for such a design, but it is also heavy. You realize you need a car, so this is to be used at places with a car access.
---
Materials & construction
Poles are steel, and the tent fabric is polyester, with polyethylene on the floor. They do not provide any information about the waterproof rating, I find this a bit disappointing.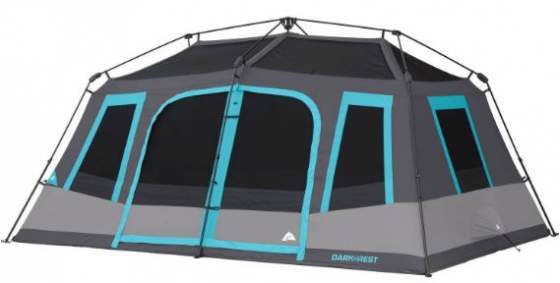 The main new feature here is the Dark Rest design, so the whole fabric is dark and this creates a cooler atmosphere in the tent. The ceiling is essentially 3-layer type: the mesh, the panels underneath the mesh, and the fly above it. The 4 panels are with zippers so you can close them to create a very dark area. The fly is with vinyl windows above these panels and you can have direct sunlight in at your choice.
A note about "holes" in the tent. I have seen people complaining about "holes" in the tent, and they can be very visible when you look from inside because the tent is so dark so the contrast is huge. Those can be real holes indeed, but I know for sure that in some cases this is just the fabric at some small spots that is not in dark color as the rest, so it passes the sunlight in, and it looks like a hole while in fact it is not. So please take a closer look and put your mind at rest.
All windows have panels of the same dark material as those on the ceiling, and the same is with the door panels.
When all panels are closed, you have warmth substantially preserved, so this is an advantage as compared with the usual summer camping tents which only have mesh on the ceiling. Also, with such closed panels, you reduce the dust from entering from outside, good to know if you are using the tent in such a dry and dusty area.
Ventilation
When you close the roof panels, air circulation is reduced. But you still have 2 triangular areas with mesh on the two sides on the ceiling, so not all ceiling is closed. There are 2 floor-vents as well which should generate enough vertical airflow in combination with those ceiling openings.
All the windows and the 2 doors are with mesh plus panels, so you can regulate airflow quite a lot and this should not be an issue in this tent.
Other details
A hook is available at the peak height point, and you also have several storage areas on the wall, quite nicely designed. You also have an electric cable port on the wall; these features are shown in the pictures below.
The two external doors are side by side, D-shaped and with zippers.
---
Specifications
Weight: 37 lb (16.8 kg).
Capacity: 10 people.
Dimensions: 14 x 10 ft (4.27 x 3.05 m).
Floor area: 140 ft² (13 m²).
Area per person: 14 ft² (1.3 m²).
Peak height: 78 in (198 cm).
Packed size: 43 x 8 x 8 in (109 x 20 x 20 cm).
6-month limited warranty.
Carry bag included.
---
Ozark Trail 10-Person Dark Rest Instant Cabin Tent vs competitors
In the table below you can see how this tent compares with some other tents from this size range. This is the only one with the Dark Rest design. As you realize, the other parameters are very similar. To see more please follow the links in the table.
Columbia Sportswear
Fall River 10
Campvalley
Instant Cabin 10
---
Another variant – Ozark Trail 10-Person Half Dark Rest Cabin Family Camping Tent
They have built a variant with the name given above, and the tent includes a screen room shown in the picture below. You can see more here.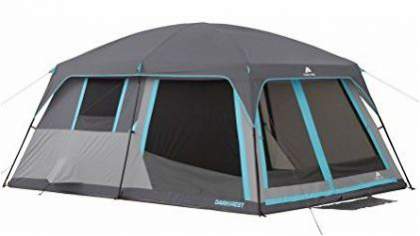 ---
Final thoughts, rating, pros & cons
So in the summary of my Ozark Trail 10-Person Dark Rest Instant Cabin Tent review to stress again that this is a tent most suitable for summer vacations and for camping in areas with little rain and wind. The Dark Rest design does it job and the tent indeed creates a dark and cool atmosphere.
But its declared capacity is not so great, so use it for twice fewer people and you will have plenty of space. See how I rate this tent:
Ozark Trail 10-Person Dark Rest Instant Cabin Tent
Bear in mind the other tents from the same series, you can see its smaller brother the 6-person tent in my another review and also the bigger 12-person version. See also my list with the tents of this type.
Thank you for reading. This site is all about family camping tents so if you need something different, just look in the Categories above. You might want to compare this tent with the Core 10-person cabin tent. Please use the comment box below in the case of questions or comments. Have a nice day.