Family camping tents usually come without a footprint, but some have it. So what is the purpose of a tent footprint? Read more about this here.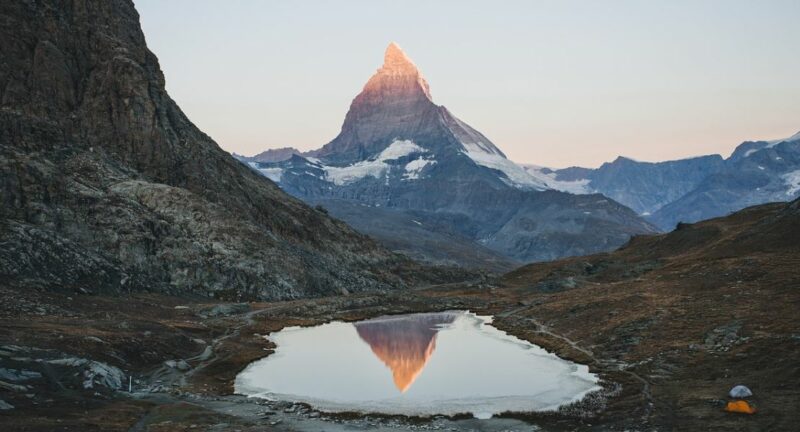 In most cases, large family camping tents have a thick polyethylene floor and this works well without a footprint. Polyethylene is a sort of plastic and it is relatively inexpensive. Such floors have a huge waterproof rating, they are welded so there should never be leaking. But there are some great exceptions where tents have a polyester floor and they also come with a footprint.
Some great examples of tents with a footprint are these Kelty Trail Ridge 8 Tent and Kelty Trail Ridge 6 Person Tent. Note that this should not be mixed with the designs where the tent's floor is detachable as in the case of this Jack Wolfskin Travel Lodge FR tent.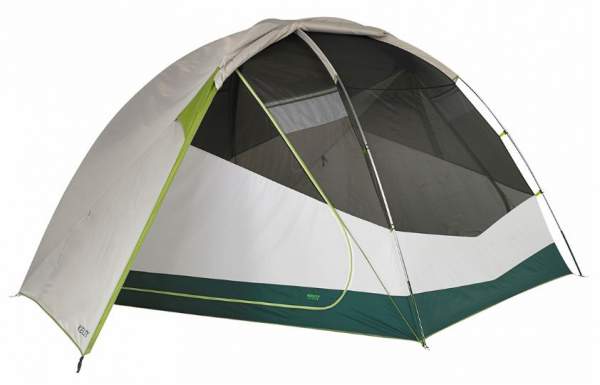 But even if the tent doesn't come with a footprint, it may be a good idea buying it separately and use it under the tent. Here are some possible reasons for this.
1. Protection from sharp objects on the ground
Having a footprint can protect the flor from some sharp items underneath the tent. If you have an expensive tent, it is easier to replace the footprint when it gets damaged than to replace the floor.
But you know what, if you have something sharp under the tent, and you apply pressure from above, it will easily make holes in both layers. So it is best to choose carefully where you pitch the tent. Though sometimes you do not have much choice.
2. Extra ground protection if/when the tent floor is damaged
If you already have the tent's floor which is not fully waterproof, then adding a footprint may help to avoid groundwater getting in the tent. In this case it is essential that the footprint remains under the tent, some 10 cm or so away from the tent's circumference line, to avoid pooling and funneling of the rainwater under the floor by the footprint itself.
3. Keeping the tent's bottom clean
You have probably experienced the situation when you dismantle the tent and try to pack it in the carry bag, that its floor is dirty on its underside. With a footprint, you might have an almost completely clean bottom of the tent. Then the footprint may be dirty of course, but it is far easier to clean it than the tent's floor.
4. Extra roof protection in the case of a leaking fly
In some cases, if you experience leaking of the tent's roof, you might use the footprint and add it as an extra layer above. Even if there are no grommets on the footprint, you can still fold its corners and then fix some extra guylines to them, and add this construction above the tent.
The footprint normally cannot cover the whole tent's roof, but it might be large enough to cover the leaking area. Everything is better than a leaking tent's roof.
5. Extra insulation from the ground
Such an extra layer adds a bit of insulation, it is not much but it helps. More on this issue is available in my separate text.
---
Tarp vs footprint
I have noticed that these two terms are sometimes mixed. A tarp is designed to be used as a shelter and it is practically always with grommets. So you can use a tarp as a shelter and a footprint as a floor.
Now, there are many footprints that have the same grommets. I have one right now, see the picture below from my 4-person tent. They are added so that you can use the footprint with the fly in the so-called fast-fly variant. This is mostly so in small backpacking tents.
So sometimes there may be no difference between a footprint and a tarp. Both can be used as shelters or as an extra layer above the tent, and both can be used as a floor protection as well.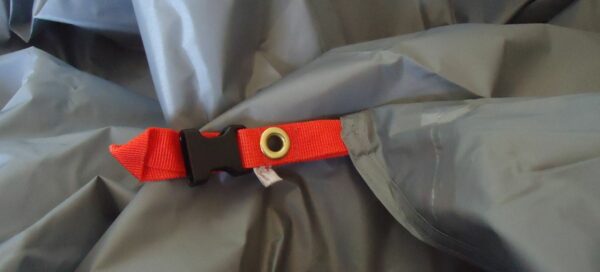 Would I use a footprint on my hiking tours?
The answer is simple – no. My pack is always to heavy, so adding a footprint is not an option.
Would I use a footprint with a car camping tent?
The answer is simple again – absolutely yes. It is always good to have it at hand, for any of the reasons mentioned above.
So what do you think? Please share your thoughts, there is a comment box below. Check also our text on how to choose a tent for camping in the rain. We add texts here regularly, so stay informed, bookmark the site and visit from time to time. Have a nice day.