---
If you are not in a situation to heat a tent or you do not want to do so, you might want to know how to stay warm in a camping tent even without heaters and to make your cold-weather camping bearable. So keep reading.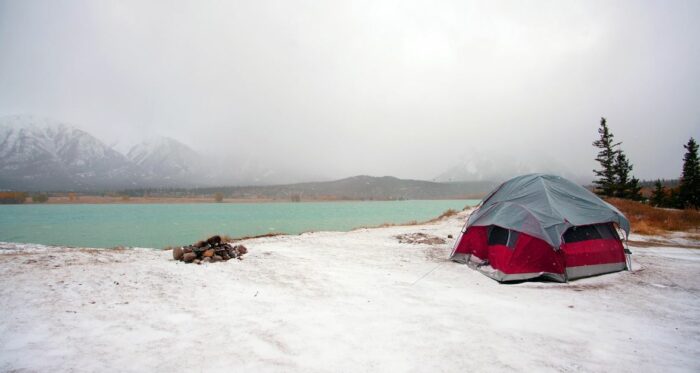 Did you know that, according to some sources, a resting human male gives off around 350000 J of energy per hour? This roughly corresponds to 100 Watts, in other words, this is similar to the energy of a light bulb.
So in a closed space like a tent, several people can make the temperature bearable even if it is very cold outside. But there is much more to this. I am a physicist by profession and this is an interesting question for me in general. There are many factors to consider if you want to stay warm while camping in a tent, so here are some that come to mind first, in no particular order:
1. Choose an enclosed tent
If you expand this idea about bodies emitting heat, you cannot avoid thinking about the type of tent as the first factor. Obviously, if this is about camping in a very cold environment, you will have to avoid tents with mesh on the ceiling. Instead, go for enclosed constructions with solid windows and with vents that can be closed when necessary.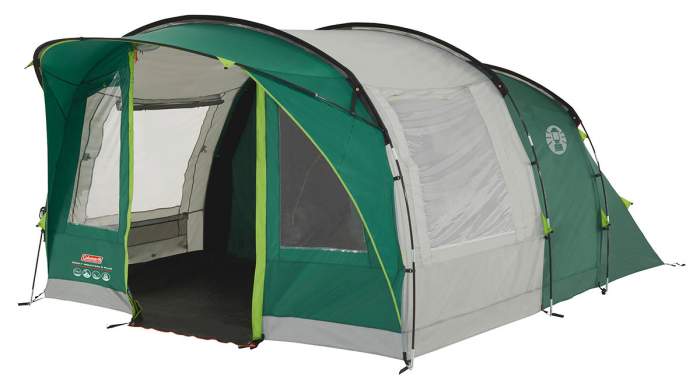 Such tents will retain the heat emitted by the bodies of the users, and you will avoid cold drafts in general. Here in the site, we have a long list of tents for cold weather camping, so have a look and you will find many great options. See also our list of best winter tents.
2. Choose an appropriate tent size
So we have established the fact that our bodies emit heat, but if this is dispersed in a large volume you will not benefit a lot from it. In other words, you will want to choose a smaller tent. The tent example given in the picture above is for 5 users and you will certainly not choose it for solo camping.
3. Use a double-later tent 
If this is about synthetic tents, you will feel much more pleasant in a two-layer tent. The inner tent to some extent separates the air from the colder external shell so the warmth is better preserved and you will also have less condensation. See one great example here, the Big Agnes Copper Spur HV Expedition Tent with the inner taffeta tent and all mesh sections that can be closed completely: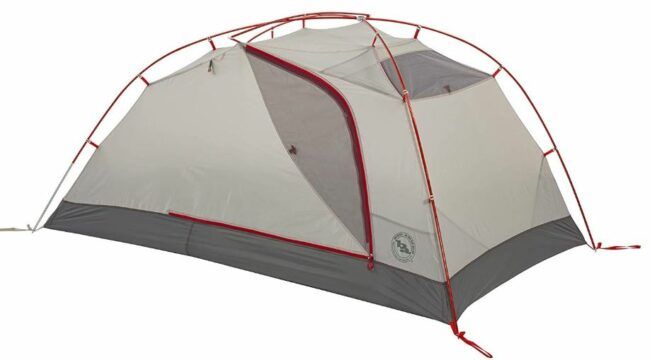 4. Take a canvas tent if possible
Most of the tents on the markets are just synthetic windbreakers. If it is cold outside, it will be cold inside as well. They do not insulate.
But there is a particular type that works great in any season and in any climate, those are canvas camping tents. Canvas gives a bit of insulation and it is definitely great for winter camping. But it works perfectly in summer as well because it makes the atmosphere cooler and it is breathable. Below you see one great example of such tents, the Kodiak Canvas Deluxe 8 person.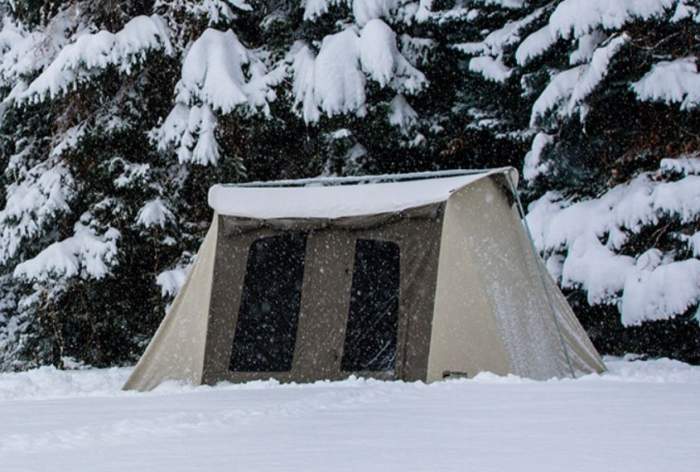 5. Have an insulated tent
So yes this is probably the best option, in combination with some of the factors listed here. Namely, there are (just a few) insulated tents on the market. As of the moment of writing this text, there is only one global brand known to me that specializes in this direction, the Crua Outdoors. They are best known for their Crua Loj 6 and Crua Tri 3 person tents (see the picture).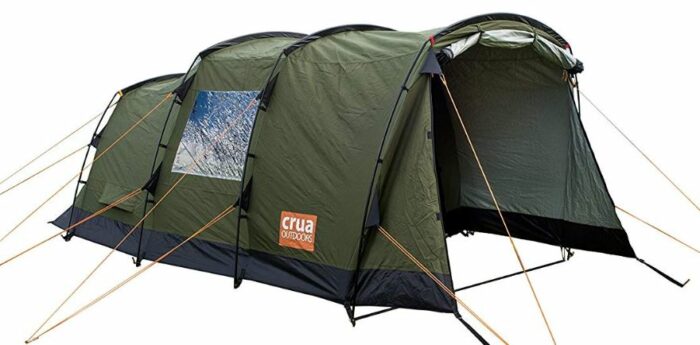 But they have also Crua Duo Dome tent as a combination of a shell tent and an inner insulated tent. The interesting feature of this Crua Cocoon tent is that it is with the R-value 9, and you can use it in any larger family camping tent. It is freestanding and very easy to use.
They have built also Crua Core Dome 6 tent which serves as the base to which you can attach three of these 2-person Crua Duo Dome tents. This will give you nicely insulated sleeping areas.

What else to do to stay warm while camping in a tent? Here are a few more things to consider.
6. Use a wearable sleeping bag
You might want to consider ordering a wearable sleeping bag. It has openings for the arms and for the legs so you can move around and do some simple tasks in the tent.
There are some sleeping bags designed for extreme conditions with openings for arms only, like this Therm-a-Rest Polar Ranger Minus 20 Degree bag shown in the picture below.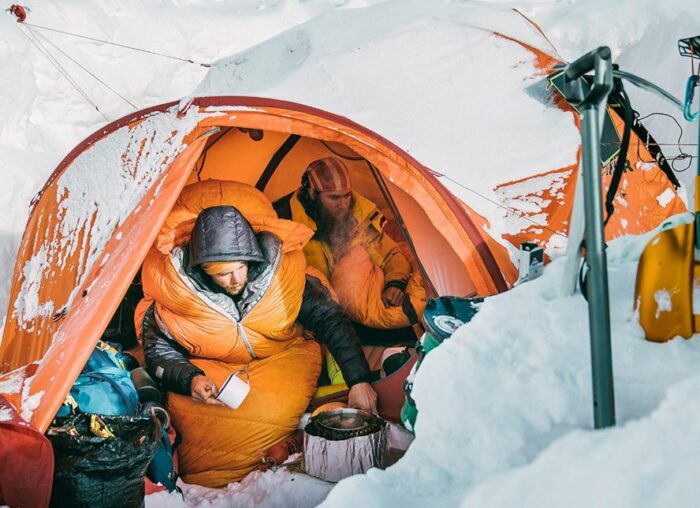 7. Use a bag liner
Use a sleeping bag liner. Such a layer adds a lot of warmth and comfort. Go for fleece if this is about car camping and the weight is not a big deal.
8. Use a reliable sleeping bag
Use sleeping bags with some official thermal rating, EN rating or anything similar. But always add a few degrees to what they give as the rating, and do not rely on the temperature scales they provide. Those may indeed be reliable, but they are for an 'average person', and they usually give the meaning of this term. Well, you may not be close to that definition, and we all feel cold individually, there is nothing average here.
9. Use an appropriate sleeping pad
So use an appropriate sleeping pad for cold weather. Its R-value (or the corresponding temperature rating) must be for more extreme conditions (lower temperatures) that the sleeping bag. The reason is that we lose warmth far more to the ground than to the surrounding air. How much more? Well, think by a factor 50 or so, this depends on the type of the ground.
10. Use a footprint
The ground is cold and more heat goes to it than to the air. So to reduce this heat loss, add some extra protection underneath the tent's floor, or over the floor. Everything helps a bit. Read more about footprints here.
11. Sleep off the ground
For the same reason, and to stay warm in a tent, it is always best to sleep off the ground than on the ground. So use a camping cot if possible and if you are in a tent that is not too low for such a cot.
---
So I hope this text has been helpful and that it provides some useful guidance on how to stay warm in a camping tent. Have I missed to mention something important? Please let me know and use the comment box below. Use it also in the case of questions or comments.
There is always an option to heat the tent, this can be done in a safe and comfortable way, see more in our separate text.
If you are in the opposite situation and camping in a warm climate, you might want to read our other texts on how to keep a tent cool in summer and how to choose a tent for camping in the rain.
Note that we add new texts here on a regular basis, so bookmark this site and also subscribe to our weakly newsletter, there is a subscription form below. Have a nice day.