WHITEDUCK Regatta Canvas Bell Tent Premium is a breathable and waterproof 4-season tent with a sewn-in floor, a pipe jack, 3 windows, nicely ventilated, and reliable.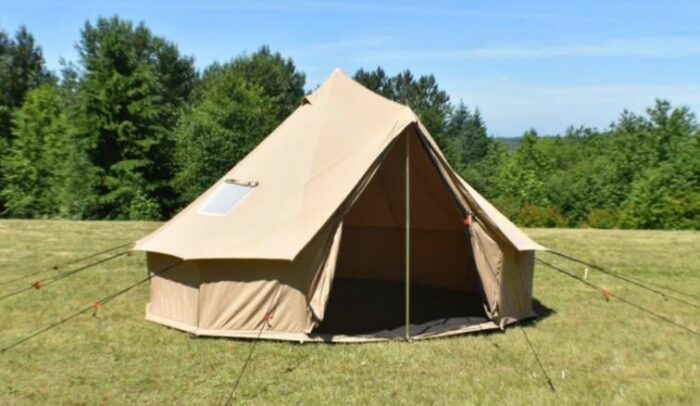 ---
Key features & benefits
Canvas tent.
Breathable.
Integrated stove pipe jack.
E-cable port.
Sewn-in floor.
3 Windows.
1 Door.
4 Vents.
---
What this is about
This Regatta Canvas Bell Tent is built in three sizes and they differ by diameter, center height, weight, and packed size. In this text I shall focus on the version with a 13 ft (400 cm) diameter. Note that they also build it in two different versions regarding the fabric features, more below. So the series includes 6 tents in total.
As the name suggests, this is a type that is usually described as a bell tent. This means that it has a single supporting pole (plus a pole for the door, see the picture below), and in addition to this it has a completely vertical but not very high wall. So the wall is 2 ft 7 inches (79 cm) high and it goes all the way around except for the door, see the picture below.
This side wall is high enough to accommodate 3 windows, two of them are visible below, all double-layer type with mesh and panels. Note that in the video which they have they speak about 3-layer windows, but this may be in some previous version; in fact, such a design is in their Avalon tent.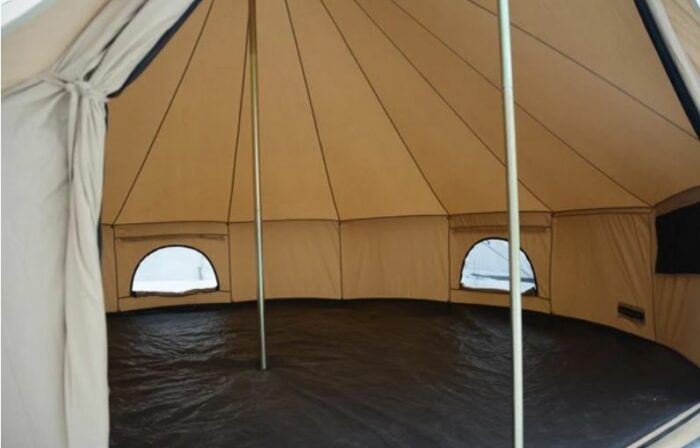 The door is double-size with central inverted-T shape zippers, and it is a two-layer type with mesh and panels. This opening is 6 ft 2 in (188 cm) high. The picture below shows how it looks when fully closed. The rest of the tent is a single wall design as usual for canvas tents.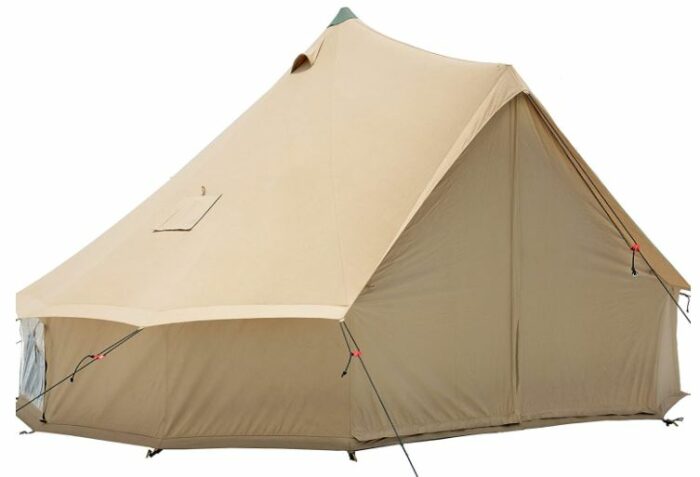 The tent is not freestanding of course, so you have to stake it down properly and for this you need a ground that keeps stakes. All the stakes and guylines are included in the package.
The tent is very tall with its 98.4 inches (250 cm) peak height and I have included it in my list of very tall camping tents. Formally, this is a single-room construction but you can buy an accessory inner tent (more below), and then you can have 2 or 3 rooms inside.
Ventilation
This tent is built from breathable fabric but they did not stop there. As mentioned above, you have several openings with mesh and there are also roof vents. Now, here you will see some confusion, there seem to be two versions with 3 and 4 roof vents. Even on the manufacturer's site they write about 4 vents but the pictures at the same place show 3 roof vents, see the picture below.
On Amazon, you will see pictures with 3 and 4 vents, quite a mess really. But in any case, this tent is perfectly ventilated and condensation should be reduced to a minimum. I am sure ventilation can't be better in a tent.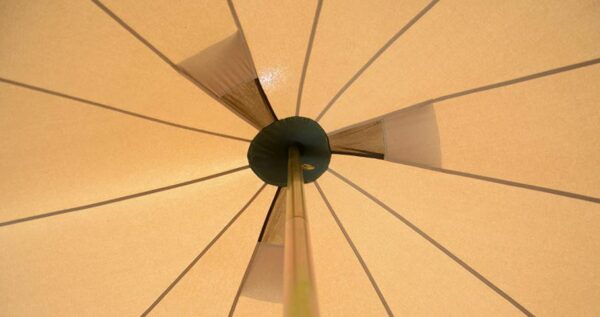 ---
Who is it for
Regarding the area & capacity, the tent offers 132.7 ft² (12.6 m²) and its official capacity is 6 people. This would mean that you have around 22 ft² (2.1 m²) per person. This is quite a lot of space but I would not describe it as 'extremely spacious' as they write. You can see in the floor plan picture below how they think that 6 people would fit in the tent.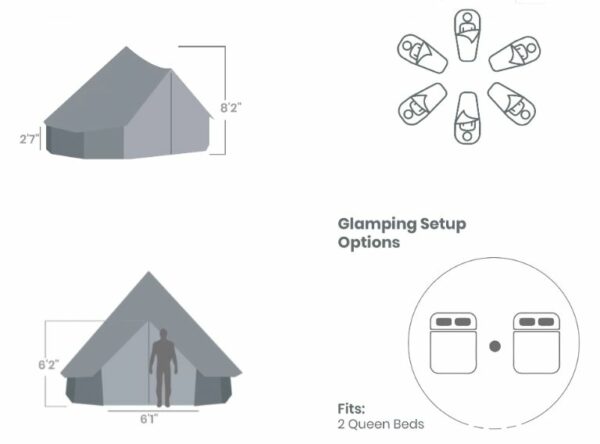 But the diameter is only 4 meters, and the sleeping configuration suggested by the manufacturer is not so realistic. So the users can occupy the space a bit differently and perhaps 6 people might fit in.
Regarding the weight, this is a heavy structure but quite typical for canvas tents. You will see in the specifications below the two different options and their weight. In any case, you cannot carry this tent anywhere.
Regarding the packed size, it measures 45 x 15 x 10 inches (114 x 38 x 25 cm) so you realize this is a long package and you need a car for transportation.
Regarding seasons & climate, normally canvas tents are as close to 4-season tents as possible. This holds for this tent as well. Even without a stove, it will be better for winter camping than most of the synthetic tents. But with the integrated pipe jack (more below), you can use it with a wood-burning tent stove and you will manage no matter how cold it can be.
You have polyester UV resistant 8 mm Dura ropes, and also proprietary elasticated shock absorber cord system (the picture below), and triangular metal rope tension adjusters. This all will keep the tent guy points (highest stress point) with extra play in heavy winds.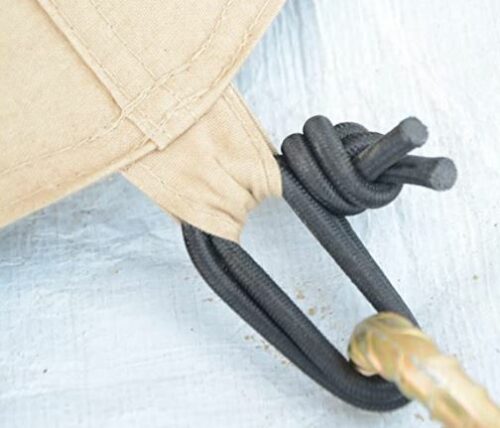 On the other hand, for warm-weather summer camping, such tents provide a much cooler atmosphere than synthetic tents, the tent is also built from a breathable material and this is far better than any synthetic material. All in all, it is great for warm as well as for cold weather.
Regarding the price, canvas tents are always more expensive than synthetic tents, but I am sure the price is justified here, this is a great value for the money.

---
Materials
Metal parts
This is a single-pole construction as typical for such bell-shaped tents. But there is also a door pole, you have seen them in one of the pictures above. So both are built from a galvanized steel, the central pole is 1.496 inches (38 mm) diameter and 0.047 inches (1.2 mm) thickness, and the door pole is 0.984 inches (25 mm) diameter and 0.047 inches (1.2 mm) thickness.
Note that the door pole is in the middle of the door, this is not the best design out there. Some other canvas tents have an A-shape door support.
You also have:
13 J-pegs, they are 12 inches (30 cm) long solid steel and they are 10 mm thick.
13 Pins, they are 10 inches (25.4 cm) long and 6 mm diameter.
All the zippers are YKK so you have the best of the best.
Triangular metal runners are in place to adjust the tension.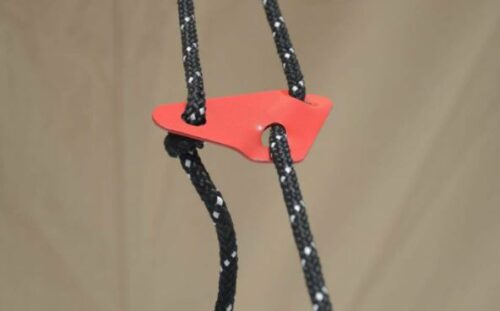 The fabric
The shell: They claim that this is a 100% cotton canvas, more precisely it is made from Grade-A premium Double Fill 8.5 oz Army Duck 100% cotton canvas. They use weightless breathable WR (Water + Mildew) treatment. So the fabric is not coated and it remains breathable. The seams are double-stitched, and corners are reinforced. The mentioned mesh areas are made from high-quality No-See-Um Mesh to protect you from bugs and critters.
The floor: Here you have a super durable 7.5 oz polyethylene. Note that it is sewn-in, this makes it different from their Avalon tents series where the floor is zippered. There is quite a confusion about this at various places, the video below shows its version with the linked-in floor.
The stove jack & other features
Here you have a 47 x 47 cm size heat-resistant silicon-coated stove jack with flap, see the picture below. The opening is 5 inches (12.7 cm) diameter. It is designed to withstand extremely high temperatures so it will not melt in direct contact with a hot stove pipe. As you see in the picture below when not in use it is covered with a flap. Because of this, I have included it in my list of tents with a pipe jack.
There is also an E-cable port and a large wall organizer, both are shown in the picture below.
Please see a bit more in this video:
Setup
One person can easily set this tent up, you can see this in the video. Observe that the floor in the video is not sewn-in, but the setup procedure is the same:
Warranty
They offer a 1-year warranty with their canvas tents. They claim the following: "WHITE DUCK OUTDOORS will replace this tent, should it fail due to faulty materials or manufacture/workmanship for a period of 1 year from the date you purchase."
---
Specifications
Official capacity: 6 people.
Weight:
– Water repellent version: 66 lb (30 kg)
– Fire/water repellent version: 71 lb (32 kg).
Diameter: 13 ft (400 cm).
Area: 132.7 ft² (12.6 m²).
Area per person: 22 ft² (2.1 m²).
Peak height: 98.4 in (250 cm).
Packed size: 45 x 15 x 10 in (114 x 38 x 25 cm).
---
Accessories
This tent is great as it is, but they have many items that can be added to this tent, see what they offer:
WhiteDuck Awning for Regatta Bell Tent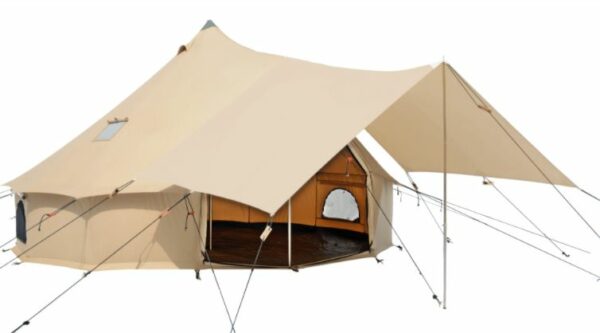 This Awning is made of the same canvas fabric as the tent, so it is waterproof and breathable 100% cotton canvas. The awning dimensions are 4 x 2.5 m.
It provides a large sitting area in front of the tent, and it comes with one extendable metal pole shown in the picture. You also have all the necessary guy ropes, J-pegs, and metal sliders included. All this is in its separate storage bag.
WhiteDuck Triangular Tarp for Regatta Bell Tent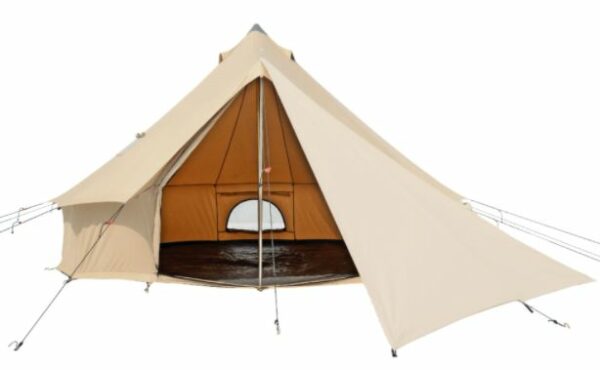 You have several sizes here, and this is a durable and breathable 100% cotton 8.5 oz. Army Duck Canvas in beige color, the same as the tent. It can be used on their 4 m, 5 m, and 6 m bell tents. All the seams are double-stitched, and the corners are reinforced.
Included in the package are grooved sturdy metal stakes, and a canvas storage bag. You can use it for some extra undercover space with the tent as the picture above shows, but it can be used alone for a garden canopy or camping shelter.
WhiteDuck Tent Groundsheet (footprint)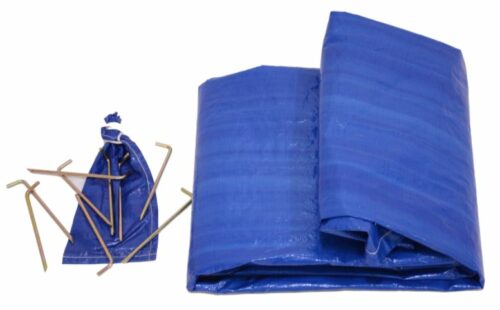 This footprint is designed to fit underneath the tent, so the shape is the same. It is convenient to use it for extra protection and also to keep the tent's floor clean so that you can store the tent without extra cleaning. It adds yet another layer of warmth, and it also prolongs the life of your tent, note that it is very affordable. You have webbing loops on each anchor point, and stakes/pins are included.
WhiteDuck windbreaker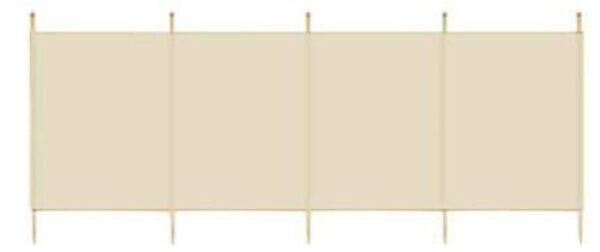 This is a convenient freestanding windbreak perfect for creating shelter or additional privacy, multi-functional, and suitable to use with any size of tent or as a stand-alone piece. It is standard size, 5 m long and x 1.5 m high, with 4 panels. You have the same durable and breathable 100% cotton 8.5 oz Army Duck Canvas. It is also treated so it is mold and UV resistant, with seams double-stitched and corners reinforced.
It comes with 5 sturdy easy to assemble wooden poles, heavy-duty reflective guy lines, grooved sturdy metal stakes, and heavy-duty metal sliders to adjust the tension. You also have a canvas storage bag.
WhiteDuck Inner Rooms (1/2 and 1/4)
So these are inner mesh rooms that you can attach when needed, for extra warmth and privacy. They build them in two different sizes, both are available here.
The inner tents are made from a lightweight high-quality poly-cotton blend. You attach them on the D-ring that is on the central pole. The 1/2 version has a zippered canvas wall in the center for privacy, this means you have two sleeping rooms plus a living room in front of it.
They use top-grade, heavy-duty zippers, and the inner tents are with sewn-in bathtub style groundsheet. The inner tents are specifically designed to fit 10', 13', 16'5" Regatta bell tent. There is a separate canvas bag for storage.
WhiteDuck Outdoor insulation sleeping mat
This is yet another layer for protection from the ground, it is available here. See how it looks: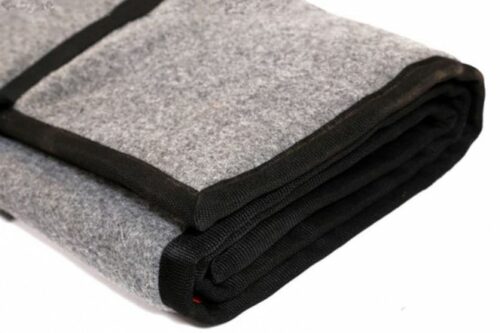 So this is a thermal fleece 260 g/m², lightweight and durable, suitable for one adult. It rolls up tight and packs up small, you have attached straps and handle for easy carrying.
---
Final thoughts, rating, pros & cons
To summarize this WHITEDUCK Regatta Canvas Bell Tent Premium review, what you have here is indeed a premium-class tent, suitable for all seasons and built from top-quality materials. No matter where you use it, you will be fully protected in this tent.
Note that information at various places on the Internet is a bit inaccurate and confusing, but the details presented here in the text correspond to what you actually have available in the version that is on the market now.
The tent is impressive on its own, but they have numerous accessories that can be added and used with this tent, or you can use them independently. All in all, fully recommended, I have included the tent in my list of best canvas camping tents.
I have several specific criteria for rating and I apply them consistently to all the tents here, with this you can easily compare. As expected for such a canvas tent, its weight and packed size negatively affect the overall rating. But this is a camping tent and you can ignore these parameters, what matters is protection and comfort and you have them in this tent.
For more options, just search in the category Canvas tents here in the site. As usual at this point, I wish to invite you to bookmark this site and visit again, this will keep you informed because we add texts here regularly. Thank you for reading and have a nice day.