Here you have my selection of best canvas bell tents suitable for all seasons and all climates, tall, breathable and pleasant, with pipe jacks for wood-burning tent stoves.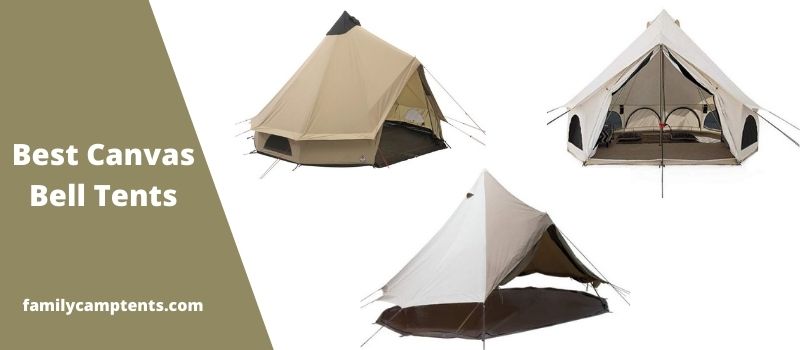 ---
What are canvas bell tents?
So this is a specific sub-group within canvas (or cotton canvas) tents with some common features that include:
One central supporting pole. This is usually the only pole, but some also have an A-frame pole for the door.
Most of these tents are single-room structures. However, some brands do sell accessory inner mesh canopy so you can divide the tent into separate rooms.
These are non-freestanding tents and this makes them different from some other canvas camping tents that can be framed and fully self-supporting.
These bell tents should not be mixed with teepee tents. In the bell tents presented here, you always have one part with a vertical wall.
Apart from these specific features, these tents have the usual features typical for all canvas tents and this implies a lot, they are heavy and bulky, but they are normally breathable and suitable for all seasons and all climates. You will see some that come with an integrated stove pipe jack. These tents are usually much more durable than synthetic tents, and they are more resistant with respect to UV radiation.
---
My list of best canvas bell tents
Here is my list with the tents ordered alphabetically:
Please follow the links for more, all of them are presented in detail in my separate reviews.
---
1. DANCHEL Cotton Bell Tent with Two Stove Jacket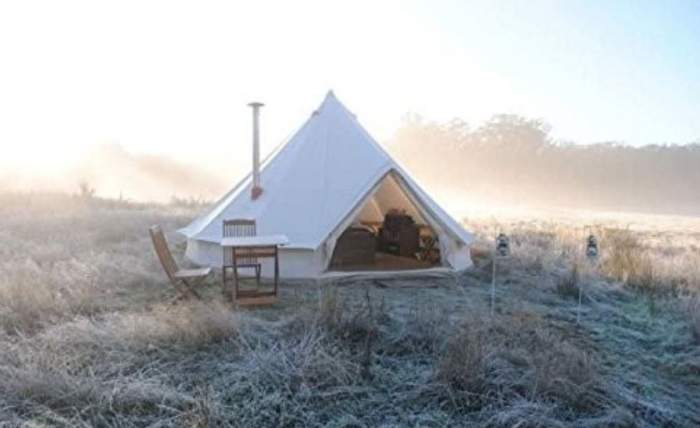 This is a bell-shaped canvas tent with a 5-meter diameter, and this gives an area of 216 ft² (20 m²). The official capacity is 8 people and this should be enough. The tent is with 2 stove jackets, and this is why I have included it in my list of cold weather tents for camping. The tent is more or less for all seasons.
You have a central pole and the setup is easy, so one person can do this easily. The floor is a thick waterproof material so you are safe from groundwater. A long zipper goes all the way around and you can unzip the floor and use the tent as a canopy for family events in the garden.
The tent has 4 small windows on the vertical wall under the skirt, they are with mesh and panels. The tent is built from a breathable material but you also have 4 vents high on the roof so ventilation should be good in any conditions.

---
2. Robens Klondike Tent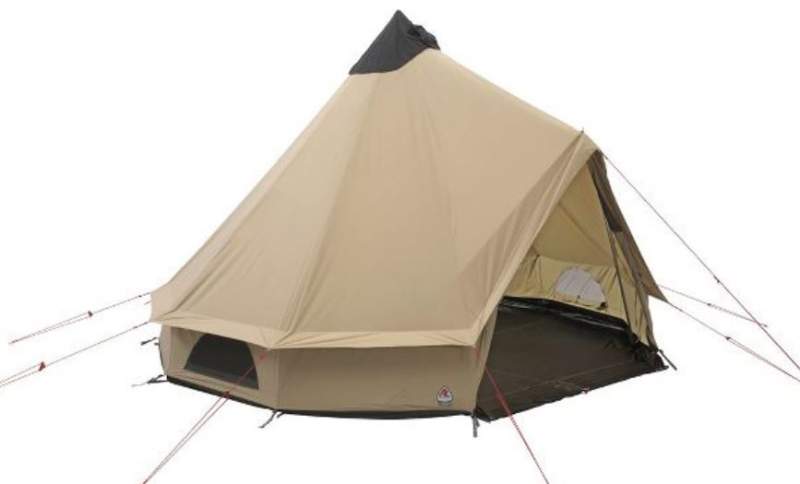 This Robens Klondike is packed with great features. This is a true 4-season tent built from a poly-cotton fabric and they did not use any coating so the tent is breathable. The official capacity is 6 people and for this you have 127 ft² (11.8 m²) of the floor area.
It is not freestanding as expected for such a type, and it offers a standing height in its bigger part. You have an integrated stovepipe port on the top. There is also a floor zipper that you can unzip and roll the floor partly to the side when you put a stove inside.
You can unzip the floor and use the tent as a canopy only. There are 3 vents above the floor and they are so large that they look like windows and they are with mesh and canvas. There are also 2 top vents with an integrated pulley system so you can open and close them from inside.

---
3. Stout Bell Tent 100% Cotton Canvas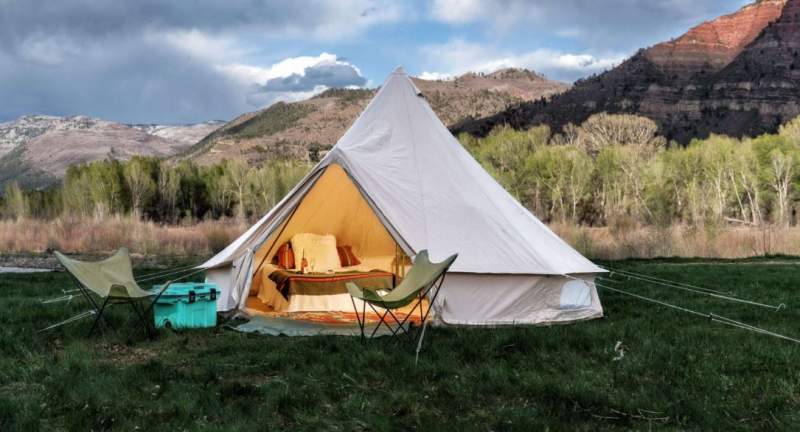 Here you have a pure cotton canvas tent and you can choose from the two sizes with 4 and 5 meters diameter. There are also two versions, Pro and Ultimate, with some subvariants as well.
This is a single-pole construction with 4 windows and 1 door, fully waterproof and breathable. You have an integrated stove jack and you can use a wood-burning stove inside. Note also that there are two ports for cable.
Here too the groundsheet is zipped-in, and one of the mentioned Pro variants is with a mesh that runs around the perimeter. The official capacity is 6 – 8 people and for this you have an area of 211 ft² (19.6 m²). As usual for such tents, it is heavy with its 94 lb (43 kg).

---
4. Teton Sports Sierra 16 Canvas Tent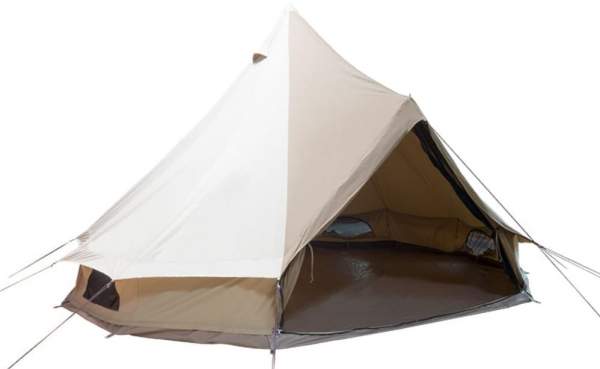 This brand has built three tents in this Sierra series, so the number 16 describes the diameter in feet. You also have tents with 12 and 20 feet in diameter. In this Sierra 16 tent, the area is around 200 ft² (18.6 m²) and the official capacity is 8 – 12 people. As a bell-shaped tent, the structure is very high, you have 9 ft 5 in (287 cm) peak height in the center.
The tent is canvas but the floor is synthetic. There is one huge door and the structure is a single-room structure with 4 small windows around. One central pole supports the whole tent, but here you also have a door pole on the front. Here too the floor is with a zipper so you can unzip it completely and use the tent as a pleasant canopy for family events.

---
5. White Duck Outdoors Avalon Canvas Bell Tent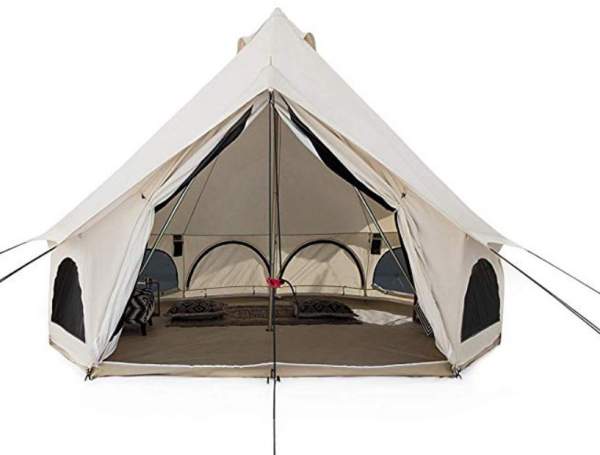 This Avalon is equipped with a flapjack for a stovepipe so you can use a wood-burning stove and you can use the tent in a very cold environment. The fabric is completely breathable so it is perfect also for a warm environment, you have 4 vents as well so the tent is nicely ventilated.
The roof and walls are a cotton canvas, only the floor is a vinyl material and it is removable, there is a zipper running around. All the windows are 3-layer structures so you have mesh, PVC panels, and canvas panels.
The tent quite heavy and bulky, it weighs 95 lb (43.1 kg) and the packed size is 45 x 15 x 13 inches (114 x 38 x 33 cm). The total floor area is around 201 ft² (18.7 m²) and the official capacity is 8 people. I have included it in my list of extra large family camping tents.

---
6. WHITEDUCK Regatta Canvas Bell Tent Premium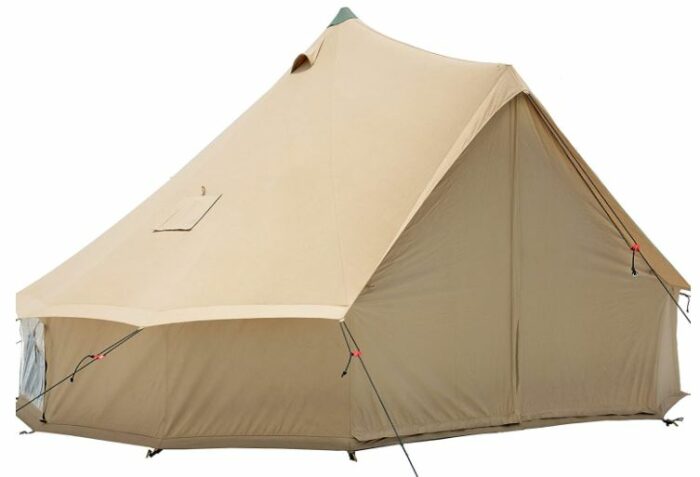 This WHITEDUCK Regatta Canvas Bell Tent Premium is a tent built for all seasons, breathable and waterproof, 100% cotton canvas. You have a sewn-in floor, an integrated pipe jack visible in the picture, and there are 3 windows as well. I have included it in my list of tents with a stove pipe.
Although the tent is breathable, you also have 4 vents. The tent is very tall in the center where you have the main pole. It is equipped with an E-cable port. The tent is heavy with its 66 lb (30 kg), and the diameter is 13 ft (400 cm). Officially, the tent is for 6 people, and for this you have an area of 132.7 ft² (12.6 m²).

---
Final thoughts
To summarize this list of the best canvas bell tents for camping, as you realize these are top-notch products from the best-known brands in this industry. The tents follow the same basic design so functionality in all of them is similar. But there are differences in prices, in the size, and in materials (some are pure cotton and some are a poly-cotton mix).
You might want to bookmark this page and come back from time to time because the list will be updated whenever I find some tent worth adding here.
Thank you for reading. Let me know if you have any question or comment, there is a comment box below. Have a nice day.