Here you have the list with best 14 person camping tents, pleasant and tall structures with multiple rooms and large windows, suitable for families and groups of friends.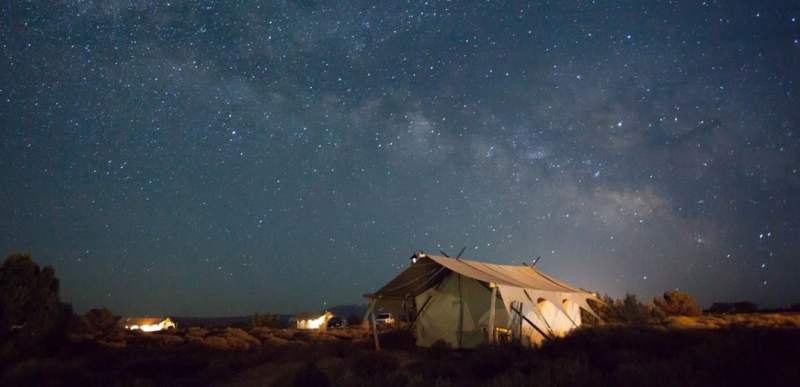 ---
What these 14 person tents offer
Multiple rooms & multiple doors
Usually, you will see multiple rooms in these giants. Some even have cabinets. Such separate rooms imply separate entrances, so this adds to the comfort and users can get out without disturbing many others. They are useful for several couples who want to camp together.
Large area
So as you would expect from tents with such a declared capacity, here you have large floored spaces. But bear in mind that these tents are always too small for the declared 14-person capacity.
Manufacturers use backpacking principle and determine capacity by the number of pads they can put on the floor. But as you can imagine, these are not backpacking tents and such a principle makes no much sense.
Storage spaces
The storage areas include screen sections where you can have at least some protection from elements and also from insects. But you will see some examples with separate closets (cabinets). In most cases, these tents do not offer much of wall storage pouches, but you have some indeed.
Multiple windows
These giant structures are tall and with large windows. They are normally with a partial coverage fly that protects the ceiling only. The good side of this is that you have unobstructed views around though those windows.
Now, the windows should be protected from elements, so you have mesh plus zippered panels. This works well against elements and for privacy when needed.
Great headroom
These are tall structures and you have lots of headroom in all of them, so some are included in my separate list with very tall tents for camping. Such a great headroom is accompanied by large and tall doors and the mentioned windows, so you have a feeling of being at home.
---
How about the weather protection
As I mentioned above, these are tall structures and some are freestanding. Usually, you have a minimal fly for the ceiling only, so the walls are with the same waterproof rating. Do not expect much but you do not need much if everything else is properly done; I mean seams sealed etc. The floor is usually a thick plastic, polyethylene most of the time, so you are safe from groundwater.
But there are many windows and doors with zippers, seams, etc., so many things can go wrong in harsh conditions. Therefore it is best to use these tents for calm weather without much rain. Being so tall and boxy structures, it is best to avoid strong winds.
There is always lots of mesh in the construction of these tents. This is great for warm weather camping and for ventilation, but this is less good in a cooler environment. So use them for summer camping or for two seasons maximum. If you need something for cold weather see my separate list with cold weather tents for camping.
---
How about setup
These are large tents and you might think that the assembly is complicated. But this is not so, it is far easier than you might think. The poles are normally shock-corded and you always have color-coding so you know where they go.
Adding the fly may be a bit tricky for some of them because they are so tall. But this is still easily done when two people work on such a tent. But if you plan to change your camping spot frequently, it is best to go for some instant tents for camping, though they are normally smaller.
---
My list – 14 person tents for camping
Here they are ordered alphabetically so the numbers are not for ranking:
---
1. Ozark Trail Base Camp 14-Person Cabin Tent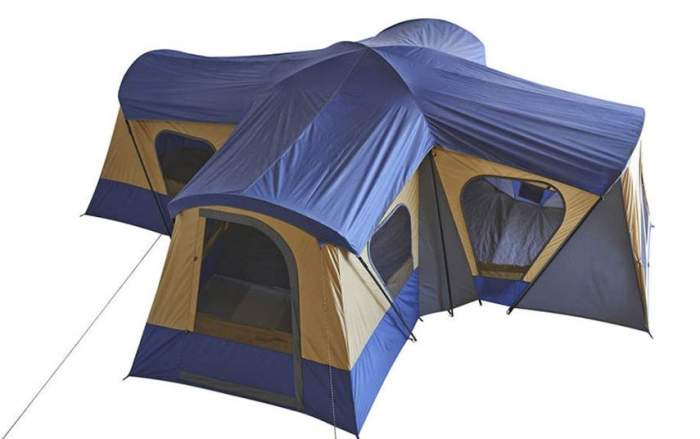 This incredible tent comes with 4 rooms and with 4 entry points, plus 12 huge windows. Note that you have built-in dividers that are sewn-in to the walls and have central zippers for complete privacy.
The dimensions are 20 x 20 feet, but note that the tent is in the shape of a cross, so the total protected area here is around 222 ft² (20 m²), or perhaps a bit more. This is a huge space and big enough for 5 queen size beds. It comes with an electric cable port.
Here are a few more numbers you might want to see. It weighs 47.96 lb (21.8 kg) and its peak height is 78 inches (198 cm). Note also that this is a very affordable tent.

---
2. Ozark Trail 14 Person Spring Lodge Cabin Camping Tent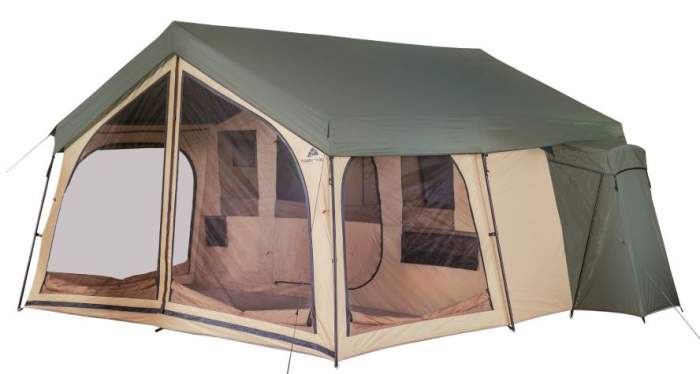 This tent has a total floored area of around 189 ft² (17.5 m²), and this includes 2 rooms plus the screen room which you see in the picture. This screen room is fully floored and convertible to a fully protected room because of zippered panels on its three sides. So I have included it in my list of tents with screen room.
The bonus which you have here is its 2 cabinets, and you can see one in the picture above. These closets have mesh shelves and they are fully floored, and their doors are with zippers from inside the tent. So this tent is included in my list of best tents with cabinets.
The tent has 6 mesh windows on all sides. It weighs 44.95 lb (20.4 kg) and its peak height is 84 inches (213 cm). You might want to know that this is a very affordable family camping tent.

---
3. Spacious Multi-Room Ozark Trail 18′ x 18′ Family Sized 14-Person Tent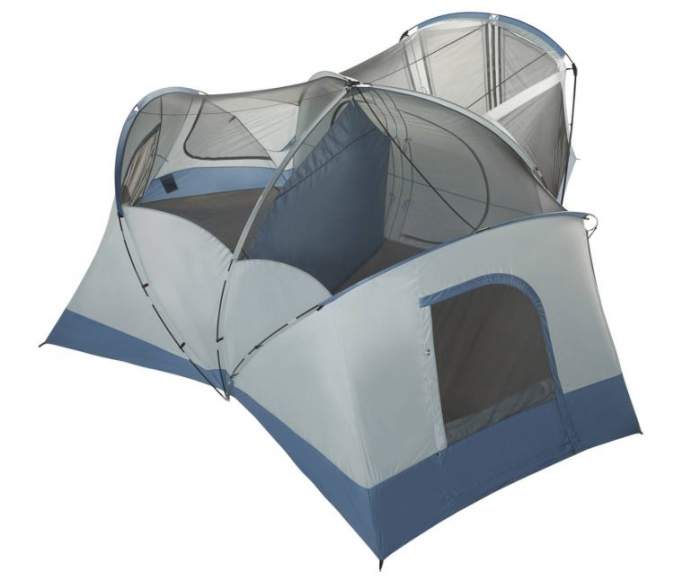 This is a huge tent with 18 x 18 feet dimensions, but as you realize it is Y-shaped so the area is around 22 m² (237 ft²). The declared capacity is 14 people and indeed such a number of sleeping pads can be placed on its floor. The tent is with 8 windows and a mesh roof. It comes with an E-port for the electrical cord and a few pockets and bottle holders on the walls.
This is a 3-room structure and each of them is with its own private access. This makes it suitable for 3 couples. One of the entrance doors is the double size and it is in the section which is a screen room by the design. There is enough space for three queen size beds.
The weight is 34.2 lb (15.5 kg) and the packed size is 27.5 x 11.75 x 11.75 inches (70 x 30 x 30 cm). It is incredibly affordable.

---
4. Tahoe Gear Carson 3-Season 14 Person Large Family Cabin Tent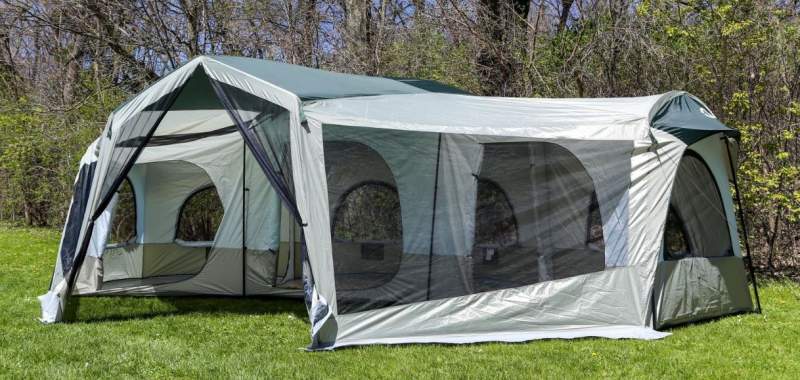 This Carson 14 tent comes with 3 floored rooms plus the front screen room which you see in the picture above. The screen room is not floored and it is without panels on the sides, but it is large and with fly above so that a big part of it is protected from the rain.
The tent's floored area is 182 ft² (17 m²) and the total area is 276 ft² (25.8 m²). The inner rooms include two side square rooms and one central pentagonal-shaped room and they are with real walls in between and connected with huge doors. But they also have huge doors to the screen room.
With 6 huge windows with mesh and zippered panels, the whole structure is very pleasant and nicely organized. This is a very tall tent with 94 inches (239 cm) peak height and I have added it into the group of extra tall camping tents.

---
5. Tahoe Gear Glacier 14 Person 3-Season Family Cabin Camping Tent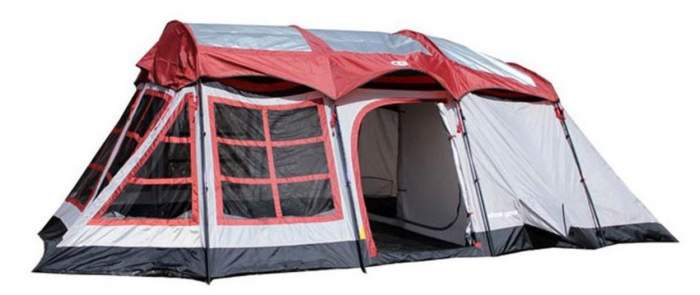 This tent comes with a sleeping area with a divider which you can use as a two-room space, plus a large living room on the front. They describe it as a 3-season tent but it has the ceiling all mesh so it best not to use it in a cold environment.
It comes with steel and fiberglass poles, 8 legs and 4 loops on the roof. The construction is a hybrid tunnel-cabin type with straight leg poles and loops on the roof. So it is not freestanding.
The fabric is with 1200 mm waterproof rating 70D/190T polyester and the floor is 120-gram polyethylene. The dimensions are 20 x 12 ft and the peak height is 84 inches (213 cm). It weighs 41.8 pounds and its packed size is 31 x 12 x 11.5 inches (79 x 30 x 29 cm).
With so many windows and such a height, this is a very pleasant construction. It has been on the market for at least 6 years already, so this is a very popular and affordable tent.

---
6. Tahoe Gear Manitoba 14-Person 20′ x 17′ Family Outdoor Camping Tent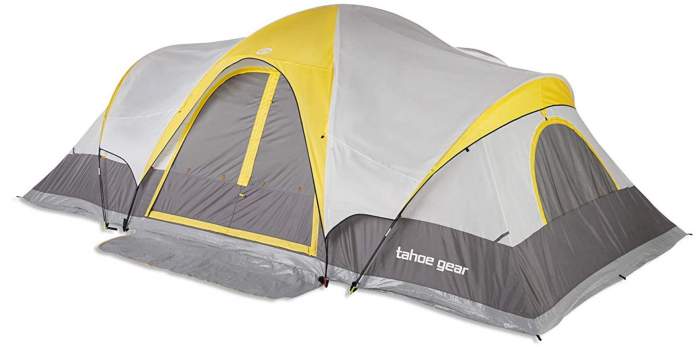 This is a T-shaped tent although from the front picture shown above you might think this is just an extended dome. So there is one extra room opposite to the double door in the picture. The dimensions are given in its name, but in view of the mentioned shape its actual floor area is considerably smaller. They do not provide the number, but it could be around 220 square feet (20 m²) or so. The weight is 37.9 lb (17.2 kg). The tent is tall and you have 6.5 feet (198 cm) peak height.
There are 3 separate windows, plus 2 on the door, all with mesh and panels. The fly and walls fabric is a 70D/ 190T polyester, they do not give a waterproof rating but the fly is factory sealed, and the floor is 120-gram polyethylene.

---
Final thoughts
So this was my list with 14 person camping tents, as you realize these are giant constructions yet the actual number of users should be downgraded to have a full comfort when camping. But they have enough place for 14 sleeping pads on the floor and this can work for groups at some open-air summer festival or concert.
The list will be updated whenever I find a good tent with such a capacity worth adding to the text. So stay tuned, bookmark this text and visit occasionally. Check also my separate list of best 16 person camping tents.
Editor's Choice
Ozark Trail Base Camp 14-Person Cabin Tent (Blue)
$181.51
Pros
Very livable tent
4 rooms & 12 windows
Great packed size
Great price
Plenty of options for the organization
Surprisingly easy setup
Cons
Not for heavy rains or strong winds
Only a few pockets
No floor vents
Small for the declared capacity
Thank you for reading. Please let me know if I have missed adding some good tent known to you, there is a comment box below for this purpose.
---