---
Here you have a list with best 16 person camping tents for summer vacations, large and tall structures with multiple rooms and huge windows, best suited for quiet weather conditions.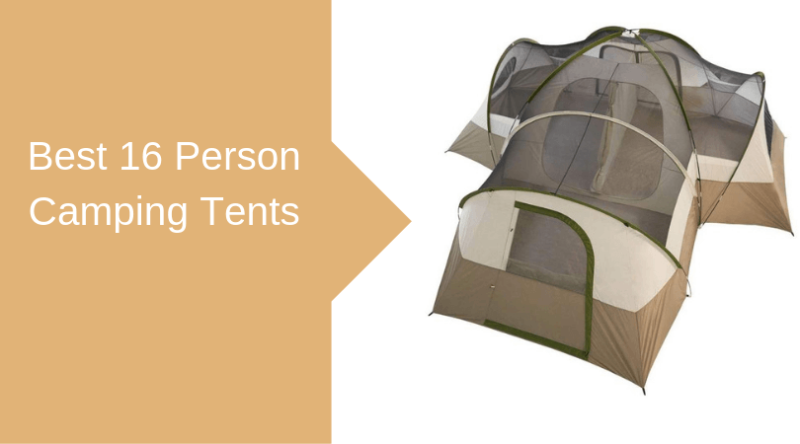 ---
My list of best 16 person tents for camping 
The tents in the list are ordered by the floor area from smaller to larger, but those are true giants, you will see their floor area below:
The tents in the list are here because of their capacity as declared by manufacturers. Note that they usually use a backpacking principle to determine the capacity. This means the number of sleeping pads that can fit on the tent's floor. So the tents can indeed accommodate the declared number of users, but this does not mean that you would feel comfortable.
But there is no a universal definition of comfort and how many square meters per person this should imply. So we have to rely on the capacity as declared by the manufacturer. As I argued in my text about tents' capacity, if this is about family camping, it is usually best to downgrade the declared capacity by half. Though there are exceptions from such a rule, many tents on the EU market do not follow such a backpacking principle.
All of the tents below are described in detail in my separate texts, so here I give only some basic information. For more, please follow the links given in the text.
---
1. Tahoe Gear Ozark 3-Season 16 Person Large Family Cabin Tent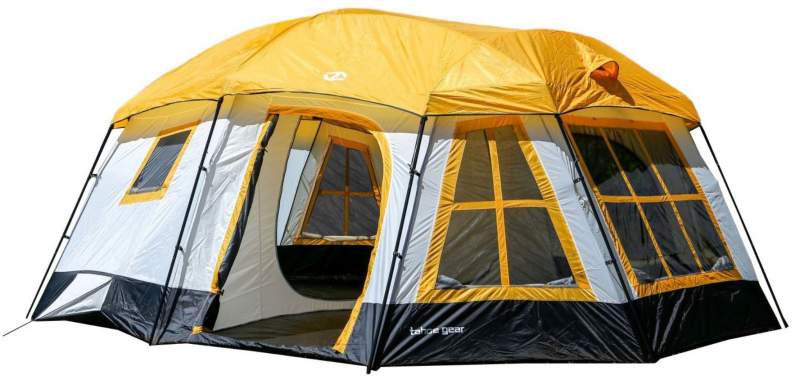 The declared capacity of this Tahoe Gear Ozark Tent is based on its no less than 204 ft² (19 m²) of the floor area. Clearly, this is a large space but 16 people is also a big crowd so it is best to downgrade this number drastically.
But in any case, what you have here is a nice freestanding cabin-style structure with no less than 9 windows and 2 doors. You have 3 rooms and great views around. The tent is also very tall with its peak height of 86.61 inches (220 cm). So I have included it in my separate list with extra tall family camping tents.
Other features include an E-cable port and also excellent ventilation supported with so much mesh on windows and with floor vents and fly vents. You might want to know also that this is a very affordable tent.

---
2. Ozark Trail 16-Person 23.5 x 18.5 Cabin Camping Tent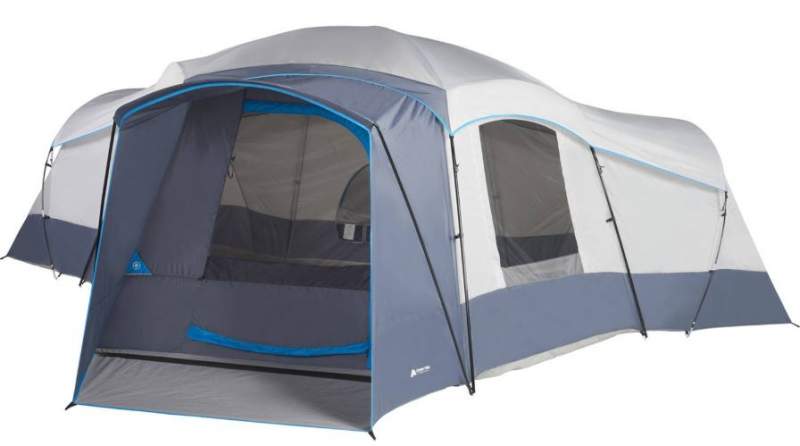 The floor plan of this tent is almost a Y-letter shape, with a central hexagon area, plus non-rectangular additions on the sides. So it is difficult to determine the exact area, but my estimate is that it offers some 20 square meters (215 ft²). So the tent is indeed like a castle, and you have 3 rooms inside, 3 doors and 6 large windows.
But the numbers 23.5 x 18.5 in its name indicate the rectangular ground area needed to set this tent in the camp. Now back to the issue of the capacity; the indicated floor area implies 1.25 m² (13.4 ft²) per person, and this is not so much although the tent is huge.
By the style, this is a cabin tent with straight and almost vertical walls. It is best suited for summer vacations in areas without much wind and rain. This is a large structure with many elements, so you would not want to move it frequently.

---
3. Wenzel Mammoth 16-Person Family Dome Camping Tent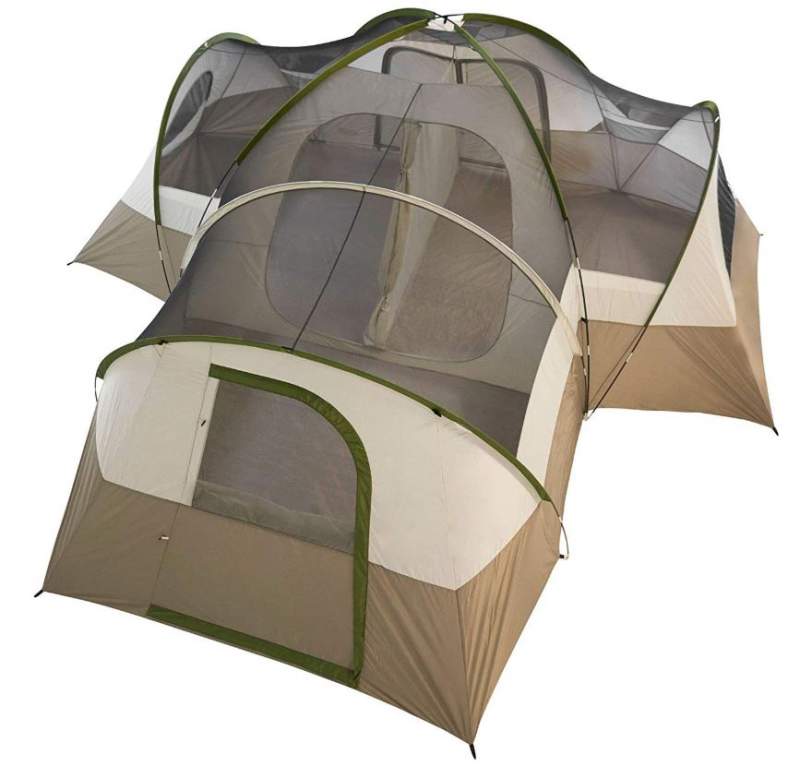 This Mammoth 16 tent by Wenzel offers 248 ft² (23 m²) of the inner area, and this means 15.5 ft² (1.4 m²) per person. So as usual, for real family camping, the number of users should be downgraded. But in any case, I have included it also in my list of extra large family camping tents.
As you realize from the picture, this is a quite unusual extended dome tent, with extensions on three sides. One could also describe it as a hybrid dome-tunnel tent. There are three rooms inside and each of them is big enough to accommodate a queen-size bed.
The waterproof rating is 600 mm, so this is a tent for summer camping in quiet weather conditions. The poles are fiberglass. The packed size is excellent, 29 x 11.5 x 11.5 inches (74 x 29 x 29 cm), and the weight is reasonable for such a size, it weighs 37.5 lb (17 kg). Note that it is incredibly affordable.

---
Final thoughts
So this was my list with best 16 person camping tents currently on the market. It will be updated whenever I find a tent with such a declared capacity worth adding to the list. So stay tuned and bookmark this text.
You might want also to see my list with best 14 person tents. Note that this site is all about large family camping tents so just look around in various categories if you need something specific, you will surely find it here.
I love to hear from you so, please use the comment box below if you have a question or suggestion. Have a great day.
---