---
ALPHA CAMP 10-12 Person Tent with Screen Room is a partly framed summer camping tent with 2 rooms plus a screen room and with 214 ft² (19.9 m²) of the total area.
---
Key features & benefits
Very good price.
Very pleasant.
Easy setup.
3-room structure.
Partly framed tent.
5 windows.

---
What this is about
Here you have a 3-room structure that includes an inner tent with a removable divider, plus a screen room that is covered but not protected from the sides. The inner area is with a sewn-in and sealed floor while the screen room is what some call a wet room or a mudroom, so it is floorless and you can use it for cooking and for sitting in the shade.
They use the word 'room' for the screened area, but strictly speaking, this is a screened porch. I have included it in my list of best family camping tents with a screen porch.
The inner tent is a framed-tent type. This means that the frame is set up completely separately and as such, it is fully freestanding, after that you attach the inner tent to it. You see the structure in the picture below. But the screen room part is not freestanding. The tent is with a partial coverage fly which is typical for cabin tents.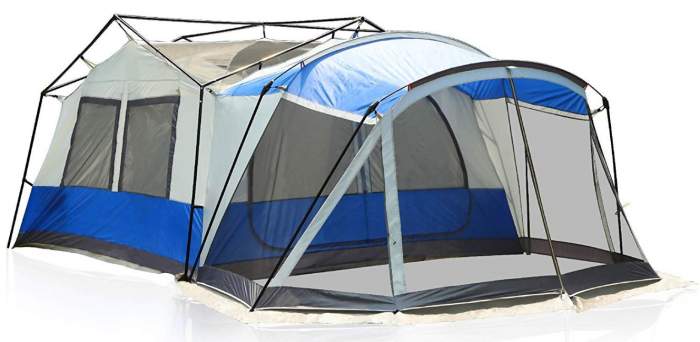 ---
Who is it for
Capacity-wise, they write this is a 10 – 12 person tent and this is why I use these words in the title, they are a part of its official name. But the inner area is only 144 ft² (13.4 m²) and this is too small even for 10 people; in this case you have 14.4 ft² (1.34 m²) per person.
It is true that you have a screen room which is a trapezoid by shape (see the floor plan below) and has around 70 ft² (6.5 m²), but this is not a fully protected area, there are no side panels, just the mesh against flying insects. So this is a space for sitting when the sky is clear and for cooking. In view of all this, I would say this is a tent for smaller families with parents and a maximum 2 – 3 kids.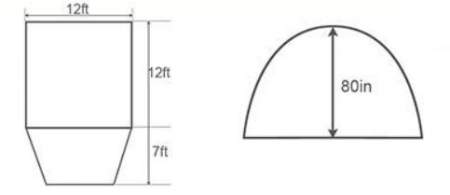 But can it really accommodate 12 people under any circumstances? The answer is no. Just see the inner area dimensions which are 12 x 12 ft (3.66 x 3.66 m). So even if you use very narrow 50 cm pads, you can put only 7 of them side by side. Assuming that for the length you need 2 meters, you have 1.66 meters left so here you can put maximum 3 pads of the same size. So the declared capacity is too optimistic.
However, the total area is formally around 214 ft² (19.9 m²), and this is why I have included it in my list of extra large family camping tents.
Seasons-wise, this is a summer camping tent designed for mild weather conditions without much rain and without strong winds. It comes with a partial coverage fly and you have many seams and windows, and it is 80 inches (203 cm) tall. So I would not put it in too harsh conditions.
Climate-wise, with all mesh on the ceiling and around, this is a proper tent for summer camping, see the picture, but you would not want to use it in a cold environment. With such a ceiling you would feel cold. So this is a tent for warm weather conditions but not for areas with lots of dust in the air. If you need more protection from elements, check one of these tents for cold weather, some of them are also very enclosed and suitable for dusty areas.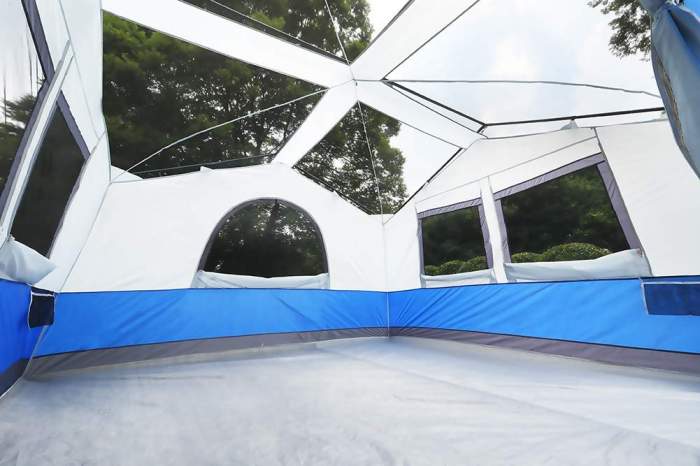 Weight-wise, well this is a big tent but it is very heavy, it weighs around 61 lb (27.7 kg). The packed size is not so bad, it measures 32 x 15 x 15 inches (81 x 38 x 38 cm) when packed. You will be able to compare these numbers with some of its competitors, there is a comparison table below.
---
Construction & materials
This is a bit complicated structure but the setup is not particularly difficult and one person can do this easily. The inner tent is a framed tent which means that you set the frame first and then attach the tent to it. The frame here is fully freestanding. So this part is a cabin style structure or a wall tent as some call such tents.
But the screen room is with two arches and this looks like a tunnel-shaped design which is definitely not freestanding, to be fully functional you have to stake it completely, this is the only entrance to the tent.
The poles & stakes
The poles are a combination of steel and fiberglass and there are many of them. You have plenty of stakes to fix the tent to the ground, this is most important for the screen room part.
The fabric
The tent and the fly material is polyester, the waterproof rating is 1000 mm, so this is a very modest value but if the seams are properly done this is completely enough for a normal summer camping. The floor is a polyethylene material. Note that they do not provide any info about the denier value and tenacity of the materials.
The doors & windows
There are two large inner D-shaped doors, both double-layer with mesh and panels. So when you use the divider, each of the inner rooms is with its own entrance. But the main entrance is through the screen room where you have a central zipper on the front, and this room must be staked down properly.
Each of the inner rooms has two rectangular windows with mesh and panels, and the fifth oval window is shared, the divider comes in the middle of it, this is visible in the picture. Note that the divider is just a curtain, so do not expect too much of privacy.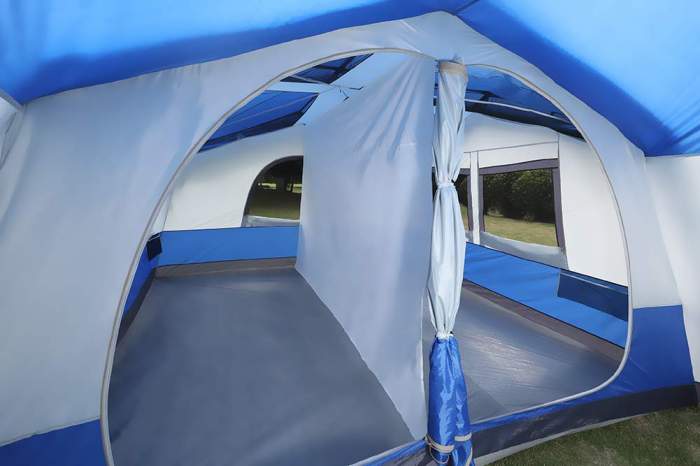 Other features
There are two storage pouches on the walls, pity they did not add more.
You also have an electric cable port.
The floor is a bathtub design.
What is included
You have the following elements declared in the package:
The tent.
The fly.
20 steel poles.
6 fiberglass poles.
17 stakes.
Carry bag with wheels, you have seen the weight, so you need the wheels.
---
Specifications
Type: cabin-style framed tent.
Capacity: 10 people.
Weight: 61 lb (27.7 kg).
Inner dimensions: 12 x 12 ft (3.66 x 3.66 m).
Inner area: 144 ft² (13.4 m²).
Inner area per person: 14.4 ft² (1.34 m²).
Screen room area: 70 ft² (6.5 m²).
Total area: 214 ft² (19.9 m²).
Peak height: 80 in (203 cm).
Packed size: 32 x 15 x 15 in (81 x 38 x 38 cm).
2-years limited warranty.
---
ALPHA CAMP 10-12 Person Tent with Screen Room vs Competitors
You might want to see how this tent compares with some other built in the same style with a screen room. So here I show two of them, note that both are semi-instant in the sense that the inner tent's frame is an instant type, but there are poles that must be added for the screen room.
Clearly, the Alpha Camp tent is larger but much heavier. Its frame is completely different and it is stronger, so such a weight is not necessarily a bad thing if you can handle it. Please follow the links for more details.
---
Final thoughts, rating, pros & cons
So as you realize, this ALPHA CAMP 10-12 Person Tent with Screen Room is a heavy structure and you would not want to use it if you plan to change your camping place frequently, in such a case better take one of those instant camping tents. But for a quiet summer camping environment where you plan to stay for a while with your family, this is a luxurious yet very affordable option. Just disregard the declared capacity. Note that they also have an instant 8-person tent if you plan to move from place to place.
Please see how I rate this tent:
ALPHA CAMP 10-12 Person Family Camping Tent with Screen Room
Pros
Electric cable port.
Very pleasant and livable structure.
Very tall.
Very affordable.
Very strong construction.
Cons
Very heavy.
Not enough storage elements.
oo small area for the declared capacity.
If you still want to see more tents of this type, it is best to check in the category Cabin Tents. You might also want to check my lists with best canvas tents for camping, those are expensive but breathable structures, and also dark rest tents that have been becoming popular recently. If you need a tent with an integrated light please check this CORE Lighted 10 Person Instant Cabin Tent with Screen Room.
Thank you for reading and please use the comment box below in the case of questions or comments. Let us know if you are familiar with this Alpha Camp tent. I wish you a nice day.

---