---
Ozark Trail 9-Person Instant Cabin Tent with Bonus Screen Room is a nicely built family camping tent with many great features, very livable, with an easy setup, and with a great price tag.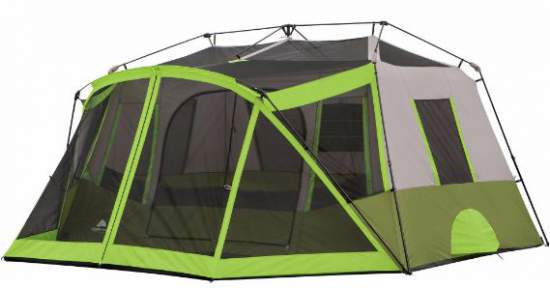 ---
Key features & benefits
2 rooms.
Screen room – without a floor.
2 Floor vents.
6 windows + windows on the double door.
Instant & cabin tent.
Very good price.
Electric cable port.
Large wall storage area with many mesh pockets.
Nice carry bag.
2-Minutes setup.
---
Where to buy
---
What type is this – what is in the name
The key words in the name are 'instant' and 'cabin'. It is true that the main part of the tent is an instant tent. So you have:
the tent body pre-attached to the frame,
telescopic leg poles.
To set the tent up, you just have to unfold it and to extend the leg poles until you hear a click which will tell you that the desired length is achieved. The procedure is shown in the picture below. This part of the tent is freestanding as well.
But the screen room part of the tent requires some work. You have to add two steel poles plus the brow fiberglass pole. In addition to this, you have to stake it down properly in order to have it fully functional. Remember that the main entrance is through the screen room door and then through the double tent door.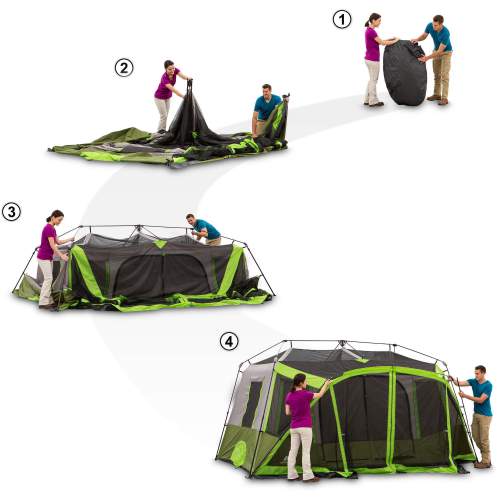 So as you realize, the word 'instant' is a bit misleading, but it is indeed an instant tent in the biggest part of it and the setup time is officially under 2 minutes. However, this is very unrealistic with the screen room and the fly, so plan some 10-15 minutes or so.
However, this is indeed a cabin-type tent, so you have a very tall tent with a seven-foot ceiling height for ample headroom and with straightened and very steep walls. If you are not familiar with this terminology, please see more about such tents here. About instant-cabin tents in general, you can see more in my another text.
The screen room
The important part of this tent is its screen room. This is an extension in front of the main door, across the front of the tent. It is completely covered as you can see in the picture below, but the angled mesh walls are without panels. So this area is not fully protected from the rain, but you can keep chairs and a table there, and some more stuff closer to the wall where it should be protected from the rain.
You have extra 3 poles to add here to set the screen room up. Note that this area is without a floor. I find this a better option, so when you are sitting here you do not have to be concerned about what chairs' legs might do to the floor. Also when you are cooking in this area (and you will have to if the weather is not so great), you really don't need a floor, it would become dirty very quickly.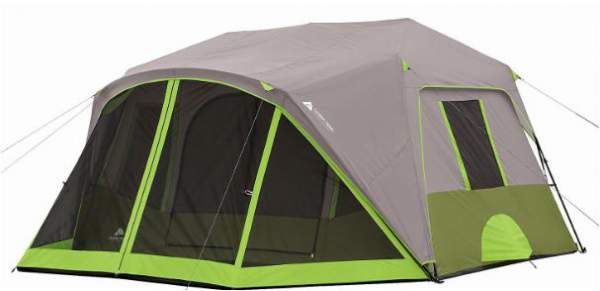 ---
Who is it for
Sizewise, the total floor area is huge 189 ft² (17.55 m²), but a big part of it is in the screened room. The sleeping area in the main 2 rooms is big enough to accommodate 9 people sleeping on the pads on the floor. All gear you can keep in the screen room.
But note that this inner space is 14 x 9 ft (427 x 274 cm), which implies 7 people sleeping side by side, plus two people in the feet zone or the others. This doesn't look so great, so I would downgrade it to 6-7 people or so.
For family camping, this is a tent for parents and up to 4 kids maximum. If this is about couples, note that each of the two rooms can accommodate the largest queen size bed, so this is a perfect tent for two couples. The divider is removable as usual in such tents, and it offers at least some privacy.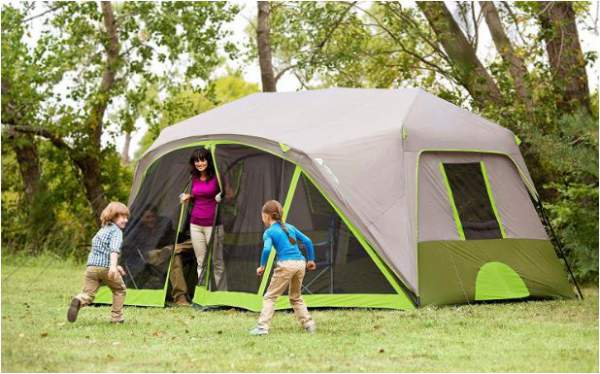 Regarding the construction, this is a summer camping tent, with the ceiling completely mesh and the fly is minimal by design. So you should not plan to use it in a cold environment, this structure cannot keep the warmth. I would not put it to too harsh tests with strong winds and rain either. Use it in mild summer conditions only.
The packed size is typical for instant tents; because of telescopic poles the package is quite long. So this is a bundle 48 x 10.6 inches (122 x 27 cm) and you clearly need a car for transportation. The tent is heavy as well.
---
The construction and materials
The frame with all poles is preattached to the tent, you only have extra 3 poles for the screen room. The poles are a combination of steel and fiberglass.
They do not provide any information about the fabric and its waterproofness rating. Though the seams are all factory sealed and the tent is waterproof. The fly is a typical minimal design, made that way so that you have unobstructed views through all those 6 windows.
The inner space is organized that you have two rooms if you wish, separated by the removable divider shown in the picture above. In such a configuration, each of the two rooms has 3 windows, its own entrance door from the screen room, and its own gear storage pockets set on the wall. When the divider is removed you can see the space shown above.
Ventilation is good
There are two vents close the floor, one for each room. This in combination with the mesh on the ceiling and with numerous windows with mesh is a guarantee that ventilation cannot be an issue in this tent. The vents can be staked out and kept open all the time.

Other features
The gear organizer is a nice addition here, and you also have an electrical cord access port. All the windows are with panels and mesh, for privacy and protection. The carry bag is nicely designed and you can see it below.
The setup procedure you can see in this video, please have a look:
---
Specifications
Capacity: 9 people.
Weight: 40 lb (18.14 kg).
Dimensions: 14 x 13.5 ft (427 x 411 cm).
The inner tent size: 14 x 9 ft (427 x 274 cm).
The screen room size: 14 x 4.5 ft (427 x 137 cm).
Total floor area: 189 ft² (17.55 m²).
Area per person: 21 ft² (1.95 m²).
Peak height: 84 in (213 cm).
Packed size (L x D): 48 x 10.6 in (122 x 27 cm).
2 rooms + screen room.
---
Ozark Trail Instant Cabin Tent 9 with Screen Room vs competitors
See this tent side by side with two others from different brands, built in a similar style but with some differences as well. For more please follow the links in the table.
48 x 11 x 10.5
(122 x 28 x 27)
---
Final thoughts
So this was my review of the Ozark Trail 9-person instant cabin tent with a bonus screen room, a nicely designed and very livable family camping tent. It is designed to be used with two rooms and all necessary details are built to allow for such a use. But it can also be used as a single room tent plus its great screen room.
I have a few objections given above, but those are not substantial, this is a truly great tent. This tent is on my list of best tents with screen room and also in the list of best 9-person tents.
On Amazon, the average rating is very high and this is not surprising. See how I rate this tent:
Ozark Trail 9 Person Instant Cabin Tent with Bonus Screen Room
You might want to compare it with this Core 10-person instant cabin with a screen room. Check also this very reliable NTK Arizona GT 9 tent and also the Semoo 9 tent built in a very different style but with 4 doors and 3 rooms. If you want a dome style, check the Core 9 Extended Dome tent which is a very affordable tent.
Thank you for reading. If you feel this tent is not the right tent for you, just look around within this site; it is all about family camping tents and you will find something suitable for you.  Please use the comment box below in the case of questions or comments. I wish you a nice day.

---