---
Big Agnes Mad House Mountaineering Tent 8 Person is a 2-room 4-season two-layer ventilated structure with a full cover fly, built to be used in all climates and seasons.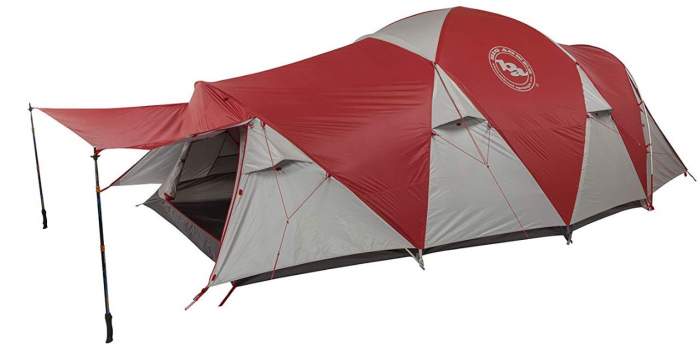 ---
Key features & benefits
2 Rooms.
2 Doors.
2 Vestibules.
6 Vents.
16 Storage pouches in the tent.
True double-layer tent.
Aluminum poles.
---
What this Big Agnes Mad House 8 tent is about
Here you have a true double-layer tent built as an extended non-freestanding dome. So to explain these terms a bit. You have an inner tent that is built from a breathable taffeta, plus a full-coverage fly. This is why I have included it in our list of best full fly tents.
The tent has a dome section that is supported by 4 poles and freestanding, but there are asymmetric extensions on both sides supported by their own poles. One of the extensions is the actual tent's extension, while the other is an extension created by one pole and the fly.
So the tent looks like a tunnel structure, and it must be staked properly. The picture below shows it without the fly and from the side with the mentioned inner tent extension. This is an excellent design and the tent is included in our list of best dome camping tents.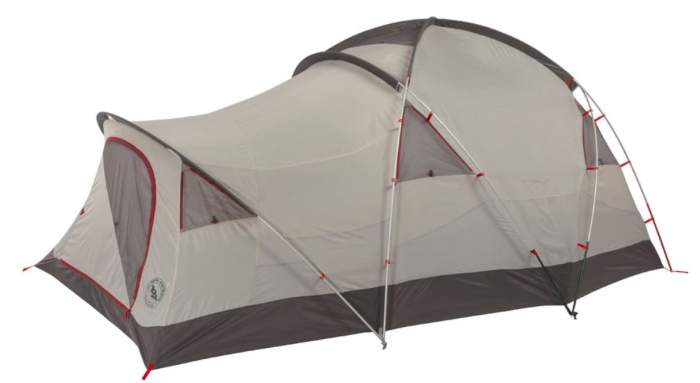 It looks very similar to the tents from their Flying Diamond series, but there are some important differences here. This is an upgraded version suitable for all seasons, more below.
This is a tall structure for a dome tent, with the highest point 73 inches (185 cm). Not bad at all.
The doors, vestibules & rooms
There are two D-shaped doors on the two narrow sides, and they are of different sizes as you realize from the picture above and the picture below. There are two closure options on the doors, they are partly taffeta and partly double-layer with mesh and taffeta. So you can regulate ventilation and protection from cold as you wish.
I must add that one of the doors is very low, it is lower than one meter or so. So you have to crawl to get inside. Perhaps your kids will like this but not you.
The fly creates two asymmetric vestibules (you will see the floor plan below) where you can store some stuff like boots and shoes. One of the vestibules is quite symbolic, with no space for anything. Its area is only 7 ft² (0.6 m²). But the other is much bigger and its area is 31 ft² (2.9 m²). So this is a substantial extra space for storage.
The zippers on the fly are designed so that you can raise the vestibule flap and create an awning as shown in the top picture above. You can use your trekking poles for this purpose.
There is a divider inside so you can create two rooms if you wish, and each of them will have its own door. So you can give one of the rooms (with the lower door) to your kids and one use for yourself. But see below how the inner area looks when the divider is open, this is around 4.5 meters long inner area.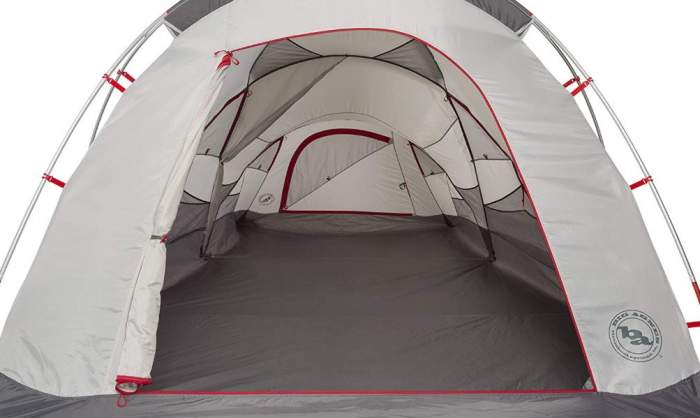 Ventilation
They have done almost everything that was possible regarding the ventilation with such a type of tent. So you have no less than 6 vents on the sides of the fly. They match the corresponding 6 triangular openings on the inner tent which you can see in the pictures without the fly.
Note that the inner tent also has double layer openings on the top, with mesh and zippered taffeta. But those have no corresponding vents on the fly.
There are no floor vents here, but this is not a big issue. From the pictures above you realize that the mesh sections on the doors go completely to the ground. They are under the vestibules in any case, so fully protected. Therefore you can always keep them with mesh only at least partly and this will work the same as floor vents.

---
Who is it for
Seasons-wise & climate-wise, they write it as a 4-season tent and they are right. All the mesh sections on the inner tent can be closed when you feel cold, and you can open them for summer camping.
So this is a mountaineering tent as they describe it, but it can be used for family camping as well, in particular in areas where you expect lots of rain and wind.
As mentioned already, the inner tent is taffeta and not mesh. So more protection from the cold you cannot expect unless you go for an insulated tent. This is a tent suitable for cold weather camping in general, and I have added it to our list of cold-weather tents.
The fly offers full protection from the rain and winds. The poles create 5 intersection points so the structure is strong at least in its main dome part. It is not so strong in the extension part and I do not think it would withstand lots of snow on it.
Capacity-wise, they describe it as an 8-person tent and the picture below shows what they think you can do with it. It does not look great with 8 people inside, they use the backpacking principle to determine the capacity. The inner area per person is only 15.5 ft² (1.4 m²). So use it for up to 5 people and you will be fine.
Vestibules offer some space for storage, the one which you see on the right in the picture below is particularly deep. So you have space to store your gear, and this gives more comfort inside. Note that there are also many pouches for storage inside.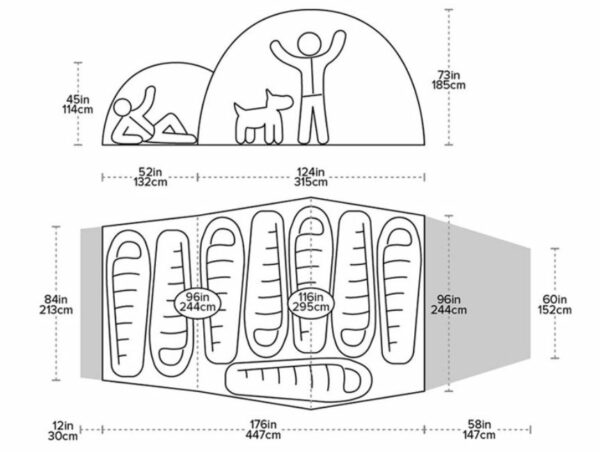 But the picture above reveals how good the organization of this tent is. The entrances are on the two narrow sides where you have the mentioned vestibules.
Weight-wise, with 23 lb 1 oz (10.46 kg) of weight, the tent is moderately light. The packed size 26 x 15 x 12 inches (66 x 38 x 30 cm) is not so bad. So you can transport it in various ways, and if necessary it can be carried on some shorter tours assuming that the users would share the weight.
---
Materials & other details
The poles & stakes
You have 6 top-quality aluminum poles, color-coded for easy setup. They attach to the tent through grommets on the ground and higher you have clips and sleaves. There are 20 large DAC aluminum J stakes that come in a separate compartment in the carry bag.
The fabric
The fly is Dominico undyed polyester rip-stop with high tenacity yarns. They claim this increases its tear strength by 20-25% as compared to standard rip-stop fabrics. The waterproof rating is 1200 mm. Velcro tabs connect fly to the poles.
The body is polyester rip-stop breathable and polyester mesh. The floor is a bathtub style and you can see it in some of the pictures above. This is polyester Oxford with a 5000 mm polyurethane coating. All seams taped with waterproof, solvent-free polyurethane tape (No PVC or VOC's)
For the color they used a unique pigmentation process in the polyurethane, and they write it resists fading and increases UV resistance. This is a necessary design for a tent which is built to be used at high altitudes.
Other features
There are 2 oversized 3-D bin pockets that provide ample storage.
There are also 14 interior mesh pockets to keep things organized and off the floor.
Pre-cut guy lines and tensioners, heavy-duty and reflective. Dual, equalized guylines for added stability and strength in high winds.
Color-coded webbing and buckles.
Briefcase-style carry bag with shoulder straps and organizational pockets.
They give fast-fly weight in specifications, but this is of importance only if you order the footprint separately.
Multiple interior loops are for attaching accessories that can be ordered separately.
Easy-grip zipper pulls.
Please see more in this video:
---
Specifications
Declared capacity: 8 people.
Trail weight: 23 lb 1 oz (10.46 kg).
Packed weight: 25 lb 3 oz (11.42 kg).
Fast fly weight: 14 lb 10 oz (6.63 kg).
Packed size: 26 x 15 x 12 in (66 x 38 x 30 cm).
Floor area: 124 ft² (11.5 m²).
Floor area per person: 15.5 ft² (1.4 m²).
Peak height: 73 in (185 cm).
Vestibules area: 31 ft² + 7 ft² (2.9 m² + 0.6 m²).
Footprint weight: 2 lb (907 g) (sold separately).
Number of seasons: 4.
Doors: 2
Lifetime warranty.
---
Final thoughts, rating, pros & cons
They describe this Big Agnes Mad House Mountaineering Tent 8 Person as strong and stable, built to withstand the harshest of conditions, and as their biggest mountaineering design. No doubt they are right, this is a tent suitable for Everest base camp conditions.
But it will work fine even if you use it for family camping as well. In fact, it will perform well anywhere and in any weather conditions. This all comes at a price which is high, but the tent is worth the money. Fully recommended. See below how I rate this tent.
You might want to know that there is also a 6-person version of this tent. Note that we add texts regularly, so bookmark this site and stay informed. Subscribe to our weekly newsletter, the subscription form is below. Let us know what you think, there is a comment box below.