---
The Sierra Designs Outdoor Magnetic Screenhouse is freestanding and dome-shaped, and it has two zipper-less doors with a magnetic closure.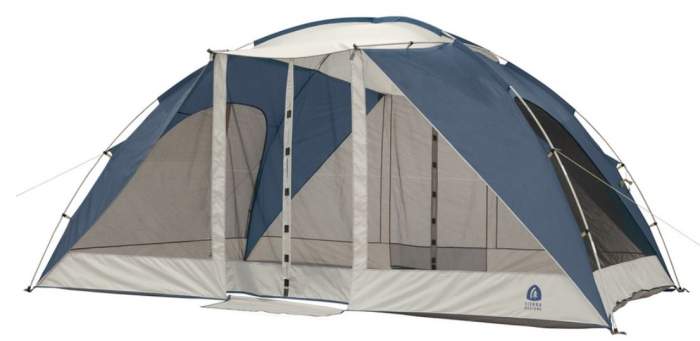 ---
Key features & benefits
2 Doors.
Magnetic closure.
Fiberglass poles.
Freestanding.
---
Overview
This Sierra Designs Magnetic Screenhouse is a collapsible dome-style construction, and this means it needs a simple assembly. Two people can easily set it up in 15 minutes or so. It has two doors on its opposite sides, and it is quite tall, the peak height in the center is 84 inches (213 cm).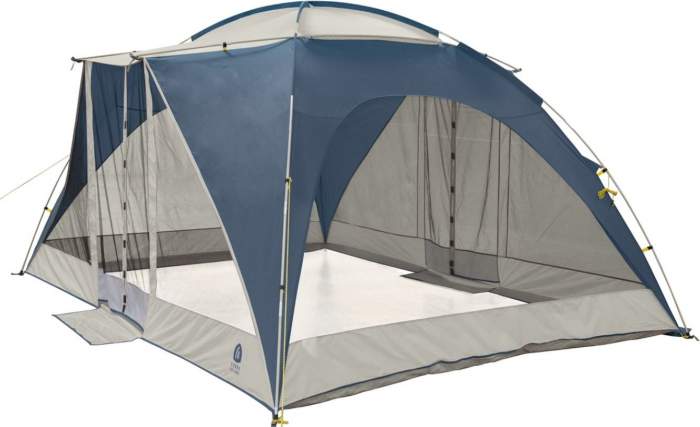 This is a freestanding screen house, and it is additionally stabilized by the two ridge poles that create tension in the fabric. But it comes with all you need to secure it properly and to fix it to the ground. You get also nylon bags to be used at places where the ground is too soft for stakes, so you can fill them with sand or weight of any kind.
It comes with a carry bag shown below, the dimensions are 25 x 9 x 9 inches (64 x 23 x 23 cm). So the packed size of this shelter is very good.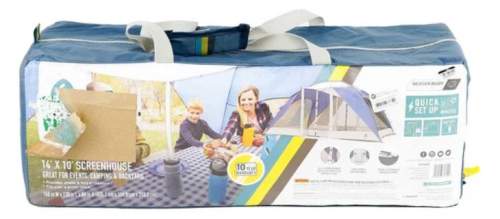 Materials
The poles: You have them 2 + 2, and this is a fiberglass material. They attach to the base with the fast-feet design which is becoming popular recently, see below how it looks. On the canopy you have clips and long sleeves shown below.
The fabric: You have a 185T taffeta with 600 mm PU coating, so the tent provides a bit of rain protection. But this is a not a rain shelter, note that the canopy taffeta covers only the central part, the sides are all mesh. There is also polyethylene fabric along the perimeter, and you also have a door mat shown below.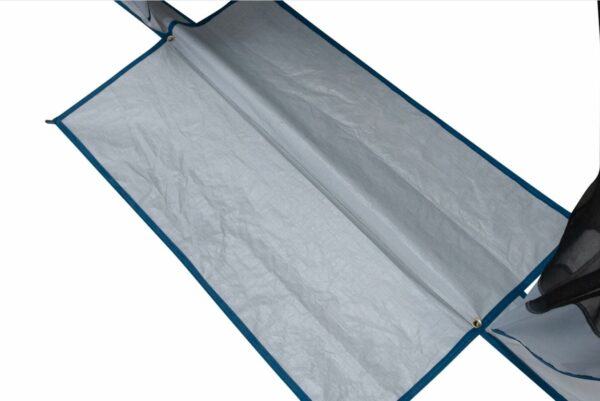 But the main feature here is its magnetic closure that you have on both door, see below how it looks. This is a nice detail as it allows you to get in and out without wrestling with zippers, and it closes itself so flying insects cannot get in.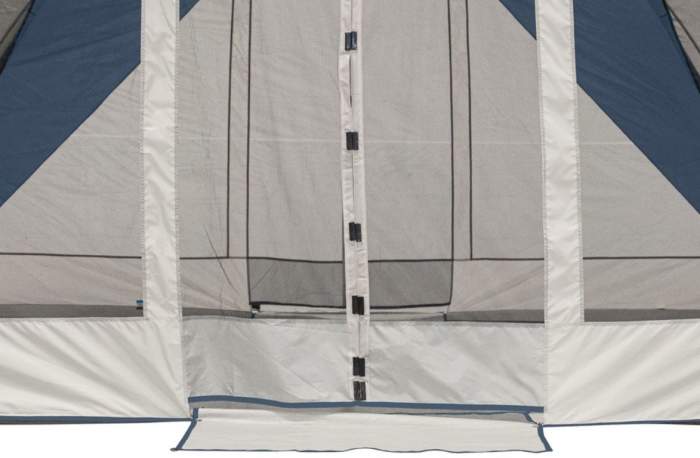 Below you can see the magnets a bit closer. This feature and the overall shape make this screen house very similar to the Wenzel Durango Magnetic Screenhouse.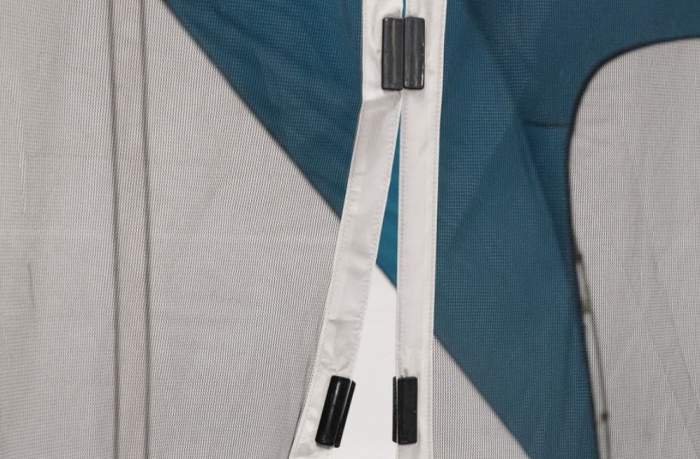 Please see a bit more in this video:
---
Who is this screen house for
Regarding the area and best use, you have 140 ft² (13 m²) and the dimensions are such that you can place this screen house over a standard size picnic table and have full protection from flying insects. The picture below gives you some idea of how much space it offers. This is more than enough for at least 4 people.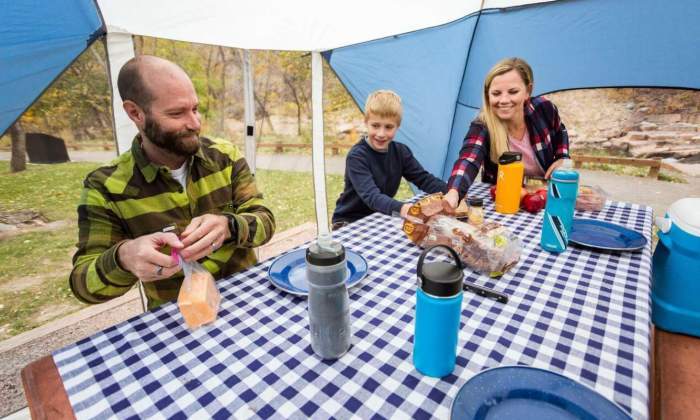 So you can use this screen house for picnics with your family, for camping as an annex to your family camping tent, and also in the garden at home.
Regarding the weight, in view of its overall dimensions and height, this screen house is lightweight with its 20.7 lb (9.39 kg). You have already seen its packed size, so it is possible to transport it even on a bicycle.
Regarding the price, I would say it is fair and very typical for such products, a very good value for the money.

---
Specifications
Weight: 20.7 lb (9.39 kg).
Dimensions: 168 x 120 in (14 x 10 ft; 427 x 305 cm).
Inner area: 140 ft² (13 m²).
Peak height: 84 in (213 cm).
Packed size: 25 x 9 x 9 in (64 x 23 x 23 cm).
---
Final thoughts, rating, pros & cons
In summary, this Sierra Designs Outdoor Magnetic Screenhouse looks cool and its magnetic doors set it apart from most of its competitors. This is why I have included it in my list of magnetic tents and screen houses.
It packs to a small size for transportation, and the price is appropriate. This shelter you can use in combination with their Sierra Designs Aspen Meadow 8 Tent. Note also that you have a great globally-known brand behind this product. Fully recommended.
Below you can see how this screen house stands against my standard rating criteria. This may make it easier to compare it with some other products of this type here in the site.
BEST PLACEs TO BUY:
For more options please check under the category Camping Screen Houses. So if you need something much larger and quite different, check this Snow Peak Living Shell Long Pro. See also this Berghaus Air Shelter if you want something more closable.
Let me know if you have questions, there is a comment box below. Bookmark this site and come again, this will keep you informed, as you realize I add texts here on a regular basis. Thank you for reading.