This Marmot Guest House 6-Person Tent Review is about an extended dome tent with 4 doors, 3 vestibules, 2 rooms, and top quality aluminum poles. Plenty of reasons to keep reading.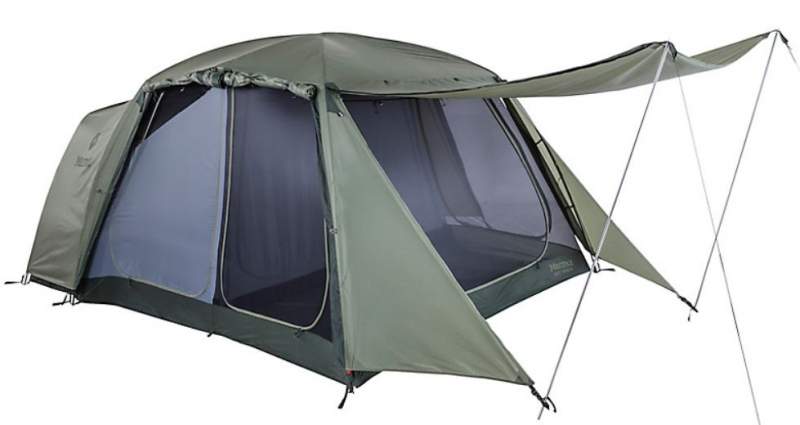 ---
Key features
Extended dome.
4 Doors.
2 Rooms.
Top quality aluminum poles.
3 Vestibules.
Vey tall tent.
---
What type is this Guest House 6 Tent
This is a unique construction in the shape of an extended dome, so the bigger part of the tent is under the two poles that create an X-shaped structure, and there is an extension supported by a single loop. The picture below shows the tent without the fly so that you can understand its structure.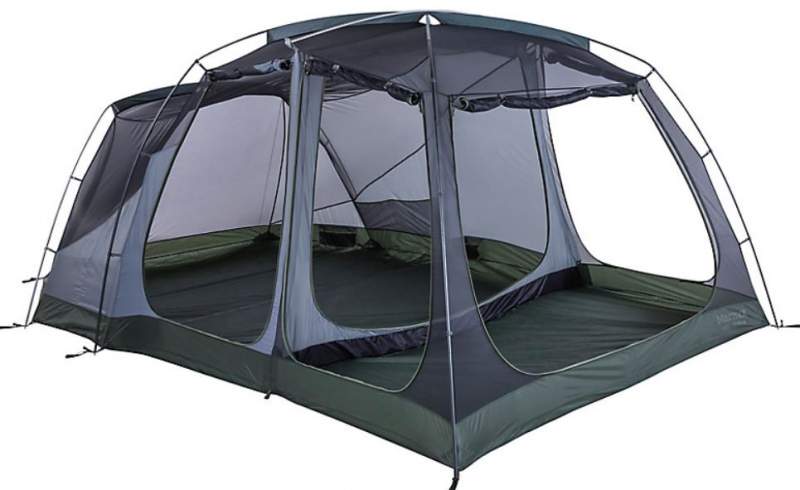 Note that the tent is not freestanding, and this holds even for the inner tent. The extension must be staked to be functional. The vestibules are there as well so they must be staked properly.
The tent is with a full-coverage fly, so you have a complete protection from elements. The picture below shows how it looks when the fly is on and when the vestibules are closed. I have included it in my list of best tents with full coverage fly. There are three vestibules and they are with double zippers but differently positioned. One of them allows for an awning configuration shown in the top picture above.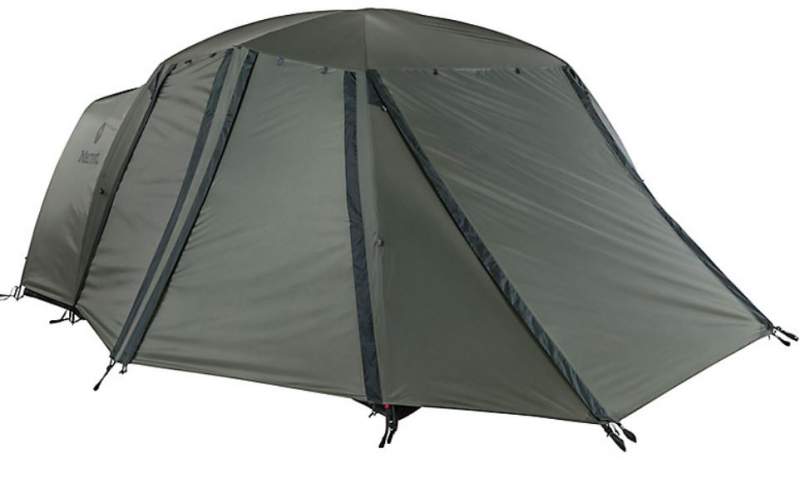 The fly is designed in a clever way so when the sky is clear you can roll it up from all sides independently and have airflow as it suits you best. The picture below shows one of several options with the rolled fly.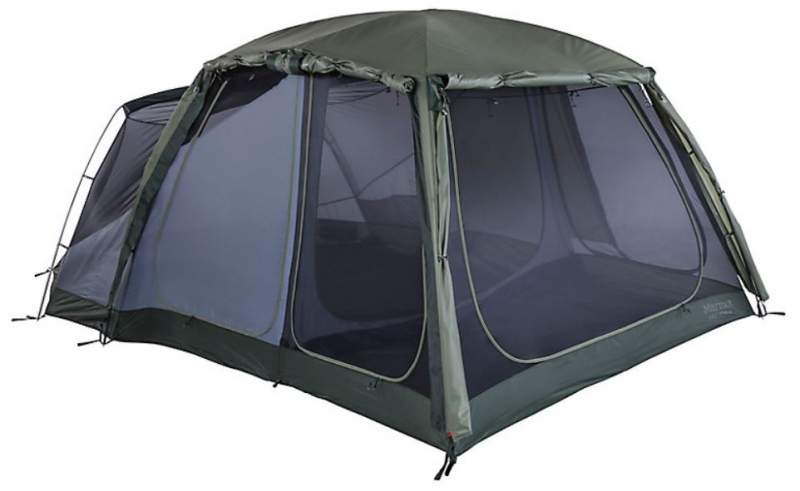 Note that this is a 2-room tent and both rooms offer almost the same level of protection so you can use both for sleeping. The difference is the size of the rooms and also in the material; the front room is all mesh as you can see from the picture above, while the bigger part of the back room is taffeta.
I mentioned 4 entry doors, so 3 of them are on the front room and one on the side of the back room. This side door is visible in the pictures above, it is on the right. The inner door between the two rooms is huge as you realize from the pictures.
This is also a very tall tent for a dome type, the peak height is 76 inches (193 cm), so this is a stand-up design (at least for people like me).
---
Who is it for
Space-wise, the dimensions of this tent are great for the declared 6-person capacity. The floor area is 29.3 ft² (12.1 m²) and per person this gives 21.5 ft² (2 m²). But there are 3 vestibules which add 34 ft² (3.2 m²). So the total covered area is 163.3 ft² (15.3 m²), and this means 27.2 ft² (2.5 m²) per person.
So this is a very generous space for 6 users, but this is also a great option for couples or for parents with 1-2 kids.
Seasons-wise & climate-wise, this is a 3-season tent and I would say even more than that. The back room is taffeta on the sides and mesh on the ceiling as you can see from the picture below. So it offers a bit more protection from the cold than the front room if the tent is used in a cooler environment. The waterproof rating is good, the poles are strong aluminum so the tent offers full protection from elements and from insects.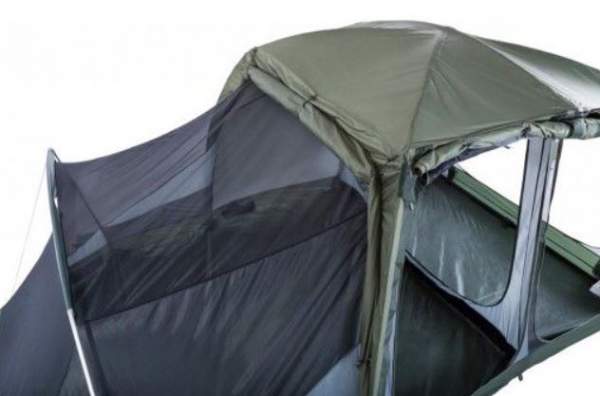 Weight-wise, the tent is heavy with its 21 lb 12.2 oz (9.87 kg). But this is a camping tent so the weight is immaterial here. The packed size is (L x D) 31 x 13 in (79 x 33 cm). You will see below how this compares with some other tents of this capacity, there is a comparison table below.

---
Materials
The poles
There are 4 poles here and those are top quality pre-bent DAC DA17 aluminum. Three of them are large and they support the tent, and one is a cross pole that lifts the side walls up. The diameter is 14.5 mm and 12 mm, respectively.
You might want to know that this type of poles was introduced in 1996 by DAC which is the leading pole manufacturer in the world. They build them in several diameters and they are engineered specifically for large tent structures. They were essential for the development of large family camping tents.
The fabric
The canopy is a 40D 100% polyester No-See-Um Mesh F/R combined with a 68D 100% polyester taffeta F/R. The floor fabric is a 70D 100% polyester taffeta with a 2000 mm waterproof rating F/R.
The fly is 68D 100% polyester taffeta with a 1500 mm waterproof rating F/R. All seams are taped. Note that you have vents available to fight condensation, see the picture below. The fly attachment to the tent's base is through buckles, one is shown below.
So these are good materials and the waterproof rating is appropriate for most situations which you may have in the camp.
Other features
Pole sleeve-clip combo.
Color-coded poles and clips for easy pitch.
Reflective points.
Jingle-free nylon zipper pulls.
Several large interior storage pockets, see the pictures.
---
Specifications
Declared capacity: 6 people.
Weight: 21 lb 12.2 oz (9.87 kg).
Min weight: 20 lb 15.8 oz (9.54 kg).
Dimensions: 190 x 98 in (483 x 250 cm).
Inner floor area: 129.3 ft² (12.1 m²).
Inner area per person: 21.5 ft² (2 m²).
Vestibules area: 34 ft² (3.2 m²).
Total covered area: 163.3 ft² (15.3 m²).
Total covered area per person: 27.2 ft² (2.5 m²).
Peak height: 76 in (193 cm).
Packed size (L x D): 31 x 13 in (79 x 33 cm).
Poles: aluminum DAC DA17.
---
Marmot Guest House 6-Person Tent vs Competitors
Such a quality tent deserves to be compared with some other top-notch tents in this capacity range. So I choose the following two on purpose. The Eureka Space Camp 6 tent is a standard 6-person dome tent and as you realize it offers far less space.
On the other hand, the Big Agnes Flying Diamond 6 is also a 2-room extended dome so it is similar to the Marmot tent, but it offers far less protected space than the Guest House 6. This may help to realize how extraordinary structure is this Marmot's tent. It is more expensive, but indeed the other two tents are not a match for this tent. Please follow the links for more.
Vestibules area, sq ft (sq m)
Big Agnes
Flying Diamond 6
23 x 13 x 9.5
(58 x 33 x 24)

---
Final thoughts, rating, pros & cons
So I hope that this Marmot Guest House 6-Person Tent review has presented this tent to you from various angles and that you have a clear picture of its features and quality. This is indeed an impressive and original construction, but the price is steep. If you can afford it you will have a quality camping tent.
Please see how I rate it against the same set of criteria used for all the tents here in the site, this allows you to compare them easily:
You might want to compare it with this impressive Snow Peak Land Lock 6 Person Tent which is a tunnel tent but freestanding. But see also this Snow Peak Amenity Dome Tent L 6-People which is suitable for all seasons.
Note that this is not a sponsored text and I have no business relationship with the brand. What do you think about this tent? Please share your thoughts, there is a comment box below. I wish you a pleasant camping.