---
Coleman Evanston 8 Family Dome Tent is a nicely designed summer camping tent with a hinged door and awnings on the front and on the back, with an easy setup and a very affordable price.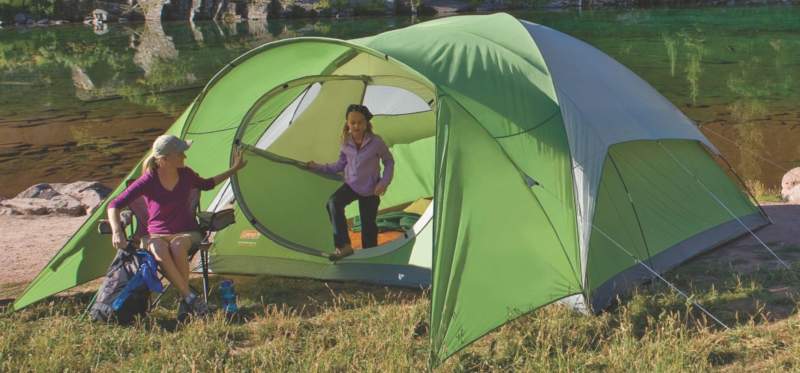 ---
Key features
Hinged door.
Two awnings.
Fiberglass poles.
Great price.
---
What this is about
This Coleman Evanston 8 tent should not be mixed with yet another tent with the word Evanston in the name which is with a screen room. So what you have here is a beautifully designed dome-style tent with a stand-up height of 76 inches (193 cm).
The tent is not freestanding because of the front awning and its extra pole, this part must be staked down to be functional. The structure is almost a full double layer, so you have the inner tent plus the fly, but the fly does not go all the way to the ground as you realize from the pictures. So I would describe it as a tent with partial coverage fly.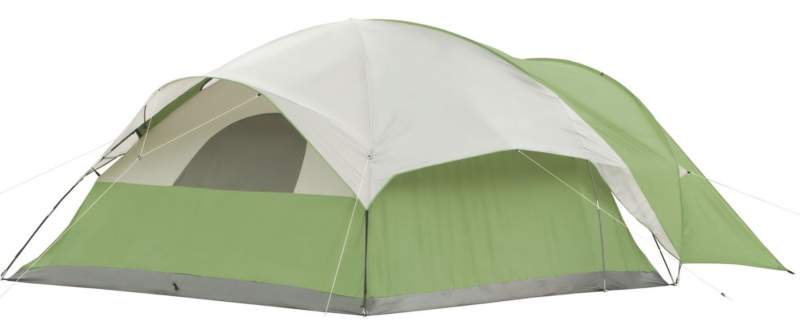 Hinged door 
What sets it apart is its hinged door, visible in the picture below. It has poles along the perimeter of the door so this is a semi-rigid structure and you do not have to use zippers on the door all the time. Note that this is the only door here. I have included it in my list of tents with hinged door.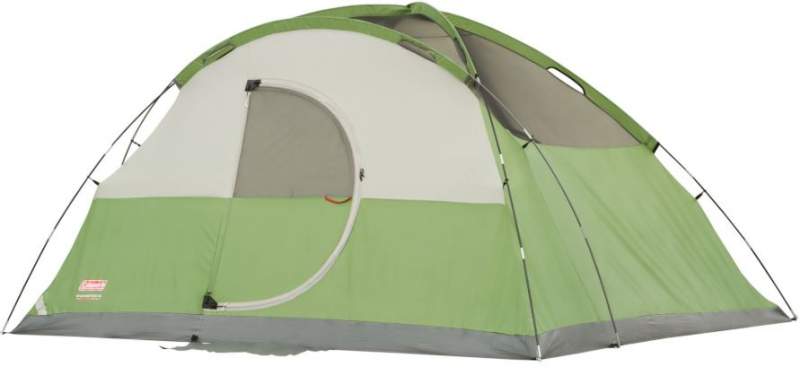 ---
Who is it for
Capacity-wise, the tent is with the declared 8-person capacity, but as usual, this should be downgraded to 4 – 5 people maximum. It offers 144 ft² (13.4 m²), so in the case of 8 people this would give 18 ft² (1.7 m²) person, and this is not enough for real camping.
They write that it can accommodate 2 queen-size beds and this is indeed possible, you would still have some space in the front of the beds for gear.
Climate-wise & seasons-wise, I see this Evanston 8 as a summer camping tent or maximum for 2 seasons. It has mesh areas for ventilation which is great for a warm climate but far less great in a cold environment. With such a fly design and awnings, this tent is not the best option for areas with strong winds. This is a great option for quiet areas without winds.
Weight-wise, with 24.49 lb (11.1 kg) the tent is heavy, but you will see how it compares with its competitors, there is a comparison table below. The packed size is 28.5 x 10.5 x 10 inches (72 x 27 x 25 cm), so this is a tent for places with a motorized access.

---
Materials & construction
This is a nice design, with back and front windows and the awnings on both sides. So it offers views around, and this is a trade-off with respect to its fly because it does not offer vestibules for gear storage.
The poles
The poles are fiberglass, you can not expect anything else in view of the price of the tent. You have them 5 in total, and 3 are used for the main dome so the structure is quite strong with several intersection points. Two poles are for the front and back awnings where you have windows. They use their patented pin-and-ring system to attach the poles to the tent. You can read more about tent poles in my separate text.
The fabric
They do not provide much information about the fabric and its waterproof rating. There is only a statement that they use what they call the WeatherTec system which includes Coleman's patented welded floor design, and inverted seams as well. They call the fabric Polyguard whatever this may imply. It appears to be a polyester taffeta 75. The floor is a bathtub style and no doubt highly waterproof.
Ventilation
There is not much to object to ventilation here. You have mesh windows on the two opposite sides, and you can keep them open without panels most of the time. The fly is high on the other two sides so you have ventilation from those sides as well.
Other features
Snag-free, continuous pole sleeves.
E-Port to bring electrical power inside.
A couple of storage pockets are on the walls.
Expandable carry bag.
Easy 15 minutes setup. One person can do this easily.
Please see more in this short video:
---
Specifications
Type: dome tent.
Capacity: 8 people.
Weight: 24.49 lb (11.1 kg).
Dimensions: 12 x 12 ft (3.66 x 3.66 m).
Floor area: 144 ft² (13.4 m²).
Area per person: 18 ft² (1.7 m²).
Peak height: 76 in (193 cm).
Packed size: 28.5 x 10.5 x 10 in (72 x 27 x 25 cm).
1-year limited warranty.
---
Coleman Evanston Tent 8 Person vs Competitors
I have decided to show you how this Evanston 8 tent compares with a couple of tents from other brands that are with the same declared capacity and built in the same style. So you can see that it is heavier than the other two tents, but it also offers more space. The other two are true freestanding tents, if you need such a feature. Please follow the links to check for the updated prices.
28.5 x 10.5 x 10
(72 x 27 x 25)
26.7 x 9 x 8.7
(68 x 23 x 22)

---
Final thoughts, rating, pros & cons
So when you take into account the price and all the features of this Coleman Evanston 8 Family Dome Tent, you realize that this is a great option for occasional summertime camping and outdoor adventures. But do not put it to harsh tests, my rating for protection is low. If you need something for such a use, you will have to pay much more.
Please see how I rate it for a number of parameters used consistently for all the tents here in the site:
Please check under the category Tents for 7 & 8 people if you need more options to consider. Note that the same hinged door design is in their Coleman Hampton 9 Person Tent.
Note that this is not a sponsored text and I am not paid by the brand. Let us know if you have some experience with this tent, there is a comment box below.