---
This Wenzel 8 Person Klondike Tent review is about a very large family camping tent with two separate rooms and 14.7 m² of floor area for a full summer camping comfort, and at an excellent price.
---
Key features & benefits
Very large floor area.
Two separate rooms, the main room + the screened room with the floor.
Very pleasant and livable tent.
Non-freestanding.
Great price.
---
What type of tent is this
The Wenzel Klondike 8 person tent incorporates several important features in its design:
This is a cabin-style tent. So this implies very high and straight steep walls in the main room, with all the advantages and downsides of such a design. For example, you can put any bunk beds in such a room; but such tall tents may be unstable in strong winds.
It is in the group of tents with a screened room. So the tent has two separate rooms, with a door between them shown here in the picture; note that this is not just a removable curtain which you have in some other multi-room tents.

The tent has two separate rooms.

This is also a dome style tent, see the picture above. Such a design implies that the roof in the main room looks like an ordinary dome tent's roof, but it is raised high above the ground and supported by the vertical side poles. A structure of this type is more stable for a vertical pressure than the roof with straight poles, so it is less likely to collapse. But in any case, I would not count on a big stability if you have something on the roof (e.g., the snow); this is a summertime tent and don't even think of using it as a winter tent.
The Wenzel Klondike 8 is not freestanding. So plan where to pitch it; it needs to be staked to the ground.
This is a 3-season tent, or it is better to narrow it down to a summer-tent. Do not plan to use it in the areas with a lot of wind or with a lot of rain. There are no many stake-out points and guylines, and it may not perform well in harsh conditions. The structure is rather loose and does not work well in the wind. Use it for mild summer conditions and enjoy it.
The tent is a lightweight, and here you have one of the best Area/Weight ratio, which is 1.2 m²/kg. For most tents in this size range, this number is well below 1; but see also this Coleman Red Canyon 8 where this number is above 1.5.
---
Who is it for
Obviously, this is a summer camping tent for families. The round internal door is a design that will be loved by kids.
The weight is 27.3 lb (12.4 kg), which is quite reasonable for such a tent, but you realize you need a car for transportation. Since it is not freestanding, make sure that you have a proper ground for the camp, it must be staked out and this cannot be done on the sand, gravel, rock, or concrete.
The main room is with 78 inches (198 cm) peak height and you have two windows, one on each side, so the tent is very pleasant and livable.
The floor plan shown below might give you some idea of how to arrange the space, dependent on the number of users.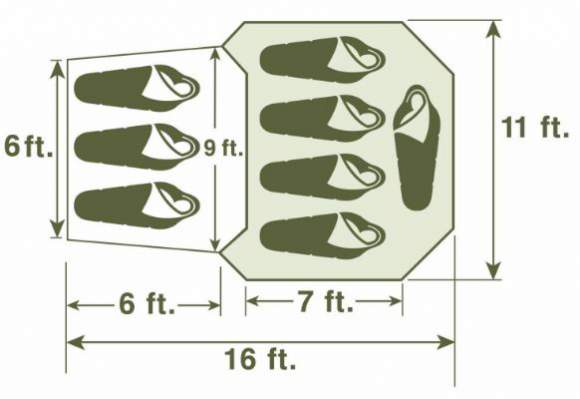 With the area of 98 sq ft in the main room and 60 sq ft in the screen room (i.e., 9.1 + 5.6 m²) this tent provides 1.84 m² per person if used by 8 people. This looks definitely more than enough and it is more than in most of the tents presented here in the site. But as always, it is best to scale it down to 5 – 6 people maximum.
If this is about families, I would say parents with 2 – 4 small kids would have a great camping with such a tent. You can have more space if you use bunk beds, there are models both for kids and for adults. Such a cabin type tent with very steep and high walls can easily accommodate such bunk beds.
On the other hand, this is also a perfect tent for couples who want space and comfort, see the picture below. You have a huge sleeping room where you can put any queen-size camping bed, and you have the screened room as your sitting area.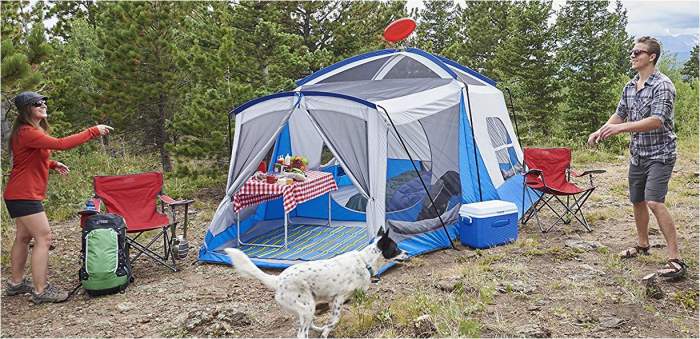 ---
Materials, organization, and construction
The screen room
In the screen room, you have a mesh everywhere around and above, but it is also with panels so you can zip it completely in the case of rain and all inside is protected. The fly is above of course, as you see in the pictures.
There is a floor here just like in the main room. So this is a true separate room with all the functionality as the main room, though the ceiling is much lower and you cannot stand up there. Note that they have something similar in their another Eldorado 8 person tent.
You have seen its floor plan in the picture above, so you have 60 sq ft (5.6 m²) of space here. Any queen-size camping bed will fit easily there. But this would not be the best option, see about the door below.
The main room
With the area of 98 square feet (9.1 m²) and dimensions that are roughly 11 x 9 feet (335 x 274 cm), the main room can easily accommodate any queen size bed.
Can you put two? Well, check this Coleman Queen size bed with dimensions 78 x 59 inches (198 x 150 cm). Obviously, you can squeeze them side by side but you will not have any space left.
So, better use one such a queen size bed plus one bunk bed, or just 2 bunk beds and you will have plenty of space left.
In general, better use cots than mattresses on the floor. In such a case, you still have a lot of storage space underneath the bed.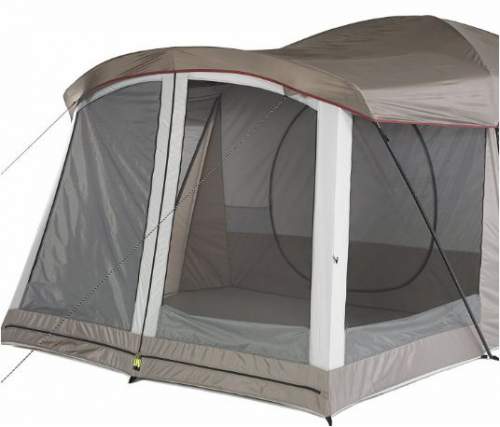 The external door
The tent is with a single door. This is not so great, the entrance is on the front-porch side and the door is quite low. This is why you would not want to have a queen-size bed in the porch (screened) room, it would be on your way, and the functionality of the porch would be lost. The door is with an inverted T-shape zipper protected by a storm flap, and it works well.

The poles
There are 6 metal poles for vertical support, plus 3 fiberglass poles. All are shock-corded, so you will not lose any piece. Note that fiberglass poles need a bit of care when you transport them, pity they did not use aluminum here.
There is no hub element on the roof; the two poles create the dome structure due to the sleeves, and they are attached to the side poles through plastic connectors, this is partly seen in the picture.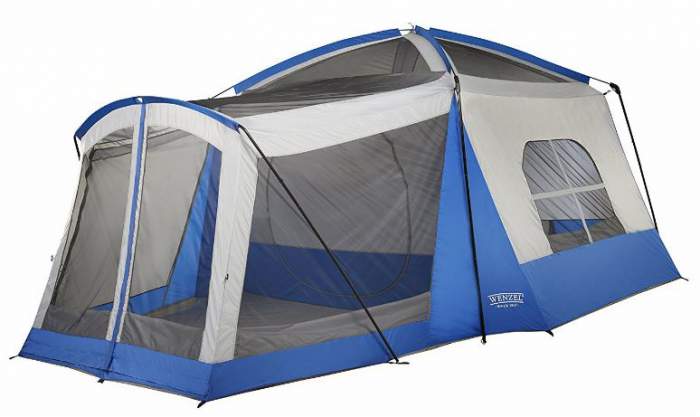 The fabric
The floor is polyethylene, typical for family camping tents. So here you have welding used for seams, see more here about this. Note that this is not the bathtub floor; I have seen some claiming it is, but it isn't.
The upper portion is polyester coated with polyurethane, so this is all standard for the tents of this type, and the ceiling is completely a mesh.
The fly is from the same waterproof material. They do not give an official rating, but I would not expect more than 600 mm, similar to many other tents of this type. It is a shame they did not provide a number, could not find it anywhere.
Inside structure
The rooms are pleasant, but I miss some storage elements. There are a couple of very small pockets and this is all. I would expect more in such a big space.
The inside door is a complete circle with a zipper that goes all the way around, but it is not removable. You can store it in a dedicated pocket next to it on the wall.
At the highest point in the main room, you have a ring for lantern attachment.
Setup
One person can set this tent up in 20 minutes. You start by spreading it and staking the floor. Then you add the fiberglass poles in the sleeves and start adding the 4 vertical poles for the main room, and then the two poles for the screen room.
Ventilation
This tent will surely provide a good ventilation at all times. This is due to several reasons:
The ceiling is all mesh, so if the sky is clear you can sleep without the fly and enjoy the stars.
The main room is with big windows equipped with mesh and zippers. The upper section is not zipped and there is a flap that protects the window when it is raining. So here you have an airflow all the time even if the window is zipped completely.
There is a ventilation opening on the back of the main room, shown below. It can be zipped, but you can keep it open all the time because it is with the rain cover, so there is no chance for water to get in. To have it fully functioning, you have to stake it out.
The porch room is also with gigantic mesh everywhere, including the ceiling. So even if you zip all panels, there will be airflow in the room.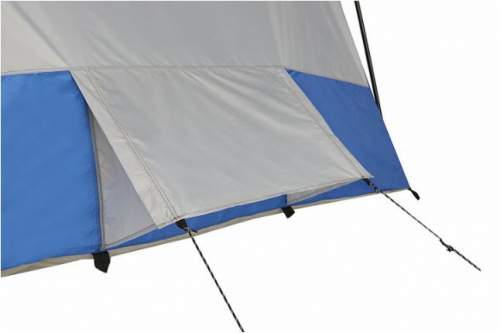 Here is a video of the happy Kelsea who is presenting her Wenzel 8 Klondike tent, please have a look:
---
Specifications
Type: 3-season, non-freestanding tent.
Capacity: 8 people.
Weight: 27.3 lb (12.4 kg).
Dimensions (L x W ): 16 x 11 ft (192 x 132 in; 488 x 335 cm).
Area: 98 ft² main room + 60 ft² screen room (9.1 + 5.6 m²).
Area per person: 19.8 ft² (1.84 m²).
Peak height: 78 in (198 cm).
Packed size (L x D): 36 x 16 in (91 x 41 cm).
Carry bag with handles included.
Colors: 3.
---
Wenzel Klondike 8 Person Family Tent vs competitors
Here is the Klondike 8 side by side with two other tent in the same size range, so see how they compare. To read more, please follow the links.
Browning Camping Big Horn 8 
Core
Instant Cabin Tent 9 
48 x 11 x 10.5 (122 x 28 x 27)
---
Final thoughts
In the summary of this Wenzel 8 Person Klondike Tent review, I wish to stress that I love the design of this tent, except for a few details pointed out in the Cons above. This tent is built for summertime, so do not plan to put it to some serious tests in a harsh windy and rainy environment. The price tag is simply excellent, so if you need a tent for occasional outdoor adventures, and if you use it as suggested, you will enjoy it.
The door is on the lowest side of the tent, so this is not the best option here although it is very good to have it in the screen room. But I miss yet another entrance to the big room. The tent has been on the market for a long time and reports are now in thousands. See below how I rate it:
Wenzel 8 Person Klondike Tent
Please look around if you need something different, this site is only about the family tents, so you will surely find something for you. See this Coleman Montana 8 tent which is a dome-style structure or this Coleman Evanston 6 tent with a screen room as well. Check also this new tent on the market, Core 11 Cabin tent with screen room, built in the same style as well as this Gazelle T4 Plus Hub Tent with Screen Room.
Thank you for reading, and do use the comment box below if you have a question or comment. I wish you a nice day.