I have seen people asking about the best material for tent poles, so I decided to write this post as a reference for those who are looking for an answer. In short, the tent pole material depends on the tent's purpose and features.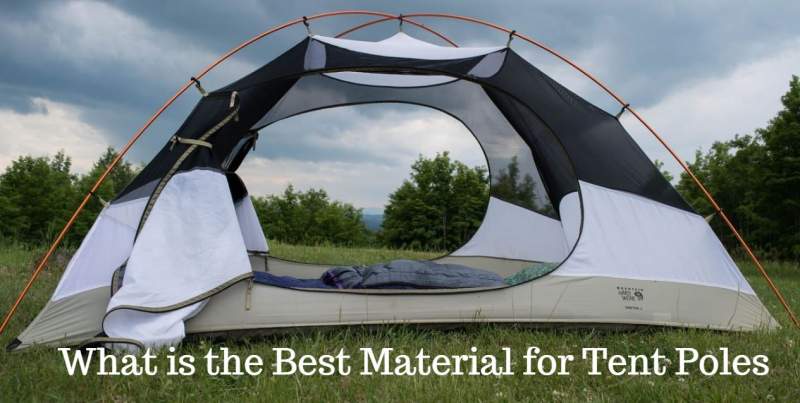 ---
Currently, there are several materials/technologies used for tent poles:
There may be more of course, let me know if I have missed something important. In any case, not every material is used in every type of tents. This is the matter of purpose and budget.
The poles are one of the key factors when choosing a tent. As you realize from the materials mentioned above, this affects the weight, strength, purpose, and height of the tent.
Backpack portable tents are with light shock-corded poles, so you have some elastic string going through their segments. Some of the car camping tents have a steel wire instead. Many of the instant tents presented here in the site are with heavy telescopic poles equipped with spring-loaded buttons.
Typically, the poles ends are connected to the tent at its base in the following ways:
Ring and pin system. So you have a pin attached to a ring and you insert it into the end of the pole. This is mostly used in larger car camping tents.
Pin and grommet system. Here you have a grommet with holes and you insert the pinned end of the pole into one of the holes. This is typically seen in backpacking tents.
---
Which features to look for in tent poles
Here are some of the most important features of the tent poles that come to mind:
Weight.
Price.
Flexibility.
Strength.
Durability.
But these features should be combined with:
Tent's purpose.
Tent's material.
So you can expect some trade-offs here. Not every pole material is for every tent's material and purpose.
---
1. Aluminum tent poles
Aluminum is used mainly in those expensive and lightweight backpacking tents. This is because of the great strength/weight ratio. But there are many dome style car camping tents here in the site with such poles, and you will notice that they are typically far more expensive than those with fiberglass poles.
Even very large family camping tents nowadays come with such poles, but in such cases you have the high-quality technology developed for large spans. The advantage when you compare them with fiberglass is that they provide the same tensile strength with tubes that are both with a smaller diameter and with thinner walls, and this means lighter.
Aluminum poles will retain their features like flexibility even in cold temperatures and this is not so with fiberglass. But these two materials are the most common in all tents currently on the market. Aluminum can corrode so manufacturers use some methods like anodizing to protect them from corrosion. These poles will bend instead of break, and if you are lucky you might be able to straighten them.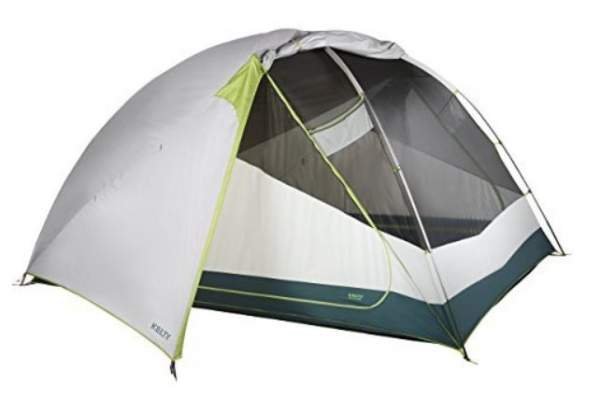 What is good with aluminum poles:
They are lightweight but strong.
They bend but not break so easily. But even the best aluminum poles will bend at winds of 80 mph or so, yet this is something you can repair in the field.
What is less good:
They are usually expensive. But there are some really great examples here in the site of very affordable tents with such poles. See for example this Mountainsmith Cottonwood 6P Tent.
They corrode and should not be used for camping close to the sea. But if you do so, rinse them with fresh water before storing at home. Make sure also to store them dry.
Aluminum alloys
Most of the aluminum poles tents here in the site are with 7000 series aluminum. This implies that you have some aluminum as the main material and some other metals added to improve their performance. So the strength is improved, corrosion resistance, etc. You will also sometimes see the notation about tempering. The idea behind this is to produce less brittle but strong poles.
The best-known manufacturer and some types of aluminum poles
DAC: This stands for Dongah Aluminum Corporation (DAC) of Korea. They revolutionized this industry with their Featherlite pole some 20 years ago.
Featherlite poles are without ferrules to reduce the weight by up to 15%. The basic structure is shown in the picture:

What is Pressfit: This is a design with an expanded end of the insert tube which makes it tightly gripped by the main tube, resulting in a durable structure. You have this in many expensive tents used for backpacking.

Featherlite NFL: Here you have the Pressfit and Featherlite designs combined. This type is used in the lightest tents currently on the market, check for example the Big Agnes Copper Hotel HV UL2 Tent.

DA17 aluminum poles: This is a type engineered for larger tents where both the flexibility and strength are crucial. So these are larger diameter poles designed for large arches. They build them currently up to 28 mm in the diameter. You have them in the Kelty Trail Ridge series, the largest tent from this series is shown in the picture above.
---
2. Fiberglass tent poles
Fiberglass is currently the cheapest material used for tent poles. So you will find such poles in many affordable tents, usually those designed for car camping dome and cabin style tents. Many tents here in the site are with fiberglass poles, see this Coleman Namakan Fast-Pitch Dome Tent 5 as an example: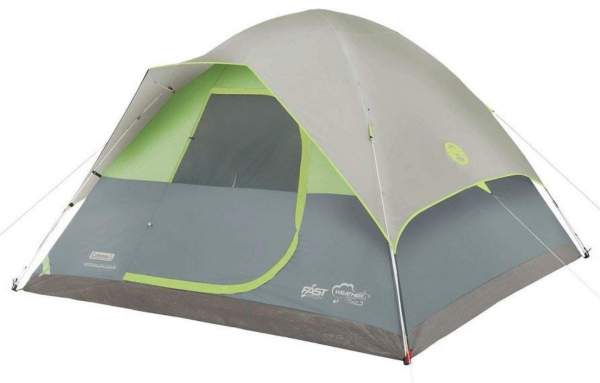 In some cases you have fiberglass poles combined with steel or aluminum poles, this is typically so in the cabin style tents where the legs poles are metal and roof poles are fiberglass, one great example is shown in this picture, the Browning Camping Big Horn 5 tent: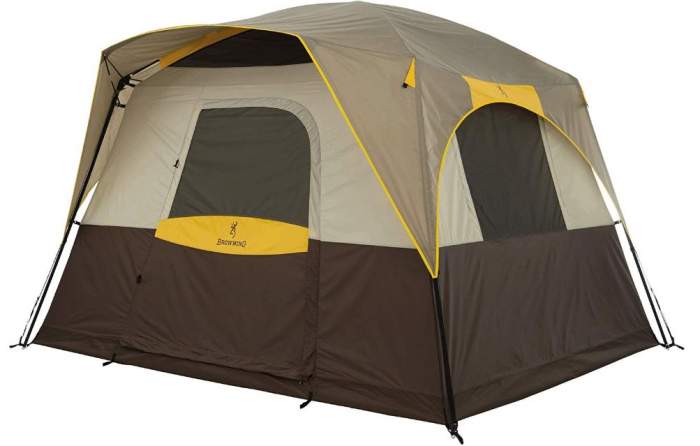 This is generally a good material and fairly flexible, but fiberglass poles tent to be heavier, this is because they are thicker to give the same strength as aluminum poles. You will realize the poles are fiberglass when you see external ferrules at their joints. But such poles can split and crack under stress, and at low temperatures they tend to shatter, so they are best used in summer camping tents.
What is good with fiberglass poles:
Inexpensive & easy to produce.
Such poles do not corrode. So if used carefully they can last long.
What is less good:
Fiberglass needs a careful handling and it is less durable.
Not as strong as aluminum, so they are built thicker and therefore heavier.
Fiberglass poles tend to shatter and snap under pressure.
After lots of use surface may develop splinters which is not so great when you have to pass them through tent's sleeves.
If you have such a pole damaged you might want to read our separate text about fiberglass tent poles replacement.
---
3. Carbon fiber tent poles
Carbon fiber poles are very strong and they are lighter than aluminum. But they are also very expensive and you will not find them in family camping tents. This is a material for lightweight tents for professionals. You can see them in the MSR Carbon Reflex series.
In general, this material is used where weight saving is essential, so this is for backpackers and for extended expeditions. But this material also needs a careful handling.
There is one thing important to stress here: the features of such poles depend on how well engineered they are. If you look for such a type, then Easton carbon poles should be your first choice. They claim that their Carbon FX and Custom Carbon 6.3 are way more durable than aluminum and far lighter as well. But their ION pole used in the Easton Kilo tent is 40% lighter than the Carbon FX, just to know.
What is good:
The carbon poles are ultra lightweight.
They are ultra strong.
What is less good:
They are expensive.
They are not good regarding flexing and bending.
---
4. Steel poles
As you can imagine, steel is heavy, so steel poles you will see in car camping tents, usually in cabin style tents where the legs poles are steel and sometimes even the roof poles. Sometimes they are used in tunnel tents as well, in particular in heavy canvas constructions. One great example is this Crua Loj 6 tent which is an all-steel structure and an insulated tent unique on the market.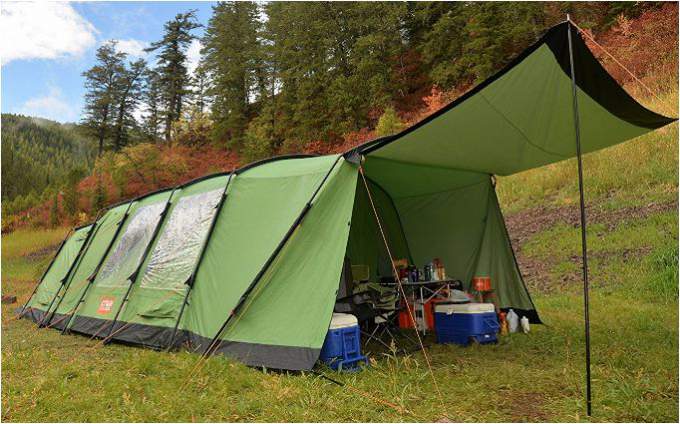 But there are also dome style tents with steel poles, the example below is one of the best in its category. This is a canvas camping tent, the Bushtec Adventure Alpha Kilo 4000, so the material is heavy and they have supported it with steel: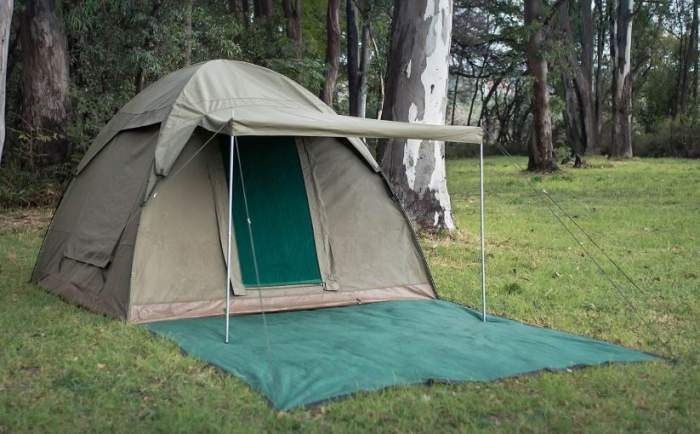 What is good with steel poles:
Strength.
Cost.
Rigidity.
What is less good:
Steel corrodes.
It is heavy.
---
5. Composite materials – Easton Syclone poles
There is nothing currently on the market that would match these poles regarding flexibility. They claim that these poles are 80% more resistant to bending and breaking than aluminum.
These poles are made from aerospace-grade composite materials, they flex under the wind pressure but do not break, and they return to their original shape. Their strength comes from multi-directionally wrapped aerospace grade S-Glass composite materials, and they are able to withstand even the strongest of winds.
Regarding the weight and the price, they are practically the same as aluminum poles. You can see them in the Easton Torrent tent series. You might want to see more about this technology here:
---
6. Air beams
Air beam tents or inflatable tents as some call them, are becoming popular recently. This technology has been around for a decade already but those early air beams were not so reliable. The situation is different now and there are many of these tents described here in the site, you can see them in the category Inflatable Tents. One nice example of an inflatable tent is this Vango 5 Person Odyssey Air 500 Tent: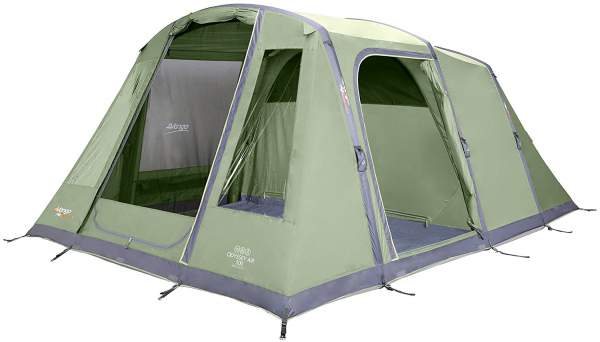 Most of such tents come with a pump in the package and one person can make it ready in a few minutes. In a sense, you could call them instant tents as well. Practically all the inflatable tents here in the site are tunnel type, the example shown above is also in this group.
What is good with air beams:
Easy setup.
Very good behavior in changeable winds. Such structures do not oppose the wind, they adapt to it and they restore their shape instantly. This makes them totally different from any rigid pole mentioned above.
What is less good:
Air beams can leak.
These tents are usually more expensive than the other types.
---
Final thoughts
So I hope you realize that there can be no best material for tent poles in general. You use the poles that are appropriate for the tent's features and purpose. In heavy canvas camping tents you have thick metal poles, mostly steel, this is needed for such a weight. At places with strong winds you will use something that does not oppose the wind, this would be a lost battle; you need a material with lots of flexibility. If you need poles for the trail, naturally you will choose the lightest possible, but then check your budget first.
In view of the poles' most important features mentioned above, I give the following two best choices:
The best poles regarding the weight: 1. composite materials, 2. carbon fiber.
The best poles regarding the price: 1. fiberglass, 2. steel.
The best poles regarding flexibility: 1. air beams, 2. composite materials.
The best poles choice regarding the strength: 1.steel, 2. aluminum.
The best poles regarding durability: 1. steel, 2. aluminum.
Would you agree with this?
Thank you for reading. This text will be updated in the case of some news and breakthroughs in the tent poles industry, so bookmark it and visit from time to time. You might want to read also my thoughts about pole tents vs airbeam tents.
Did I miss to mention something important? If so, please let me know, there is a comment box below.