Are instant cabin tents good? This is a question I saw on the Internet. The quick answer is yes, most definitely so. Those are truly excellent designs and they will save you a lot of time. See more below.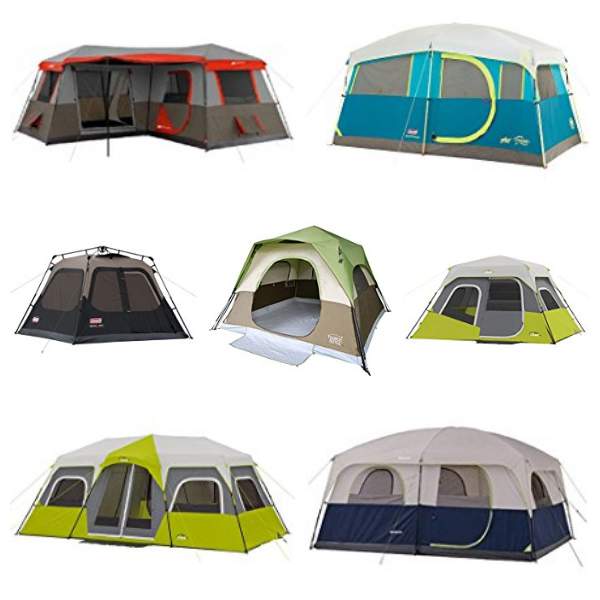 ---
What type instant tents exist
So the starting question is about instant cabin tents but to understand the topic better, I think it is good to know what types of instant tents you can expect. So quite generally, you can see:
Instant cabin tents.
Instant dome tents.
This text is mainly about instant cabin tents, but below you will see one great example of the second group as well.
As a start, it is best that you see this first
If you are one of those who are skeptical about instant tents, it is best to see this video showing the Teton Sports Outfitter XXL Quick Tent:
So what you see here is an excellent example of a dome-style instant tent. If you like such an express setup, keep reading. If not, then it is hopeless.
The other type are cabin style instant tents, and there are many of that type presented on this site, so you can check in the Category instant tents. Note, about the cabin style tents in general, you can see in my separate text.
But to see the difference between the dome and the cabin type instant tents, it is best to see this video showing the Coleman 6 Person Instant Tent, the guy in the video sets it up in 56 seconds:
Obviously, both types allow for an express setup. So imagine you are on a cross-country tour and you have to do this again and again. With the traditional tent, it can become annoying.
I would say that the instant cabin tents are built in all sizes, and they can be huge. As for the dome-style instant camping tents, they are typically smaller, for 1 – 6 people most of the time.
---
How instant tent really works
The answer is simple – everything is already pre-assembled. So the frame and the tent body are attached to each other at all times, you just unfold and raise the tent one way or another, you have seen it in the two videos.
In the first case (the dome-style instant tents) it is like an automatic umbrella.
In the second case (the cabin-type instant tents), you have telescopic poles. So it is a bit more work, you extend them until you hear a click. This is the moment when a spring button pops up and locks the pole to the required pole length.
So you realize how different this is from a traditional tent.
---
Instant tents are freestanding
This is one of their important features. So you can set such a tent up on any terrain, and you can rotate it and even move a bit around to get a better position. It is not compulsory to stake it down but this is strongly advised to do whenever possible. Remember, cabin tents are like big boxes, so stake them to the ground, just in case.
---
How about rain fly
Well, some instant tents do not have it, or better to say, the rain fly is integrated so the fabric on the roof is a single layer and waterproof. Great examples of that type are these Coleman 6 Person Instant Tent, and Coleman 8 Person Instant Camping Tent.
But in many other cases, those cabin type tents are high so adding a fly is best done by two people. In some models with telescopic poles, you can attach the fly before extending the poles. So you raise the fly together with the tent and then fix it and tighten it properly when all poles are locked in place.
---
Can one person set a big instant cabin tent up
Yes, most definitely so, to see this please check my text about the Core 12 Person Instant Cabin Tent. You will see the guy pitching this huge tent in just a couple of minutes, simply unbelievable.
---
Are instant tents more expensive
Not necessarily. This will depend on many factors. Some brands make expensive tents, so take this Nemo Wagontop 6 which is a traditional design but its price is over $600. Now compare it with the Core 6 Person Instant Cabin Tent which is $146.
On the other hand, take this same Core 6 Tent which is the instant cabin and the Eureka Copper Canyon 6 Family Tent which is cabin type but not an instant tent and its price is $246. So you see the point, there is no strict rule here.
Quite generally speaking, there may be good and reliable inexpensive tents on the market, but I would not have the low price as my main criterion when I decide about a family camping tent. You need a reliable tool when you are out there.
---
Are instant tents less durable
Not really. If you have a look in some models you will realize that they are with steel poles and sometimes very thick. But everything is preassembled, so this is different from traditional tents where poles and fabric are packed in separate bags. So one should be a bit careful when packing such an instant tent and when transporting it.
I already mentioned telescopic poles, so you have one pole which slides through another. Now, if they are not straight they would not retract. This is the same what you have in telescopic trekking poles, they can bend and you have probably experienced this, I did many times.
So make sure that this does not happen with the tent poles. But if it does, poles may be replaceable, although perhaps this is not always so.
---
Are instant tents for 4 season use
♦ This will depend on every specific model of course. But there may be big differences in this respect between the instant cabin tents and instant dome tents. The former are tall boxes, totally non-aerodynamic. Such a tent represents an obstacle for the wind, so it is not stable.
On the other hand, dome-style instant tents are very aerodynamic in shape and they would perform better, but they too can be very tall.
♦ Equally important is the roof structure. The instant cabin tents are usually with a rather flat roof (but there are hybrids), and some of them are really big. So the roof poles span the large distances between the walls, and this is not the best design for vertical static pressure which then transfers to the nearly vertical walls too. In other words, such a structure typically cannot withstand a lot of snow, it may collapse.
With dome instant tent this is different, but this should be obvious.
♦ Instant cabin tents are usually with a mesh ceiling (but there are exceptions) and with a minimal fly which protects only such a ceiling, see for example this Core 12 Person Tent. They are also with huge windows and doors, built for comfort. But such a design doesn't keep the warmth inside, so they are for mild weather, otherwise they may be very unpleasant.
---
Final thoughts
Do you still remember the starting question – are instant cabin tents good? The point of this text is not to convince you of anything, this is always the matter of preference, and of personal choice and experience. You will choose what you think is good for you. This text is only to point out some features and facts that you may not be aware of, so that you can make an educated choice. Please see also my list of top 10 instant tents, most of them are cabin type.
In any case, I wish you pleasant camping. This may be a rather divisive issue, so let me know what you think. Any experience with instant cabin tents? There is a comment box below, I love to hear from you. Have a nice day.

---