---
Coleman Red Canyon 8 Tent is a 3-season family camping tent with almost 16 square meters of floor area, with 3-rooms, and an incredible price.
---
Contents
---
Key features & benefits
Huge space.
Great design.
3 rooms.
Great ventilation.
Great price.
Great packed size.
Great area/weight ratio.
---
Where to buy
---
Coleman Red Canyon 8 – what this is about
This tent stands out because of its great design; it is so conspicuous and you cannot miss it when you see it in the crowd.  I have included it in my list of best 3 room family camping tents.
Equally impressive is its floor size; with 170 sq ft (15.6 m²) this tent offers more than enough place for the declared 8-people capacity. There are not so many tents on the market that would offer almost 2 square meters per person.
To realize what I am talking about, just compare this tent with the Core 9 Person Instant Cabin Tent and the Coleman 8 Person Instant Camping Tent. Those are truly great tents, but they provide 11.7 m² and 12.9 m² of floor space, respectively, and they are for 9 and 8 people. So you realize how huge the Red Canyon 8 floor area is.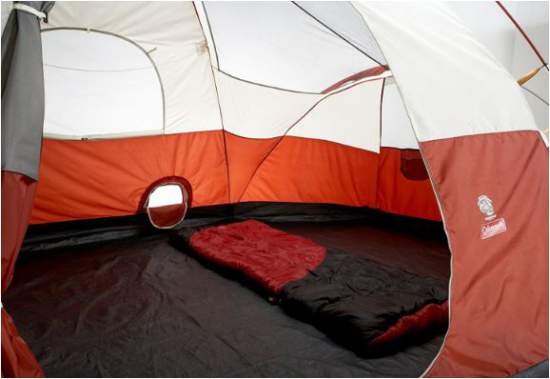 This is supposed to be a 3-season tent. This implies the following:
There is an inner tent and the fly.
The inner tent is with a lot mesh openings for ventilation and free airflow, see the picture below. This is good for warm weather camping.
But the design with such a mesh is less suitable for a cold environment.
The tent is dome-shaped, with all good and less good features of such a design. It would be better described as an extended-dome type because you have the main dome which is extended on the sides, due to 2 extra poles added there, this is visible in the picture below.
It is not freestanding; to have it properly set up and use all its features, it is necessary to stake it to the ground. But this is not surprising in view of such a huge space and quite extraordinary and a bit complicated design.
---
Who is it for
The Coleman 8 person red canyon tent is perfect for:
Groups of friends at some open-air festivals, and for camping.
For families with up to 4 kids. As you can imagine, with kids you have to upscale, it is never enough space.
In the case of kids, but also for adults, you can save a lot of space by using bunk cots. Kids love them, and such a bunk bed can be transformed to a bench during the day. See some of them here.
Sleeping on such cots is better both for comfort and for storage space; you can put a lot of stuff underneath such cots. You will need it because you do not have an external storage area, there is no vestibule here.
Packed size
I add this issue in this section because of the transportation. The packed size of this tent is simply extraordinary, 25.6 x 11 x 10.2 inches (65 x 28 x 26 cm). As such, it can be transported even on a motorbike, so this makes it suitable for motorbike groups. Its weight may look less impressive, 22.4 lb (10.16 kg), but this is not so bad for such a huge tent.
In fact, its area/weight ratio is among the best of all tents described here, so you have 1.54 m²/kg. Typically, for other tents, this ratio is around 1 or below this value. But there are some other great tents regarding this parameter, for example, the Big Agnes Rabbit Ears 6 has this ratio 1.3. The dome-type tents, like these two examples, are usually much better with respect to this parameter than cabin type tents.
---
Weather protection
The fly
The fly which you have here is not a full-coverage type. This is both good and bad. The good is that you have unobstructed views through the windows. This is surely important, the tent is very pleasant and livable. Also, the fly is well separated from the inner tent dome (this is shown in one picture below), and there is an optimal air circulation from all sides.
The bad is that the protection from rain is not complete. This holds in particular for the door where you have a small awning but it doesn't extend enough to protect the lower portion of the door. So when it is raining and you unzip the door panel, the water will get in.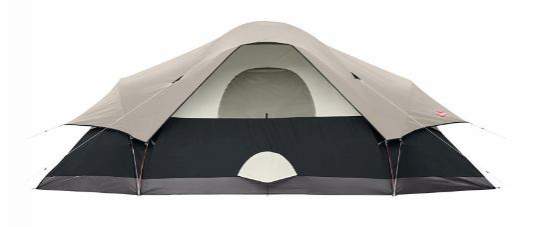 They do not provide information about the waterproofness rating. But they write about Coleman's Weathertec System. It includes welded seams on the floor and taped in other areas, plus water repellent materials are used here, and you also have inverted seams in some sections.
The door and the window
The door is with the panel from inside and you will zip it up when it is raining. From the outside, the upper section of the door creates yet another window with the mesh. I notice that having only one door is not so great.
The window on the opposite side is also with a mesh and a waterproof panel, which is used the same way as the door panel.
Note that you still have great ventilation even with the panels closed, there is a lot of mesh around, plus the ventilation opening above the floor.
How about winter use
Do not consider using this tent in any harsh weather conditions. So this is definitely not a tool for winter. Its structure is with huge openings and with a lot of mesh, and this does not keep the warmth. Besides, its poles are not designed for such a use, and it is not weather-resistant enough.

---
The structure and setup
Poles
The poles are shock-corded, easy to use, and you have them 6:
Two main poles create an X-shaped dome structure above the central zone.
Two side poles create headspace for the side rooms. To have them fully functional, you have to stake the tent to the ground. This is why I wrote above that it is not freestanding.
Two shorter poles you use with the fly only, to create small awnings on the front and on the back. One is shown in the picture: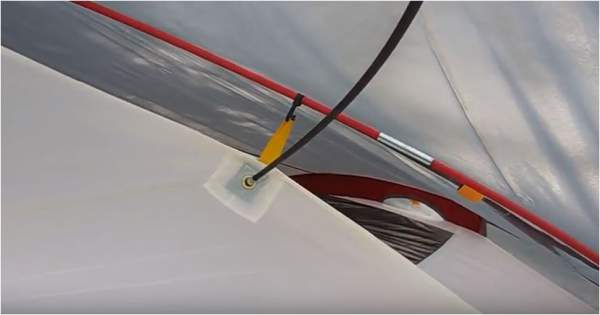 Inner space
The inner space is a beauty. The central area is with a lot of headspaces and the height is 72 inches (1.83 m). The side areas are far lower but this is fine for sleeping and sitting on the ground or on the cot.
The tent is designed so that 4 people sleep in the central zone, and 2 people in each of the side zones.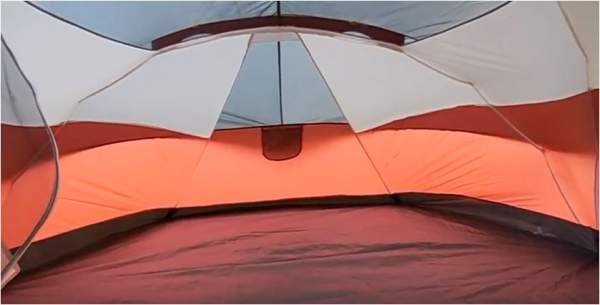 But it is disappointing that there are no pockets; only two small mesh pockets are on the side areas, quite remote and not so useful; one is visible above.
The internal space is with a lot of mesh on the ceiling, and with several windows around, very impressive. With a clear sky, you can sleep under the stars and you will be fully protected from insects.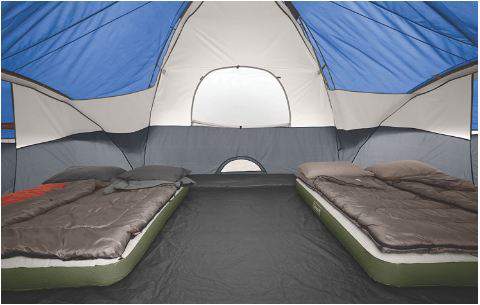 Dividers
There are two of them, both removable, and they attach to the side walls by toggles and loops. They do not go to the roof so you have the view to the side window even from the central area. Note also that they do not go completely to the floor, probably to allow for air circulation.
Setup
I suggest that you see this a bit long video, a family is setting the tent in the garden, so you will have a clear impression of how it goes. It takes some time as you realize, but this is a big camping tent which you would not take down every day, so once you do it, you can enjoy the rest of the vacations:
In general, I would not rely on this tent in heavy raining situations. This is a summer-type tent, and if you need something for more seasons, please look around in the site, there are plenty of options available. Look for a full-coverage fly as the best option.
The tent area is huge, but bear in mind that you have no external protected storage space, so some space will be lost to store your gear. The setup is in principle self-evident, but you have six poles here, so setting it up requires some work.
The design is great, but not perfect; only one door for such a huge space is not the best option. But the door is centrally positioned so it is not that bad after all.
The side rooms are great, but bear in mind that they are not wide enough for a double-wide bed or mattress. Pity. The stake-out points are missing in the middle section of the tent, on both sides. Having it on the back would make ventilation through the small back opening much better.
---
Specifications
Type: 3-season, non-freestanding.
Capacity: 8 people.
Weight: 22.4 lb (10.16 kg).
Shipping weight: 25.05 lb (11.36 kg).
Dimensions: 17 x 10 ft (204 x 120 in; 5.2 x 3 m)
Floor area: 170 ft² (15.6 m²).
Area per person: 21.2 ft² (1.95 m²).
Peak height: 72 in (1.83 m).
Packed size: 25.6 x 11 x 10.2 in (65 x 28 x 26 cm).
Colors: 3, see the pictures.
---
Concluding remarks, rating, pros & cons
In the conclusion of this Coleman Red Canyon 8 Tent review, I would stress again that this tent is enormously popular and it is easy to understand why. You have seen its exceptional design and the equally exceptional price which is hard to match. So if you need a huge and pleasant camping shelter and definitely do not want to spend much, then go for it. I have included this tent in my list of top tents for 8 people.
Please see how I rate this tent:
Coleman 8-Person Red Canyon Tent, Blue
$139.99
Pros
Great size.
Great price
Very tall tent.
Very livable tent.
3 Rooms.
Great packed size.
Cons
No vestibules.
Only one door.
No storage elements.
Not enough stake-out points for the floor.
But not everything may be about the price, there are some features that are not so great, so bear this in mind, in particular, the absence of vestibule. So if this is important, check this Coleman WeatherMaster 6 tent from the same brand, with a huge screen room or this Marmot Limestone 8 tent with two vestibules. If you want a cabin-style tent from the same brand, check this Coleman Tenaya Lake 8 tent which comes with a separate closet. They have launched recently a very similar tent under the name Coleman Oasis 8-Person Dome Tent so have a look.
Thank you for reading. If you still need something different, please look around in this site, it is only about family camping tents, so you will find something for you. One great option is also this Browning Big Horn tent, one of the tallest available, and this Wenzel 8 Person Klondike tent. Please let me know if you have any comment or question, there is a comment box below. Have a nice day.

---