Coleman Tenaya Lake 6 Person Fast Pitch Cabin Tent With Cabinets is a pleasant summer family camping tent with hinged door and a price which is hard to match.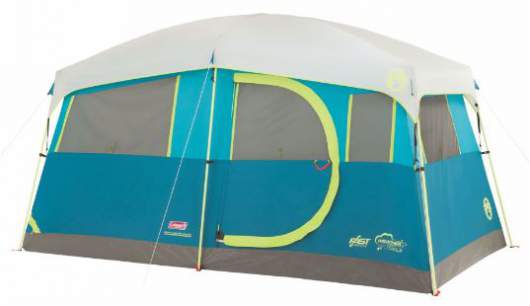 ---
Key features & benefits
2 extra cabinets for storage of stuff.
Hinged door.
2 rooms separated by a removable divider.
Incredible price.
---
What kind of tent is this – what is in the name
The term 'fast pitch' describes the fact that the roof poles are all with bungee cords that go through them, so they are preattached to each other and to the hub element on the top, see the picture below. This speeds up the procedure of setting this tent up because you only have to spread the roof poles and attach the tent's clips to them. They call this Insta-Clip suspension.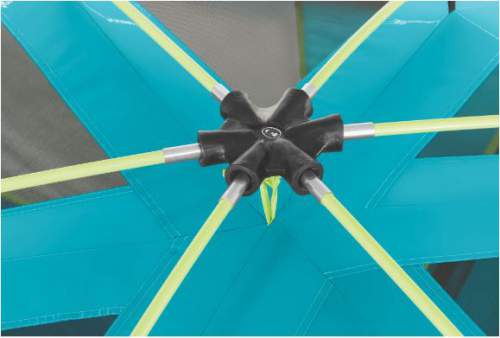 But note that the vertical leg poles are detached and you connect them to the roof structure through the connectors that are sewn-in to the tent body.
One possible issue with this system is that if you damage only one of the roof poles, it seems you have to replace the whole structure.
The tent is cabin style, so with the usual straightened and tall nearly vertical walls. You might want to know that there is a divider so that you effectively have a 2-room tent here.
The hinged door
I have included this tent in my list of tents with hinged doors. So this is an extra feature which you might want to have, but I know that not everybody likes it. So the door is with poles that run along the perimeter and the whole structure is rigid and it behaves as a door at home; you even have a handle, see the picture below.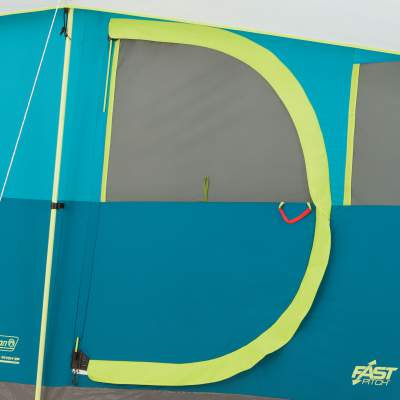 The cabinets
As the name suggests, here you have 2 built-in cabinets behind the tent with shelves for extra gear storage. If you have small dogs with you, this is where you can accommodate them. In such a case you would not install the shelves of course. These cabinets are only with the access from inside the tent. This is why I have added this tent to my list of camping tents with closets.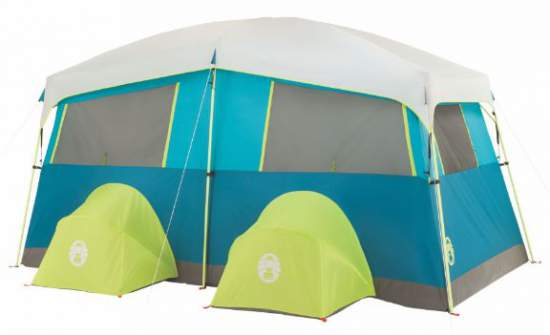 The picture below shows how the cabinets fit the tent. Note that the divider is in between them so they can be used independently in the two rooms: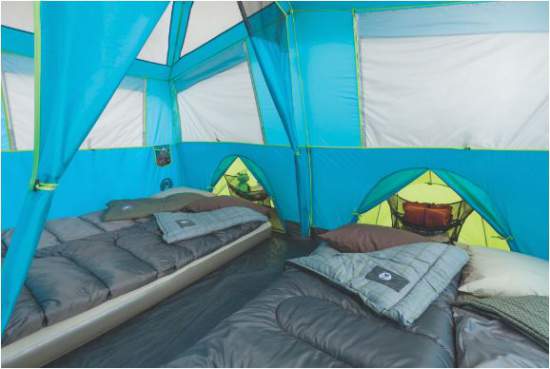 The tent is freestanding, but being so heavy and tall, use the stakes and fix its corners to the ground before you start the setup. Also stake the guylines when you add the fly.
Coleman has yet another version of this tent on the market, which is with a back closet, just to know if you would prefer such a structure.

---
Who is it for
Spacewise, the declared capacity is 6 people. The total floor area together with the two cabinets is 99 ft² (9.2 m²). This means 16.5 ft² (1.53 m²) per person and I do not find it so impressive. The dimensions are such that you can fit two queen size beds inside, so this would be a maximum of 4 people to use this tent.
The tent's construction is such that it is best suited for summer camping. The ceiling is all mesh, great to sleep under the stars and in a warm climate; but such a structure is not best suited in a cool environment. The whole structure is so boxy and tall, you have 80 inches (203 cm) at the highest point. Such a structure is not so great in strong winds and I would not put it to harsh tests.
The weight is around 15 kg, so it is heavy but it packs to the rarely nicely designed bag which you see in the picture below. Obviously, you will need a car for transportation.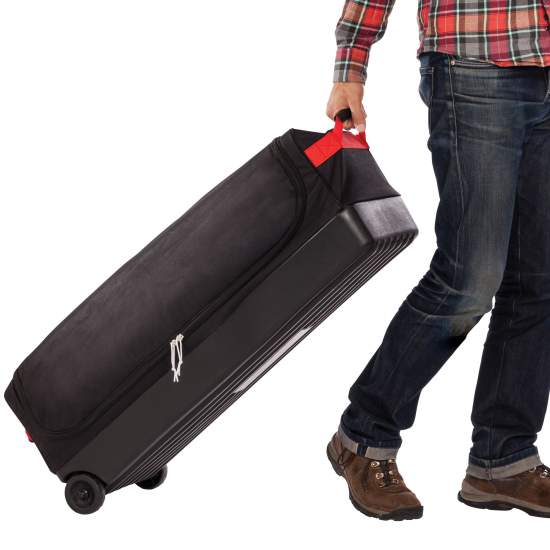 ---
The construction & materials
The poles
You have 6 steel poles plus 6 fiberglass roof poles which are connected to the hub as I mentioned above, and there are 2 extra fiberglass poles for the cabinets. Note that using the cabinets is optional; if you do not need them, just push the fabric close to the tent and press with something; but they are not removable.
The fabric
You have a minimal fly that only covers the roof, so you add it separately. The flies on the cabinets are pre-attached. The walls are the same material as the fly, so this is a coated polyester, but there are no data about the waterproof rating.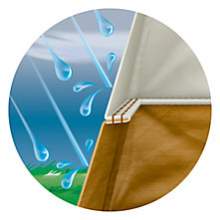 The floor looks like a polyethylene and it is bathtub type. Here you have their patented welded system so I would not expect problems from the ground. Here too you have their inverted seams which are designed to prevent the water from getting in through the stitches, see the picture.
All the windows are double-layer, with mesh and with panels for protection and privacy.
Other features
There is only one door, but it is big enough for this tent. The back cabinets come equipped with mesh shelves so you can nicely organize your stuff there. Note that there is no entrance from outside to the cabinets.
There are a few rather small pockets on the walls, pity they did not add more, and you also have an electric cable port in the corner.
A bit more about the fast-pitch tents in this short video by Coleman:
---
Specifications
Capacity: 6 people.
Weight: 33.2 lb (15.06 kg).
Dimensions:
– the main part: 13 x 7 ft (396 x 213 cm).
– 2 cabinets: 2 x 2 ft (61 x 61 cm) each.
Total floor area: 99 ft² (9.2 m²).
Area per person: 16.5 ft² (1.53 m²).
Peak height: 80 in (203 cm).
Packed size: 33 x 13 x 12 in (84 x 33 x 30 cm).
1-year limited warranty.
---
Coleman Tenaya Lake 6 Person Fast Pitch Tent vs Competitors
It is always good to compare a tent with some other tents in the same size range and with a similar design. This is how you can best understand its features. So here is the Tenaya Lake 6 tent side by side with other two cabin style tents from some other brands:
33 x 13 x 12
(84 x 33 x 30)
---
Final thoughts, rating, pros & cons
The Coleman Tenaya Lake 6 Person Fast Pitch Cabin Tent With Cabinets is nicely built, pleasant, and the current price is simply incredible. Note that they also have an 8-person version with similar features. This is a summer camping tent and I would not use it in areas with lots of rain and wind, and in a cold environment. It is included in my lust of Coleman 6 person cabin tents.
Please see how I rate this tent by using my standard set of criteria:
Coleman Tenaya Lake Fast Pitch Cabin Tent with Cabinets 6-Person
You might want to see also this dome-style Coleman Elite Sundome 6 Person Camping Tent with LED Light with its integrated light.
If you need something different, just look around, this whole site is only about family camping tents, and there are also many items of Coleman here. You can see yet another tent from the same series built in a totally different style, the Coleman Steel Creek Fast Pitch Dome Tent 6.
Thank you for reading. Please use the comment box below in the case of questions and comments. Have a nice day.