Wenzel Great Basin 10 Person 3 Room Tent is a very affordable extended dome type structure with fiberglass poles for summer family camping, with Light Reflection System and many windows.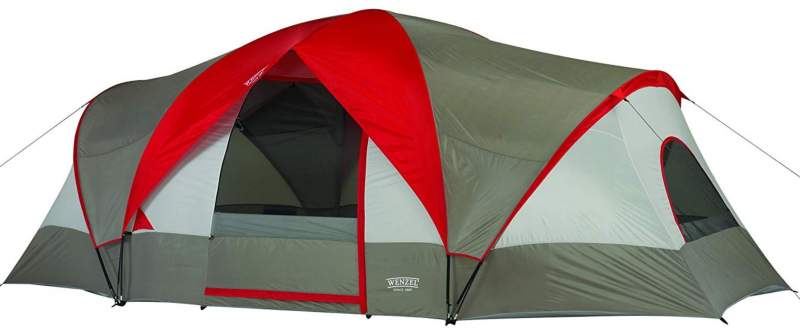 ---
Key features
Extended dome tent.
Very affordable.
Single door with a window on it.
3 Separate windows.
Fiberglass poles.
E-cable port.
3-Room structure.
Tent Light Reflection System.
---
Where to buy
This tent is available at Amazon and I have seen it on several of their global stores. So follow the link and benefit from their global service.
It is available also at Walmart.
---
What type of tent is this
The Wenzel Great Basin Tent 10 Person has been on the market for at least 6 years already. This is a typical example of an extended dome style tent. So the central area is supported by two main poles and you have two extensions on the sides each with its own extra pole, see the picture below.
The tent looks like a freestanding structure but this is not so. To have the extensions properly set up, you have to stake the tent to the ground, and with this, the ceiling will be stretched as required.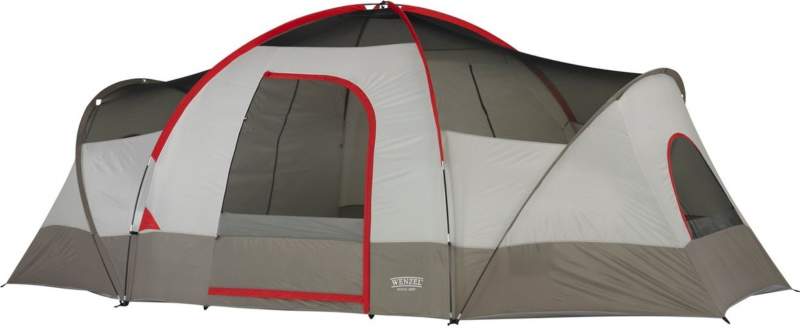 The tent comes with two dividers so you can have up to 3 separate units for at least some privacy. But observe that there is only one door here shown in the picture above. This is a stand-up structure (at least for the majority of users) with a peak height of 78 inches (198 cm).
The tent is with a partial coverage fly and this allows you to have views around. There are 3 separate windows with zippers, which is surprising for such a budget tent, plus one window on the door visible in the picture above.
---
Who is it for
Space: The declared capacity is 10 people and the picture below shows the floor plan and what the manufacturer suggests for using it with pads on the floor. The area is 159 ft² (14.8 m²), and for such a number of users this would give 1.59 ft² (1.48 m²) per person.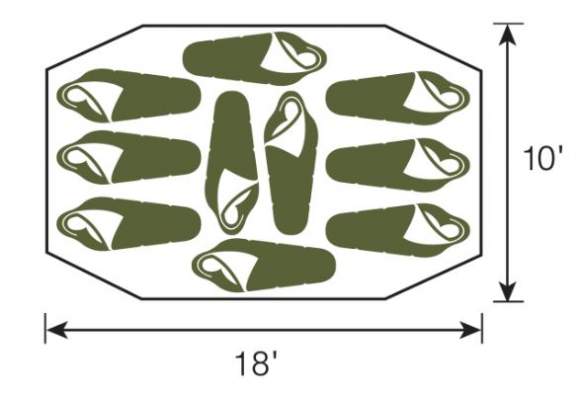 The area is big enough to fit 3 queen size beds, or you can put up to 6 twin size beds inside. But ideally, you would use it for up to 5 people only, for example parents and up to 3 small kids.
Seasons & climate: This is a tent for summer camping, the ceiling is all mesh and you would not want to use such a structure in a cool climate. The tent is high, with fiberglass poles, and with a partial coverage fly so it is best to avoid places with strong winds and with lots of rain.
Weight: The weight of 28 lb 2 oz (12.8 kg) is reasonable, you will see how it stands when compared with some other tents with the same declared capacity, there is a comparison table below. The same holds for the packed size which is 27 x 10.75 x 10.75 inches (69 x 27 x 27 cm). But this is a camping tent and these two parameters are not essential, you need a car for such a tent.

---
Materials
Poles
You have 4 poles for the canopy plus one that creates a small awning above the door. This is shock-corded fiberglass so it is not particularly durable material, but this is a budget tent.
Fabric
They do not provide any info about the waterproof rating of the fly and the walls, but this is polyester with PU coating and the seams are sealed. The floor is a welded polyethylene so you are surely safe from the groundwater. Two removable dividers with zippers are included in the package.
Ventilation
There is lots of mesh on the ceiling, on the windows, and on the door, but there are no floor vents. Now, the windows are low and as long as the sky is clear, you can keep them with mesh only so ventilation should not be an issue. But in the case of hours with rain, all the openings must be closed and the atmosphere in the tent might not be pleasant in such situations.
Other features
Gear loft is included.
Integrated Light Reflect System. It provides a glow all around when you put a headlamp or flashlight in the gear loft and aim it at a built-in reflective panel above. See more about this feature in the video below.
Two small pockets are on the wall, far from enough.
E-Port for cable is available as well.
---
Specifications
Declared capacity: 10 people.
Weight: 28 lb 2 oz (12.8 kg).
Dimensions: 18 x 10 ft (549 x 305 cm).
Area: 159 ft² (14.8 m²).
Area per person: 1.59 ft² (1.48 m²).
Peak height: 78 in (198 cm).
Packed size: 27 x 10.75 x 10.75 in (69 x 27 x 27 cm).
Poles: fiberglass.
---
Wenzel Great Basin 10 Tent vs Competitors
I am sure it is useful to see a comparison with some other tents built in a similar style and with the same declared capacity. This helps in better understanding its features. So you see that their features are similar, it is slightly smaller than the other two but the difference is negligible. There is no doubt that the NTK Larami GT 10 tent offers a better protection than the other two tents. Please follow the links for more.
Mountain Trails Grand Pass 10
---
Final thoughts, rating, pros & cons
So this Wenzel Great Basin 10 Person 3 Room Tent is a pleasant structure for summer use, with a very good price on the US market. But it is best to disregard the declared capacity. Note that this is an item from a reliable brand established in 1887, so you know what you are buying. I have included it in my list of 10 person tents, just to know if you need more options to check.
This is a very affordable tent on the US market, but it is considerably more expensive in the EU. It has been on the market for a number of years already and it has collected many reports by Amazon customers and the average rating is very respectable. Please see how I rate it against the standard set of criteria used for all the tents here in the site
There are a few more tents from this brand here in the site, check their Wenzel 8 Person Klondike Tent, and Wenzel Kodiak 9 Person Tent which is also built as a cabin tent but it has cabinets. See also their giant Wenzel Mammoth 16-Person tent. You might want also to check this CORE 11 Person Extended Dome Tent 18′ x 9′ built in the same style.
Note that this is not a sponsored text, and I am not paid by the brand. Please use the comment box below in the case of questions and comments.

---