---
Core Lighted 12 Person Instant Cabin Tent is a freestanding 3-room tent from a new series that comes with an integrated light system and a 2-minute setup time.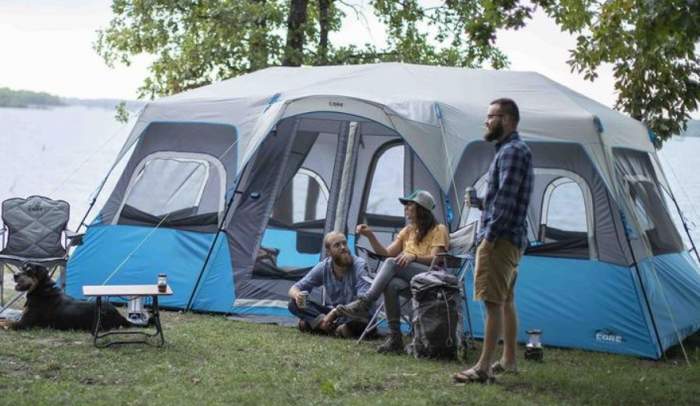 ---
Key features
Built-in LED lighting.
Freestanding.
2-minute setup.
80 inches peak height.
3 rooms.
2 huge doors with windows.
7 separate windows.
Fits 3 queen size beds.
E-cable port.
---
What this is about
This Core Lighted 12 is currently the largest lighted tent from this brand, from the series they launched for the 2019 season. This series includes also the Core Lighted 9 Tent and the Core Lighted 10 Tent with Screen Room. If you are familiar with the tents from this brand, you will notice that this is essentially the same design as in their Core 12-Person Instant Cabin Tent that has been on the market for some time already. This means you have a cabin style tent with many windows, very pleasant and livable.
This is a freestanding tent with a minimal fly that covers only the ceiling. The fly clips to the legs of the tent so you can move the tent and rotate even after you put the fly on. The structure is 80 inches (203 cm) tall so do not miss to stake it down although it is self-supporting, you have all the stakes and the guylines included in the package.
As the name suggests, this is an instant tent that comes with the frame that is preattached to the tent, see the picture below, so you just unfold the package and extend its telescopic poles. The official setup time given by the manufacturer is under 2 minutes.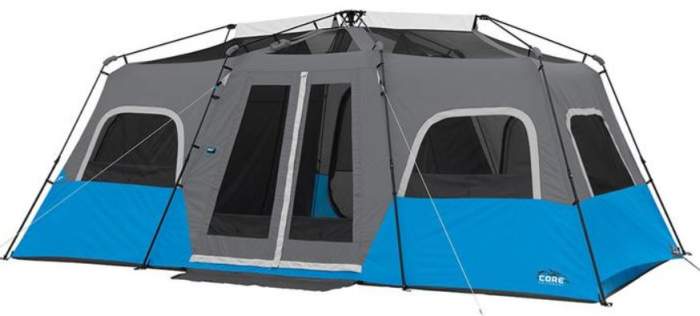 Lighted tent
The integrated LED lights is the main new feature here and this is what makes it different from the mentioned 12-person tent from the same brand (apart from the color, packed size, and weight). I have included it in my list of best lighted tents. So you have the lights built into the roof poles. There is a switch also attached to the wall, it is shown below, and the system works on 4D batteries or 5V (not included). The following operation settings are available:
High: 950 Lumens, 50 h run time.
Medium: 300 Lumens, 110 h run time.
Nightlight: 35 Lumens, 250 h run time.
Yet another great feature related to this system is a specially designed diffusion panel under the light (see the pictures) which evenly disperses the light throughout the tent. So you have a pleasant ambient with the light on.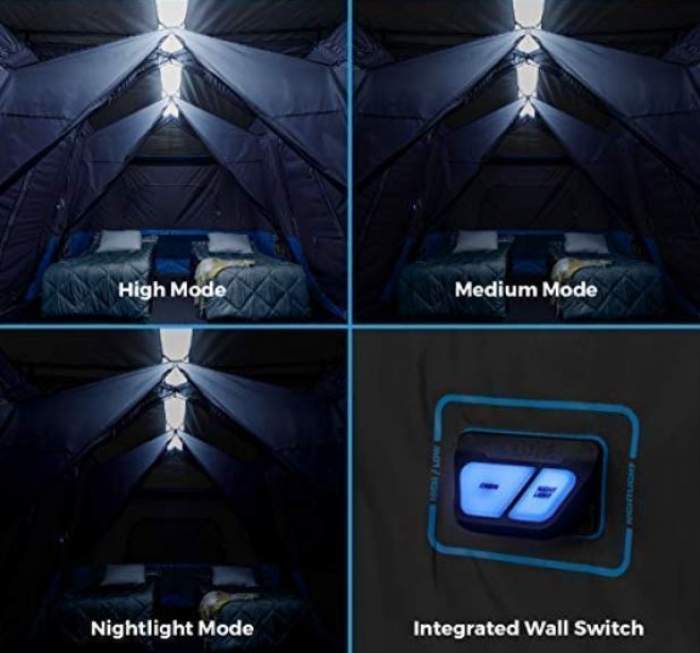 ---
Who is it for
Space-wise, the tent's declared capacity is 12 people, but when you see its dimensions 18 x 10 ft (549 x 305 cm) you realize that it is nearly impossible to put so many sleeping pads on the floor. Even if you manage, it would not make sense, there is no storage space for gear anywhere.
This is a 3-room construction with two removable dividers, and I see it best suited for 2 couples or for parents with 3 – 4 kids maximum. The two side rooms can be used for sleeping and the central room can serve as a living area.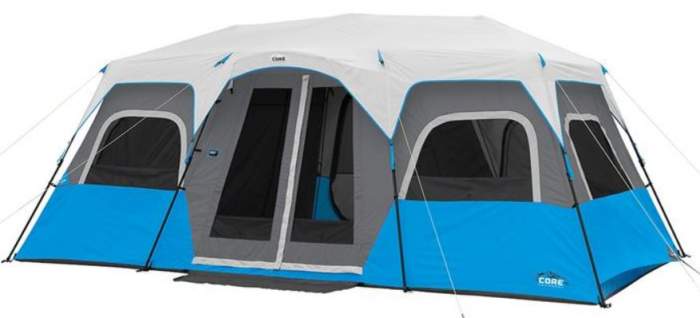 Seasons-wise, this is a tent for summer camping only. The reasons for such a statement are as follows. The waterproof rating is very low, just a bit better than an umbrella. The picture above shows you the tent with the minimal fly which covers only the ceiling. The structure is very tall, which is great for a quiet summer camping, but less great in a windy weather. The ceiling is all mesh, great for ventilation in a warm environment but you would not like to use it in cold conditions.
Weight-wise, with 54 lb (24.5 kg) this is a heavy item. But note that you have an exceptionally strong steel frame so this structure can withstand lots of vertical pressure. The packed size is far from perfect 49 x 16 x 11.5 inches (124 x 41 x 29 cm). So this is a tent for places with a car access.
---
The materials & construction
The poles & stakes
As mentioned, you have a steel frame here and it is preattached to the tent. The legs poles are telescopic and they are responsible for the tent's big length when packed. There is a couple of short poles that you add above the two doors to create small brims. The tent comes with 20 steel 7 inches long stakes.
The fabric
The walls and the fly are a durable 68D polyester. The waterproof rating is minimal, only 600 mm, good enough for light rain and summer camping. The seams are taped. The floor is polyethylene 125 g/m².
Ventilation
There is nothing one could object to ventilation here. There are two large doors with mesh, and windows with mesh are everywhere around, plus the ceiling which is all mesh. But even if you have to close the panels on the doors and windows, you still have adjustable vents on both narrow sides, see one below. So you can always have enough cross-flow in the tent.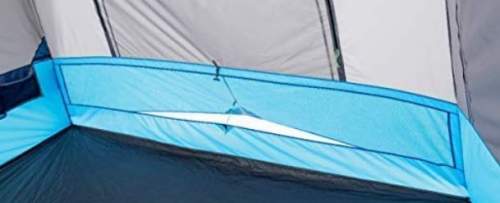 Other features
There are a few small pockets on the walls, far from enough.
The tent comes with an E-cable port to use when you have power in the camp.
The windows panels are with zippers so you can keep them at any position, this is a great detail.
The dividers are just curtains, so do not expect too much privacy in such a tent, but this is typically so. See the inner view: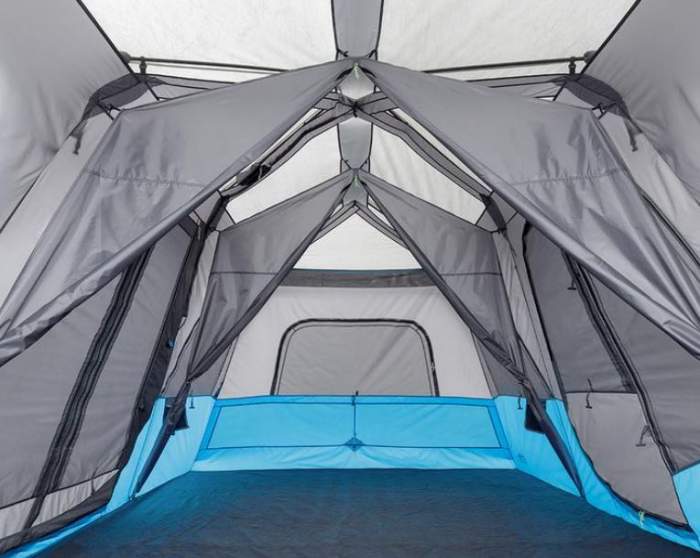 What is included
Many elements are mentioned already, so here they are all in one place, the fly is on the left and then you have the two dividers and the rest of the stuff: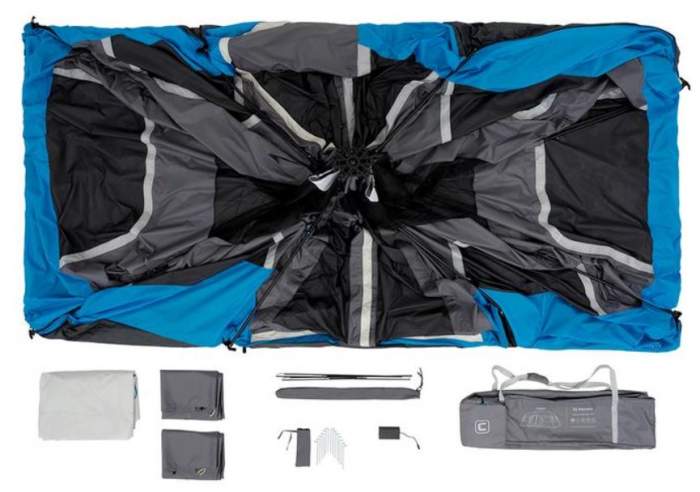 ---
Specifications
Type: cabin style freestanding tent.
Declared capacity: 12 people.
Weight: 54 lb (24.5 kg).
Dimensions: 18 x 10 ft (549 x 305 cm).
Area: 180 ft² (16.7 m²).
Area per person: 15 ft² (1.39 m²).
Peak height: 80 in (203 cm).
Packed size: 49 x 16 x 11.5 in (124 x 41 x 29 cm).
Frame: steel.
---
Core Lighted 12 Person Instant Cabin Tent vs Competitors
Perhaps you might want to see how this tent stands when compared with some other similar capacity tents on the market. So here are two of them, both with a 12-person capacity. The Core tent is only lighted here but note that the Ozark Trail tent has the dark-rest design. Also, the Eureka tent is not an instant tent. Please follow the links for updated prices.
Core Lighted
Instant Cabin 12
---
Final thoughts
In summary, this Core Lighted 12 Person Instant Cabin Tent is really nicely built, the integrated light adds value and comfort. So use it for summer camping and you will have a proper tool for the environment. Bear in mind also the other two smaller tents form the series, the 9-person and 10-person tents, both lighted.
Please see how I rate this tent, I use the same criteria for all the tents so it is easy to compare:
CORE Lighted 12 Person Instant Cabin Tent
Pros
Lights.
Enormous size.
Easy setup and take down.
Very tall and livable tent.
Freestanding.
3 Rooms
Cons
Not enough storage pockets.
For summer camping only.
Heavy and bulky when packed.
Check also my list with best lighted tents and the list of instant tents for camping. If you need something different, just look around, this site is all about large family camping tents. You might want to see this Ozark Trail 12-Person 3-Room Instant Cabin Tent with Screen Room.
Note that this is not a sponsored text and I am not paid by the brand. Please use the comment box below in the case of questions or comments. Have a nice day.