This Core Lighted 6 Person Instant Cabin Tent is pleasant with its large windows, with a 60-seconds setup, integrated lights, floor vents, and an e-cable port.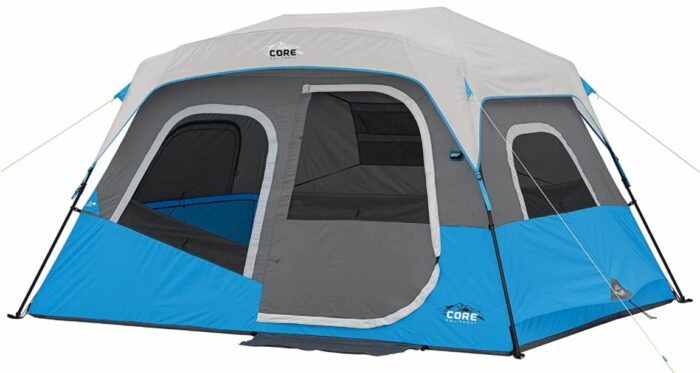 ---
Key features & benefits
60 Seconds setup.
Integrated light.
E-cable port.
Floor vents.
---
What this is about
Core Equipment brand is becoming globally known for its lighted tents, they have them a complete series now. They also have even more tents with instant setup, and you can see them in our separate list. So this Core Lighted 6 Person Instant Cabin Tent includes both features, this is an instant tent with a 60-seconds setup time, and it is also a lighted tent.
The instant setup means that the frame is pre-attached to the tent, and when you need the tent you simply unfold it and extend its telescopic poles. The picture below shows it without the fly, so you realize how nicely proportioned it is. Note that the peak height here is 72 inches (183 cm).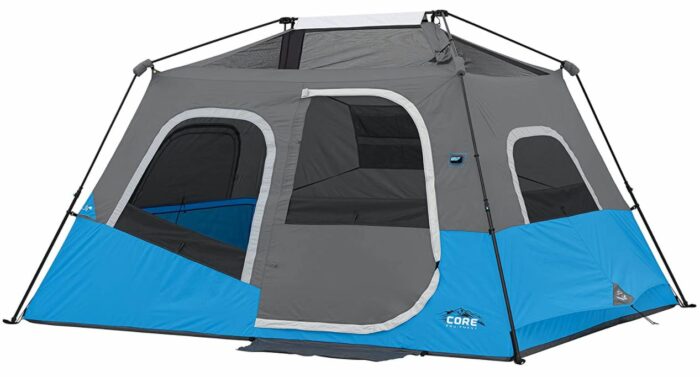 The tent is a fully freestanding and tall cabin-type structure. This means that you can pitch it anywhere, it is self-supportive. You can rotate it and move, and this holds even after you attach the fly. But it comes with a full set of guylines and stakes, see the picture below, so do not ever miss to secure it properly.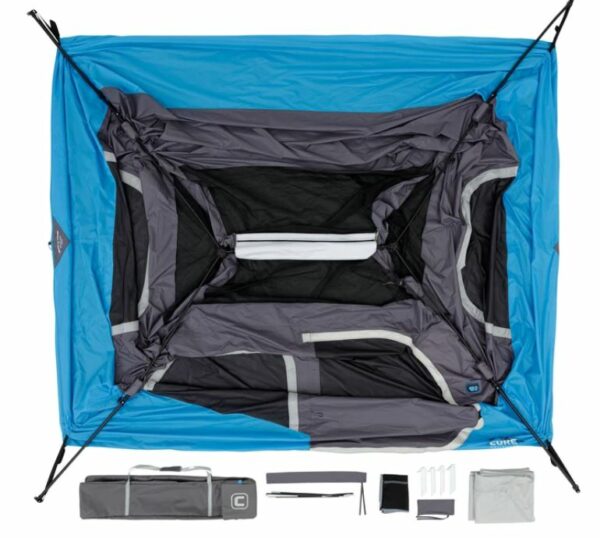 Built-in LED Lighting
The LED lights are built into the ceiling poles of the tent, and underneath it you have Core's unique diffusing fabric panel that disperses light. As usual, you have several lighting/brightness settings, high, low, and night light. The picture below shows how it looks in high mode. Note that it works on 4D batteries (not included). Because of this feature, I have included it in my list of best lighted camping tents.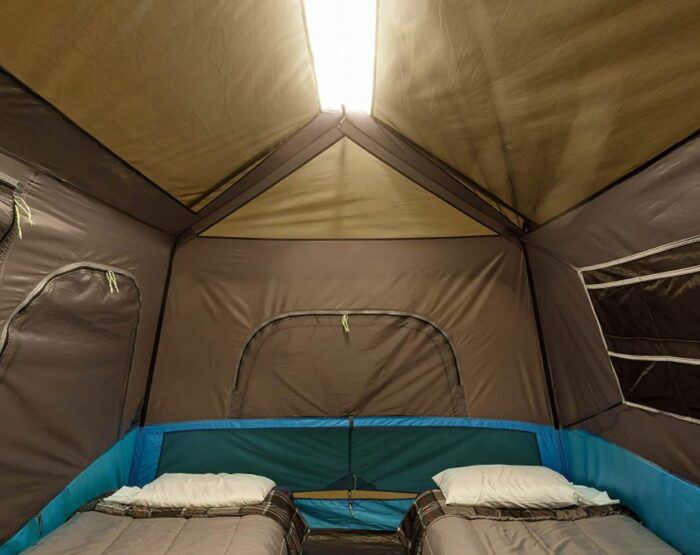 In the video below you can see a few details related to the battery box and the wall switch:
Materials
The frame is steel, so you have 4 legs and 4+1 roof poles, all pre-attached to each other. This is what they call the Core Instant Hub Technology. You also get 20 simple steel 7-inches long stakes.
They use the same fabric as in their other tents, their H2O Block 68D polyester fabric with what they describe as water-resistant material with a PU coating. There is no information about waterproof rating but I know that it is not high, but their tents are always properly done with taped seams. The floor is a durable 125 g/m² polyethylene, this is a plastic material and fully waterproof.

Ventilation
With the ceiling all in mesh and large mesh windows on the three sides, this tent allows for optimal air circulation. But when it is raining, the windows and the door must be closed with their panels. For such situations they have added two large floor vents, one is shown below.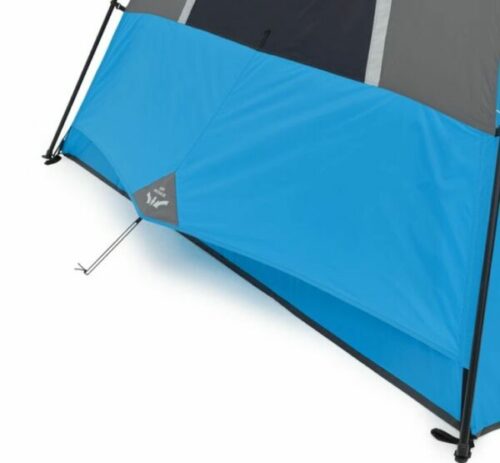 Other features
You also have an extra-large wall organizer with several mesh pouches, and an e-cable port, both are shown in the puctures:
---
Who is it for
Regarding the weight, there seems to be a mess on the market. The numbers on Amazon will tell you this is a very heavy tent. But on the manufacturer's site the weight is surprisingly small, only 14.5 lb (6.6 kg). I asked them about this and they confirmed this is the official weight of the tent, but they did not comment on the weight shown on Amazon.
The packed size is 44 x 9.5 x 9.5 inches (112 x 24 x 24 cm), so this is quite typical for tents with such telescopic poles. It is long and you need a car for transportation.
Regarding the capacity, the tent is officially for 6 people. For this you have 99 ft² (9.18 m²), and this would imply 16.5 ft² (1.53 m²) per person. So this makes no much sense to me, although the dimensions are such that it may be possible to squeeze 6 pads on the floor. Ideally, this tent is for a couple, or maximum for 4 users, say parents with two small kids. But note that this is much more than in this EVER ADVANCED Instant Cabin Tent 6 Person built in the same style.
Regarding seasons & climate, this is a nicely-ventilated cabin-style tent for calm-weather summer camping or maximum for 2 seasons. With such a boxy shape and minimal and high fly, I would not use it in very windy places.
---
Specifications
Official capacity: 6 people.
Weight: 14.5 lb (6.6 kg).
Dimensions: 11 x 9 ft (335 x 274 cm).
Area: 99 ft² (9.18 m²).
Area per person: 16.5 ft² (1.53 m²).
Peak height: 72 in (183 cm).
Packed size: 44 x 9.5 x 9.5 in (112 x 24 x 24 cm).
Frame: steel.
Warranty: 1-year limited warranty.
---
Final thoughts
In the summary of this Core Lighted 6 Person Instant Cabin Tent review I would again stress that the tent includes two important features, those are its instant setup design and integrated lights. It is easy to use, freestanding and you can pitch it anywhere. You have a globally known brand behind this tent, fully recommended.
Below is summarized my rating and the list of pros and cons, as you see not everything is perfect but the overall rating is high:
For more options of this type please check under the category Cabin tents, you will find them many described in detail here in the site. Check this REI Grand Hut 6 tent if you want a tent with plenty of storage space under vestibules, and see also this Caddis Rapid 6 Person Tent if you want an instant setup construction.
There is a subscription form below, so subscribe to my weekly newsletter and stay informed. Thank you for reading and have a nice day.