---
This England's Stove Works Survivor 12-CSL "Grizzly" Portable Camp/Cook Wood Stove is excellent and reliable steel construction with large cooktop and firebox, a bit heavy but still portable. Keep reading.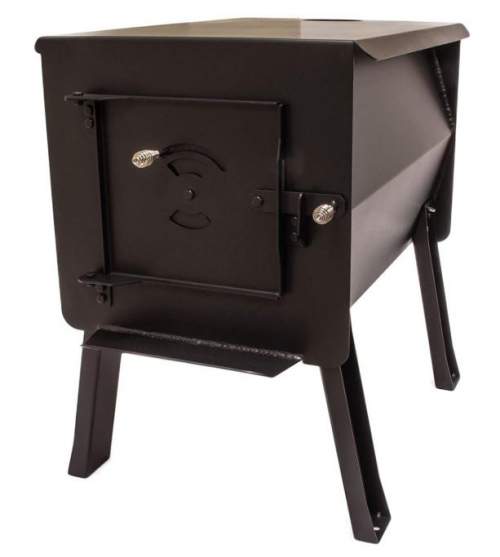 ---
Key features & benefits
Huge HexaTech firebox.
Large cooktop.
12-Gauge steel stove.
Removable legs.
Great venting design.
---
What this Survivor 12-CSL "Grizzly" Stove is about
So what you have here is the largest stove in the series of three shown below, the Grizzly is on the right.  The other two are the Cub (on the left) and the Black Bear stove (in the middle). This Grizzly stove also allows for the highest top temperature of 800 degrees, as compared to 600 and 700 in the other two stoves.

All three stoves are available at the same link on Amazon, you will see it below. In this text I shall focus on the largest of the three, but in the table below you can see some important data for all three stoves.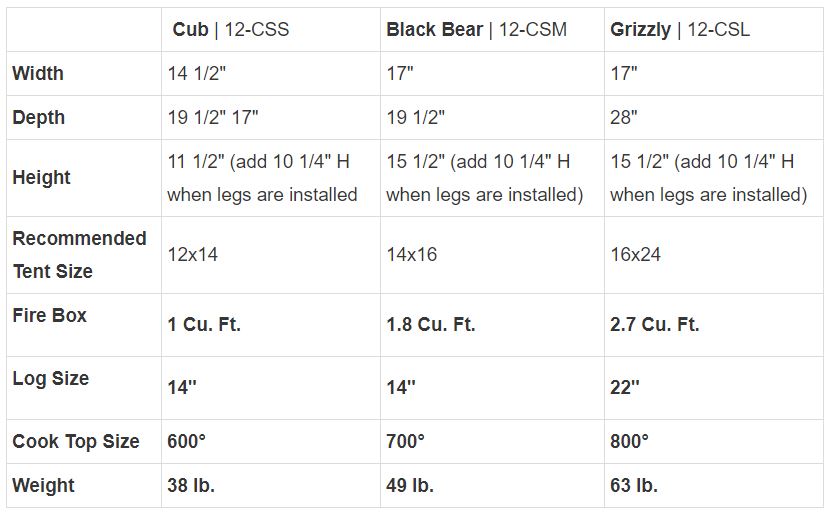 The number 12 in the name describes its gauge for the wall material, which is equivalent to 2.052 mm. This is a very elegant and simple construction with removable legs that fit inside the stove for transportation.
The door design is particularly great, you have those nice handles and the circular door damper and door gasket, so you can safely control the burn rate, see the pictures below:
They describe it as portable, but bear in mind its weight which is 63 lb (28.6 kg). There is no carry bag here, so you have to grab it on the sides that are designed for this purpose, you will see this in the video below.

---
Heating and cooking capacity
They describe it as capable of heating a tent of up to 24 x 16 ft (7.3 x 4.9 m). This would mean 35 m² and this is more than what you have in any camping tent. But this statement may sound a bit unrealistic.
This will depend on the type of the tent, and also on weather conditions, and many more factors, you can read more about this in my separate text. The heating capacity also depends on the pipe diameter and here you have it 4 inches (10.2 cm) so this is quite moderate.
Firebox size: The firebox is hexagonal and they call it the HexaTech, and its size is 2.7 ft³ (76 liters). You can compare this with the Cylinder Stoves Outfitter where you have 2.5 ft³ (71 l), and also with Winnerwell Nomad View Large Tent Stove where you have only 24.6 liters volume. So clearly, here you have a large stove and if you want to be sure to have proper heating, this is it.
As for the cooking capacity, the top area is around 27 x 17 inches (69 x 43 cm), see the picture below. So you can compare this with 24 x 14 inches (61 x 36 cm) in the Camp Chef Alpine stove and the Winnerwell Nomad that offers (L x W) 18.1 x 9.8 inches (46 x 25 cm).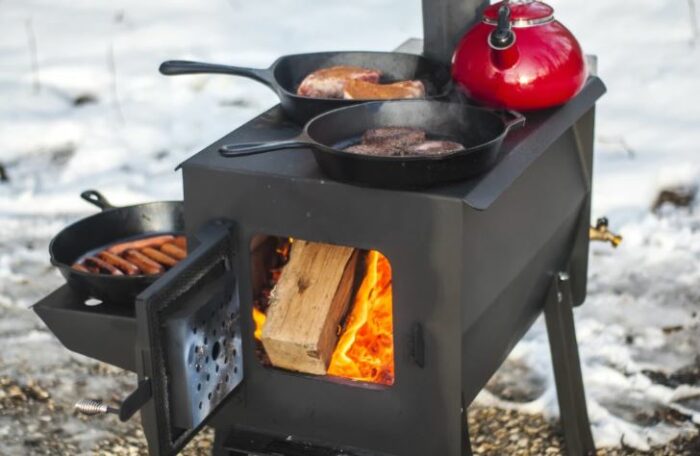 So the area is indeed very large as you can see from the picture above, but note that you have no side racks here, and both mentioned stoves have them. They sell a rack separately as well as a water tank. You can find them as the England Stove Works Survivor Grizzly Camp Stove Kit available at Cabelas. The rack and the water tank are shown in the picture: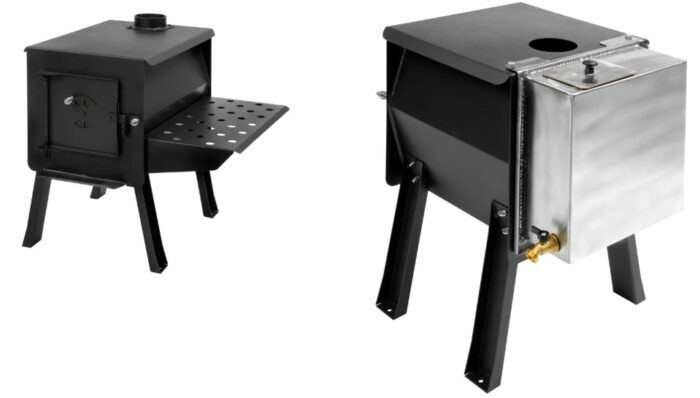 Please see a bit more in this short video:
About England's Stove Works brand
This brand was started in 1976 by Bob England and his son Ron, and the company is still family-owned. They supply stoves and grills throughout the U.S.A. and Canada. The Grizzly stove presented here is made in the USA.
The Survivor Camp Stove manual is available here, please have a look, you will find some safety instructions. Here is one more video about this Grizzly stove.
---
Specifications
Weight: 63 lb (28.6 kg).
Dimensions (W x H x D): 17 x 15.5 x 28 in (43 x 39 x 71 cm).
Height with legs installed: 25.75 in (65 cm).
Firebox volume: 2.7 ft³ (0.076 m³, 76 liters).
Pipe diameter: 4 in (10.2 cm).
Top dimensions: 27 x 17 in (69 x 43 cm).
Made in the USA.
---
Final thoughts, rating, pros & cons
In the summary of this England's Stove Works Survivor Grizzly Stove review, I wish to stress that what you have here is a high-quality and very reliable product from a family-owned brand that has been around for decades already, so you know what you are buying. I have included this stove in my list of best wood-burning tent stoves.
Note however that it is a bit heavy. Other than that, fully recommended. Observe that this YILI Outdoor Camping Stove is much lighter.
Please see how I rate this stove and the summary of pros and cons:
If you need to see some more options, check under the category Tent Stoves & Heaters here in the site. You might want to check also this collapsible DANCHEL OUTDOOR Portable Titanium Tent Tiny Stove that packs very small and it is ultralight, and also this ultralight Kcelarec Camping Titanium Tent Stove that has a rack and a wood drying basket.
Note also that we publish texts regularly so bookmark this site and visit occasionally. Subscribe to our weekly newsletter and stay informed, there is a subscription box below.