This DANCHEL OUTDOOR Waterproof Indian Cotton Canvas Tent with Stove Hole is a breathable and nicely ventilated single-pole structure suitable for camping in all seasons.
---
Key features & benefits
Cotton canvas tent.
Breathable & ventilated.
Huge floor area.
Tall tent.
Integrated stove pipe jack.
Non-freestanding.
---
What this is about
This is a modern version of a tipi (teepee) tent so although they use the word Indian in the name, it has not much to do with a classic teepee tent. This is a single-pole structure and therefore non-freestanding, but as you know classic teepees are freestanding structures.
In any case, they sell two tents of the same type at the same place on Amazon, one with a diameter of 4 meters and one of 5 meters. The base is essentially with 12 corners (a dodecagon), see the picture: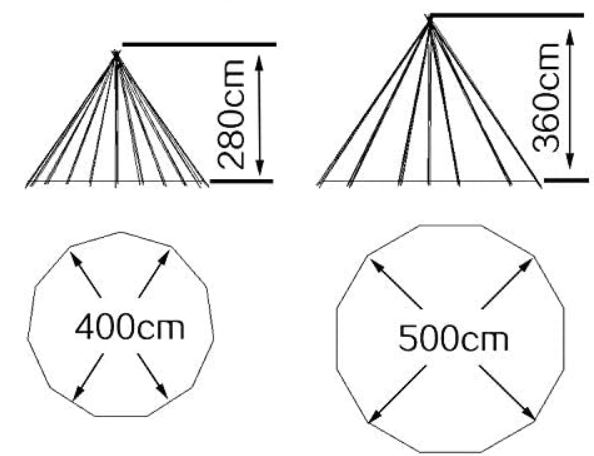 Both tents are very tall in the center as typical for such a type, but as you know the volume is less great because of the angled conical roof. View inside shown below tells you that this is a fully floored tent so this is again quite different from an Indian tipi.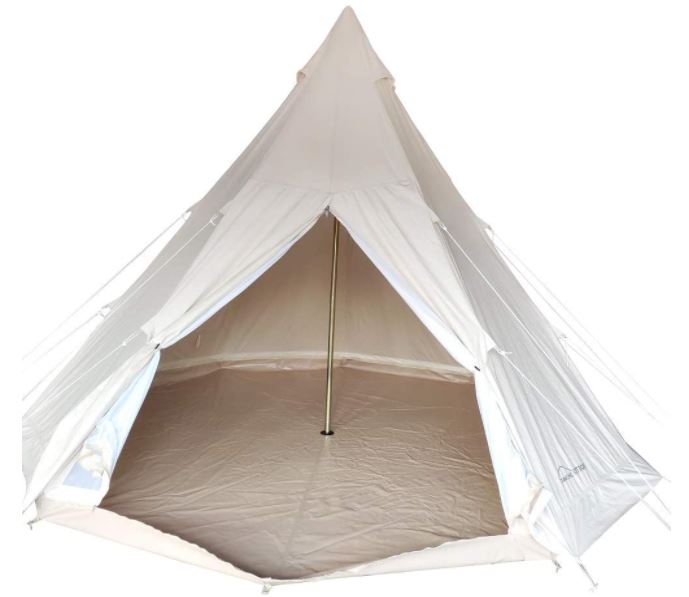 Note also the integrated pipe jack on the roof, the picture below. It has a flap to cover it when not in use. They have wood-burning tent stoves built for such tents, and you can see their ultralight titanium stove that weighs only 1.6 kg.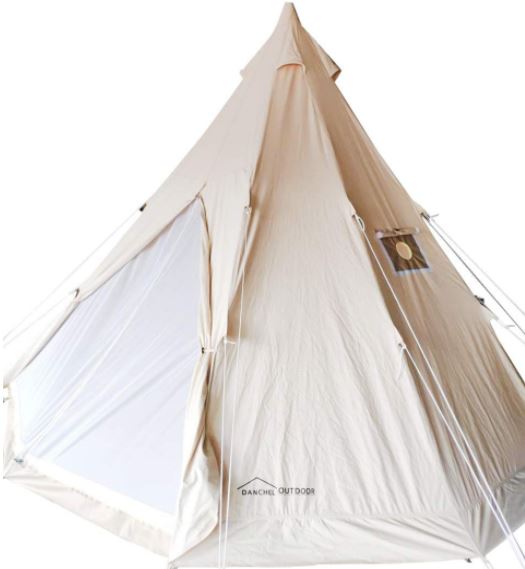 Doors & windows
There is one large door visible in the pictures and this is a double-layer part of the tent where you have mesh against insects and also the zippered panel. There are also three zippered windows on the back, all 2-layer type similar to the door.
Materials
The tent is a single-layer cotton canvas and they used the fabric with 285 grams per square meter. According to their statements, it is treated against mold. The zippers are the SBS brand.
The floor is very heavy-duty and fully waterproof PVC (540 grams per square meter, and it is with a peripheral zipper. Note that it raises 10 cm above the ground so it provides a bit of a bathtub style design against splashes. When you use a stove inside, you can unzip the part of the floor and put the stove on the ground, or order a floor-protection piece.
You have a pole included and also all the pegs and guylines to secure the tent properly. One small wall pouch is inside, pity they did not add more.
Ventilation
The mentioned windows are low and you can use them as floor vents whenever the sky is clear, the same holds with its huge mesh door. The material is breathable itself. But they have added no less than 4 roof vents shown in the picture below. So there is really nothing one could object here.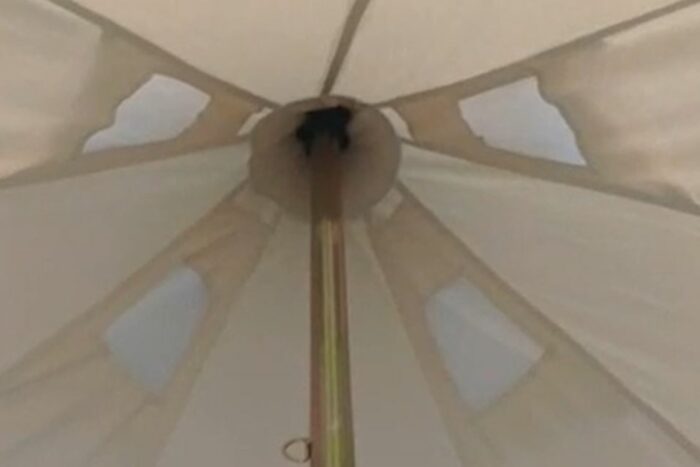 ---
Who is it for
Regarding the weight, you have as usual for canvas tents a heavy item here, it weighs 70 lb (32 kg) for the 16.5 ft version. The smaller version weighs 50 lb (23 kg). So this is not something to carry long distances from the car. If this is too heavy for you, check this KAZOO Family Camping Tent Titan which is a synthetic teepee and much lighter.
Regarding the capacity, they write about 6-8 people. So let's focus on the larger version with a 16.4 ft (5 m) diameter. Here you have 202 ft² (18.7 m²) of the floor area and in the case of 8 users, this would give 25 ft² (2.3 m²) per person. So this is lots of space, but bear in mind the angled roof.
On the other hand, if you use a stove inside, it is best to limit the number of users to a maximum of 4 or so. In any case, with such a floor area it qualifies to be included in my list of extra large family camping tents.
Regarding climate & seasons, cotton canvas tents, in general, are the closest to what can be described as 4-season tents. They are naturally breathable and cool and suitable for warm weather. On the other hand, they provide a bit of insulation when used in a cold environment. In the case of the tent presented here, you even have multiple vents for ventilation, and in addition to this, you can heat the tent. So this is indeed a true 4-season tent.
Regarding the price, it is high but this is quite typical for canvas tents. Note that you have a very large and pleasant structure here, with some really cool features.

---
Specification
Official capacity: 6-8 people.
Weight:
– 50 lb (23 kg) for 13 ft version.
– 70 lb (32 kg) for 16.5 ft version.
Diameter:
– 13.2 ft (4 m).
– 16.4 ft (5 m).
Area:
– 131 ft² (12 m²)
– 202 ft² (18.7 m²).
Fabric: cotton canvas.
---
Final thoughts, rating, pros & cons
In summary, this DANCHEL OUTDOOR Waterproof Indian Cotton Canvas Tent is a really pleasant structure, naturally breathable and ventilated, with windows and with an integrated pipe jack. So this is a tent for all seasons, for camping, festivals, and parties. Fully recommended. I have included it in my list of best canvas camping tents and also in the list of best teepee tents.
Please see how I rate this tent. It does not score great in some criteria, like the weight and packed size, as usual with cotton canvas tents.
For more tents of this type please check under the category Teepee & bell-shaped tents. Check this synthetic Outsunny Large 6-Person Metal Teepee Camping Tent if you would rather have something lighter. For the tents of the same material see under the group Canvas tents. Thank you for reading and have a nice day.