---
Eurohike Buckingham 6 Man Tent is a huge tunnel type tent which offers almost 18 square meters of space in its 4 rooms, and this all for 6 people, so this is a luxurious option for family camping.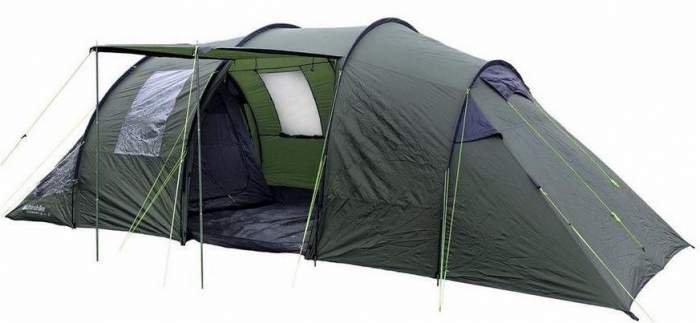 ---
Key features & benefits
Huge area per person.
4 rooms.
2 + 1 doors.
PVC windows.
5 vents.
Several awning configurations.
Multiple storage areas.
Reasonable price.
---
What type tent is this
The Eurohike Buckingham 6 Tent is a 4-room and tunnel-shaped structure. It includes 3 sleeping rooms, each for 2 people, plus a large central living room with more than 7 square meters of the floor area.
This is a very livable structure with a height of 78.7 inches (200 cm) all the way along its central zone. The tent is a hybrid single-double layer structure. This means the following: the two sleeping zones are tents within the tent, so these are double-layer parts. Only the central living room is a single layer part. So I find this quite good, you have the double-layer design in the areas where you need it.
The Buckingham 6 tent is not freestanding. This is quite common in the tunnel tents. The structure is very stable laterally, but you have to stake it on the two front sides to make it stand. The picture below shows multiple guylines which you should use to secure it completely.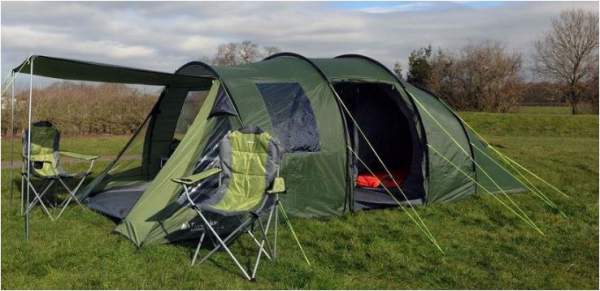 ---
Who is it for
The manufacturer's declared capacity is 6 people. The tent offers 192 ft² (17.85 m²) of the inner area, and this means around 32 ft² (3 m²) per person. So this is more than generous, a truly luxurious space for family camping and for groups. See the dimensions and the floor plan: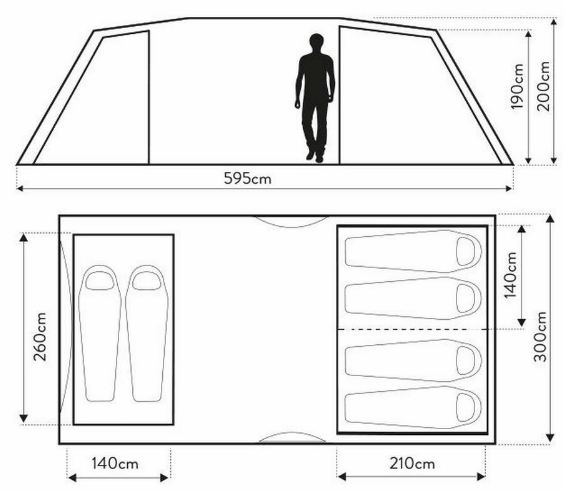 You can use this space in various ways. Each of the three sleeping rooms can accommodate a double size bed. So it can be used by 3 couples. But it is equally suitable for parents with 4 kids. In any variant, you still have the large living room in the middle.
Seasons-wise, the tent is with a good waterproof rating, and it is very much suitable for a 3-season use. In my view, it is not best suited for very warm areas; you do not have mesh on the ceiling. If you look around in this site you will that such a mesh design is typical for summer camping tents used in the USA.
Regarding the weight and the packed size, you have 33.5 lb (15.2 kg) and 26.8 x 12.6 x 10.6 inches (68 x 32 x 27 cm). So the packed size is really good and it can be transported even on a motorbike. In any case, this is a heavy camping tent, not designed to be carried around.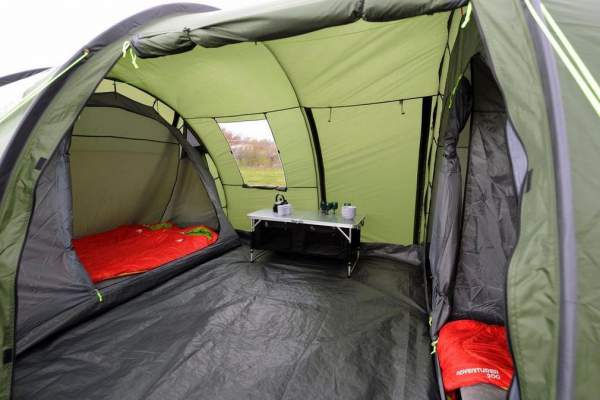 ---
Construction & materials
The doors & windows
The tent has 2 + 1 external doors, the two of them are on the two sides in the living room and you can see them in the picture above. Note that there is no mesh on these doors, you only have panels. But you have the inner tents with inner doors that are with mesh and panels, so you have full protection from insects in the sleeping rooms.
All external doors are designed so that you can use them with poles and create awnings. You have grommets in the corners of the flaps of the doors, though the poles for such awnings are not included.
Here you have two PVC windows which are also with blinds from inside for privacy and to reduce glare. On the two narrow sides of the shell tent, you have large vents. Several other vents are also around, you have them 5 in total. So ventilation should not be an issue, but as I said above, I would not use this tent in a warm climate.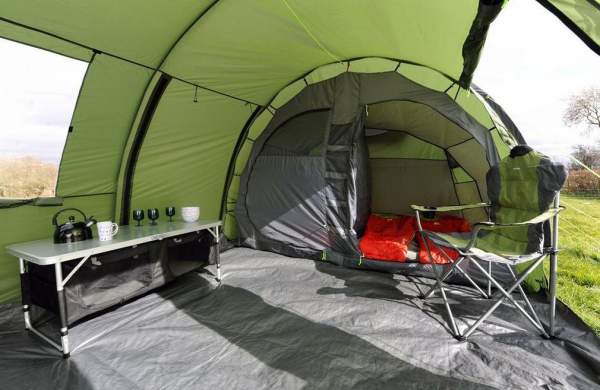 Multiple variants 
The inner tents are attached to the external shell, and they are removable. If you remove the 2-person inner sleeping tents on the left (in the floor plan picture above), you will have a large living area of 12 square meters or so. In such a configuration you have yet another door on the front of the tent, it is with two long zippers on the sides, so you can create a huge porch/awning. See how it looks, you still have two sleeping rooms for 4 people visible in the tent: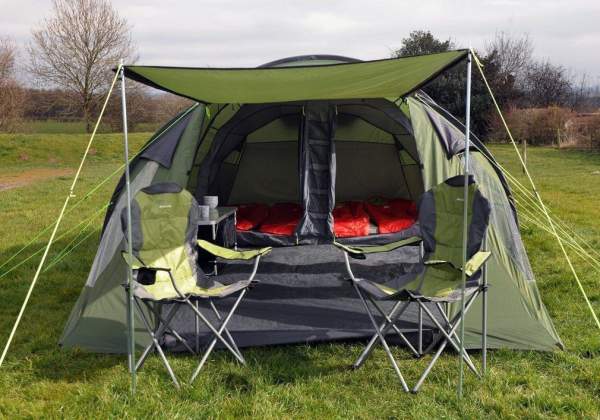 Note that with the removed inner left tent, you will have two extra PVC windows close to the mentioned front door, they are visible in the picture above. When the inner tent is in place, these two windows are practically without function, though they provide some light in the adjacent sleeping area.
You can remove all inner tents, and in this case you will have only the shell tent. This can be used for family events in the garden. Note that the floor is also removable but you have a full protection from the rain. The inner tents are with their own floors.
Materials   
The fly material is with a waterproof rating of 2000 mm. The floor is FIBREseal 3000 mm, this is a polyester reinforced by fibers, and all seams are taped. This is fire-retardant fabrics tested to the European EN5912 safety standard.
The poles are fiberglass and you have them four, and everything is color-coded for an easy setup.
The inner tents are a breathable fabric with mesh doors and with bathtub style waterproof groundsheets.
Other features
You have many storage elements; these include a hanging set of mesh pockets between the inner doors, and multiple storage pockets on the walls in the sleeping rooms.
There is a hanging loop on the ceiling in the living room and you also have lantern hanging elements in the sleeping rooms.
Here is more in this video, please have a look:
---
Specifications
Type: tunnel tent, non-freestanding.
Capacity: 6 people.
Weight: 33.5 lb (15.2 kg).
Dimensions: 19.52 x 9.84 ft (234 in x 118 in; 595 x 300 cm).
Area: 192 ft² (17.85 m²).
Area per person: 32 ft² (3 m²).
Peak height: 78.7 in (200 cm).
Packed size: 26.8 x 12.6 x 10.6 in (68 x 32 x 27 cm).
Pitching time: 20 minutes.
---
Eurohike Buckingham 6 tent vs Competitors
In the table below, I give the Buckingham 6 tent side by side with two other large tents built in a similar style. Please follow the links in the table to read more.
---
Final thoughts, rating, pros & cons
In the summary of this Eurohike Buckingham 6 Man Tent review, I would point out its multiple configurations with respect to the awnings and rooms.
So you have seen, it has 3 different options for awnings; both side doors' flaps can be transformed into large awnings, and you also have the third option on the front. Though, this third awning configuration is related to how you use the inner area.
In fact, only when you remove one of the inner tents, which contains one of the three sleeping rooms, you can enjoy the benefits of the third awning and the third door. But note also that with this you also get two extra PVC windows that are normally hidden behind the adjacent inner tent.
You can also remove all three inner sleeping rooms and have one large protected space of 192 ft² (17.85 m²) for family events. This all is quite impressive. But see also the Buckingham Elite 6 from the same brand, with some extra features. Yet another 6-person tent from the same brand is this Rydal 600 tent and also this Hampton 6.
Please see my rating of this great tent:
Eurohike Buckingham 6 Man Tent
Comfort & features
9.7/10
Pros
Solid windows.
3 Different awnings variants.
Many vents.
Many storage pockets.
Very comfortable tent.
Several configurations.
Cons
Fiberglass poles.
No mesh on the external doors.
For UK & EU visitors, to check the price or to order this tent, please check here.
If this tent is not big enough for you, check its bigger cousin the Eurohike Buckingham 8 tent. If you need something smaller, check this Rydal 500 tent from the same brand.
Thank you for reading. If this tent is not what you want, please have a look around, this site is all about tents and they all are quite big, so you will find something for you. Please use the comment box below in the case of questions or comments. Have a nice day.