Snow Peak Land Lock 6 Person Tent is an incredibly well-built 4-season 2-room freestanding tunnel type tent with strong aluminum poles and 4 double-layer doors. Plenty of reasons to keep reading.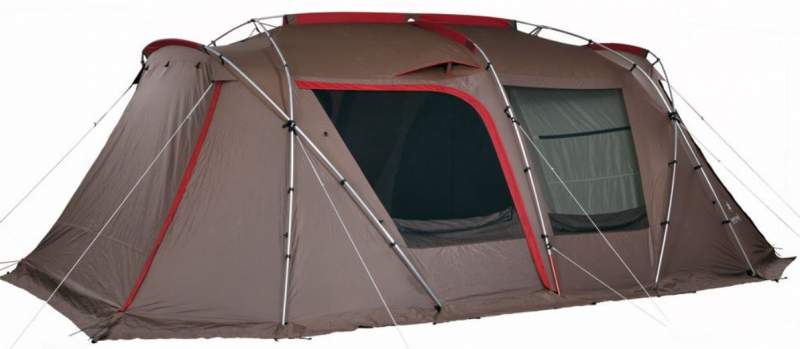 ---
Key features
Tunnel type tent.
Freestanding.
Incredibly large area.
4 Large entry doors.
2 Inner doors.
2 Room structure.
Strong aluminum poles.
2 Awnings.
6 Windows.
E-cable port.
---
What this is about
This Snow Peak Land Lock 6 tent has been on the market for several years already. You will see it sometimes with the name Landlock 6 and sometimes Land Lock 6, so this is the same tent. This is a gigantic construction with a two-room design. So you have the shell tent, plus an inner tent. The inner tent is a sleeping area and the rest is a floorless living room as the picture shows: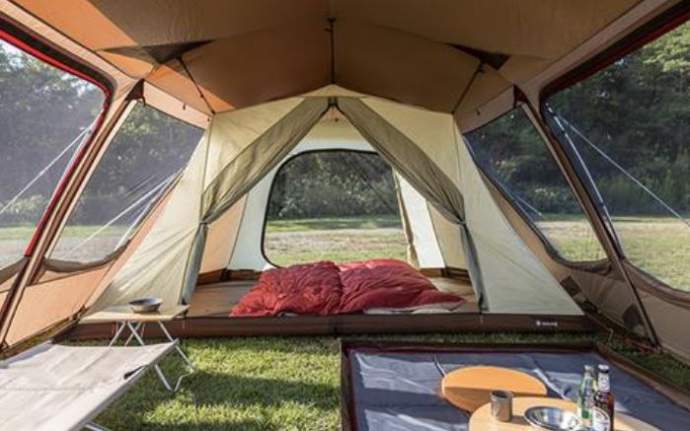 Note that this is what you would call shell-first (or fly-first) design. The meaning is that the frame is from outside, so you rise the shell from the ground when you add poles, while the inner tent remains all the time protected. If you have ever tried to pitch a tent when it is raining, you will know how convenient this is.
The shell is indeed without the floor but you have mesh everywhere around on the shell tent, so this provides complete protection against mosquitoes and other flying insects. You could understand the front room as a vestibule but it is much more than that, this is why I put this tent in the category of 2-room tents.
The inner tent is with its own bathtub floor, and the upper body is a breathable taffeta. It attaches to the shell through a series of toggles and hooks. Once you attach it, you can keep it that way when you pack the tent, this will make the setup easier next time.
But you can remove it and use the shell alone for various family events in the garden. This will give you an area of 20.5 x 13.2 ft (625 x 405 cm) that is fully protected from the rain. See how it may look: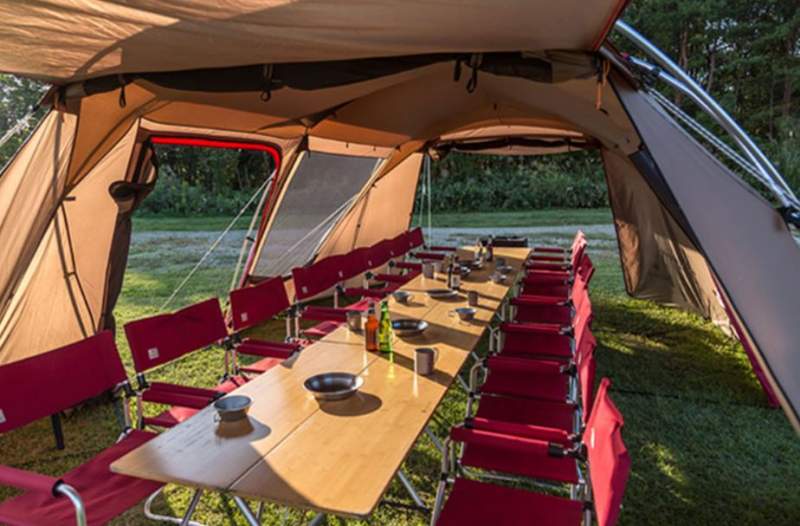 The tent is a tunnel type structure with 5 loops plus a ridge pole, I have included it in my list of best tunnel tents. It is also freestanding and this is mainly due to the ridge pole, but not only that, see the crossed poles on both ends, they also add to its self-supporting structure.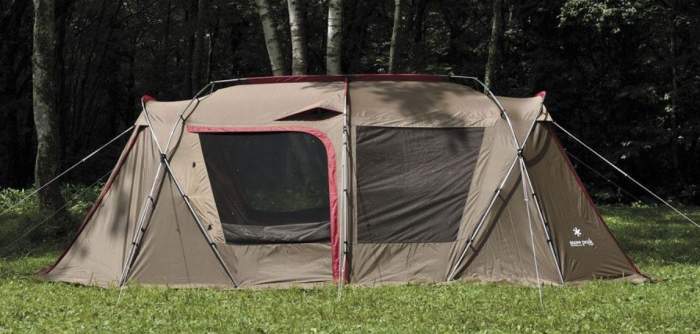 ---
Who is it for
Space: the declared capacity is 6 people and the total area is around 270 ft² (25 m²) so this means 45 ft² (4.17 m²) per person. In other words, this is a camping castle. I have included it in my list of extra large camping tents.
The inner tent area is around 118 ft² (11 m²) and this space is roughly 3.6 x 3 meters size. So this is enough for 6 pads on the ground. The picture shows its main dimensions and the floor plan.

To realize how big this tent truly is, this picture may help: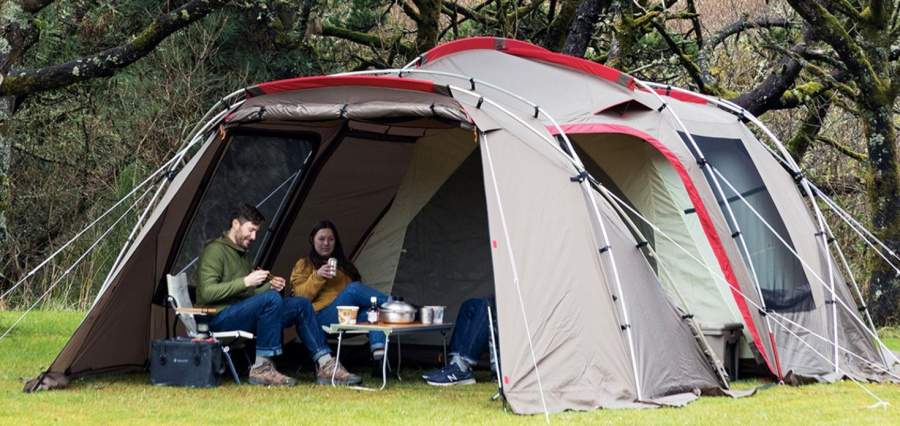 Weight-wise, the tent is heavy. The two bags combined weigh 48 lb (22 kg). I do not think this is a big deal, this is a camping or basecamp tent so you are not supposed to carry it around.
Note that this tent has 6 large doors in total and all of them are double-layer, so they have 12 long zippers that add weight. Now add two separate windows with yet another 4 long zippers so you have 16 zippers in total, plus incredibly strong poles, so such a weight is quite natural and justified. This is all built at high standards, there is nothing cheap here.
The packed size is not particularly impressive but this is a huge tent with incredibly thick and strong poles. There are two carry bags, see the picture, one for the tent and the other for the poles, see the numbers in the specifications below.
Seasons-wise & climate-wise, in my view this Landlock 6 is a 4-season tent and suitable for all climates. Here is why I think so. The inner tent is with two huge doors (there seems to exist also a version with 3 inner doors) and in a warm environment, this will create great airflow. Even if it is raining you can keep it that way, it is completely protected by the shell. There are also vents on the fly to increase air circulation (picture given below).
But in a cold environment, the inner tent can completely be enclosed with the panels on its doors. So this is a protected cocoon inside the huge shell.
On the other hand, the poles are exceptionally strong, the shell is with a skirt everywhere around so you can prevent cold drafts with snow.
Now, it is without the floor in one half, but see for example this winter tent MSR H.U.B. 8 with a removable floor, and this is also a single-layer tent, so you have less protection. Yet another example is this Mountain Hardwear Stronghold 10 Person Tent which is completely floorless winter tent.
All in all, this Snow Peak tent is an impressive construction and if offers better protection than some top-notch winter tents, but it works well also in summer.

---
The materials & structure
The doors
There are 4 entry doors here, one on each side. All of them are double-layer structures with full-size mesh and panels. The front and back doors are with dual zippers that run on the side so you can raise them and create 2 awnings with the help of extra poles that can be ordered. The two side doors roll to the sides.
So the tent has 3 doors are on the living room, and the back door is to enter the inner tent directly from outside. The picture shows the front awning: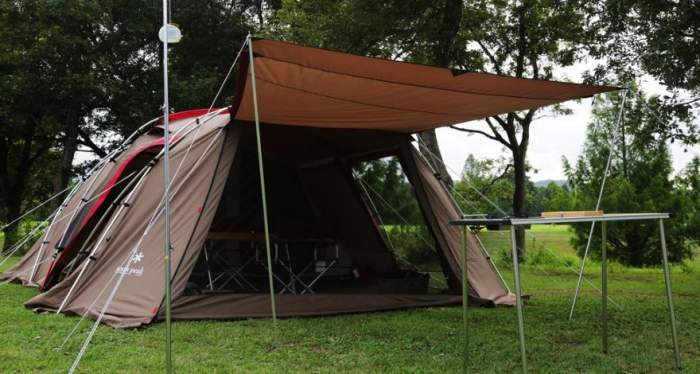 The inner doors: There is something unclear here. The version of the tent available on Amazon is with 2 doors on the inner tent, the door in the living area is with a huge inverted T-shaped zipper, and the back door is D-shaped.
But on the site of the brand, they show the tent in two versions with 2 and 3 inner doors. In any case, all of them are again with full-size mesh and panels. In both cases, the tent model seems to have the same code TP-671R.
The windows
There are two huge separate windows with mesh and panels, plus the windows created on all the doors, so you can speak about 6 windows in total. Note that this is all with zippers and this is what you would expect from such a high-end tent.
The fabric
The tent on Amazon appears to be without any extra fly, but on their site they show pictures with some minimal fly. This is an extra element that can be ordered separately. This is mainly for the protection against strong sunlight, this darkens the room and increases the comfort in the tent. The picture below shows how it looks.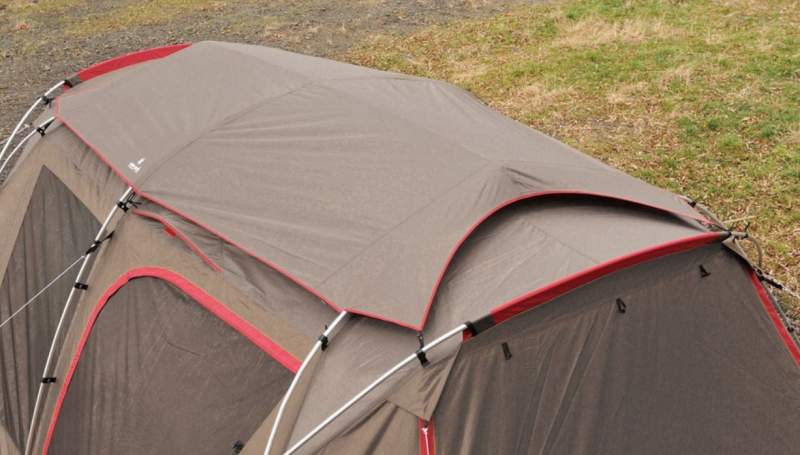 Also, on Amazon, they mentioned fly pressure resistance and it is not clear what this really means. In any case, the data they provide for the top is a minimum 3000 mm PU waterproof rating and this is 150D polyester fabric with a high UV resistance. The side walls have 1800 mm rating.
The inner tent is 68D polyester taffeta, and its floor is 210D polyester with an 1800 mm rating. Note that these materials have the same denier value as the MSR H.U.B. 8 Tent which is twice more expensive.
Ventilation
I already mentioned how well-ventilated this construction is. This is mainly due to huge mesh inner doors, but note also that the tent has two vents on the sides, both located in the living area (one is shown below).
Since the living area is without the floor, you can always keep the entry doors at least partly open even if it is raining, to create extra air circulation if necessary. This will work well even for summer camping.

If you check the pictures above, you will realize that there is a large space between the shell and the inner tent. This is on purpose, this gives lots of space for airflow to fight condensation.
Note also that the inner tent has extra zippers on the walls and they match the mesh windows, so this will create extra air circulation when needed, see the picture below. Observe also the zippered E-cable port on the inner tent:
The poles
The poles are one of the best features of this tent. Those are thick shock-corded and pre-bent ultralight duralumin A7001 structures that create 7 intersections so the frame is very stable. This strength is further increased with strong Velcro tabs which you wrap around the 4 intersections on the sides.
But this is not all; the guy-out straps are also made long enough so that you wrap them around the same intersections, and after that you stake them to the ground.
Is that all? No, it isn't, see the pole below; this is the end of the ridge pole which makes the frame self-supporting and the tent freestanding. Observe the pre-bent loop pole and the short tube where they all connect.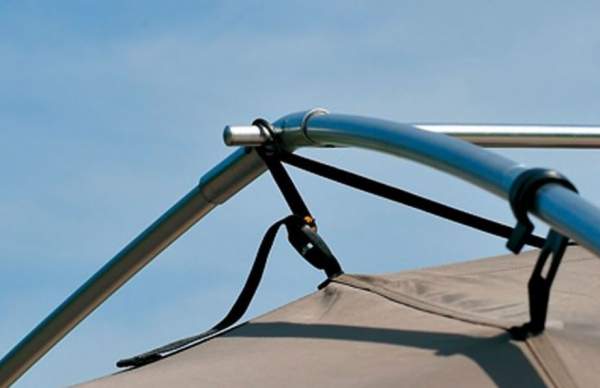 The poles attach to the tent through a combination of long sleeves, clips, and pin and ring elements at the tent's base. So this is all nicely done.
Other features
Transverse stabilizing straps: This tent is a wide construction, and they have included straps that make an X-structure inside the tent and connect the two sides, see the picture. You have buckles to clip them easily. This is to use in the case of very strong winds, the straps increase the tent's lateral stability. This is something similar to what you have in Vango tents with air beam poles.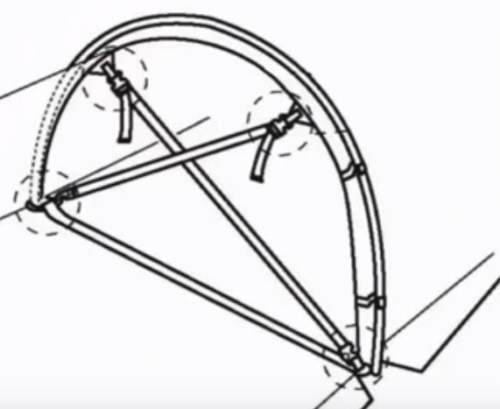 Note that there are a couple of storage pockets, and a loop for a lantern, see the picture:

What is included
You have the following elements in the package:
Shell tent.
Inner tent.
5 Shock-corded poles with multiple segments.
27 Duralumin pegs 21 cm long.
Ropes: 2 ropes 1.5 meters long; 4 ropes 2.5 meters long; 6 ropes 3.5 meters long.
Peg case.
Carry bag for poles.
Carry bag for the tent.
2 Stabilizing straps.
In this video you can see how to set this tent up. Perhaps you will not understand the language but you will see everything. The tent shown here is with 3 doors on the inner tent:
Here is yet another with a walk around to see some of its features:
---
What is Snow Peak
If you are an experienced outdoor person, you have surely seen the equipment of this brand. But if you are new, you might want to know that Snow Peak is a renown Japanese brand, a company started in 1958 by Yukio Yamai, an accomplished mountaineer. They are located in Sanjo City, Chūetsu region of Niigata Prefecture in Japan.
---
Specifications
Declared capacity: 6 people.
Weight: 48 lb (22 kg).
Dimensions: 20.5 x 13.2 ft (625 x 405 cm).
Inner tent area: around 118 ft² (11 m²).
Inner area per person: 19.7 ft² (1.87 m²).
Total covered area: around 270 ft² (25 m²).
Total area per person: 45 ft² (4.17 m²).
Height: 6.7 ft (205 cm).
Packed size:
– Tent: 29 x 14 x 13 in (75 x 36 x 33 cm).
– Frame: 28 x 8.6 x 6.6 in (72 x 22 x 17 cm).
Tent model code: TP-671R.
---
Snow Peak Land Lock 6 Person Tent vs Competitors
This tent is so unique and big that it is difficult to find true competitors in the same size range. So it may be interesting to show it side by side with one tent with fiberglass poles (Vango Iris 600 XL) and one with mixed air beams and fiberglass (Vango Capri 600 XL), both with the same declared capacity. This will demonstrate what can be expected from tents based on different frame technologies.
So it looks that the Snow Peak tent is lightweight for its size, just compare the weights, it is much bigger than the other two tents. But this is a tent without a floor in half of its area, and this is partly behind the weight. The two Vango tents are with the floor.
Note that the Snow Peak tent costs 2.3 times more than the two Vango tents combined. But you have seen above that it is half the price of some winter tents, so it depends on what you choose to compare with. In this case, the two Vango tents are not a match for this tent.
---
Final thoughts
In summary, if you are in search of an ordinary summer camping tent, you will be wasting your money on this Snow Peak Land Lock 6 Person Tent. But if you want a tent that will protect you anywhere and in any season while still feeling comfortable and pleasant, then this is the tent for you. I am obviously very impressed with it.
This is an expensive tent but it is still only half the price of the MSR H.U.B 8 Tent or The North Face 2-Meter Dome 8 Tent, and it is more affordable than Mountain Hardwear Stronghold 10 Person Tent.
So I am comparing it with the top brands and the top-notch expedition tents. This Land Lock 6 can also be used in harsh conditions, but you can use it in all seasons as well and it will still be comfortable. This tent is far more functional and more comfortable than the other mentioned tents.
However, see my rating, it may not look so impressive but I use a standard set of criteria and apply them to all the tents here in the site for easier comparison:
Snow Peak Land Lock 6 Person Tent
Pros
High-level craftsmanship.
Very comfortable.
Great organization.
Tall tent.
Full protection.
Strong aluminum poles.
Cons
Very expensive.
Poor description.
Not enough storage elements.
The Snow Peak is a world-renown brand and you know what you are buying when you decide for some of their products. If you would rather have something more compact from the same brand, check this Snow Peak Amenity Dome Tent L 6-People and also Snow Peak Vault Dome Tent Ivory.
Note that this is not a sponsored text, and I have no business relationship with this brand. Please use the comment box below in the case of comments and questions. I wish you a pleasant camping.