ALPS Mountaineering Camp Creek 6 Tent is a very nicely built tall and livable cabin style tent, with an easy setup, fully freestanding, and with a fair price.
---
Key features & benefits
Very tall and pleasant tent.
Fully freestanding.
Front and back awnings.
Very reliable.
---
What type of tent is this
This Camp Creek 6 is a very typical single-room cabin style tent with completely straight and almost vertical walls as you realize from the picture below. The tent is a part of the series which also includes a 4-person tent and a two-room tent, all with the words Camp Creek in the name. It is quite similar to this Browning Camping Big Horn 5 tent.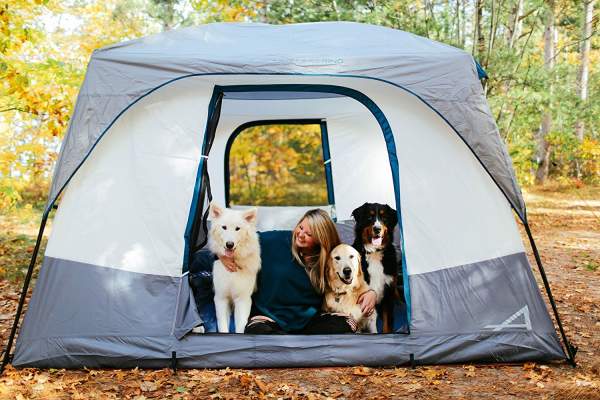 The tent is also fully freestanding, so you can pitch it on any terrain and the whole setup procedure is very simple and intuitive, there is nothing to guess when you have such a symmetric structure and a minimal rain fly. The tent is very tall, with 84 inches (213 cm) at the apex, and with such vertical walls, you have plenty of the headroom here.

---
Who is it for
Size-wise, the tent is with the declared capacity of 6 people. But its floor area is 100 ft² (9.3 m²) and this means 16.7 ft² (1.55 m²) per person. So they have used the backpacking principle and you can certainly put 6 sleeping pads on the floor. But this is a camping tent and if you use it for real camping, I would say this is a tent for parents with one kid or for couples.
Note that there is no external storage area, so you have no other place to keep all your gear, boots and shoes included. So you would save lots of the floor area by using some bunk cots; in such a case you still have the space under the bunk structure to store your gear.
Seasons-wise, the tent is with a decent waterproof rating, but with so many large windows and its partial coverage fly, this is a summer camping tent, perhaps good enough for 2 seasons as well which would imply summer, late spring, and early autumn.
Climate-wise, as you realize the tent is with many openings, and in particular the ceiling is mesh. Such a structure will not keep the warmth. So I would not use it in a cool environment or at places with a big temperature drop overnight. For such an environment better use some fully enclosed tent with PVC windows and without mesh; great options of this type are these Vango Woburn 500, Eurohike Rydal 600, and Coleman Air Valdes 6XL.
The same remark about the mesh areas holds if you plan to camp in an environment with lots of sand and dust in the air, those enclosed tents would be a better choice.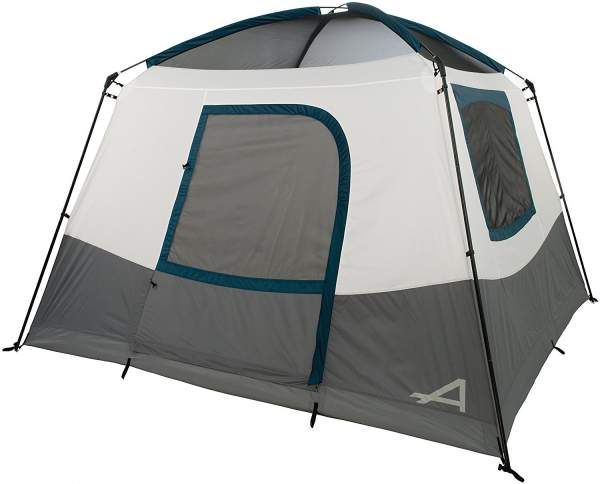 ---
Materials & construction
The poles
Here you have a combination of steel (for the corner leg poles) and fiberglass (for the roof). The fiberglass poles are 11 mm diameter and the corner steel poles are 19 mm. So this is a very strong structure at least when this is about the vertical poles. Note that such a roof structure would not last long in the case of the snow accumulating on it during the night. You have sleeves on the roof that keep the roof poles in place.
The fabric
The partial coverage fly is 75D 185T polyester and its waterproof rating is 1500 mm due to a coating which also resists UV damage. Such a rating is quite enough for most situations in a 3-season use. The floor is very durable 150D polyester oxford with the same waterproof rating. So these are very good materials which you have here. All seams are factory-sealed.
The windows & the door
You have openings on all sides, the windows are the double-layer type with mesh and waterproof panels for privacy and protection. There is only one door, this may not look so great but when you see how big it is you realize it is quite enough.
---
Specifications
Type: freestanding cabin tent.
Weight: 23 lb 8 oz (10.66 kg).
Dimensions: 10 x 10 ft (3.05 x 3.05 m).
Area: 100 ft² (9.3 m²).
Area per person: 16.7 ft² (1.55 m²).
Peak height: 84 in (213 cm).
Packed size: 28 x 8.5 in (71 x 22 cm).
---
ALPS Mountaineering Camp Creek 6 vs Competitors
In the table you have this Camp Creek 6 side by side with two tents from other brands built in the same style, so all are cabins and freestanding, but there are some differences. Please follow the links in the table to read more and to check the current prices.
ALPS Mountaineering
Camp Creek 6
---
Final thoughts, rating, pros & cons
In the summary, I would stress again that this ALPS Mountaineering Camp Creek 6 Tent is a really nicely built and reliable camping tent and I can fully recommend it for 1 to 2 season camping. But disregard the declared capacity and use it for up to 3 people or so. If you need a bigger version from the same series, check their 2-room tent which is also for 6 people.
Regarding the missing floor vents, no doubt you will be doing fine as long as the weather is great. There is lots of mesh around and on the ceiling. The awnings on the front and on the back allow for keeping the door and the back window with the mesh at least partly, even when it is raining, so this should not be a major issue.
The tent comes with a very reasonable price tag. See how I rate it:
Perhaps you don't know but this company was started in 1993 by building equipment for hunters and hikers. They currently have several well-known and reliable brands which include ALPS Mountaineering, ALPS OudoorZ, and Cedar Ridge, and they license Browning Camping and Delta Waterfowl Gear. The Big Horn 8 tent which is presented here in the site is thus from the same brand.
Thank you for reading. Please use the comment box below in the case of questions or comments. Have a nice day.