Outwell Nevada 5 Man Privilege Tent is packed with great features that include a very high waterproof rating, tainted PVC windows, 3-rooms and much more. Please keep reading.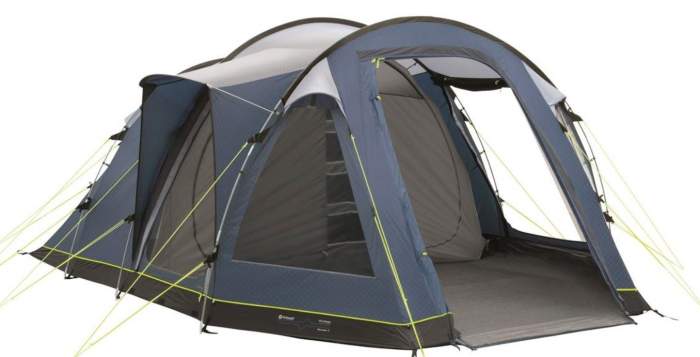 ---
Key features & benefits
3 entry doors.
Tainted PVC windows.
Mesh on all doors.
Huge area.
Electric cable port.
Numerous storage pockets.
Several vents.
Rain-safe side entry.
Fiberglass poles.
---
What type of tent is it – what is in the name
This is a tunnel-type tent from the Privilege series of this brand, this explains the word in the name. The tent is a 3-room structure, and you have an inner tent within the external shell. This inner tent contains two sleeping rooms with a divider between them. The divider is with zippers and it can be rolled up and fixed with toggles on the ceiling.
The bedrooms provide 215 cm of length, and the width in the two rooms for 2 and 3 people is 140 cm and 180 cm, respectively. The third room is a large living area, fully floored and sealed.
There is quite a space between the inner tent and the shell, this is why you will see the differences between the outer and inner dimensions. This is typically so with such tents, and such a design is for an improved ventilation. So the structure is a hybrid, a double layer in the sleeping zone and a single layer in the living room.
Note also that the inner tent is preattached so you have nothing to do, but you can remove it if for any reason you wish to do so. There are toggles around so it is simply attached to the shell.
As a tunnel tent, it is not freestanding. You have to stake it properly, there are numerous preattached guylines around and the stakes are included in the package.
---
Who is it for
Space-wise, the declared capacity is 5 people. But if necessary this tent can accommodate far more. See the numbers in the pictures below. In fact, they do not provide the exact number for the area, but my measure is around 15.16 m² (163.2 ft²). This means around 3 m² (32.6 ft²) per person.
Note that the large living room with its more than 8 square meters is fully floored and sealed, so if necessary several people can sleep there as well. If you are with a large group of friends at some summer festival or on a cross-country tour, I am sure 8 – 9 people could fit there easily.

Seasons-wise, this tent comes with a huge waterproof rating and with a fully sealed floor. It is very suitable for a 3-season use assuming that you have no snow on the roof, you have fiberglass poles here and this would not withstand a vertical pressure.
It is very tall as well, 2 meters the outer peak height so I would rather avoid very strong winds, but there are many guylines around. You also have what they call the OWS System Force 8 (this is for the Beaufort scale), this stands for "Outwell Wind Stabilizer" and this means a strong hook and loop (Velcro) fastening system for the flysheet and tent pole. This improves the stability in the case of winds, see the picture below.
Climate-wise, the tent is with several vents and with PVC windows, so you can fully close it when needed. On the other hand, there is mesh on all the doors so you can have as much ventilation as you want if the sky is clear. But all in all, I see it more suitable for a cooler climate.
The packed size is 30 x 12.6 inches (76 x 32 cm) and the tent is very heavy, 41.2 lb (18.7 kg), so you can use it at places with a car access.
Please see more in this video:
---
Materials & features
The poles
The material you have here is fiberglass, so this is partly behind such a weight. This material is heavy. There are three main poles that create the basic tunnel shape, plus one shorter that creates a small awning above one of the side doors. Color coding is here so you will know how to use them.
The fabric
The inner tent is a breathable 100% polyester and you also have some mesh sections on the inner doors and on the back. The floor is a double-coated 100% polyethylene; this is a sort of plastic with a huge waterproof rating of 10000 mm. Note that it is fully sewn-in and sealed so the protection from the water and draft is complete. This is a bathtub design, and the sleeping rooms have an extra floor fully sewn in, so you have a two-layer floor in that section of the tent.
The shell is what they call Outtex, a 100% polyester taffeta with an impressive 4000 mm waterproof rating. All materials are fire retardant and they meet all the latest regulations for tent materials. The seams are taped throughout the tent. Note that you also have a thermo-reflective coating on the roof.
The doors & windows
There are 3 entry doors and all of them are the double-layer type. So you have mesh from inside and waterproof panels from outside. There are some nice details here with some folds which they call Dry Zip system, they funnel the rainwater down instead to the zipper. Note that you have them two and they go all the way along the door zippers.
One of the side doors is with a brim so you can get out and in when it is raining without having water on your head. This allows also for keeping the door with mesh at least partly even when it is raining so you can get extra air circulation.
There are also two inner doors, and both are with mesh in the upper sections for ventilation. So all related to the doors is done really well.
You have two large PVC windows, they are with a tinted coating for protection against the sun glare, see the picture below. But here you also have a toggle-up system with conveniently located fixings so you can put the inner blinds on for privacy and to block daylight. Pity they did not use zippers here.
Ventilation
You have mesh on all three huge doors, so when the sky is clear you will never have issues with condensation. There is also a rear ventilation system behind the sleeping zone (see the picture above) to help the cross flow, plus the mesh on the inner doors.
But this is not all. When you have to keep the doors closed, you still have several vents in the living room above the doors and windows. They are with Velcro stiffeners so it is easy to keep them open or to close when needed.
Storage elements
This is where the tent shines. There are series of pockets on the sides in both sleeping rooms. One very large hanging organizer is in the living room between the two inner doors, with double pockets in five layers. So you have plenty of space for all your stuff, some 16 pockets in total.
Other features
OGR System: this includes Velcro tabs (Outwell Guylines Retainers) that keep guylines packed nicely and to avoid tangling.
A zippered cable entry point is available.
Carry bag is with straps, see the picture above, but see the weight of the tent. Do not plan to carry it long distances.
Lamp holder and light cable tidies to pass the cable from the entry port.
You have pre-attached luminous guylines for convenience and fast pitching.
Pitching
I guess it is best that you see this short video, this is an easy job and very typical for tunnel tents:
---
Specifications
Capacity: 5 people.
Type: tunnel tent.
Weight: 41.2 lb (18.7 kg).
Dimensions: 191 x 142 in (485 x 360 cm).
Area: 163.2 ft² (15.16 m²).
Area per person: 32.6 ft² (3 m²).
Packed size (L x D): 30 x 12.6 in (76 x 32 cm).
Peak height (inner): 71 in (180 cm).
---
Outwell Nevada 5 Man Privilege Tent vs Competitors
In the table below I give only some basic features. Please follow the links to check the updates and to see what you have behind such prices. These are all great tents and built in a similar style.
Coleman Rocky
Mountain 5 Plus
---
Accessories
There is a number of items they make for this tent that increase its functionality and livability. These include: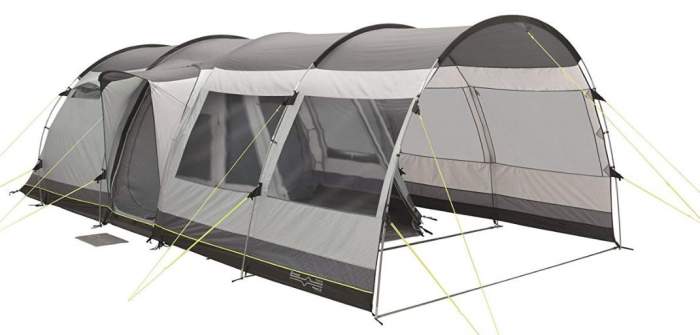 ---
Final thoughts, rating, pros & cons
Outwell Nevada 5 Man Privilege Tent is really nicely built and it is easy to get delighted with all that it offers. There are many small but useful details here, I did not even mention all of them.
The declared waterproof rating is impressive, but I must stress it is similar to what you have in most of the tents from the EU brands that are now appearing on the US market. You can see this if you inspect some of the tents of Vango and Eurohike, and even Coleman tents built for the EU market. You have seen some of them in the comparison table above.
See my rating for this tent:
Outwell Nevada 5 Man Privilege Tent
$529.53
You might want to check its cousins, the Outwell Edmonds 5A Tent and the Outwell Flagstaff 5 Person Deluxe Tent which are also for 5 people. If you need something bigger from this brand, check the Outwell Vermont XLP Premium 7 Person Tent. See also this Outwell Clarkston 6A Tent with inflatable beams instead of poles. If you need something smaller, check this Outwell Cloud 5 Encounter Tent from the same brand, which is an extended-dome type tent.
Thank you for reading. Do you have any experience with this tent or other tents of this brand? If this is so, please let us know, there is a comment box below. I wish you a nice day.