---
Outwell Clarkston 6A Tent is an inflatable tent with air beams instead of poles, and with 27 m² of the area in its 4 rooms. This is a reliable tent with a huge waterproof rating.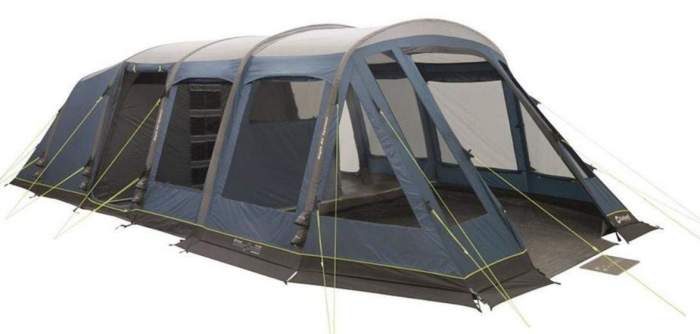 ---
Key features & benefits
Air beam technology.
4 Rooms.
Huge area.
Solid PVC windows.
Huge waterproof rating.
Dark rest features.
All doors with mesh.
Tinted windows.
---
What type of tent is this
The Clarkson 6A is a tunnel type tent but it is more than that. The letter A in the name indicates the air beams which you have here. So this is an inflatable tent. It is included in the list of inflatable tents here in the site.
This is a 4-room structure with the front part which they call the wet room and the remaining inner part. The word wet is used probably to describe the fact that the floor of this front section is removable and it is linked in and not sewn in. So you can use it as you wish. I have included this tent in my list of 4-room tents.
The inner dry area is with a fully sewn-in and sealed floor. Here you have a large living room plus a sleeping zone behind with two separate rooms. This sleeping area is a tent within the tent, and it is also with its own extra bathtub floor. So this zone is a double-layer part of the tent (even the floor is double here), and the rest is a single layer waterproof tent.
There is one more particular detail here – the front room is detachable. There is a zipper that goes all the way around for this purpose only. This is why in the specifications you have the weight and packed size separately for the front section (which you can call porch as well) and for the rest of the tent.
The mentioned inner tents are attached to the shell, see the picture below, so you can keep them that way and this makes setup much easier. This is a very tall tent with 84.6 in (215 cm) peak height and I have included it in my list of very tall tents.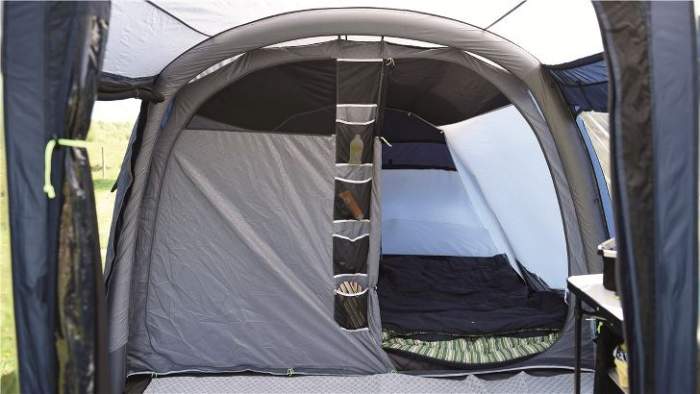 ---
Who is it for
Capacity-wise, the tent is officially for 6 people. So let's see what it offers. You have roughly 7.7 + 10 + 10 square meters (290 ft²) in the sleeping rooms, living room, and front room, respectively. This makes 48.3 ft² (4.5 m²) per person and you will not find many tents with such a luxury. So naturally, I have included it in my list of extra large camping tents. See the floor plan and the dimensions: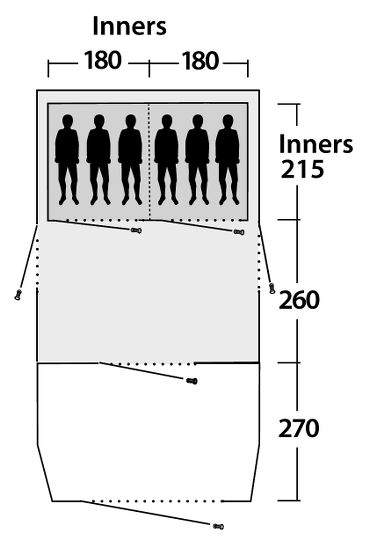 The inner tent is separated from the shell for extra ventilation around it. Here are more numbers, perhaps you might want to have them:

From all shown above, you realize that you have some 10 square meters in the living room which is also fully sealed and protected. So if necessary, at least 6 more people can sleep there as well. This tent can accommodate far more people than what its declared capacity tells you. But if you think this is big, check its bigger cousin Vermont XLP tent which is with all steel poles.
Seasons-wise, this tent comes with a huge waterproof rating and it offers full protection in a 3-season use. Just bear in mind that this is an air-tent and it cannot have snow accumulated on the roof.
Climate-wise, the tent is fully enclosed with its PVC windows and with the sealed floor. There is no mesh here. So I see it best suited for a cooler climate. But it has vents and mesh on the double-layer doors so you can have lots of ventilation and use it even in a bit warmer climate.
Weight-wise, you have a heavy item here, with two separate packages that weigh 80.7 lb (36.6 kg) together. The packed size is also not so great, two bulky packages (the numbers given below), so you need the car for such a tent.
---
Overview of features
The fabric
The shell fabric is what they call Outtex 4000, which is a 100% polyester taffeta with all taped seams and with 4000 mm waterproof rating. The inner tent is a breathable 100% polyester.
The floor is a bathtub style and double-coated 100% polyethylene with 10000 mm hydrostatic head. So you realize that these are very good materials for a full protection.
The roof of the inner tent is from a dark material for reduced glare so this is a sort of dark rest design, see the picture below.
The poles
You have air-beams with separate in and out valves. The maximum pressure is 7 psi (0.5 bar). The pump is included.
The doors & windows
There are 3 entry doors, all double layer. The inner layer is a mesh so you can keep it that way when the sky is clear. There are also 3 inner doors, all are with mesh in the upper sections for ventilation.
There are 8 separate PVC windows (and you have the same material also on the doors) and they are all tainted for a reduced glare and for privacy. But here too you have a second layer from inside, shutters of a darker material and with toggles. So this is a less good design than what they give in their Vermont XLP 7 tent where you have shutters with zippers.
Ventilation
They call this the Aeroeffective Ventilation System and it includes long vents above the windows plus vents on the back side behind the sleeping zone, see the picture below. You have dual Velcro stiffeners to keep them open, but they are also with zippers to close when necessary to keep the warmth or if you gave sudden dust in the air.
Other features
Guyline retainers.
Three types of pegs, steel and plastic and in different colors for an easy setup.
Zippered cable entry points on the outer shell and on the inner tent.
Easy access system on the front – the floor on the front door can be made completely flat for an access with wheelchairs.
Multiple storage elements. You have a big organizer with 10 storage pouches on the wall between the two inner doors, plus storage pockets in each of the two sleeping rooms.
Please see more in this short video by Outwell:
---
Specifications
Type: tunnel tent.
Capacity: 6 people.
Weight:
– Front section: 31.1 lb (14.1 kg).
– Flysheet: 49.6 lb (22.5 kg).
Total weight: 80.7 lb (36.6 kg).
Dimensions: 25.3 x 12.8 ft (7.7 x 3.9 m).
Area: 290 ft² (27 m²).
Area per person: 48.3 ft² (4.5 m²).
Packed size:
– Front section: 31.5 x 9.8 in (80 x 25 cm).
– Flysheet: 37 x 15.7 in (94 x 40 cm).
Peak height: 84.6 in (215 cm).
---
Outwell Clarkston 6A vs Competitors
In the table below I give the Clarkston 6A tent side by side with two other built in the same style with air beams and all tunnel tents. This might help you in making the right choice. As you realize, it is heavier than its competitors but it offers more space. Please follow the links to check for the updated prices.
---
Final thoughts
In the summary of this Outwell Clarkston 6A Tent review, I would stress again its huge waterproof rating and the area. So this is a very reliable and luxurious tent for family camping and for groups. But this is also a very expensive item and this is why I gave some other options above. Please check in the list with air-beam tents if you need more options. In particular, check its smaller cousin the Outwell Edmonds 5A Tent which is also with air beams.
I already mentioned its bigger cousin Vermont tent, but see also this smaller Outwell Nevada 5 tent, both are with classic poles. See also this Vango Orava 600XL tent if you want something with classic poles, it is even bigger than the Clarkston tent.
Check on Amazon
For UK & EU visitors, to check the price or to order this tent, please check here.
Do you have any experience with this tent or other tents from this brand? If so please let us know, there is a comment box below. Thank you for reading and have a nice day.