Ozark Trail 11-Person Instant Hexagon Cabin Tent is a tall and freestanding summer camping structure with windows on all sides and two doors, and with a great price tag.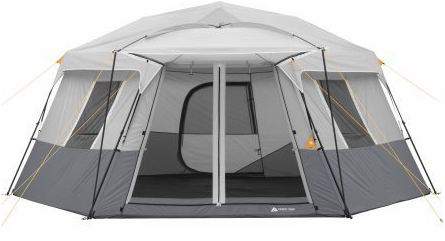 ---
Key features & benefits
Instant 2 minutes setup.
Very tall & lots of headspace.
2 doors + 4 windows.
Peculiar hinged door.
Awning setup.
Gear loft included.
E-cable port.
Very good price.
---
Where to buy
---
What kind of tent is this
This Instant Hexagon 11 tent is a rather new item on the market. A lot of information you have already in its name. But if you are not familiar with the terminology, this is an instant tent with a 2-minutes setup. This is possible because of the frame which comes pre-attached to the tent's body. So all you have to do is to unfold it, and to extend its 6 telescopic poles (legs). This is depicted in the picture: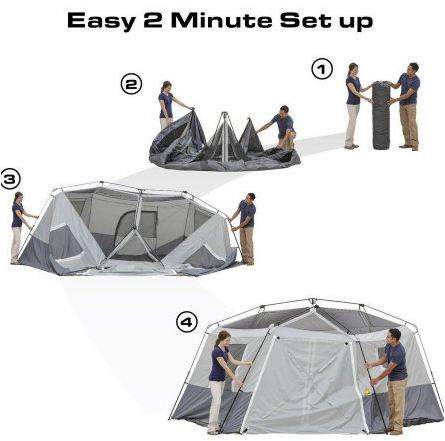 This is also a cabin-type tent with very steep and tall walls. This together with windows on all its sides makes it a very pleasant and livable tent.
The tent is freestanding so when you set it up, you can still rotate it and move around. But this is a huge and tall tent with 82 inches (208 cm) peak height, and as such, this is not an aerodynamic structure. So stake it down and put your mind at rest, there are 16 steel stakes included in the package.
You have a single-room structure here; in view of its size and two external doors, it is a pity they did not add a divider to offer some privacy.
---
Who is it for
The declared capacity is 11 people, so let's see how good or bad this is. The structure is a hexagon with the dimensions 17 x 15 feet, and those two numbers denote its longer and shorter diameter. So with a bit of maths, you get to the floor area of around 190 square feet (17.7 m²). This gives only 17.3 ft² (1.6 m²) per person, and this is not very impressive.
Clearly, they have used the backpacking principle in determining the tent's capacity. This can work if this is about groups who only spend nights in the tent, but this is not realistic for family camping. My suggestion is to downgrade the capacity to 5 – 6 people maximum. It fits 2 queen size air beds.
Seasons-wise, this is a tent for summer camping and for mild weather conditions without much rain or wind. In the picture below you can see how it looks from above, such a huge mesh area on the ceiling will not keep the warmth. If you need something in the same style but for much more rain, check this Coleman Octagon 8 tent with a full coverage fly. On the other hand, if you need something for a cooler environment, see this impressive list of such tents.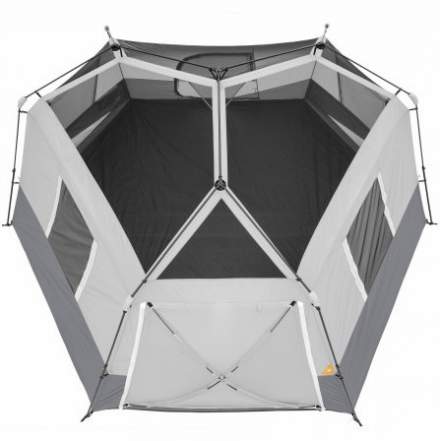 The tent is heavy and bulky, see the specifications below, so you will use it at places with a car access, this is a camping tent.
---
Construction & materials
The hinged door
I am using the term 'hinged door' just because I do not see any better phrase. But in any case, this main front door is the best feature of this tent, you see it in the picture below. So you have two poles which you pass through the sleeves on the door and this makes it rigid. This is similar to the design of the hinged door in this Russian Bear winter tent.
However, the door which you have here is attached to the top, so to get in you raise it up, like the back door of the car. But you do not have to use the poles if you plan to keep the door closed. Note that there is an inverted T-shape mesh door as the second layer here.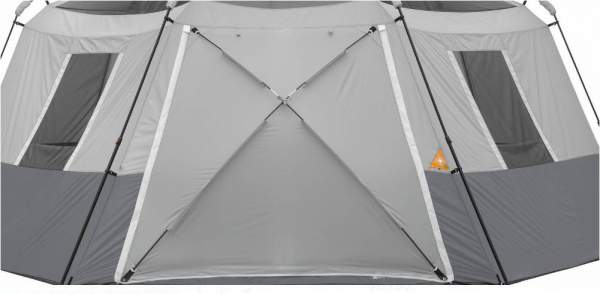 On the other hand, you have extra two poles and you can raise the door and keep it supported by the two poles and have a great awning in front of the tent, see the picture. There is even a ring to attach a lentern underneath the awning.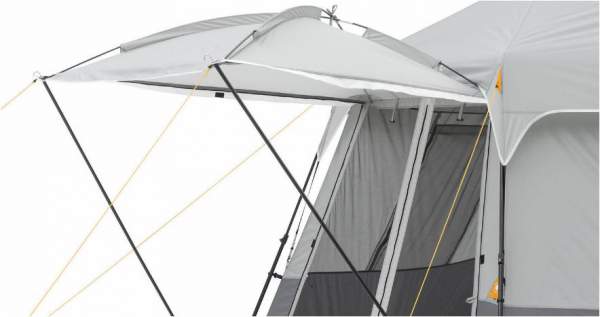 There is yet another door on the back, D-shaped and with the usual zipper. It is definitely useful to have it for such a big structure.
The fly & fabric
The fly is minimal, and it only covers the ceiling. They do not provide information about the waterproof rating, but it is polyester with factory sealed seams.
The same material is on the tent walls and on the windows' panels. So the windows are double-layer, with mesh against insects and with panels for privacy and the rain protection. The floor is likely polyethylene so this should be fully waterproof.
Other features
There are two sets of pockets, far from enough in view of so much wall space around and so many people. You also have electric cable port (see the picture above), and the tent comes with a gear loft shown above. Inside you have numerous rings to attach some cord and to hang things around, plus a ring for a lantern in the middle.
Ventilation
In view of the ceiling completely covered with mesh, and the mesh on the 4 windows and on the two huge doors, you should not have issues with ventilation and condensation.
This is helped also with 2 oversized side vents which help the vertical air circulation, one is shown in the picture above.
Please see more in this video:
---
Specifications
Type: instant cabin tent.
Capacity: 11 people.
Weight: 42 lb (19 kg).
Dimensions: 17 x 15 ft (204 x 180 in; 518 x 457 cm).
Floor area: around 190 ft² (17.7 m²).
Area per person: 17.3 ft² (1.6 m²).
Peak height: 82 in (208 cm).
Carry bag included.
6-month limited warranty.
---
Ozark Trail 11 person hexagon tent vs Competitors
Here I give this Hexagon 11 tent side by side with two other tents with the same declared capacity. They are built in different style, please follow the links to see more.
Ozark Trail
Instant Hexagon 11
Ozark Trail
Instant Cabin 11
---
Final thoughts, my rating, pros & cons
So, Ozark Trail 11 Person Instant Hexagon Cabin Tent is an interesting design and a very pleasant summer camping tent, and I stress the words summer camping. You do not have extra storage space and this is why it is for far fewer people than the declared capacity, but this is very typical for summer camping tents. The price is more than fair for such a large structure.
Ozark Trail 17 x 15 Person Instant Hexagon Cabin Tent
Pros
Easy setup.
2 External doors.
4 Great windows make it very livable.
Bonus awning.
Vents available.
Great price.
Cons
Not for heavy rains.
Too small for the declared capacity.
Not enough pockets.
If you still need a different tent, just look around, this site is only about family camping tents and tents for groups, and you will surely find something for you. Thank you for reading, please use the comment box below in the case of questions or comments. Have a nice day.

---