OZARK Trail 12′ x 12′ Instant Teepee Tent is unique with its freestanding and instant setup design, and with an incredible price tag. These are good reasons to keep reading.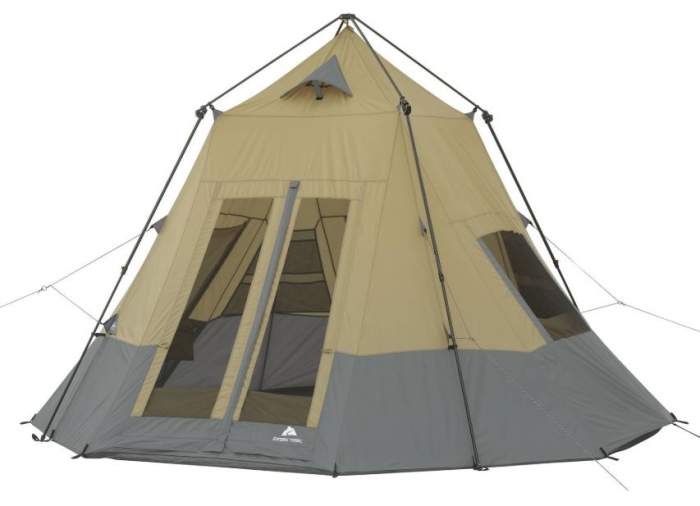 ---
Key features
Teepee-style tent.
2-Minute instant setup.
Freestanding.
E-cable port.
Floor & top vents.
Incredible price.
---
Where to buy
This Ozark Trail Instant Tipi is available on Amazon. They operate globally so follow the link to check the price and shipping conditions for your location.
You can find it also at Walmart.
---
What this is about
So here you have a modern version of a classic teepee. It is freestanding and as of the moment of writing this text, this is the only example of this kind on the market known to me. This freestanding and self-supporting feature is achieved with the external frame that makes it different from the modern tipi tents where you normally have a single central pole.
But it is also unique because of its instant setup and the poles that are preattached to the tent, like in an umbrella, just they are from outside here. I have not seen any teepee on the market yet with such an instant design. So I have included it in my list of instant setup tents. Officially, the setup time is 2 minutes only, and this ie very realistic.
The tent is a single-layer construction, but it is fully floored and the floor is sewn-in an sealed. All the openings are double-layer constructions with mesh and zippered panels. These openings include one door plus 3 separate windows. You can see all the windows in the picture below. As you realize, the panels are all with zippers, surprising to see this in such an affordable tent.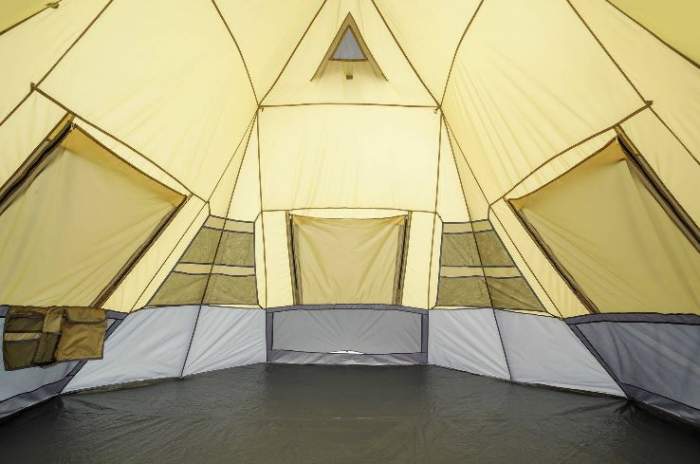 Ventilation
I am pretty impressed with the ventilation in this tent. It comes with floor vents, you can see one in the picture above. The windows and the door are also with mesh and with panels for privacy and protection, so when the sky is clear you can keep them with mesh only. This is what you can see in this picture: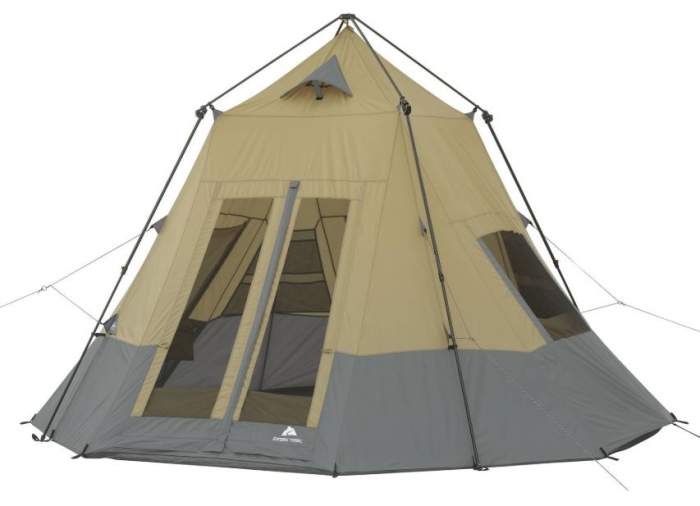 But they have added two vents on the top as well, you can see them in the picture below. So there is not much one could object to this design.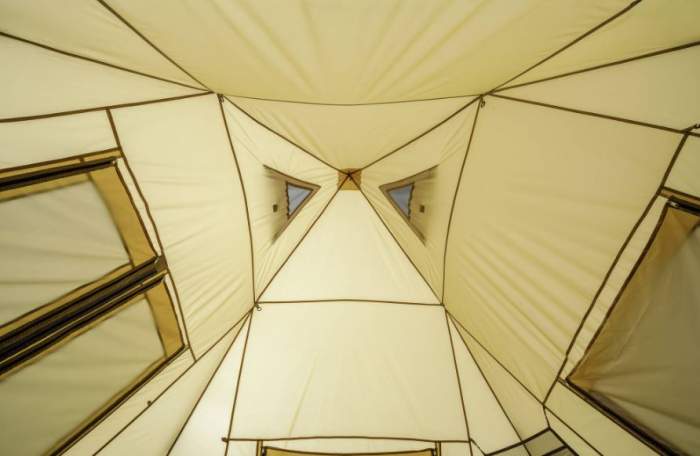 The tent also comes with some great storage elements, shown in the pictures below. There are two of these storage organizers, one is shown below, plus a set of sewn in wall pockets shown on the right below:
The tent is very tall, and this is why I would not use it in a very windy place, the peak height is 97 inches (246 cm). Note that it comes also with an E-cable port located on the left side of the door.
They do not provide much information about the fabric and its waterproofness. But the shell is polyester, the floor looks like a different material. The frame is steel.

---
Who is it for
Space-wise, the declared capacity is 7 people. The area is around 108 ft² (10 m²), this is my rough estimate, they do not provide the number. So in the case of such a number of users, this would give 15.4 ft² (1.4 m²) per person. This looks enough, but note that this is conical or better to say bell shape, and the volume inside is not so great, lots of area close to the edge is with a very low roof above it. So I think this should be downgraded to a maximum of 4 users.
Seasons-wise & climate-wise, I have seen the manufacturer's claim that this is a 4-season tent. In fact, this could indeed be so. In a cooler environment, all the openings can be closed, the floor is sealed, and the frame is from outside, and it is quite strong.
In a warmer climate, you have both floor vents and top vents, and plenty of mesh on windows and on the door. But as I mentioned above, this is a tall structure and I would not use it in a windy place, definitely not above the tree line.
Weight-wise, this is a heavy tent with its 25 lb (11.3 kg), but this is a freestanding and instant construction so the weight is justified and expected from such a design. The packed size is not so great, but again, this is expected from instant tents. In any case, this is a tent for places with a car access and not something to carry around.
---
Specifications
Declared capacity: 7 people.
Weight: 25 lb (11.3 kg).
Diameter: 12 ft (366 cm).
Area: around 108 ft² (10 m²).
Area per person: 15.4 ft² (1.4 m²).
Peak height: 97 in (246 cm).
Packed size: 48 x 9 x 9 in (122 x 23 x 23 cm).
Warranty: 6-month limited warranty.
---
Final thoughts, rating, pros & coons
So this OZARK Trail 12′ x 12′ Instant Teepee Tent is beautifully built, the features are unique and the price is excellent. It can indeed be used in all seasons. The structure is freestanding but you have 19 stakes included in the package.
This is a great option if you change your camping place frequently, you need just a couple of minutes to set this tent up, and you can use it anywhere. I have added this tent to my list of best camping tents for 7 people.
As mentioned, this tent is on the market at a great price which is such that this is hard to believe for such a nicely built item. That said, please see how I rate it, note that I use a standard set of criteria and apply them consistently to all the tents here in the site. This allows for easy comparison between them:
Check this synthetic Outsunny Large 6-Person Metal Teepee Camping Tent if you would rather have something with a single pole. If you would rather have something different, a tent with a screened porch and awnings, check this very functional NTK Texas GT up to 7 Persons Tent.
Note that this is not a sponsored text, and I am not paid by this brand. Please let us know what you think about this structure, there is a comment box below.