---
Vango IRIS 600 XL Tent is a reliable family camping tent for 6 people, with a great waterproof rating, numerous solid PVC windows, and with a huge area per person.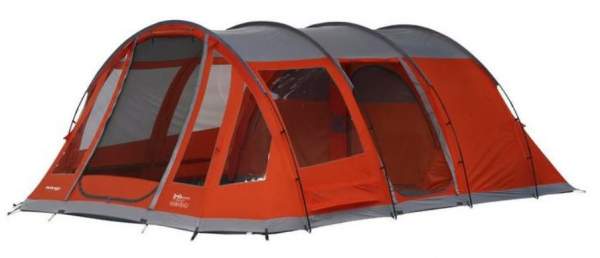 ---
Key features & benefits
Huge area.
High waterproof rating.
Fiberglass poles.
7 PVC windows.
3 rooms.
2 entry doors.
Lights out design.
---
What type of tent is this
The IRIS 600XL is a tunnel tent, non-freestanding, and with what they call the lights-out design. The latter means that the inner sleeping area is built from a darker material and the daylight is considerably reduced. The idea is that you can sleep longer in the morning and also to take a nap during the day. Some manufacturers call this dark rest tent design or blackout design, all these tents describe more or less the same feature.
Note that on the UK market there exists also a version with air beams instead of poles under the name Vango Iris Air 600XL Inflatable Family Tent. This air-beam version is in the dark green color.
The IRIS 600 tent has been on the market for several years already, but the version you have here is with the letters XL in the name. This has some meaning, this version of the tent is much longer than the version without these letters, it is also higher and heavier.
---
Who is it for 
Space-wise, the declared capacity is for 6 people. But the area is huge, and you have 226 ft² (21 m²) which means 37.7 ft² (3.53 m²) per person. So this is a luxurious camping option. Though the tent is without vestibules or a porch, but you still have plenty of space for everything you have in the camp. See the floor plan below to realize how generous this construction is: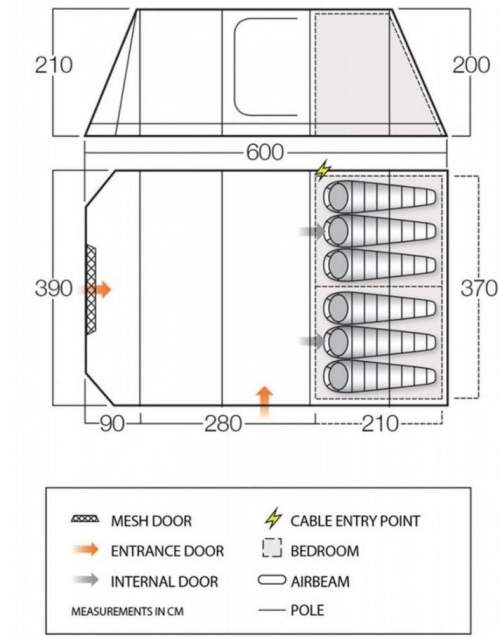 Note that the sleeping area is rather narrow for the declared number of users. This is always so with Vango's tents, do not understand the logic of such a design. But the living room is fully sealed and the same number of people can sleep there if necessary, so the capacity can be doubled.
Seasons-wise, the tent is with a very high waterproof rating (more below), so this is a very reliable camping tool for a 3-season use.
Climate-wise, this is a fully enclosed design with solid windows and without mesh. Such a structure preserves the warmth and this tent is surely suitable for a cooler environment. But this is not a winter tent, these terms should not be mixed. But it has vents and mesh so you can use it almost anywhere, but I would not use it in a very warm climate,
Weight-wise, do not think of carrying this tent in any way, it weighs 47.8 lb (21.7 kg). But its packed size is really good, it reduces to 30.7 x 14.6 inches (78 x 37 cm). So this is a tent for a car camping.
---
Materials & construction
The tent is a 3-room design with a huge living room plus two sleeping sections. The sleeping zone is a tent within the tent, with its own bathtub floor.
The poles
Vango uses fiberglass in many of their tents and the same is here. So you have them 4, all shock-corded. This is a heavy and not particularly strong material, and this is my only true objection to this tent.
The windows & doors
Numerous windows are on the three sides of the living room, all solid diamond clear PVC windows. This design is used in all of their family camping tents, you can see them in the Marna 600 XL, Odyssey 800, and in many others here in the site, just search under the name Vango.
There are two entry doors, the one on the front is a double-layer type so you have a mesh here which you can use when the sky is clear. The other door on the side is only a panel. There are also two inner doors in the sleeping area and they are with mesh sections in the upper part for ventilation.
The fabric
The tent body is Vango's Protex 70D polyester with a 4000 mm waterproof rating. So this is the same what you have in some other tents of this brand like the Marna 600 XL, Stanford 800 XL, Avington 600 XL, and several others. All seams are taped.
The groundsheet is fully sewn-in and sealed so you have two layers under the sleeping zone. This is polyethylene, a fully waterproof material. All materials are weather tested to the European standard EN5912 and fire retardant to meet the same safety standards.
As mentioned above, the inner tent area is the lights out structure with a darker fabric that reduces the morning light.
Ventilation
This tent is without the mesh on the ceiling, so it relies on vents. You have them under the windows in the living area, and one large vent is also behind the sleeping zone. The inner tent is with the corresponding mesh section on the back. This should be almost OK when you have to keep the doors closed. Otherwise, the front door is huge and if you keep it with the mesh only you will have a good air circulation along the tent.
Other features
There is a cable entry port.
You have several bedroom pockets for small items.
Lantern hanging points are available.
Patented Vango TBSII Tension Band System is available just like in their all tunnel tents. This includes bands from the side walls that you attach at the highest point to stabilize the tent in adverse conditions like in strong and changeable winds. They are attached at 3 points and stabilize the tent. When not in use, you detach them from the apex point and store in their specially designed pockets on the side walls.
Numerous high visibility guylines are included.
---
Specifications
Type: tunnel tent, non-freestanding.
Weight: 47.8 lb (21.7 kg).
Dimensions: 19.7 x 12.8 ft (600 x 390 cm).
Area: 226 ft² (21 m²).
Area per person: 37.7 ft² (3.53 m²).
Peak height: 82.7 in (210 cm).
Packed size (L x D): 30.7 x 14.6 in (78 x 37 cm).
---
Vango VG IRIS 600 XL vs Competitors
I give the IRIS 600XL here side by side with two tunnels tents from other brands built in a similar style, all tunnel type and with PVC windows. As you realize those are giants with lots of floor area. The Coleman's tent combines both air beams and classic poles. The Eurohike tent offers less area but it is much more aff0rdable. Please follow the links to read more.
---
Final thoughts, rating, pros & cons
In the summary of this Vango IRIS 600 XL Tent review, I would stress that they have built a nice tent, but it follows the style of several other tents of this brand. There are no new features here so what you have in this tent is also in some of their other models. But there are differences in dimensions and in various details. It reminds me a bit of the Vango Woburn 500 but it is longer and the floor is sewn-in just like in the Vango Marna 600 XL tent.
See how I rate it:
For EU visitors – to order this tent please check here.
I already mentioned some other tents of this brand, but if you feel you need to see more options just look around, this site is all about tents and you have them in all possible styles and sizes. If you need something smaller, check this Vango Iris 500 built in a similar manner.
Thank you for reading, please use the comment box below if you have questions and comments. Have a nice day.

---