Can you imagine a tent that offers more area than you need? This Vango MARNA 600 XL Tent review is about one of that type. Here you have 267 ft² (24.8 m²) for 6 people in its 4+1 rooms.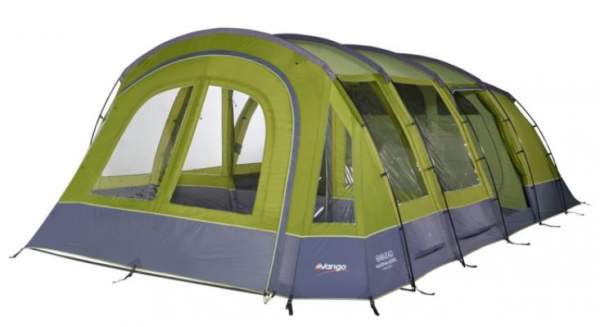 ---
Key features & benefits
4 rooms + porch.
Huge area per person.
Great waterproof rating.
Fully sewn-in floor.
2 entry doors.
4 inner doors.
11 PVC windows.
2 E-cable ports.
Lights out design.
---
What type of tent is this
The Vango Marna 600XL is a most typical tunnel-type tent with 5 arches that support its elongated structure. This is not a freestanding tent so plan where you are going to pitch it.
The bigger part of the tent is a single-layer structure, though the sleeping area is a tent within the external shell tent. The structure is very tall, with 81 inches (207 cm) almost all the way along its main axis.
This is also a tent with what they call the lights out design. This means that the inner tent are is a darker environment so morning light is reduced and you can sleep longer. This is not as dark as those blackout tents by Coleman or Ozark Trail, but this is still the dark rest design.
---
Who is it for
Capacity-wise, this is a tent for 6 people, but just see the incredibly huge area which it offers. You have the inner area of 192 ft² (17.8 m²) which is 32 ft² (2.97 m²). By the inner area I mean the floored area. But you also have a porch here which is not floored but it is completely closed and with PVC windows and a gigantic door. With this included the total protected area becomes 267.3 ft² (24.8 m²) so you have 44.6 ft² (4.13 m²) per person. Now, this is simply incredible.
The floored living room has more than 10 square meters and its dimensions are such that it alone can accommodate 6 – 8 people. So this tent is indeed big enough for far more than 6 people for sleeping on the floor, but it is built for comfort and not to put as many people in as possible. See the floor plan below to realize how luxurious this structure is.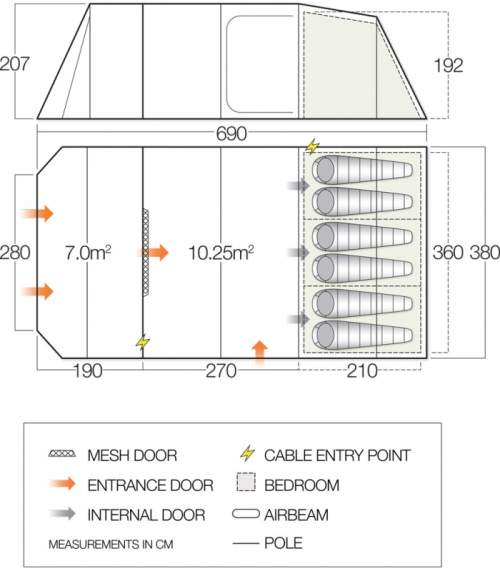 Seasons-wise, the tent is with a very high waterproof rating (more below), and it is fully enclosed. So it is suitable for 3 seasons for sure, and for the areas with lots of rain. After all, it is designed by the Scottish brand.
Climate-wise, in view of its construction which is without mesh and with such solid windows, this is a tent very suited for a cooler climate. However, if you use it in a warmer environment without rain, it has many vents plus mesh on the doors, so you can create enough airflow and feel comfortable.
Weight-wise, this is a heavy tool, it weighs no less than 54.2 lb (24.6 kg). But it packs nicely for such a size, so you have it reduced to only 27.6 x 15.7 x 14.2 inches (70 x 40 x 36 cm). In any case, this is a tool for car camping.
---
Materials & construction
The rooms
I already mentioned rooms, so the number depends on what you mean by a room. There is a sleeping zone with 3 units with removable toggled dividers. They write that you have "spacious ISO standard sized bedrooms". But I must say that in spite of such a huge space, all three sleeping units are really too narrow for 2 people, so I wonder what kind of standards are used, obviously backpacking standards because you have only 60 cm per person.
The sleeping zone and the living room are with a sewn-in floor, so this is a fully sealed zone. The front porch is more a room than a porch really. It has many great windows, and I have seen some version which is also with the floor here as well. In any case, you have 4 separate units inside, plus the porch where you can keep all your cooking stuff, bicycles, shoes, tables, and chairs. They will be fully protected from the rain.
The poles
The poles are not the best feature of this tent, they are all fiberglass and this is not the best material. It is heavy and they can easily be damaged. But if you are familiar with Vango (just search here in the site and you will find many of their tents) you know that they use this same material in many of their largest tents, and this has been so for years already. So this is not such a big deal, just handle them with care. Note that they are pre-bent and this gives extra volume and stability.
The fabric
The main tent body is Protex 70D polyester flysheet. The floor is a thick polyethylene and the inner tent fabric is a breathable polyester. As mentioned above, this is the lights out design. The window material is PVC, fully translucent.
The floor is bathtub type and all seams are sealed. Note that all materials are weather tested to the European standard EN5912 by a certified test center and they are also fire retardant to meet European EN5912 safety standards.
Waterproofness
Strangely enough, they do not provide the waterproof rating for the floor, but I know from other Vango's models that this is a plastic with some 10000 mm rating. So this is fully reliable for sure. The shell is with a 4000 mm rating, and this is far more than enough.
The doors & windows
All the windows are solid and fully translucent, and you have them 11 in total. Note that they are with shutters from inside, for privacy and to reduce sunlight. You have 6 of them on the porch alone, so this area is fully enclosed (except for the floor of course).
There are 2 entry doors, one is a double door on the porch and one is a side door on the sitting room. There is also an inner door between the porch and the living room, and this is the door with mesh. You also have 3 doors on the sleeping rooms which are with mesh in the upper part for ventilation. The side door is without mesh, but I have seen a version of this tent with the mesh here as well.
Ventilation
The tent is with large low vents under each of the big windows in the living room, so you have them three. The door that leads from the porch to the living room is a double-layer type so you have mesh and you can use it for extra ventilation. There is also a high vent on the back section behind the sleeping area. This all should be a guarantee for a good crossflow.
TBSII system
You have this system in many tents by Vango, see for example the Vango Stanford 800 XL, and many more in the site here. Those are bands fixed on the walls on the sides and then connected to the apex. This prevents sideways movement and stabilizes the tent. When not needed, you store them in small pockets on the walls. There are several of them along the tent's length. Attaching and detaching is easy, you have buckles for this purpose.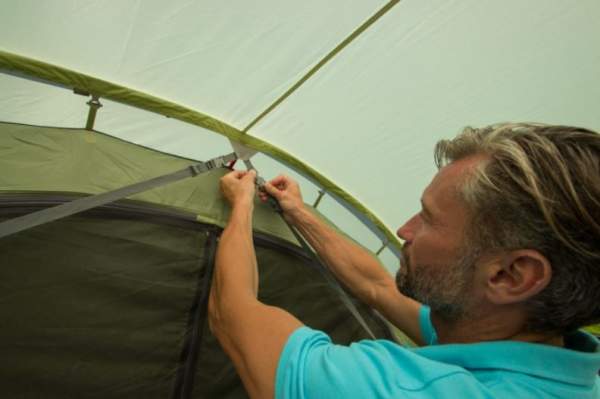 Other features
There are cable entry points and touch fastener tidies.
Lantern hanging points are at several places.
Bedroom pockets are available for small items.
High visibility guylines.
The carry bag is expandable and equipped with compression straps to reduce the overall size.
---
Specifications
Type: tunnel tent, non-freestanding.
Capacity: 6 people.
Weight: 54.2 lb (24.6 kg).
Dimensions: 22.64 x 12.47 ft (690 x 380 cm).
Inner area: 192 ft² (17.8 m²).
Inner area per person: 32 ft² (2.97 m²).
Porch area: 75.3 ft² (7 m²).
Total protected area: 267.3 ft² (24.8 m²)
Total area per person: 44.6 ft² (4.13 m²).
Packed size: 27.6 x 15.7 x 14.2 in (70 x 40 x 36 cm).
Peak height: 81 in (207 cm).
Pitching time: 25 min.
---
Vango Marna 600 XL tent vs Competitors
In the table below I give the Marna 600XL side by side with two other tents built in a similar style and officially with the same capacity. Those are true giants with many similar features, but the differences in prices are huge, please follow the links to see more.
---
Final thoughts
In the summary of this Vango MARNA 600 XL Tent review, I must say I am impressed with the features of this tent. This is a very reliable tool for a comfortable family camping, and with a high waterproof rating. You might want to compare it with the Vango IRIS 600 XL Tent from the same brand which is built in the same style.
But you should know that Vango has many tents of this type, they have been on the EU market for many years already but most of them are quite new on the Amazon-US. This is why you do not see many reports about them. Just search in the site and you will see them many described in detail.
If you need a bigger tent in the same style (yes there are bigger, can you believe), please check this Outwell Vermont XLP Premium 7 Person Tent with steel poles and 5 rooms. Need something smaller? Check this Vango Iris 500 built in a similar manner.
Thank you for reading. Please use the comment box below in the case of questions or comments. I wish you a nice day.