This Vango Purbeck Tent 600 Review is about an impressive 5-room structure with many solid windows, a huge waterproof rating, excellent organization, suitable for almost all seasons.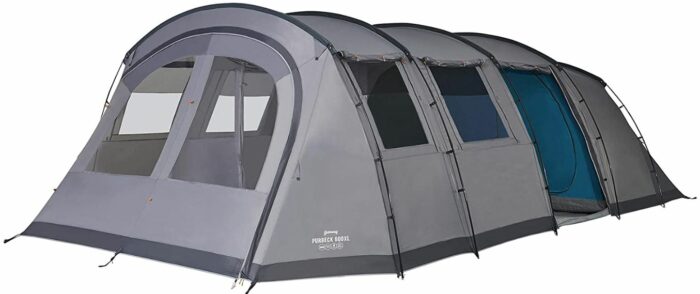 ---
Key features & benefits
Tunnel tent.
4 Rooms plus porch.
Incredibly large area.
Huge waterproof rating.
6 + 2 Solid windows.
2 Huge doors.
4 Inner doors.
Lights-out design.
---
What type is this Vango Purbeck 6 Tent
Here you have an impressive structure that includes an inner tent within the tent, plus a large living room, plus a large porch. The inner tent has three separate sleeping units with removable dividers. The porch is fully enclosed and protected, and the only difference, when compared to the living room, is that the porch is without a floor. The picture below shows its floor plan.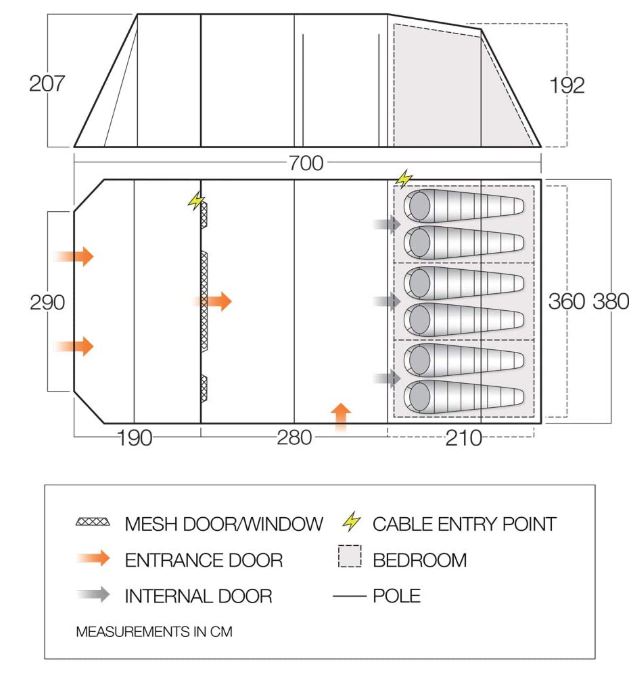 So it is a bit difficult to decide how many rooms this tent has. I would call it a 5-room tent, but bear in mind what I mentioned above, and I have included it in my list of best tents with 5 rooms.
Note that you can remove any of the dividers in the sleeping area. You can also remove the inner tent completely and have all the shell tent as a single and fully protected room. So the tent can have a variety of configurations. You can have 2 rooms as a minimum (the porch plus the shell tent as a single room), 3 rooms (when all the dividers are removed), 4 rooms, and 5 rooms.
Also, the structure is a single/double hybrid. This means the sleeping area (shown below) is with dual walls and with dual floors, while the rest is under the shell tent.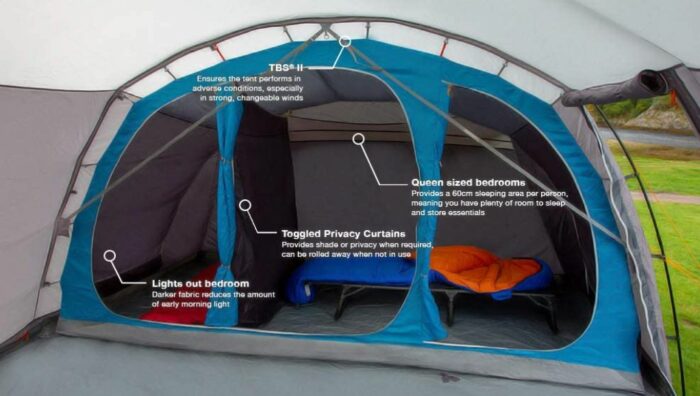 TBS II System: This is Vango's patented Tensioned Band System, a design that includes straps that attach to the sides and to the ceiling, see the picture above. Such a structure adds to the lateral stability of the tent. When not needed, you can detach it, it is equipped with buckles.
Windows & doors: The floor plan above shows what you have. So the tent has multiple external and inner (under the porch) solid windows, plus mesh windows in combination with some of the solid ones. They all are with panels for privacy and to reduce glare.
There are two large external doors, the front door on the porch is double size, and the side door is also large. Both are single-layer doors, no mesh. But the large inner door between the porch and the living room (see the picture below) is dual-layer with a mesh and with a panel. There are also three inner doors on the inner tent.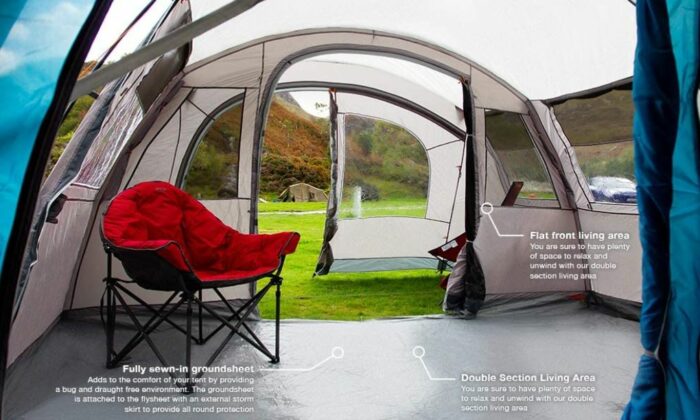 What you also see in the picture above is a drop-down floor design under the door, so this is suitable for people with wheelchairs and also if you have children running around, to avoid tripping on the floor. Observe also how tall this tent is, in the biggest part of it you have 81.5 inches (207 cm) peak height along the tunnel.
---
The materials
The poles
There are 5 loops in total and 4 of them are the same so this makes it relatively easy to set this tent up. This is what they call Powerflex fiberglass. Note that the poles are added from outside, and the good side of such a design is dry setup. This means that you can erect this tent even when it is raining, and the interior will remain protected.
But the tent is huge and it needs a flat terrain, otherwise it may be difficult to zip the doors if the structure is twisted due to unperfect ground. Plan some 25-30 minutes to pitch this tent.
The fabric
They use what they describe as Sentinel Active fabric, whatever this may mean, but this is a 70D polyester with impressive but the standard rating for Vango of 3000 mm. All seams are factory sealed. They claim that it provides UPF 30+ rating. This is also a fire-retardant material that meets the usual standards.
The floor is a double-coated polyethylene with a 10000 mm rating, and I stress again that in the sleeping area you have it in two layers, from the inner tent and from the shell tent. I have seen people asking about the footprint, you do not have it and it is not needed, but you can order one, Vango is known for their footprints that they sell separately.
The windows are with what they describe as climate windows design, solid translucent material for views combined with mesh above for ventilation. The inner tent is a breathable polyester. Note that this is what they describe as lights-out design, so the fabric is darker in the sleeping area, and the light is reduced.

Setup
This is a large tent and it is best to do the work with one partner. Because of its size, it is essential to have a large enough flat ground, and this will guarantee that the doors close easily, otherwise you can have issues with zippers. It is best that you consult this Vango Purbeck Tent 600 manual.
---
Who is it for
Regarding the capacity, officially this is a 6-person tent, but just see what it offers. The total floored area is 208.6 ft² (19.38 m²), and you also have around 70 ft² (6.5 m²) in the porch, note that they do not provide the exact numbers. This gives in total around 46.4 ft² (4.3 m²) per person, and you will not find many tents on the market that can match this.
The effective floored area is a bit smaller when the inner tent is in place because of the 10-cm gap between the shell and the inner tent, but this is still an incredibly large space. I have included this tent in the list of extra large family camping tents.
But how many people can this tent accommodate in reality? Apart from 6 places in the inner tent, the living room has 114 ft² (10.6 m²), this is a fully sealed area, and 6-8 people can sleep there on the floor. So this tent can accommodate 12-14 people if necessary, quite incredible for a 6-person tent, and you still have the porch. But I follow the official capacity specified by the manufacturer and it is in my list of best 6-person tents.
Regarding climate & seasons, this tent is quite enclosed and with many solid windows, the waterproof rating is huge, the floor is all sewn-in and sealed. So I see it very suitable for cold weather camping and it is in my list of cold weather tents.
But there is no doubt you can use it for 3-season-plus camping. There are mesh openings close to the solid windows, for ventilation and to fight condensation.
Regarding the weight, with its 49.6 lb (22.5 kg) this tent looks very heavy, but see again its size and volume and you will realize this weight is fully justified.
About some complaints
I have seen some complaints that the porch is without a floor. In view of the 19.38 square meters of the inner floored area, it is hard to understand this. Such a floor-less space is great to have as it is, without the floor, here you can cook and also use your camping chairs and tables without concern of damaging the floor.
Some have also complained that the front wall (the double door) is angled and water can get in if the door is open. This is not a big issue, you have ground in this area, there can be no damage to your stuff, this is so by the design.
The true entry point to the living room is deep under the porch and it is completely protected from the rain even if you keep the double front door fully open during the rain. This door can be kept with mesh all the time, unless you feel cold, and you will always have enough air circulation through the tent. The double outer door can be kept open even if it is raining.
---
Specifications
Official capacity: 6 people.
Weight: 49.6 lb (22.5 kg).
Dimensions: 22.96 x 12.47 ft (700 x 380 cm).
Total floored area: 208.6 ft² (19.38 m²).
Inner floored area per person: 34.7 ft² (3.2 m²).
Porch area: 70 ft² (6.5 m²).
Total covered area: 278.6 ft² (25.9 m²).
Total covered area per person: 46.4 ft² (4.3 m²).
Peak height: 81.5 in (207 cm).
Packed size: 30.7 x 13.4 x 13.4 in (78 x 34 x 34 cm).
---
Final thoughts, rating, pros & cons
In the summary of this Vango Purbeck Tent 600 review, I hope you realize how luxurious this structure is, a real camping castle suitable for large families or for several couples.
With so much inner floored space, and with such an enclosed porch, this tent is perfect for areas where you have lots of rain and have to stay inside. As you surely know, cooking outside when it is raining is impossible, so I see the porch as important as the living room. Fully recommended.
Please see how I rate this tent against my standard set of criteria, it scores very high:
Vango Purbeck Tent 600XL
$423.50
If this tent is too big for you, check their Vango Airbeam Portland Tent 500. Please check also under the category Tunnel tents if you want more options built in the same style.
Bookmark this site and visit from time to time, we add texts here regularly so this will keep you informed. There is a subscription form below for our weekly newsletter, so stay in touch. Thank you for reading and have a nice day.