For a family camping tent, it is essential that it is weather-resistant, in other words waterproof. So what is the best tent fabric regarding this and other criteria? Here I give some basic information covering the fabric issue.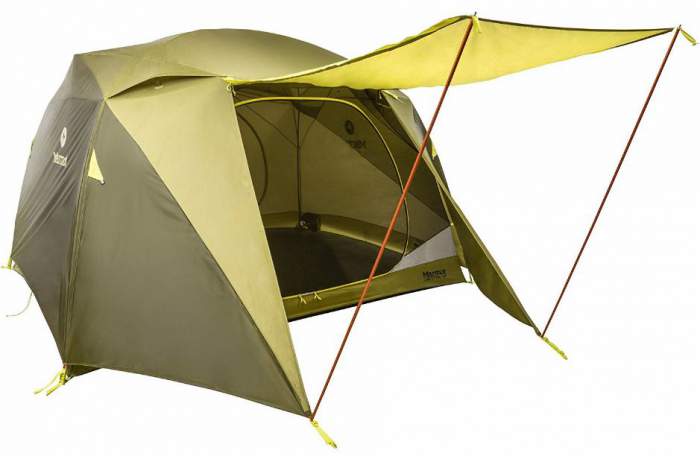 ---
Tent fabric comparison
The most important parts of a tent are its fly and floor. These elements are supposed to be waterproof, and this holds also for the lower sections of tents' walls if the fly is not a full-coverage type.
Typically the waterproof tent fabric can be one of these:
Only the first five are of importance for the family camping tents which you have here in the site. The other three are used either for smaller tents designed for professionals, or for winter tents. Some of the synthetic materials do not need the coating to become waterproof.
In general, nylon is stronger and more abrasion resistant than polyester, but it can absorb some water and this is not so with polyester. Being stronger, nylon tent materials can be lighter, so you can see this material used in backpacking tents. The usual family camping tents are typically polyester or less frequently canvas.
Polyethylene is used mainly for tent floors. So you have such thick floors in some Coleman tents. It is heavy, but it is durable, so it is good to have the floor built from this material because you basically do not need a footprint when you have this material on the floor. This material is waterproof itself, it doesn't need coating.
UV-Tex 5 fabric is a sort of polyester, and tents with such a material are cooler because the material reflects more sunlight. If you camp frequently and throughout the year, this is a material to consider.
---
Synthetic materials vs canvas
Synthetic materials
Canvas
---
Canvas waterproofing
Canvas absorbs the water so it must be treated in such a way as to remain breathable. So you have various waterproofing technics which should make it more or less waterproof and cause water beading. In general, impregnation is used for cotton threads and it becomes waterproof but it remains breathable.
Sometimes it is mixed with polyester and this combination is known as poly-canvas. It is supposed to have the best (and the worst) of both materials. You can see an excellent example of this poly-canvas type in the Crua Loj 6 insulated tent.
See this great Kodiak 8 person tent as a nice example of a canvas tent:
---
Polyurethane coating
The PU coating is the most common coating for budget tents, i.e., this is the cheapest waterproofing method and it is used in most of the family camping tents presented in this site. When exposed to visible light, this coating may in time turn to yellow or reddish brown, but this still doesn't affect its waterproofing properties.
But higher-energy UV radiation can cause chemical reactions in the foam so it may become non-waterproof over time.
---
Silicone coating – SilNylon
Silicone applied to nylon is what is usually called the SilNylon. In this technology, a thin woven fabric is impregnated by liquid silicone from both sides. The silicone adds to the strength of the fabric and makes it highly waterproof. Such materials are not breathable of course.
The SilNylon is used in higher quality tents and it is very stable regarding the UV radiation and temperature variations. This is an expensive material and you will see this in the prices of tents where it is used.
In some cases, you have silicone applied from outside and PU coating from inside. This is cheaper and you still have silicone outside where it is most needed. But such a combination results in a heavier material than when you have silicone on both sides. Yet another reason for such a combination is that seams of a PU coated material are far easier to tape, and this is done from inside as usual.
---
Cuben fiber
This is a high-performance non-woven fabric with an excellent resistance to ultraviolet light. This is the lightest and strongest of all waterproof outdoor materials. It is around half the weight of the SilNylon fabric. It does not stretch and it is translucent. Such materials are very expensive and you will not see them in family camping tents.
---
Gore-Tex
All is known about this material which is the only breathable in the synthetic materials mentioned above. This material is used mainly in 4-season tents which are then used by professionals, and you will not see it in family camping tens. As you guess, such tents are very expensive.
---
Seam sealing
Regardless how waterproof the tent fabric is, if the seams are not sealed you do not have a waterproof tent. What you can see in the descriptions of some waterproof items is the following terminology:
---
How much waterproofness to expect
The tents presented here on the site are with the waterproofness rating typically in the range 600 – 3000 mm. To better understand the meaning, you should know that an ordinary umbrella is around 400 mm. So for example, you have 600 mm in this Core 6 Dome tent, and the Coleman Sundome 6. but you have 1800 mm in the Kelty Trail Ridge 6 tent.
The bigger the number you should expect in the floor material than in the fly. So in this Marmot Limestone 6 tent, you have a 3000 mm rating for the floor, which is very impressive, and 1500 mm for the fly. More about waterproof rating please see in my separate text.
So this was about tent materials, you might want to read also about footprints, so please follow this link.
Thank you for reading. Please use the comment box below in the case of question or comment. Have a nice day.