White Duck Outdoors Family Explorer Deluxe 10 x 10 Camping Tent is a 6-person 4-season breathable canvas tent with a flex-bow roof structure and steel poles.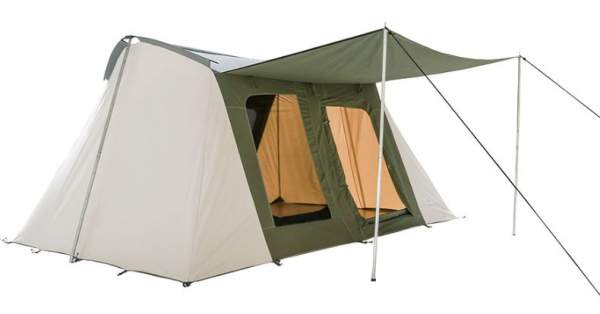 ---
Key features & benefits
6 people capacity.
Flex-bow cabin type structure.
Four windows + two doors with windows.
Waterproof.
Breathable.
Polyester waterproof carry bag.
---
What this is about
Here you have a new canvas tent on the market built with the flex-box technology and in the cabin-style. It is very similar to the Kodiak Canvas Flex-Bow VX tent. So this is a Deluxe version of the White Duck Outdoors flex-bow tents because of the triangular windows on the sides, see the picture below.
The tent is not freestanding and it is necessary to stake it down properly. In fact, it has only two legs-poles (see the picture) so the stakes are essential as this is what makes it self-supporting when you set the two legs in place. You have 16 stakes to make the structure stable. The tent is 78 inches (198 cm) tall and it provides a walk-around comfort. The structure is very pleasant with many windows on all sides and with breathable walls.
This is a single-room and single-layer structure, but all the openings are double-layer by the design, with mesh, and with canvas panels.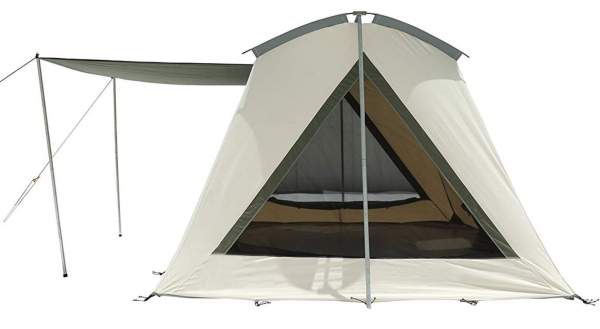 ---
Who is it for
Capacity-wise, the tent is officially for 6 people. The area is 100 ft² (9.3 m²) and this means 16.7 ft² (1.5 m²) per person if used by 6 people. Note that there are no vestibules to store your gear, but you will surely have your car close. In any case, for a family camping this is a tent for parents with a small kid or simply for couples.
Seasons-wise this is a true 4-season tent and it will perform equally well in any season.
Climate-wise, this is a tent for any environment. The materials are breathable and you have plenty of mesh windows, so the tent performs great in a warm climate. The canvas makes the atmosphere cooler, much better than any synthetic material. On the other hand, in a cooler climate, you can zip up all the openings and preserve the warmth. The cotton naturally gives a bit of insulation. But you do not have an option to use a stove in this tent, so if this is what you need, please check their White Duck Outdoors Alpha Wall Tent.
As I mentioned above, the tent is not freestanding so make sure you have the right ground where you can stake it properly. This will not work if it is gravel or sand, or if this is a rocky surface.
Weight-wise, the tent is heavy and it weighs 89 lb (40.4 kg). It is also rather bulky when packed, 49 x 14 x 10 inches (124 x 36 x 25 cm). So this is a tent which must be transported in a car. But in spite of such a weight, one person can easily set it up.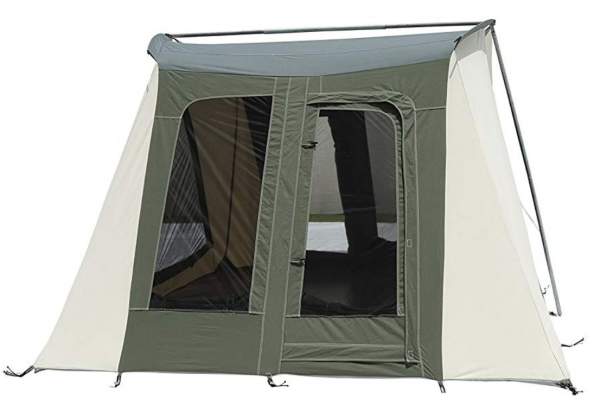 ---
Materials & construction
The fabric
All the tent except for the floor is a double fill 100% cotton army duck canvas. This is a material with a natural UV protection, and it is a high-density tightly-woven type, with a breathable and high-performance finish. They have added water & mildew chemical treatment but the material is breathable.
On the roof, they use a 12-oz silver-coated cotton. This is to reflect most of the heat so the atmosphere in the tent is even more cooler than what you would expect from a normal cotton canvas. On all the openings you have a fine No-See-Um Mesh so you are safe from bugs.
The large awning is supported by two poles that are included in the package. This is a nice addition for sitting in the shade, and when not in use you can roll it up and fix to the tent, it is not removable.
Only the floor is synthetic, this is a coated polyvinyl 16-oz and heavy-duty. Note that it is not a bathtub type.
The poles, stakes & zippers
There are 15 pieces of poles and rods, all galvanized steel for protection from corrosion. You also have 16 steel pegs that are 12 inches long. The zippers are the top in the industry, they use YKK.
Waterproofness
The tent is fully waterproof according to their statements, and they claim this has been tested. But on their site, there is a number about the water repellency rating 450 mm which is rather low, on the level of an umbrella. I have asked them about this waterproof rating and they say that they do not apply any extra waterproofing, except to what is mentioned above, to allow the fabric to breathe.
Other features
You have 2 oversized doors.
Windows are everywhere around and they open from the inside.
There are multiple O-rings to hang clothes inside.
There are a couple of small pockets under the two windows.
Please see a bit more in this short video by the brand:
---
Specifications
Capacity: 6 people.
Weight: 89 lb (40.4 kg).
Dimensions: 10 x 10 ft (3.05 x 3.05 m).
Area: 100 ft² (9.3 m²).
Area per person: 16.7 ft² (1.5 m²).
Packed size: 49 x 14 x 10 in (124 x 36 x 25 cm).
Peak height: 78 in (198 cm).
Frame: steel.
---
White Duck Outdoors Family Explorer Deluxe 6 Person Tent vs Competitors
This tent is very similar to the Kodiak Canvas VX 6 tent so it is interesting to see them side by side. I also add yet another canvas tent to consider as a quite different option because of its instant and freestanding design. So please follow the links to read more about these tents, they are described in detail in my separate reviews.
White Duck
Explorer Deluxe 6
Kodiak Canvas
Flex Bow VX
---
Final thoughts
This White Duck Outdoors Family Explorer Deluxe 10 x 10 Camping Tent is a very reliable and comfortable structure built from a natural cotton canvas so it is breathable and it performs well in any climate and in all seasons. By the style and the price, it is very similar to the Kodiak Canvas VX tent so it makes sense checking both tents before you decide. The flex-bow roof construction is the same, and you will see the same system in the Springbar Highline tents.
Thank you for reading. Please check my list with canvas camping tents if you want to see more options. This tent is suitable for a cooler climate and if this is what you need, you might also want to compare it with other tents built for such a purpose, so please read my text with tents for cold weather camping.
In the case of questions or comments, please use the comment box below. I wish you a nice day.