Kodiak Canvas Flex Bow VX Waterproof Quick Tent 6011 With Tarp is a super-deluxe canvas tent with two extra triangular windows on the sides, as compared to the deluxe tents of this brand. This is a true 4-season camping tent with a breathable material.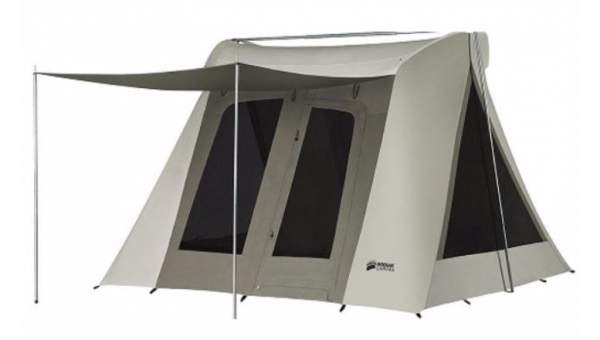 ---
Key features & benefits
Capacity 6 people.
Natural cotton fabric.
Breathable materials.
Steel frame.
2 doors.
4 + 2 windows.
Gear loft.
Tarp included.
---
What is in the name
The Kodiak Canvas Flex Bow VX tent is also called Super Deluxe and this because of its differences as compared with the Kodiak Canvas Flex Bow Deluxe tent, and the Kodiak Canvas Basic tent. What makes it super deluxe are extra windows on the sides, so you have two extra triangular-shaped windows with mesh and panels. But you also have a ground tarp included with the VX model. More about the differences and similarities between various Flex-Bow tents series from this brand you can read in my separate text.
Note that the tent is also known under the name Kodiak Canvas 10 x 10 Flex-Bow VX Tent, and this indicates its floor dimensions. The Kodiak Canvas brand uses the code number 6011 for this tent.
So this is a single-room cabin-style tent but definitely not-freestanding, it must be staked properly so choose the ground where this can be done. You have steel stakes included in the package. As the name suggests, this is indeed a canvas tent so you have a very pleasant structure built from natural materials.
The words Flex-Bow in the name describe the fact that you have steel rods on the roof, plus the main ridge pole which all create tension in the roof. This is the same in all of their tents.
---
Who is it for
Capacity-wise, the tent is declared as a 6-person structure. The area is 100 ft² (9.3 m²) and this means 16.7 ft² (1.5 m²) per person. Obviously, this is enough for pads on the floor but for a real camping with all your gear around this would not work. Yes, there is also an awning which creates 24 ft² (2.2 m²) of the covered area, see the picture below, but this is more for sitting outside and not for the gear protection.
So I would say this is a tent for couples or for parents with one kid. If used by couples, you can accommodate a queen size bed inside. The dimensions shown below will help you as a guide to organize the space.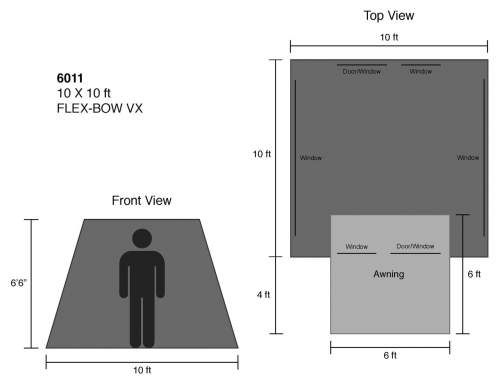 Seasons-wise, they describe this tent as a tool for all-year-round use. But they also write that it is not designed for extreme winter mountaineering or heavy snow accumulations.
Climate-wise, this tent performs great in cold weather situations, definitely much better than most of the synthetic tents. This is because of the natural insulation which you have from such a canvas material. But this is not an insulated tent, and if you need something of that type, check this Crua Loj 6 tent.
In a warm environment, this is as pleasant as you can expect from the best tents on the market. The fabric is breathable and it is thick enough to create an atmosphere cooler than in any synthetic tent. All the windows are with mesh and they are everywhere around, so you can create as much air circulation as you want.
Weight-wise, this is not the best feature of this tent. It is heavy and bulky when packed, see more in the specifications below. So you need a car for transportation. But in spite of such a weight, one person can easily set this tent up. This is all because of its clever design.
---
Materials & construction
The poles
The poles come in a separate bag which is (L x D) 50 x 5.5 inches (122 x 14 cm). The picture below shows what they include: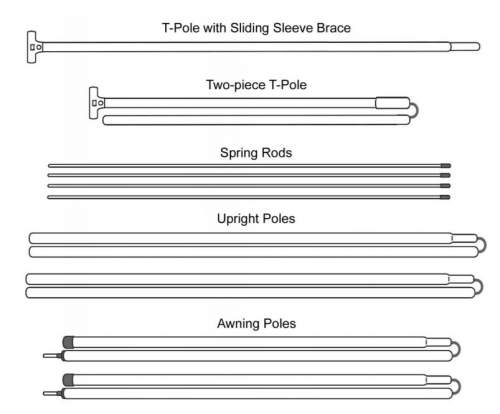 This is all steel, the frame poles are 1-inch in the diameter and they are galvanized, and the flex-bow rods are 3/8-inch, solid spring steel.
The fabric
Heavier and stronger is the canvas on the ceiling where you have a 10-oz Hydra-Shield canvas while the wall canvas is 8.5-oz Hydra-Shield. The floor is a thick 16-oz vinyl with polyester reinforcements and they build it as a seamless structure.
Waterproof rating
They do not give an official rating for their canvas. All you have is the statement that this is the Hydra-Shied canvas with a superb water repellency while remaining breathable.
In the case of a leak, they suggest treating the affected area with a silicone-based spray. By using such materials, the canvas will still maintain its natural breathability and this is important to bear in mind.
The doors & windows
This VX tent has the usual windows on the front and on the back just like their Deluxe tents, plus two triangular windows on the sides, one is visible below. So this is 4 separate windows.
But there are two doors as well and they are also two-layer type so you have mesh and canvas panels, which makes 6 windows in total. So all the openings are 2-layer design and the mesh is so fine that no bugs can get through.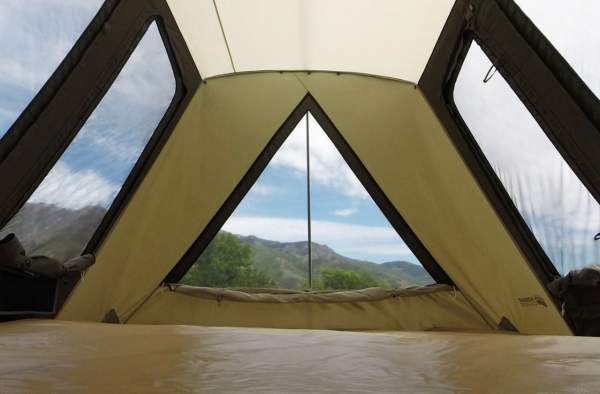 The tarp
The tarp is 10 x 10 feet and it fits all their tents with such a ground dimension. This is a very useful addition which adds an extra layer of protection for you and for the tent's floor. It keeps the floor clean and dry for an easier storage. The tarp is built from a heavy polyethylene and reinforced with mesh. It has stake loops in the corners so you can fix it in place.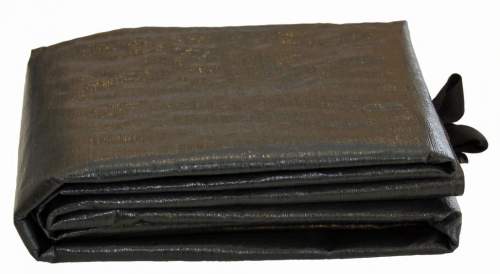 Warranty
They offer a warranty regarding the defects in materials and workmanship for as long as you own the product. This does not cover damage resulting from normal wear and tear. So if there is anything defective, they repair or replace free of charge.
Other features
This is a tall tent with a 78 inches (198 cm) height that provides a walk-around comfort.
They use the best quality #10 YKK zippers.
You have a customizable gear loft.
Organizer pockets are available under the two windows, but they are really small.
The carry bag is a strap-and-cinch storage type with a roll-up construction.
---
What is included
You have the following items in the package:
The tent.
1 T-pole with sliding sleeve brace.
1 two-piece (shock-corded) T-pole.
4 spring rods.
2 shock-corded legs poles.
2 shock-corded awning poles.
2 adjustable guylines for the awning.
1 organizer.
1 mesh bag organizer.
1 gear loft.
18 stakes 12-inch long.
1 strap-and-cinch type tent bag.
1 pole bag.
1 stake bag.
Please see more about this tent in this short video:
---
Specifications
Capacity: 6 people.
Weight: 68 lb (30.8 kg).
Dimensions: 10 x 10 ft (3.05 x 3.05 cm).
Area: 100 ft² (9.3 m²).
Area per person: 16.7 ft² (1.5 m²).
Awning: 6 x 4 ft (183 x 122 cm).
Awning area: 24 ft² (2.2 m²).
Packed size:
– Tent (L x D): 30 x 13 in (76 x 33 cm).
– Poles (L x D): 50 x 5.5 in (122 x 14 cm).
Peak height: 78 in (198 cm).
---
Kodiak Canvas 10 x 10 Flex-Bow VX Tent vs Competitors
I have decided to show you some very different options to compare, all are canvas tents, the official capacity is similar, but the styles are totally different. This might help you in making an informed choice. Please follow the links in the table to read more about the two other tents, they are described in detail in my separate reviews.
Kodiak Canvas
Flex Bow VX
---
Final thoughts, rating, pros & cons
So this Kodiak Canvas Flex Bow VX Waterproof Quick Tent 6011 With Tarp is an upgrade of their existing Deluxe series. They build it in the size 10 x 10 presented here and also in 10 x 14 dimensions under the code number 6041VX. This is a top-quality item constructed from strong and reliable materials, a tent built to last for many years. I can fully recommend it.
Please see below how I rate this great tent:
Kodiak Canvas Flex Bow VX Waterproof Quick Tent 6011 With Tarp 6013
$644.00
You might want to check also their Kodiak Canvas 12×9 Canvas Cabin Tent which is a bit bigger and a very different construction.
If you need more options from such canvas tents, please check this list where many top models are described. For any other type of tent, just look around, this site is all about family camping tents and you will find something for you. Note also that the White Duck Outdoors Family Explorer Deluxe Tent is built in the completely same style so you might want to compare.
Please use the comment box below in the case of questions or comments. I wish you a nice day.