DANCHEL Cotton Bell Tent with Two Stove Jacket is a 4-season non-freestanding tent that offers full protection in any weather conditions for camping and glamping.
---
Key features & benefits
Canvas tent.
Full protection from elements and insects.
4 Seasons tent.
Easy setup.
Quality materials.
2 Stove jackets.
Canopy setup.
---
What this is about
Here you have a "series" of two bell-shaped canvas tents, one is 16.6 ft (5 m) in diameter and the other is 13.3 ft (4 m). So below I focus on the larger tent but the features are the same except for the size and the weight. As a canvas tent, this is a pleasant construction, very tall and circular, and with one large entry door.
You have a single-room structure that is not freestanding. You have to stake it down properly so choose your camping spot so that you can use its stakes. As typical for all canvas tents, this is a single-layer construction, only the openings are double-layer with mesh and canvas.
As the name suggests, you have two stove jackets, one on the roof and one on the side wall. The diameter is 3.9 inches (10 cm). This is why I have included it in my list of best tents with a stove jack. The roof jacket is roughly 3.5 ft above the floor. You might want to read some tips about wood burning tent stoves in my separate text. For one example of a stove for such a tent please check this Camp Chef Alpine Wood Stove. But note that Danchel has its own Danchel Outdoor Tent Wood Stove on the market as well.
Note that you will need to buy something to protect the stove jack if you are going to use a wood stove. But you can use the jack on the side wall, this will depend on the design of your stove. In such a case you will not have to make the space around the pipe watertight because the opening is under the skirt that goes all the way around the tent. The same design protects the windows. Also, add some protection under the stove to avoid damaging the floor.
The tent allows for the canopy configuration which you see in the picture below. Namely, the floor can be completely unzipped and you can use it as the picture shows, so this is a glamping item or a tent to use in the garden at home for some family events.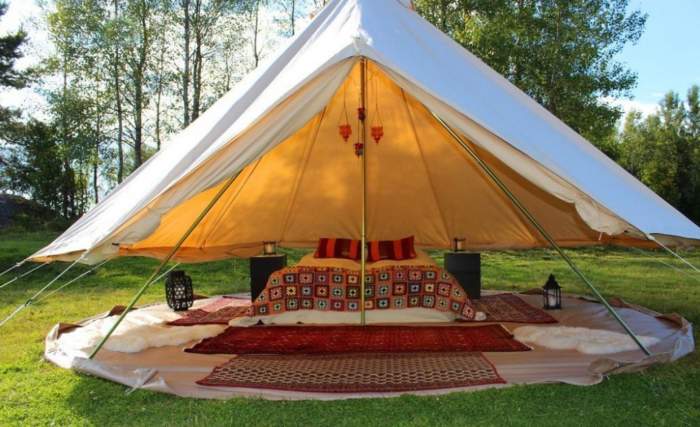 ---
Who is it for
Capacity-wise, the area is 216 ft² (20 m²) and the declared capacity is 8 people. For such a number, you have 27 ft² (2.5 m²) per person. This is quite a lot of space and the capacity is realistic, you can put inside several queen-size beds. Though if you put a stove inside, you might want to downgrade this number to 5 – 6 people or so.
Seasons-wise and climate-wise, obviously, the tent is built for all seasons. In the summertime, the canvas makes a cooler and pleasant atmosphere, and you also have lots of options for ventilation. In the wintertime, the canvas has some insulation properties (much better than any synthetic in any case), plus you can use a stove. All the openings can be closed and you will preserve the warmth. This is why I have included it in my list of tents for cold weather camping.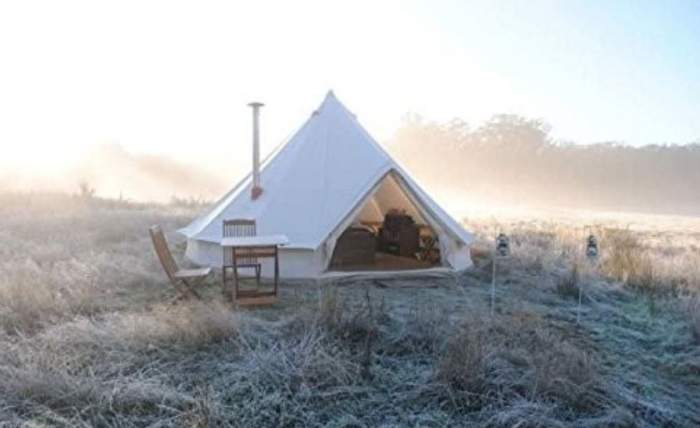 Weight-wise, the tent is heavy, you have a package of 45 x 12 x 12 inches (114 x 30 x 30 cm) that weighs 83 lb (38 kg). But in spite of that, one person can set it up in under 20 minutes.

---
Materials & construction
The fabric
They claim that the canvas is waterproof, fire retardant, and UV and mold resistant. The fabric is 285 g/m² for the roof and the walls. The good side of the canvas is that it is strong and breathable but it is heavy, it dries slowly, and such materials are never mold-proof, so dry it properly before you store it at home. Normally, the canvas is impregnated with anti-fungi and made waterproof for at least 60 weeks of use.
The floor is a heavy-duty PVC, 480 g/m². The mesh on the windows and the door is a high-density material so you will be safe from insects of any kind.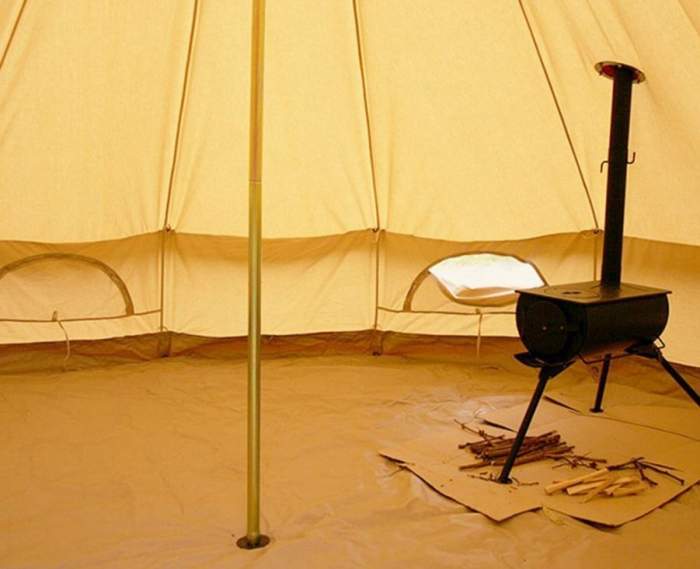 The poles & pegs
The poles' system is simple, you only have one central pole which is a galvanized steel tube, see the picture above, and a pole that supports the door and creates an A-shaped entrance, see more details in the pictures below: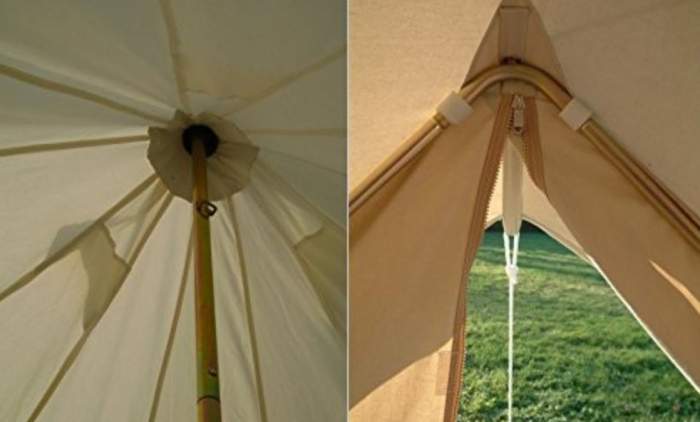 Pegs are galvanized steel, but I have seen some users suggesting to find stronger pegs if you plan to use the tent on frozen ground.
Waterproofness
The floor is a PVC material and this is a sort of plastic so the waterproof rating should be very high. Though I have seen some statements on Aliexpress that it is 1500 – 2000 mm and this does not make much sense to me. At the same source, they claim that the canvas is with a waterproof rating of 3000 mm, while in Amazon answers they write 1500 mm. So there are plenty of contradictory statements and data around.
They also write that they test it by keeping 0.5 gallons of water in the canvas and hang it in the air for 24 hours and it does not leak. In principle, this is not how waterproofness is tested, but it sounds good to me. Most importantly, have seen many users writing about using it in the area where it was raining for several days without any leak.
Ventilation
The canvas fabric is naturally breathable, but the problem here is that the inner surface appears to be coated so it looks like a plastic. But you also have 4 vents high on the roof, and the tent comes with 4 zippered windows with mesh and canvas as two separate layers. The door is of the same structure.
The windows are quite protected under the skirt that goes around the tent, so you can open them at least partly and keep with the mesh only most of the time. So in any case, ventilation should not be a problem here.
What is included
You have the bell tent, waterproof oxford carry bag, instructions, polyester guylines, poles, steel stakes.
---
Specifications
Type: bell-shaped tent, non-freestanding.
Capacity: 8 people.
Weight: 83 lb (38 kg).
Diameter: 16.6 ft (5 m).
Area: 216 ft² (20 m²).
Area per person: 27 ft² (2.5 m²).
Packed size: 45 x 12 x 12 in (114 x 30 x 30 cm).
Peak height: 118 in (300 cm).
---
DANCHEL Cotton Bell Tent vs Competitors
Here you have this Cotton Bell tent side by side with two other items that are built in the same style, all are bell-shaped and the dimensions are very similar. So follow the links to check the updated prices because this might be the only important factor here. But note that the Teton Sports tent does not have the stove jackets.
45 x 12 x 12
(114 x 30 x 30)

45 x 14 x 14
(114 x 36 x 36)

36 x 16 x 9
(91 x 41 x 23)

---
Final thoughts, rating, pros & cons
So in the summary of this DANCHEL Cotton Bell Tent review, I would stress that there are several tents of this type on the market, and the number is growing, but not all of them have the stove jackets included. If you plan to use the tent in a very cold environment, you will need this feature and a stove, so this is what sets this tent apart. The price is also quite typical and although it may look expensive, I am convinced this is the right price for the value. The tent is added to my list of best canvas bell tents.
See how I rate it:
DANCHEL Cotton Bell Tent with Two Stove Jacket
Reliability & protection
9.4/10
Comfort & features
9.8/10
Pros
Quality craftsmanship.
Full protection.
Vents are available.
Large door.
Windows available.
Canopy configuration.
Cons
Heavy.
Expensive.
No storage elements.
Single room design.
If you need more options, please check my list of the best canvas tents for camping. You might want to compare this tent with the White Duck Outdoors Avalon Canvas Bell Tent built in the same style. Otherwise, just look around, this site is all about large family camping tents.
If you want something much lighter but in a similar style, check this Winterial 6-7 Person Teepee Tent. Thank you for reading and please use the comment box below in the case of questions and comments.