---
Uncompahgre Collapsible Pack Stove is what its name says, a completely collapsible wood burning stove with 23 x 11 x 2.25 inches (58 x 28 x 5.7 cm) packed size.

---
Key features & benefits
Fully collapsible.
Great packed size.
Great burning capacity.
Strong & durable.
---
Where to buy
Check on Amazon, they usually have the best prices and shipping conditions.
---
What is in the name
As a mountaineer, I love the name although it is a bit difficult to pronounce. You might want to know that Uncompahgre is the sixth highest peak of the Rocky Mountains. The manufacturer itself, the Colorado Cylinder Stoves suggests a shorter nickname, The Unc, for this stove.
This is a completely collapsible stove, the main body packs to the size of 23 x 11 x 2.25 inches (58 x 28 x 5.7 cm), see the picture below.
But there is also the pipe extra of course, so although they use the words Pack Stove in the name, it is hardly a backpack-portable stove. I think they mean it fits in a pannier for packing in on horseback. Note that the weight is 32 lb (14.5 kg). But such a weight is because of its strong and sturdy materials, they claim it is built to last for many years.

---
Who is it for
Capacity-wise, they do not provide the BTU value, but the firebox size is given so the volume is around 58 liters (3540 in³) or around 3 cubic feet. So this is smaller than the Timberline Package stove, but much bigger than the Winnerwell Nomad Medium. The pipe is also smaller than what you have with the Timberline Package stove, but bigger than in the  Winnerwell Nomad Medium. So this is a stove with a very good burning capacity, probably good enough for tents up to 20 – 25 m².
Weight-wise, this is not an ultra-heavy stove but it is much heavier than any of the Winnerwell stoves presented here in the site. As mentioned above, the weight is 32 lb (14.5 kg), but the stove alone is 23 lb (10.4 kg). On the other hand, it is much lighter than the Timberline Package stove and the Camp Chef Alpine stove, both built from similar black steel.
So you need a car for transportation and the stove will not need much space. It is great for hunters, as a basecamp stove for mountaineers, or just for a cold-weather camping. You might want to check also this DANCHEL OUTDOOR Portable Titanium Tent Tiny Stove that packs small but it is ultralight.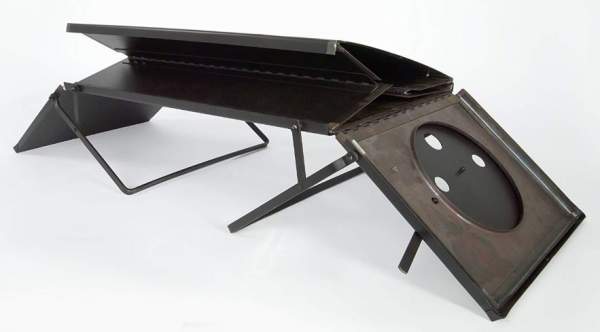 To break the stove down, you remove 2 pins and then fold the back and front of the stove in under the bottom of the firebox as you see from the picture above. The two sides of the stove also fold in so that the cooktop rests on the bottom of the stove. This all takes about 15 seconds only.
---
Materials & construction
This stove is built with 20 gauge (0.81 mm) cold-rolled steel and according to their statements, it will burn wood or coal. Legs are constructed with 3/16" by 1/2″ steel. The pipe is a 26 gauge (0.4 mm) cold-rolled steel, and all the sections nest together for ease of packing.
It is coated with a 1200 degree stove paint so it should not peel off when hot. The stove is 19 inches (48 cm) tall when assembled. The stove pipe sections that start with 4″ and the end is 5″ at the top. They claim it should fit a 4″ stove jack.
You have the following included in the package:
the stove,
4″ pipe damper,
5 pipe sections, each 22 inches (56 cm) long,
a spark arrestor.
---
Specifications
Type: collapsible wood burning tent stove.
Weight: 32 lb (14.5 kg).
Firebox size: 23 x 14 x 11 in (58 x 36 x 28 cm).
Packed size: 23 x 11 x 2.25 in (58 x 28 x 5.7 cm).
---
Uncompahgre Collapsible Pack Stove vs Winnerwell Fastfold Titanium Stove
Currently, only the Winnerwell Fastfold Titanium stove is on the market with a similar collapsible design. So it is natural to see how these two stoves compare. I give only some basic parameters, so please follow the link to see more.
Uncompahgre
Collapsible Stove
---
Final thoughts, rating, pros & cons
In the summary of this Uncompahgre Collapsible Pack Stove review, I would stress that this is a nicely designed and versatile portable stove. It is not the lightest on the market but its packed size is great. It is also not the most affordable wood burning tent stove, but with such a design it is a great value for the money.
Please see how I rate it:
If you need something more affordable, please check this Shasta Vent Portable Camping Wood Stove. See also this VidaLibre Camping Stove that comes with plenty of accessory elements in the package, and check my list with best wood burning tent stoves.
Note that this is not a sponsored text and I am not paid by the manufacturer. I am only expressing my own unbiased views about this product. Please let us know if you have some experience with this stove, there is a comment box below. I wish you a nice day.