---
Timber Ridge 8 Person Family Camping Tent is a 2-room dome style freestanding tent with 2 doors and 3 windows. The tent is ideal for summer camping and a great choice if you are on a budget.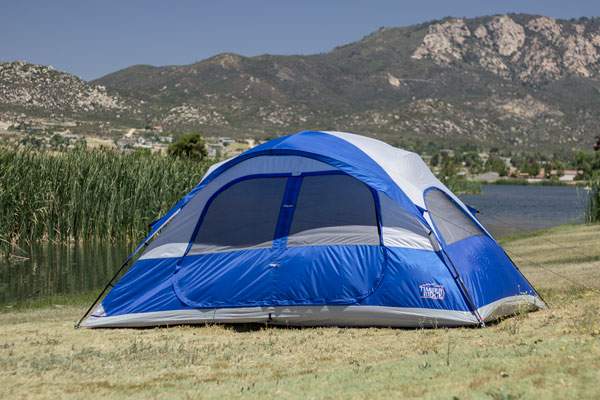 ---
Key features & benefits
2 rooms.
2 doors.
3 windows.
E-cable port.
Great price.
Freestanding.
Very lightweight.

---
What type of tent is this
The Timber Ridge 8 is a dome tent and it is designed with two rooms which you create by attaching the divider that comes in the package. In such a configuration each of the rooms has its own entry door and its own windows.
The tent is freestanding so you can pitch it anywhere, even after attaching the fly you can still move it around. There is no hub here, the sleeves make the tent self-supporting as soon as you pass the poles through them and fixed them at the corners. But it comes with 14 steel stakes and 4 guylines so you can stake it if the terrain allows this.
If you compare it with other 8-person tents you will realize that it is very lightweight, only 19 lb (8.62 kg). In fact, you will not find many lighter 8-person tents on the market. But there are lighter options indeed, this Exio 8 tent is one great example.
---
Best use
Space-wise, the tent is with the declared capacity of 8 people. But they have used a backpacking principle to determine the capacity. So you can put 8 pads on the floor but for the real summer camping this cannot work, see the floor plan which tells you that you have only 112 ft² (10.4 m²) of the total area, which per person gives 14 ft² (1.3 m²).

Note that there is no vestibule here or porch so all you camping stuff must be kept inside or in the car. Therefore I would say this tent is for maximum of 4 people, parents with two kids or for two couples. But if this is about a group of friends at some open-air summer festival, you can squeeze 8 of them in to stay the night.
Seasons-wise, they describe it as a 3-season tent, but I see it as a summer camping tent, for maximum 1 – 1.5 season use.
Climate-wise, the tent is with lots of mesh in the canopy, and such a structure is great for a warmer environment but not in the areas where the temperature drops much during the night, or in the areas with lots of sand and dust in the air.
Weight-wise, the tent is definitely portable if the weight is shared among the users. Price-wise, if you are on a budget and need a nicely built summer camping tent for occasional use, this is it.
---
Materials & construction
The poles
There are 6 of them and they all are shock-corded fiberglass, this material is frequently used but it needs some care in handling. But you will see the price below, so I think it is fair to expect such a material used here. Only two poles are used for the dome structure and those make the tent freestanding; the rest is there to separate the fly from the inner tent and to make a small brim on the front.
The fabric
The fly is only a partial cover type, so it covers the ceiling only. This is the part of the design, this is why the tent has several windows. If you need a full-coverage fly, please check this list. The fabric is 190T polyester with PU coating, but it is disappointing that they give no details about its waterproof rating. I have seen 600 mm mentioned in one source, not sure how reliable this is, but this is just a bit more than an ordinary umbrella. I would not expect much more from a summer camping tent, and they write themselves that it is not for a very strong rain. But I have not seen any of the users complaining; and you will see its rating below.
The inner tent is the same material at exposed sections, plus mesh. The floor is a very thick polyethylene and you should be safe from this side; such materials are normally fully waterproof. It is also a bathtub floor which is always the best design to have.
The doors & windows
This is the best part of this tent; for a dome structure, it is unusual to see such great windows. You have them 3, and they are the double-layer type, with mesh and waterproof panels for protection and privacy. There are two huge doors and they also have mesh in the upper sections, so these are two extra windows.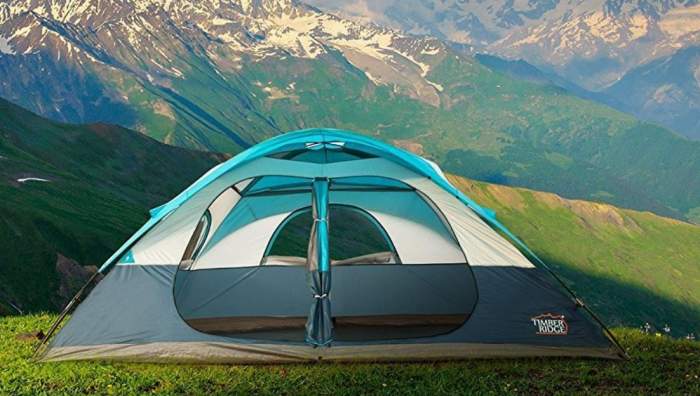 Other features
There are several mesh pockets very high and close to the ceiling. I wonder why they put them so high. The tent is with a cable port, and you also have a ring for a lantern at the highest point. Please see a bit more in this short video:
---
Good and less good features
Here is my short summary:

Very lightweight design.
2 rooms.
Great windows.
Large doors.
Very affordable.

Too small area for the declared capacity.
Fiberglass poles.
No info about the waterproof rating.
The price & rating
As of the moment of writing this text, the Amazon price for this tent is only $120, so this is one of the most affordable options on the market. The tent has received a number of reviews from Amazon customers, and wait to see its average rating – it is incredibly high 4.8/5. See how I rate it:
My rating breakdown of the Timber Ridge 8 Dome Tent
Area per person -

7.7/10

Area/Weight ratio -

8.5/10

Reliability & protection -

7/10

Ease of use -

8.9/10

Comfort & features -

8.2/10

Price -

9.9/10
---
Specifications
Type: freestanding, dome tent.
Capacity: 8 people.
Weight: 19 lb (8.62 kg).
Dimensions: 14 x 8 ft (427 x 244 cm).
Area: 112 ft² (10.4 m²).
Area per person: 14 ft² (1.3 m²).
Peak height: 74 in (188 cm).
Rooms: 2.
---
Timber Ridge 8 vs Competitors
In the comparison table below I give the Timber Ridge 8 with two other extended dome type tents, you might want to compare and make the best choice. For example, the Exio 8 tent has a large vestibule which is always good to have, and it also comes with the footprint included. But there are differences in the prices of course; you will realize that the Coleman's tent is even more affordable.
---
Final thoughts
In the summary of this Timber Ridge 8 Person Family Camping Tent review, I wish to say that this is a nicely built tent for occasional outdoor use in mild weather conditions. It simply looks cool. For a simple dome structure, it has surprisingly good features, in particular those large windows and doors. But this is why you have here such a minimal fly for unobstructed views, so the protection is far from perfect. But for summer camping it will do the job and you will not spend much, this is a really affordable item. I have added it to my list of 8 person camping tents.
If you need something smaller from the same brand, please check this Timber Ridge 6 tent built in a very similar style.

There are many tents in this size range described in the site, so if you feel you need something different just check in the Categories above. For a true 8 person camping tent, I would suggest you check this Trail Ridge 8 which is a dome style but with a full-coverage fly. Check also Eurohike Buckingham Elite 8 or Vango Stanford 800 XL both with no less than 5 rooms, and Vango Odyssey Air 800 with air beams instead of poles. If you want a cabin-style tent check this Coleman Tenaya Lake 8 tent which comes with a separate closet.
Thank you for reading. Please use the comment box below in the case of questions or comments. Have a nice day.

---