---
Browning Camping Big Horn 5 Person Tent is the new name for their Browning Camping Ridge Creek 5 Person Tent which is a model they launched a few months ago. Read more here.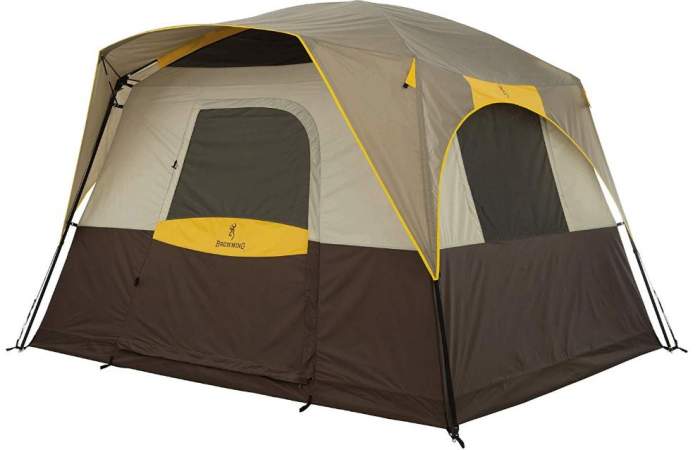 ---
Key features & benefits
Very tall tent.
Freestanding.
Steel & fiberglass poles.
Very reliable.
Easy setup.
---
So what this is about
Browning Camping has launched a tent just a few months ago under the name Browning Camping Ridge Creek 5 Person Tent, so I wrote a review when it appeared.
But they have decided to change its name, and it is now as you have seen in the title, the Browning Camping Big Horn Tent 5. In fact, this is a reasonable step because this is just a single room version of their famous Browning Camping Big Horn Tent 8. You will realize this if you have a look at it, the same style and colors.
I have contacted the brand and they confirmed this, so in the reply, their representative told me that they still have the inventory of the Ridge Creek 5 and they will sell it under that name on their site until it is gone. So for a while, there will be the same tent with two names on the market. Note that on Amazon, you still have it also under the name Browning Camping Ridge Creek 5. Eventually, it will be only the Big Horn 5 of course.
In any case, this Big Horn 5 is a pleasant and freestanding 5-person tent, with a partial coverage fly, see the picture below, which buckles to its corners, and you can rotate the tent and move it around even with the fly. So indeed you can set it up anywhere but I would not use it without staking it down properly.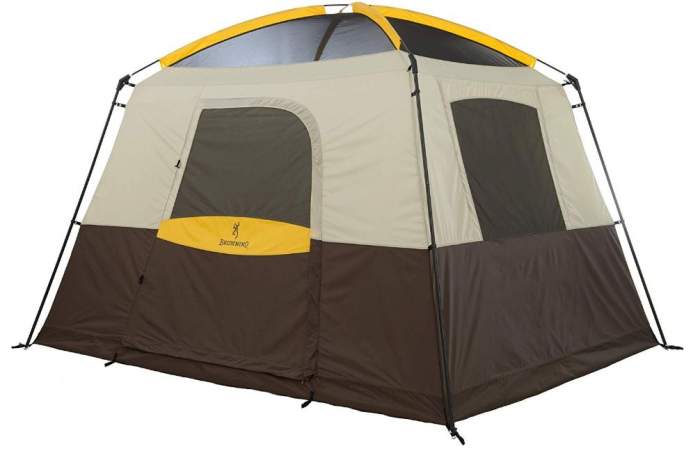 As you realize from the pictures, this is a cabin style tent with straight and steep walls, ideal for campers who use cots. This is a very tall tent with the peak height of 7 ft (213 cm), the door is high and you have a brim above, so you have an easy access which allows lots of room to stand up.
You have three separate windows plus one on the single door shown above, all of them with mesh and panels. So this is why the fly is designed small, to allow for unobstructed views.
---
Who is it for
Space-wise, the declared capacity is 5 people, and the tent offers 80 ft² (7.4 m²). The dimensions are such that you can indeed squeeze 5 pads on the floor, but this can work only if you are with friends on some open-air festival or any similar activity. In the case of camping, this is a tent for two people, for a pair of campers or hunters, or for parents with a small kid.
There is no vestibule for gear, so all the stuff must be kept inside or in the car. But you can add their Browning Camping Basecamp Screen House next to your tent and keep some stuff there.
Weight-wise, with its 21 lb (9.5 kg) this tent is everything but lightweight, but this is not an issue. This is a car camping tent and it is built for comfort, so it is not supposed to be carried anywhere. My rating for weight is low (see below) but I use the same criteria for all tents for comparison purpose, and you can simply ignore the weight.
Climate-wise and seasons-wise, this is a 2-season tent and best suited for a warmer environment, say summer, late spring and early autumn. The ceiling is all mesh so you will not feel great if you use it in a cool climate. But can you? Sure you can, I am only talking about comfort, this is a reliable tent in general.
The fly protects the ceiling only but the walls are waterproof. The construction is strong but this is a very tall structure and there are not enough stake points, so I would avoid using it in a windy area.

---
Materials & construction
The poles
Here you have a combination of steel used for the four legs, and fiberglass on the roof. This is a simple construction with plastic joints and sleeves on the top, fully self-supporting and freestanding. But such a roof is not for snow accumulated on it, just to know.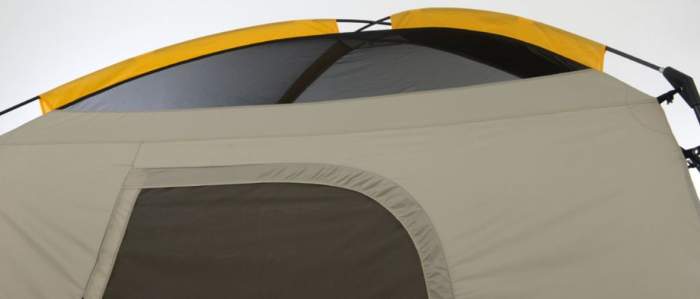 The fabric
The fly is a 75D 185T polyester designed to resist UV damage and stays taut, but they did not provide the waterproof rating. Most likely this is 1500 mm, they use this in their other tents. The floor is a much stronger 150D polyester oxford with 2000 mm coating. All the seams on the fly and the floor are factory-sealed and this is really properly done, so the tent is very reliable.
Note that the inner panels on the windows are with zippers, so you can position them as high as you wish for privacy and protection.
Ventilation
There are no floor vents here. You might think you do not need them with such a ceiling and you are probably right if the sky is clear. But in rain, you have to zip up the door panel.
Other features
The tent easily fits into its carry bag.
One person can set it up in 10 minutes, with two people it is much easier and faster.
Mesh storage shelf is included, see the picture below.
The stakes are steel.
Guy ropes are in the package.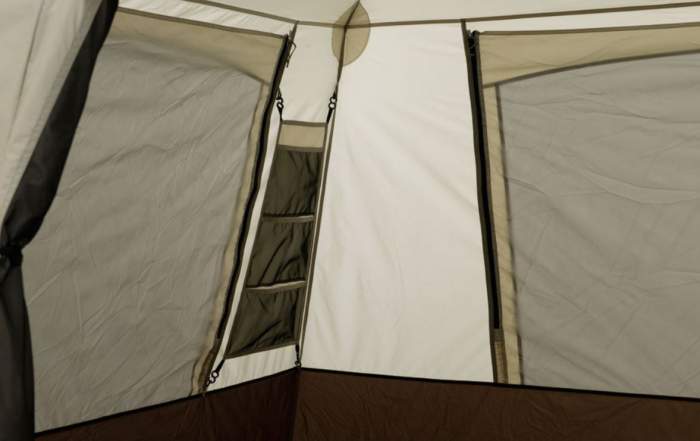 ---
Specifications
Type: cabin style freestanding tent.
Capacity: 5 people.
Weight: 21 lb (9.5 kg).
Dimensions: 10 x 8 ft (305 x 244 cm).
Area: 80 ft² (7.4 m²).
Area per person: 16 ft² (1.5 m²).
Peak height: 7 ft (213 cm).
Packed size (L x D): 28 x 8 in (71 x 20 cm).
---
Browning Camping Big Horn 5 Person Tent vs Competitors
You might want to see how this tent stands when compared with some other 5-person tents that are built in the same or similar style. So I chose this Skandika just to show you how big a real camping tent for 5 people can be, and the other tent is the beautifully built but considerably smaller Oxley Lite 5. Please follow the links for more details:
Browning Camping
Big Horn 5
---
Final thoughts, rating, pros & cons
So this Browning Camping Big Horn 5 Person Tent is nicely built, the waterproof rating may not look big and the fly is minimal but the tent is properly sealed and this is what matters. Most of the time tents leak through seams so the fabric waterproof rating becomes meaningless, but this is not so here and you can rely on it. It is best to ignore the declared capacity and use this tent for couples.
Please see how I rate it:
Browning Camping Big Horn 5-Person Tent
You have seen that it is very tall, but if you still need something taller, check my list with extra tall camping tents, all above 215 cm. If you need something slightly bigger, check this Eureka Jade Canyon 6 tent full of great features. Need something portable and with the same capacity? No problem, check this NTK Hunter GT 5 to 6 people tent.
Note that they have recently launched a tent with a similar name but with a screen room, the Browning Camping Big Horn 5 Tent Plus Screen Room so have a look.
Thank you for reading. Do you have any first-hand experience with this tent? Please share it here, there is a comment box below. Have a nice day.