This EVER ADVANCED Screen House Room is an outdoor screened canopy tent, freestanding, with a waterproof roof, 2 doors, and steel legs poles.
---
Key features & benefits
Freestanding.
2 Doors.
Waterproof roof.
---
What this is about
Here you have a nicely proportioned screen house with steep and straight walls. Sometimes such structures can have far more angled rooms and they are stable and sturdy but this reduces the inner volume. In this case they have done it just right, so the screen house is a cabin style and fully freestanding and it offers lots of shoulder room inside. You can pitch it anywhere but do not miss to stake it down properly, stakes and guylines are all included.
With its 85 inches (216 cm) of the peak height, it is moderately tall for such structures. You have two doors side by side, they are huge and you can roll them to the side as shown in the picture below.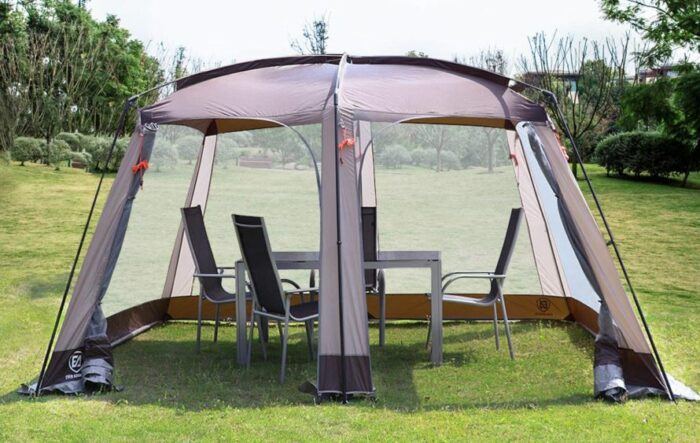 It is surprising that on Amazon they describe it as instant setup, this is certainly not so, you have a collapsible structure here and all its elements are shown in the picture below. So it needs assembly but two people can easily set it up in under 10 minutes.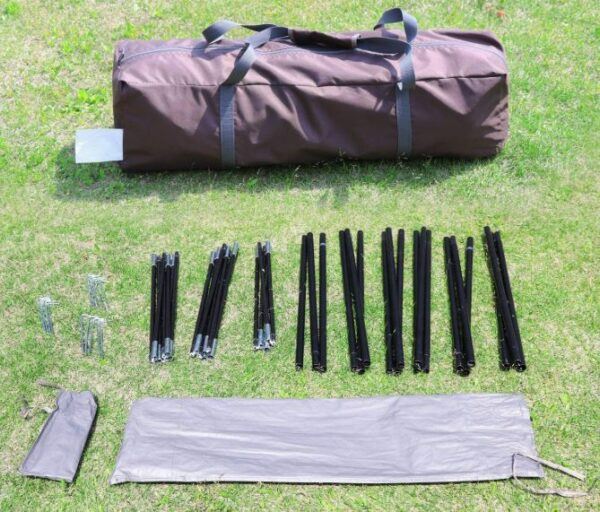 ---
Materials
The poles & stakes
This is a combination of steel and fiberglass. So you have 6 shock-corded steel legs and three shock-corded fiberglass roof poles. The latter go through long roof sleaves. If you ever have such a pole damaged you might want to read our separate text about fiberglass tent poles replacement. There are also 12 simple steel stakes in the package, so you use them to stake the screen house at the legs, and also for its guylines.
The fabric
As you would expect this is mainly mech on all sides, while the roof is a waterproof polyester, but there is no info about its waterproof rating. This is supposed to provide shade in the first place. They claim it offers UV protection but there is no indication about its rating. There is also a fabric skirt at the base.
---
Who is it for
Regarding the area, they write it is for 8-10 adults but you have around 120 ft² (11.16 m²) of the floor area. So there is no way to pack so many people inside. But this screen house is bigger than some of its competitors like this Tailgaterz Magnetic Screen House. You can put a camping table inside and 4-5 chairs.
Regarding the weight, this screen house is a bit heavy with its 21 lb (9.52 kg). To realize this you can compare it with this Browning Camping Basecamp Screen House with the same area but it is lighter.
The packed size is moderate, it measures 28.3 x 7.9 x 7.9 inches (72 x 20 x 20 cm). So this is an item for places with a car access.
Regarding the purpose and functionality, this is a nice addition to your camping tent and you can use it as a dining room or as your camping cooking space. But you can also take it on picnics in parks, you can raise it above any fixed table in the park and spend a day with family and friends safe from annoying mosquitoes.

---
Specifications
Weight: 21 lb (9.52 kg).
Dimensions: 12 x 10 ft (366 x 305 cm)
Area: 120 ft² (11.16 m²).
Peak height: 85 in (216 cm).
Packed size: 28.3 x 7.9 x 7.9 in (72 x 20 x 20 cm).
Warranty: 1-year manufacturer's warranty.
---
Final thoughts, rating, pros & cons
In the summary of this EVER ADVANCED Screen House Room review, what you have here is a nicely built outdoor screen shelter that also provides some shed. It is collapsible and needs assembly but this is all easily done and without any tools. Such structures are versatile and you can use them in your backyard, at picnics, and also when camping. It is included in my list of best camping screen houses.
Please see how this screen house stands against my standard set of criteria so you can easily compare it with some other screen houses here in the site. As you realize it scores well.
You might want to see also this NEMO Victory Screenhouse with its advanced design and compare. See also this Wenzel Zephyr Screen House. Bookmark this site and visit again, you will find new camping items added regularly. Thank you for reading and have a nice day.