Bushnell Shield Series 11′ x 9′ Instant Cabin Tent is a beautifully designed tent with 5 windows, steel poles, multiple storage elements, an awning, and with a great price tag.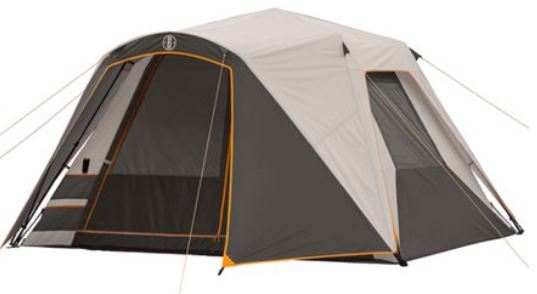 ---
Key features & benefits
Instant setup.
Awning.
Steel poles.
E-cable port.
Gear loft.
Multiple storage elements.
Reflective fly.
5 Windows.
Single door.
Great price.
---
What is in the name
This is the smallest tent in the series that also includes a 9-person and a 12-person tent. They share some of the same features, but they are all different as well.
The words Shield Series are in the name because of a special coating on the underside of the fly. This is supposed to block the sun's UV radiation and also to make the inner area cooler and darker.
The word Instant is related to the fact that the frame is pre-attached to the tent and you can have the inner tent ready in 60 seconds. The picture below shows the setup steps. I have added it to my list of best instant camping tents.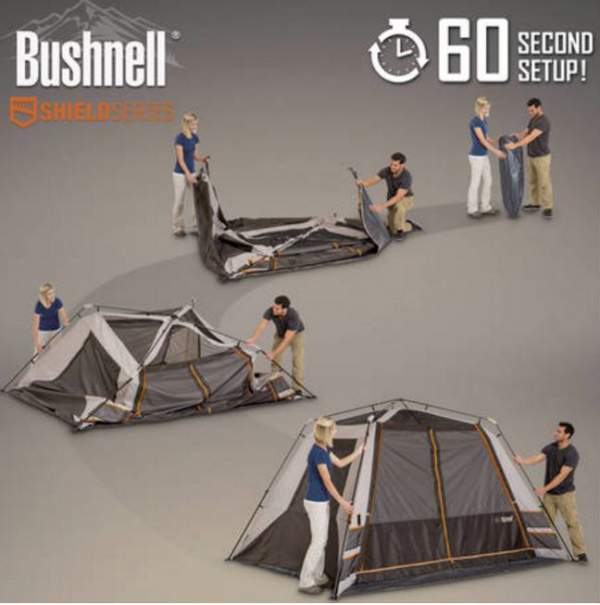 The inner tent is also fully freestanding. When you extend the 4 legs poles, you will hear a click and this means that they are extended to the right length and locked in place. At this stage, you can still move the tent around and rotate.
The picture below shows the tent without the fly. So this is a very stable boxy yet elegant cabin-style structure with panoramic windows on all sides. You have them three plus two windows on the door. The door is with an inverted-T zipper design.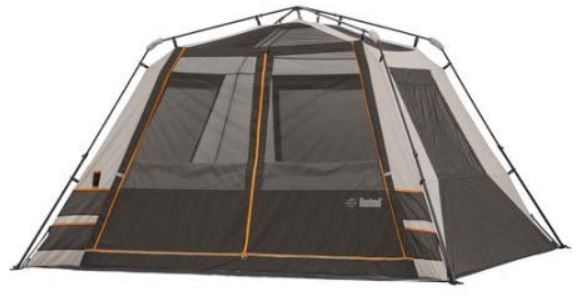 But after you put the fly on, you have to add an extra pole that supports the awning. So this part must be staked and you have the stakes included in the package. This will take a couple of minutes, nevertheless, the setup is really fast.
The fly is what they describe as 3/4 type. This means it does not cover the whole tent, so you have unobstructed views through all those windows. But no worry, the windows are with zippered panels for protection.
Now, when you want to pack the tent, do the following:
Remove the stakes.
Remove the awning pole.
Remove the fly.
Push the orange buttons which you have on the 4 legs and the tent will collapse. You can push it down at the elbow joints visible in the picture above.
Fold the legs poles towards the center of the tent.
Pack everything.
The tent is a single-room construction, see the picture below. There are no dividers, I have seen people asking about this. This is fine, the area is not particularly large. Note that you may not have standing height here if you are a tall person, the peak height is 72 inches (183 cm). The door is on the wider side where you have the 11 ft dimension.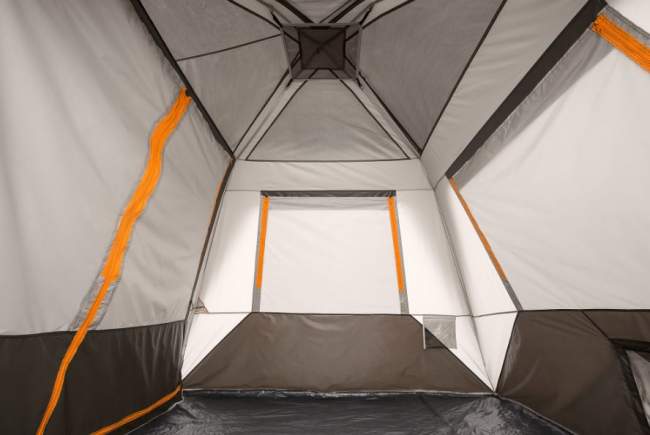 ---
Who is it for
Capacity-wise, the tent is with the 6-person declared capacity and for this you have the inner area of 99 ft² (9.2 m²). This would mean 16.5 ft² (1.5 m²) per person if used by 6 people.
Note that the actual dimensions needed for the tent are around 12 x 11 ft (3.66 x 3.37 m). Namely, the awning area is 2.5-3 feet deep and it must be staked because of its flaps on the sides and the pole. This adds up to 3 feet to its mentioned 9 feet dimension.
So you can put two queen size beds inside but this would eat most of the space. For practical family camping, this tent should be fine for parents and one kid. But if you are on a cross-country tour with your friends, or on a summer festival, this tent will work for 6 people.
Seasons-wise & climate-wise, in my view this is a tent for 2 seasons. All the windows are double-layer structures with mesh and zippered panels. The same is on the huge door. But the ceiling is all mesh and this cannot be closed if it is cold outside. So it is better suited for a warmer environment.
The tent is with the fly which I would not use in a windy environment. If this is what you need, check some of the tents with full-coverage fly. So this tent is better suited for a calm weather climate and without much rain, see more below.
Weight-wise, with 26 lb (11.8 kg) this is everything but a lightweight tent, but here you have a very strong frame so the weight is fully justified. You are not supposed to carry it long distances in any case.
The packed size is 47.6 x 10.4 x 10 inches (121 x 26 x 25 cm), so clearly not so impressive. Though this is typical for instant tents with such telescopic poles. In any case, this is a tent for places with a car access.

---
Materials
The poles & stakes
The frame is made of steel so as mentioned above this is a very strong and reliable construction. The picture below shows the lock button mentioned previously, which you press to fold the tent. There are 15 tent stakes included in the package.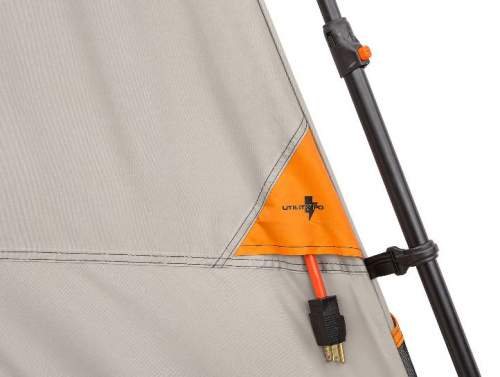 The fabric
The manufacturer doesn't provide much info about the fabric. There is only a statement that it is water repellent Weather Shield fabric and with fully taped waterproof seams, plus the earlier mentioned Heat Shield Technology with silver coating against the UV radiation.
So this is quite disappointing, to say the least. But this is a 150D polyester used for the fly and the walls. The floor is a catenary cut type, no info about the material.
I decided to contact them and received the statement from the seller that tents from this series have an IPX4 rating and that they are water-resistant but are not waterproof. This is a bit unusual rating for a tent, but you know now, do not put it to harsh tests.
Ventilation & airconditioning
There is not much one could object to ventilation in this tent. When the sky is clear you can have mesh on all windows and on the ceiling. When it is raining, you will have to close all the separate windows, but you can still keep the door with mesh at least partly because it is under the awning.
But there is also a large floor vent shown in the picture below. It is with zippers so you can close it if you feel cold. There is mesh on it so you are safe from insects.
I have seen people using airconditioning system here from outside through this vent. This can work, but think about the ceiling which cannot be closed, so you will be cooling the Universe from your pocket.
Other features
There are storage systems under the awning, on both sides. See one in the picture below. They are from outside of the inner tent, but protected by the awning so whatever you store there should be fine.
E-cable port is available, shown in the picture above.
A removable gear loft is included, see the picture below.
There are 2 small inner wall pockets inside, one shown in the picture.
One lantern loop is on the ceiling above the gear loft.
Reflective zipper pulls.
Reflective guylines.
Please see more in this video:
---
Specifications
Declared capacity: 6 people.
Weight: 26 lb (11.8 kg).
Total dimensions (with the awning): 11 x 12 ft (337 x 366 cm).
Inner dimensions: 11 x 9 ft (335 x 274 cm).
Inner area: 99 ft² (9.2 m²).
Inner area per person: 16.5 ft² (1.5 m²).
Peak height: 72 in (183 cm).
Packed size: 47.6 x 10.4 x 10 in (121 x 26 x 25 cm).
---
Bushnell 11 x 9 Instant Cabin Tent vs Core 6 vs Ozark Trail 6 Dark Rest
I have decided to show you how this tent stands when compared with some of its competitors. So the Core 6 is also a cabin style and instant tent but without the awning. On the other hand the Ozark Trail 6 is a dark-rest construction, but also without the awning.
The Bushnell tent is heavier and this is due to the extra pole which supports the awning. All three of them are very affordable. Please follow the links to read more.
Bushnell 11x9 Instant Cabin
47.6 x 10.4 x 10
(121 x 26 x 25)
43 x 8 x 8
(109 x 20 x 20)

48 x 8.5 x 8.5
(122 x 22 x 22)
---
Final thoughts
So this was my Bushnell Shield Series 11′ x 9′ Instant Cabin Tent review, and obviously I am quite impressed with the design of this tent. It is very easy to use and with so many great features.
It is disappointing that they do not provide some data about its waterproof rating, my own rating would be higher. But in any case, do some homework before going with it on the camping. Test it in the garden first and do some sealing if necessary. The price is exceptional, fully recommended. It is included in my list of 6 person instant tents.
Please see how I rate this tent against my standard set of criteria. I use them consistently for all the tents here in the site so you can easily compare.
Bushnell Shield Series 6 Person Instant Cabin Tent
If you need more options to consider, just check around, this site is all about family camping tents and you will find something for you. Check this nicely built GigaTent Six Person Family Tent with the same declared capacity and also this CORE 6 Person Straight Wall Cabin Tent 10 x 9 which is also a nice cabin tent. But if you want something very different and with a semi-instant setup, the Mobihome 6-Person Tent.
Note that this is not a sponsored text, and I am not paid by the brand. Please use the comment box below in case of questions or comments. Have a nice day.