---
This Bushnell Shield Series 9 Person Instant Cabin Tent 15 x 9 feet is a 2-room strong construction with steel poles, heat-reflecting fly, multiple storage options, and much more. Keep reading.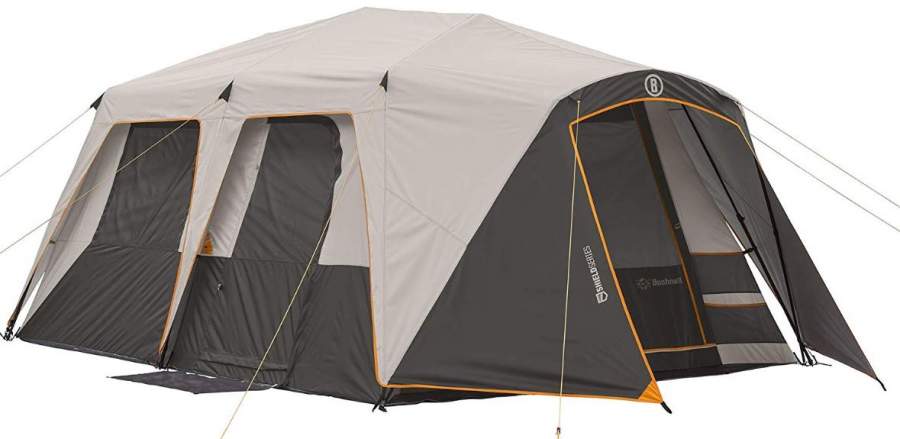 ---
Key features & benefits
Instant setup.
2 Rooms.
2 Doors.
7 Windows.
Steel frame.
Multiple storage elements.
Floor vents.
E-cable port.
Heat-reflective fly.
Awning.
---
What type of tent is this
Here you have one out of several tents from Bushnell's Shield Series which includes also one 6-person tent and yet another 12-person tent. So here again you have a large and nicely designed cabin-style structure with an instant setup. This means that the frame is preattached to the frame and the official setup time is 60 seconds. One person can pitch this tent easily. But give yourself 4-5 minutes for the job.
The picture below shows its strong frame and how it is designed. Due to this nice design, I have included it in my list of best instant camping tents.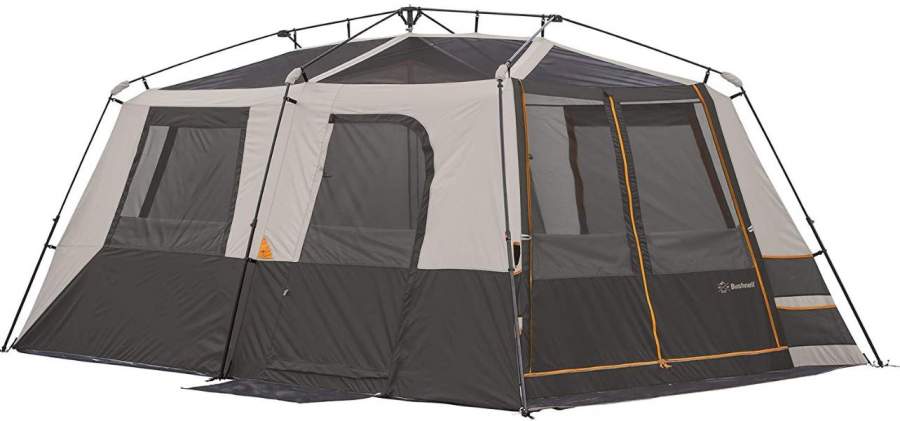 This is a 2-room design with a divider in the middle. There are two doors, both visible in the picture above. So the main door is with an inverted-T shaped zipper, and the side door is D-shaped. The picture below shows the view inside when the divider is fixed to the wall. You realize that both doors are in the front room. Pity they did not add the side door as a separate entrance for the back room.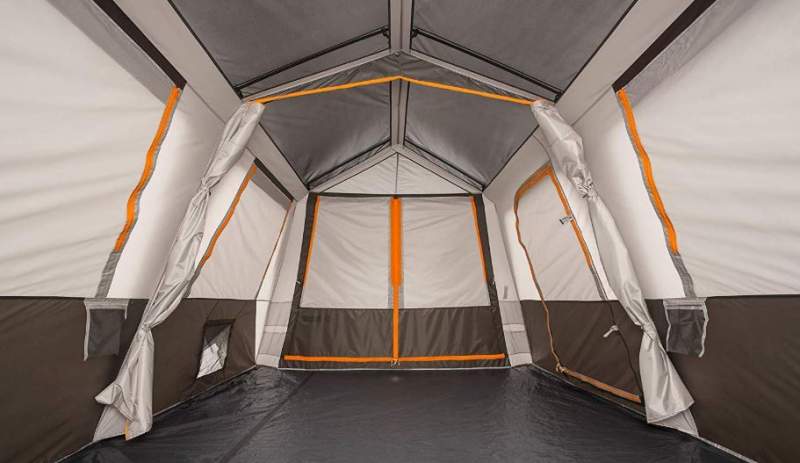 The structure is stable and the tent is freestanding. But when you add the fly, there is yet another separate pole that supports the awning, so this part should be staked properly to be functional. Do not miss to stake the complete tent in any case, it is tall, no less than 78 inches (198 cm) and must be staked properly.
The tent is with an awning on the front, it is about 3 feet deep and with side flaps, and it protects the main front door. Note that it is partly floored, you will see this in one of the pictures below.
---
Who is it for
Space-wise, the declared capacity is 9 people. So the area is 135 ft² (12.5 m²) and in the case of 9 users this would mean 15 ft² (1.4 m²) per person. It is indeed possible to have 9 sleeping pads on the floor. This can work for a group of friends at some summer festival. For family camping this should be downgraded to 5-6 people maximum.
You can use bunk cots and save lots of the floor area, this is is a tall tent with steep walls and you can use such cots inside. In any case, I have added it to my list of best 9-person tent.
Climate-wise & seasons-wise, you could describe it as a 3-season tent but note that the ceiling is with mesh and you cannot close it. All the windows have panels though. But this is still not the best option in a cool environment and I would use it as a 2-season tent only.
It has floor vents and plenty of mesh on all the openings, so it is nicely suited for warm-weather camping. I would avoid strong winds and rains, do some testing, have seen people complaining about leaks.
Weight-wise, with its 45.8 lb (20.8 kg) it is not so impressive. Note also that it is long when packed, the size is 48.8 x 10.5 x 10.5 inches (124 x 27 x 27 cm). So this is a tent for places with a car access.
---
Materials 
The poles
This is a strong steel construction with 6 legs poles plus all those roof poles, plus the awning pole. The picture below shows one pole with the orange release button.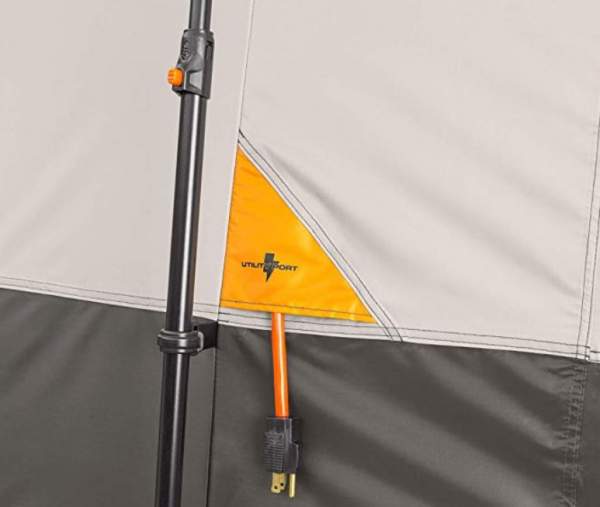 The fabric
The fly and the walls are built from polyester, but they do not provide any information about the waterproof rating. The fly is with a special reflective coating on the underside, and this is why it has the word Shield in the name. So this is a heat shield against the sun's UV rays and this makes the inner a bit darker and cooler. The fly seams are taped and this part is normally very reliable.
The fly is not full coverage type, and this is why you have views through all those windows. It attaches to the base of the tent with a system of buckles.
The floor is a catenary cut, there is a long seam along the perimeter and this is usually the area where you might expect leaking. The same holds for the seams underneath the windows. So it is best to do some sealing before you go camping with this tent.
I contacted the seller and asked about waterproofness. The statement from the seller is that tents from this series have an IPX4 rating and that they are water-resistant but are not waterproof. So this tent is not for heavy rain.
Ventilation
I already mentioned the ceiling which is all mesh, and all the windows are double-layer structures with mesh and with zippered panels, so you can regulate air circulation. The front door is under the awning and its large mesh sections can be kept without the panels even when it is raining.
But there are also 2 large floor vents, both located on the same long side of the tent, so each of the two rooms has one. The vents are with zippered panels and with mesh.
The fly is not deep so eventual condensation should evaporate and escape on all sides. All in all, there is nothing one could object to the ventilation here.

Other features
E-cable port is available, see the picture above.
There are storage elements on both sides of the main door, they are on the outside walls, but protected underneath the awning. One is shown in the picture below.
A couple of small storage pouches you also have inside.
There are rings on the ceiling for lanterns.
Reflective piping and guylines.
Aluminum stakes.
Expandable carry bag.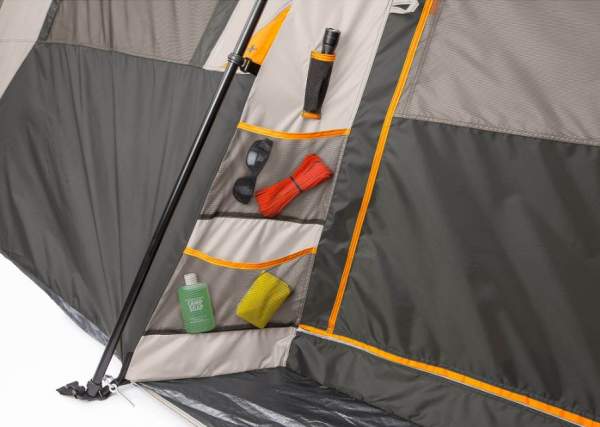 ---
Specifications
Weight: 45.8 lb (20.8 kg).
Inner dimensions: 15 x 9 ft (457 x 274 cm).
Area: 135 ft² (12.5 m²).
Area per person: 15 ft² (1.4 m²).
Packed size: 48.8 x 10.5 x 10.5 in (124 x 27 x 27 cm).
Peak height: 78 in (198 cm).
Frame: steel.
Warranty: 1 Year Limited Warranty.
---
Bushnell Shield Series 15 x 9 Instant Cabin Tent 9 Person vs Competitors
I thought it would be a good idea to show how this tent compares with some of its competitors with the same declared capacity. This may help in making an informed choice. So here is the Core 9 Instant Tent and also Coleman 9 Hampton Tent, both cabin-style structures.
As you realize, they all offer nearly the same inner area, but the Bushnell tent is considerably heavier. No doubt this is due to the extra pole and its awning, so this is justified and it offers more comfort. But as of the moment of writing this text, it is far more expensive than the other two tents.
---
Final thoughts, rating, pros & cons
So you have seen all the features of this Bushnell Shield Series 9 Person Instant Cabin Tent 15 x 9, and you realize that it has them plenty. The tent is functional and nicely built. Though the price is steep and if this is above your budget you have some alternatives in the comparison table above.
If you need more options, just look around, this site is all about family camping tents. Check in the category Tents for 9/10 people if you want something in this capacity range. See this 10-person Ozark Trail Instant Cabin Tent which is also a lighted tent and with a screen room. Check also this Campros Tent 9 Person with the same official capacity.
Bushnell Shield Series 9 Person Instant Cabin Tent - 15ftx9ft
Note that this is not a sponsored text and I am not paid by the brand. I love to hear from you, so please use the comment box below if you have questions or comments. Have a nice day.